Could it possibly be true? That's right kiddos. We've made it through another winter and its time to start making preparations for summer! For a lot of us that means being ready to carry a bunch of gear across country to get as much enjoyment out of the season as possible. Despite some late snowfall this spring, we took every advantage we could to get ready, and crammed all of our gear in the Thule Versant 70L backpack to test what's possible on the trail.
Features:
Thule Versant 70L Review Breakdown
Comfort:
When there's adventure to be had, sometimes we need to seek out the most precarious of places for the best experiences possible, and that means hiking in. When your destination is miles away from your vehicle, good comfort in a backpack can make or break a good time. Fortunately, the Thule Versant 70L is loaded with adjustment features that make it easy to find the right fit for any wearer.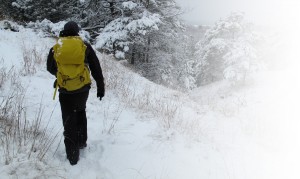 For the early preparation stages, the Thule Versant 70L comes equipped with torso and hipbelt adjustments, so the wearer can get the general sizing pre-set to their height and build. Both adjustments are held in place with wide velcro connections with plenty of surface area to hold them, so there's no slippage to speak of once they've been set. We've had a few packs in our day with similar adjustment systems that were quite uncomfortable in the long haul as a result, but the Versant 70L is remarkably forgiving with wide and deep padding that covers most of the back.
Once you're on the trail, dialing in the perfect comfort zone is very dependent on the size and weight of whatever it is you chose to carry, and as the trip progresses those cargo loads may vary significantly. Thankfully, in the time we've been carrying the Versant 70L, we've had no trouble accessing the various adjustment straps that are necessary to get that perfect snug fit while wearing it. To top it off, once the right fit is found, this pack is equipped with elastic holds to secure all loose straps that would otherwise be dangling all over the place and possibly annoying the wearer in one way or another.
Design:
Now that we know we can make the distance comfortably, the next most important thing is transporting the gear we need. It is in the aspect of design that we found the Thule Versant 70L excels the most. At first glance, this pack looks like any other, but below the surface there are a barrage of compartments that are either slightly modified to enhance what we're used to in a pack, or a completely new feature created by Thule to make the voyage even easier.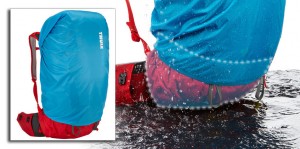 Firstly, we hate when our gear gets wet and we've all been caught out in the rain from time to time during our expeditions. Should such an event occur, the Versant 70L has a built in rain cover that is easily pulled from the lower pocket and can be fully secured and wrapped around the pack in less than a minute. The bottom liner that is still exposed is fully waterproof as well, so all of your gear is protected. When the rain cover is up, you still have access to the side pockets. Instead of being upright like most other packs, and requiring a lot of wrenching backwards on the shoulders, the side pockets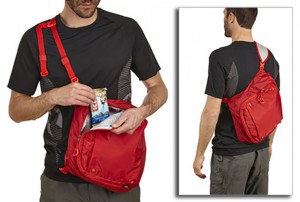 are tilted towards the front, and much easier to get to.
Another nifty feature is the removable lid that converts to a sling pack. This is a really nice feature in the event you're out on a big expedition and just need a smaller pack for a short afternoon hike out from your base camp. It's not exceptionally comfortable, true. However it'll serve it's purpose if needed, and access is simple when one of the three clips are detached. We've clocked ourselves in at less than a minute removing the lid and making the conversion, so its fair to say that using this feature is a simple task on the go.
Storage: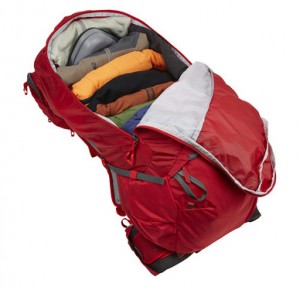 With storage capabilities of 4270 cubic inches, the Versant 70L has plenty of space needed for extended trips into the wilderness. With other packs we've had in the past, we've been challenged to find what we're looking for just by reaching in through the top. However, thanks to the U-zip panel on the face of the Versant 70L, getting to what we need has been relatively easy, and we've had to do very little in the way of sifting around and screwing up the arrangement of our gear. The lid also has three zipper pockets, so keeping small to medium items organized is no hassle at all. On top of all of that, an elastic shove-it pocket is provided on the front of the pack with a security clip to keep items safe. If you need a quick place to stuff an extra layer in a hurry, or just a concealed location for a Bluetooth speaker for trail music, this is the perfect place.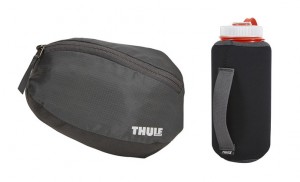 For smaller items that you may need access to without having to remove the pack, both hipbelts on the Versant 70L have storage capabilities. On the right side is a basic zippered pocket, and on the left you'll find a removable waterproof rolltop pocket with Thule's interchangeable VersaClick system so it can be changed out with other accessories (sold separately). These include an additional zippered pocket that retails at $12.95, as well as a bottle sleeve that's yours for $9.95. While the second zipper pocket doesn't add a whole lot to the functionality of the pack, we certainly recommend purchasing the additional bottle sleeve, and here's why. Even while the VersaClick system is in use, the clip can still attach to any nylon strap, including the exceptionally short strap on the upper right shoulder. Whatever it is you like to drink on the trail will now be conveniently accessible with this handy little innovation!

Durability:
We've had the Thule Versant 70L backpack filled to the brim and along for the trek quite a bit this spring, and we have to say we're quite impressed with the way its holding up. Upon close inspection, all of the stitching is still in tip top condition, and there's practically no sign of wear in the materials. The clips and zippers are made of plastic, but they're still holding strong without being too difficult to disengage and we haven't had any issues otherwise. Based on our experience here and with other Thule products, we're quite confident that the Versant 70L pack will last for a very good long time.
Value: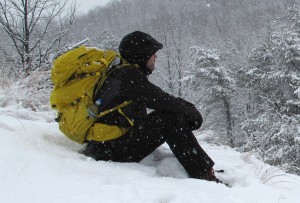 The Thule Versant 70L pack has ample space for long expeditions, it's highly customizable to fit most any size and shape body while remaining comfortable, it's loaded with new innovative features that we've found entirely useful, and it's built to last. This pack has an amazing number of positives working to its advantage, and we're hard pressed to find a reason it won't do any job it's intended for. We can easily rank the Versant 70L among the best packs in it's size category, and it still isn't quite as expensive as a lot of the competition. For these reasons, we have no problem endorsing this product as worth the expense.
Buy Now: $279.95 or to learn more, go to: Thule.com
Thule Versant 70L - Gear Review
The Thule Versant 70L backpack is not only highly functional, but it's loaded with features that make it so much more than we're used to. It'll carry all you'll need for those longer expeditions comfortably and keep it all protected for the journey. It's highly accessible, organized, and customizable for just about any need you'll have along the way.
The Good
Loaded with Great Features
Optimal Storage Capacity and Organization
Customizable and Comfortable
The Not So Good
VerseClick Items Sold Separate
No Bottom Straps to Secure Gear Externally