Everyone likes a tidy home. Too bad everyone also loathes cleaning their home. The problem with keeping a tidy home, is that you have to keep up with it practically everyday. If you are like me, this is an issue. The last thing I want to do after work each day is to come home and clean – not one bit. So I put it off until the weekend. The weekend rolls around and I have plans that are waaaay more fun than cleaning so I put it off again. "Next weekend." I tell myself. A month rolls by and I've only managed to sweep the kitchen floor once because I accidentally spilled coffee grounds. I'm an animal.
Luckily we live in the future and the folks at iRobot have worked for years and years to develop robots to help solve our most hated household chores. The iRobot Braava 380t Floor Mopping Robot is the answer to our tidy home dreams. Let me tell you why…
What's in the box:
iRobot Braava 380t Floor Mopping Robot
NA Adapter
2000 mAh NiMH Recargable Battery
NorthStar Navigation Cube with 2 C Batteries
Microfiber Mopping Cloth
Microfiber Damp Mopping Cloth
Multi-Purpose Cleaning Pad
Pro-Clean Reservoir Pad
Turbo Charge Cradle
Key Features & Specifications:
Whisper-Quiet
Both a Dry & Wet Mop
Pro-Clean System
NorthStar Navigation
Smart Sensors
Wall-Following Technology
Turbo Charge Cradle
Long Lasting Battery
Robot Dimensions: 3 x 8.5 Inches
Robot Weight: 4 Pounds
iRobot Braava 380t Review Breakdown
Design:
The iRobot Braava 380t was created exclusively to clean all hard-surface floors including hardwood, tile, vinyl, and laminate. Unlike the Roomba, it is not a vacuum. Braava is a dry/wet mop robot with 3 buttons – On, Dry Sweep, and Damp Mop. It comes with eco-friendly reusable microfiber cleaning cloths, one for each function. These are part of the Pro-Clean System that traps dirt, oils, and crud from your floors. No cleaning solutions necessary. You can used disposable cleaning cloths but why spend the extra money and litter the planet if you don't have to?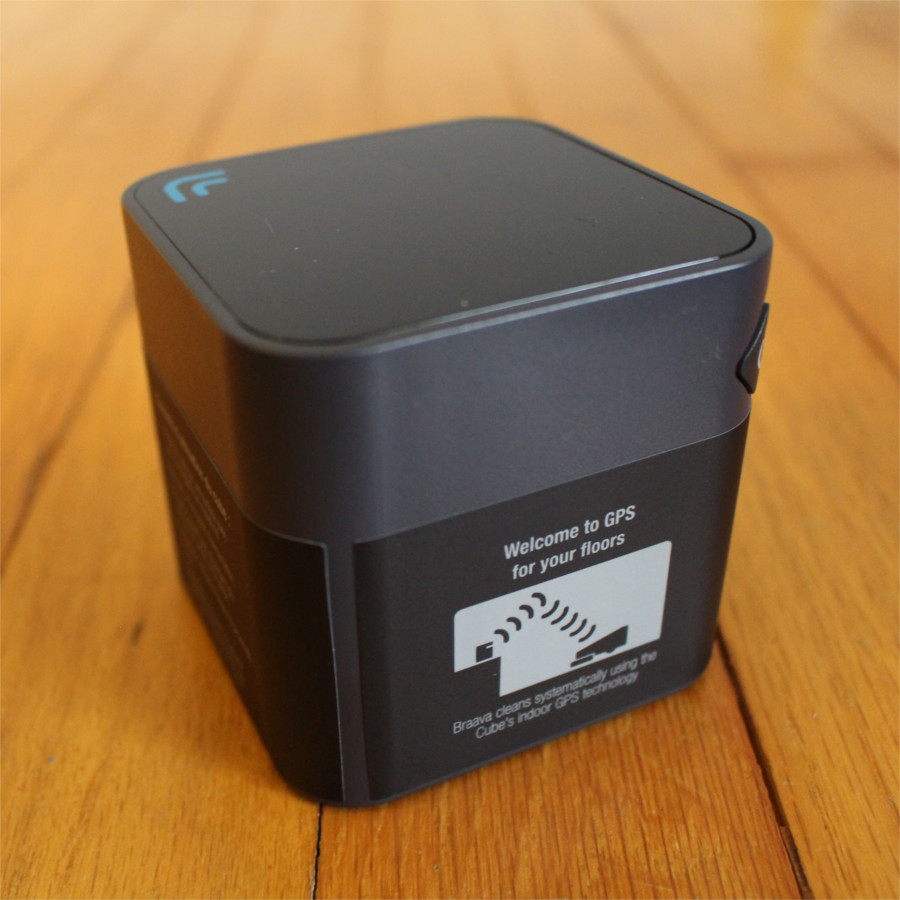 Since it is a robot and not just some dumb mop, the Braava has a navigation system to keep it on track so that it knows where it's been, where it hasn't been, and where not to go. The NorthStar Navigation system is sort of the Braava's air control tower. You place the included NorthStar cube in center of the room such as on a table or shelf and turn it on before letting the robot do its thing. If you don't turn this beacon on, you will notice that your Braava looks a little lost. Multiple NorthStar cubes can be used to help the robot make its way from room to room in larger homes.
In Dry Mop Mode, Braava moves in straight lines – back and forth – to thoroughly pick up dust, hair, dirt…all of the gross stuff flying around your house. In Damp Mop Mode it uses a special back-and-forth mopping movement to help grab the deep down dirt. You can either wet the microfiber cloth like a wash cloth and let it rip or you can send it with back up ammo by filling up the Pro-Clean Reservoir Pad.
If you are a Roomba owner already, you know that while it's quieter than a traditional vacuum it's still kind of loud. Loud enough where you can't comfortably watch TV and have it do its thing. Not an issue with the Braava which is designed to be Whisper-Quiet. You'll find yourself checking in on it once in a while since you don't hear it running in the other room.
Two things missing in the design of the Braava compared to the Roomba is its lack of the scheduling function (my favorite!) and that it doesn't self dock when its battery gets low. I schedule our Roomba to run daily in our house and I wish there was a way for the Braava to do the same. However, I can see how that would be a little tricky with a dry/wet mop robot since you need to change out cloths and water between uses.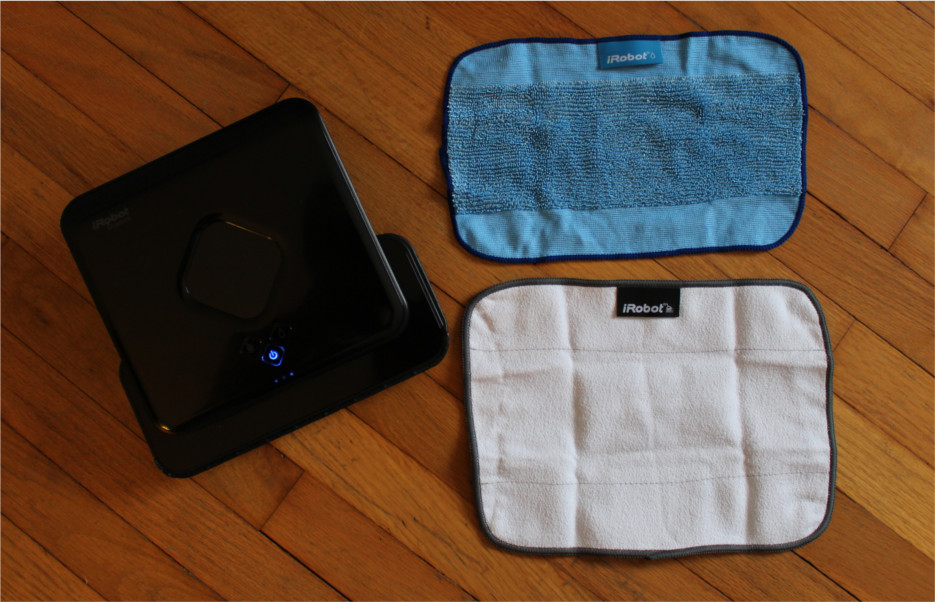 Ease of Use:
If you have used a traditional battery operated wet mop, I am confident you can figure out how to use the Braava 380t in 15 minutes or less. All you need to know is how to turn it on/off, how to select the dry sweep or the damp function, how to put on the cloths, how to fill the reservoir pad, where the NorthStar Navigation cube goes, and how to charge it. Easy peasy. I did have a little trouble figuring out how charge it since I assumed it self docked like the Roomba. Once the Braava has finished the job, you simply remove the cloth and wash it in the sink or throw it in the washing machine.
Getting Around:
Like the Roomba, Braava has Wall-Following technology so that it cleans along walls (duh), edges, and baseboards. The Soft-Touch Bumper cushions the blow between the robot and furniture, walls, and edges. One of my favorite features is the Braava's Smart Sensors that help it avoid stairs, rugs, and keeps it out of rooms with carpet. It did try a few times to make its way onto our living room rug and carpeted office. It didn't take it long to figure out its error and turn back around to the hardwood floor. It's fascinating to watch it make its way around your house and 'learn' about its new home. The Braava is not as fast of a mover like Roomba is, but it gets around efficiently.
Battery Life:
This little robot has some stamina. iRobot states that the Braava can last up to 4 hours in dry mop mode and up to 2 hours in wet mop mode. That isn't a bluff. I was surprised how long the Braava's battery lasted on a single charge. It has enough power to clean multiple rooms without a sweat.
As I mentioned before, the Braava 380t does not have a battery docking station like the Roomba which is a bummer because I'm used to being lazy and not having to manage charging the Roomba. Oh well. However, the Braava has two ways you can charge it: a traditional NA Adapter and the Turbo Charge Cradle. Either one does the trick but of course the Turbo Charge is the obvious choice since it only takes around 2 hours to completely recharge the Braava between uses.
Cleaning Power:
Like the Roomba, I've been using the Braava almost daily to clean our multiple hard surfaces in our home. I can really feel the difference when I walk around our house in bare feet. To test the Braava's cleaning power, I had it clean our kitchen – both dry and damp mop modes – and then pulled the Swiffer WetJet out of our closet. With a brand new disposable cleaning pad, I went over our kitchen floor as if it hadn't been touched. At the end of the cleaning, I pulled off the Swiffer pad to see what it had picked up that the Braava left behind. Well it wasn't much. There were a few minor pieces of grim and a hair on the pad but that was about it. The Braava 380t passed the 'white glove test' for me!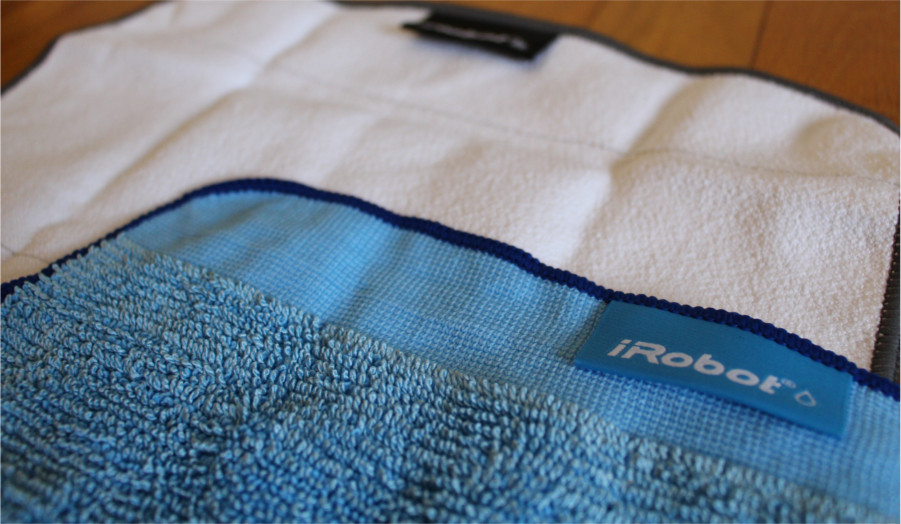 Durability:
Since the Braava is small, it makes its way around the house without getting into much trouble. It has wedged itself a few times trying to navigate around our dining room chairs and along the mop boards under our cabinets. This has resulted in a couple scratches on the surface but that's about it. Other than that, the Braava still looks brand new even after daily use for a few weeks.
Value:
Ringing up at $299.99, the iRobot Braava may seem a little steep for a dry/wet mop. But like I said before with the Roomba, you are purchasing a robot…not just a mop with batteries. I did the math and if you were to buy everything you need to get started with a Swiffer Sweeper & Swiffer WetJet you are going to drop close to $100 anyways. That's for each Swiffer, cleaning pads, cleaning solution, and a rechargeable battery set. So for the life of the Swiffers you will need to purchase disposable pads, solution, and AA batteries if you don't go with the rechargeable AA batteries option. On top of all of this, YOU have to do the work. It is quite worth the investment to me to know that Braava is cleaning my living room, kitchen, and dining room floors while I binge watch Girls and drink a glass (aka bottle) of wine instead.
Buy Now: $299.99 or to learn more, head over to: iRobot.com
iRobot Braava 380t - Tech Review
If you are looking to add your first cleaning robot to your home, or add to your growing fleet - the iRobot Braava 380t is an awesome addition.
The Good:
Ease of Use
Cleaning Power
Battery Life
The Not So Good:
No Scheduling Function
Does Not Self Dock/Self Charge
Little Bit of an Investment