Will it blend? Of course it will! That at least goes for everything I tested using the Ninja Blender DUO® with Micro-Juice™ Technology.  Ninja has been in the game for a while now and their products keep evolving to a point where it has become much easier to get professional grade results in your own kitchen. This also applies to their latest blender, in which they have improved the design and modes making it easier, quicker, and consistent. How much easier, quicker, and consistent? Here's my breakdown on how the Ninja Blender performed.
Key Features:
1400-Peak-Watt Base
72 oz. Pitcher with lid
Micro-Juice Filter
20 oz. Single-Serve Blending Cup with Sealed Spout Lid
Juice Mode
Drink Saver Mode
Auto-IQ Programs
Manual Blending Modes
Dishwasher Safe
Recipe Book
Ninja® Blender DUO® – Review Breakdown
Design:


Let's start from the bottom up. Ninja Blender's base is a 1400 watt powerhouse that is packed full of useful "Auto-IQ Programs" that make it an easy 1 push button step to blending anything you want. The Auto-IQ Programs take the guess work out for you and allow you to step away while it does the job. The 7 chef-designed automatic presets include: Extract, Smoothie, Frozen Drink, Puree, Ice Cream, and Dressing. I've tried each mode and I was impressed with the results (especially the Ice Cream mode… more on that later). If you prefer to just do a quick blend or have manual control, there is a "Manual Settings" row located near the bottom that allow's you to blend in a low or high mode as well as a simple pulse. One of the more notable improvements in this blender is the "Drink Saver" mode. By selecting this button after blending, it will remove any air inside the Blending Cup to keep the liquid fresh up to 48 hours. This mode is also connected to the "Juice" mode. By pressing the "JUICE" button, the blender will automatically remove all the air then start blending immediately to produce some of that tasty juice. By removing the air, it forces the contents down towards the blade to ensure proper blending.
Performance / Functionality: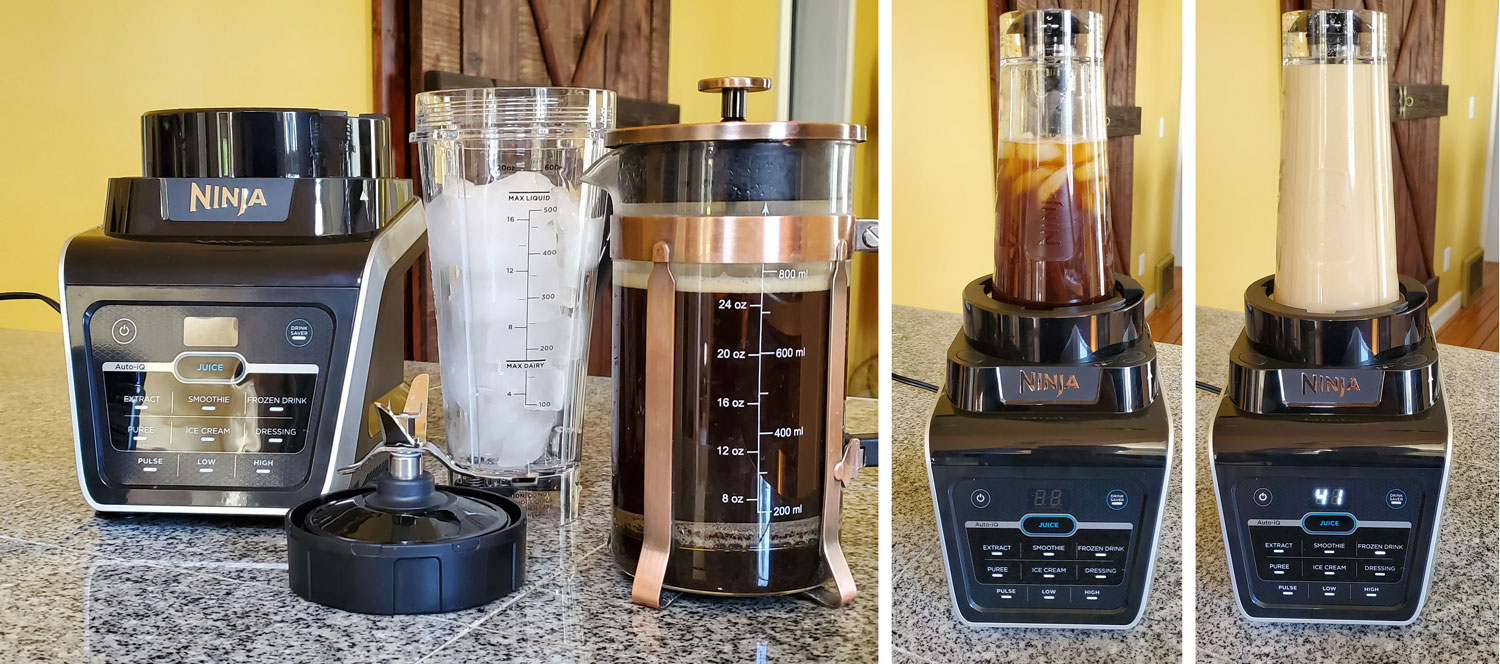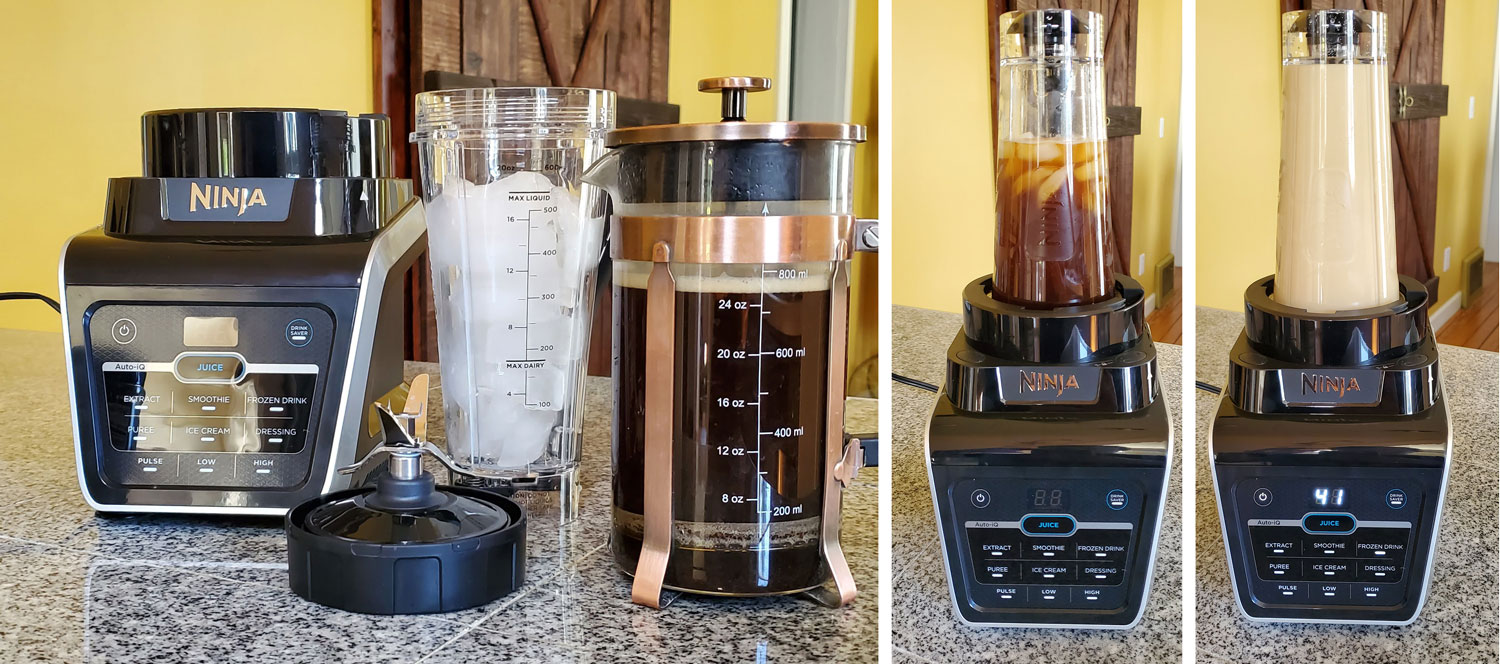 Each mode serves a purpose and does the job seemingly well. However, one of my favorite modes is the Ice Cream mode. I have a big sweet-tooth, however, I am also very health conscious. So being able to make my own ice cream with natural ingredients and low sugar is a big convenience. What makes it even more convenient is how well the mode works. If you are interested in making my homemade recipe, you can follow these steps:
Add in 8 oz of frozen banana's
Followed by 10 oz of frozen strawberries
1 Cup of frozen blueberries
2 tbsp of PB2 Peanut Powder with Cocoa
2 tbsp of PB2 Powder Peanut Butter
60 grams of PESceince Select Protein Powder (Gourmet Vanilla or whatever sounds good to you)
1 Cup of Almond Milk
Blend it all together by selecting "Ice Cream" mode. (You can add more milk or water or even greek yogurt to get the consistency you want.)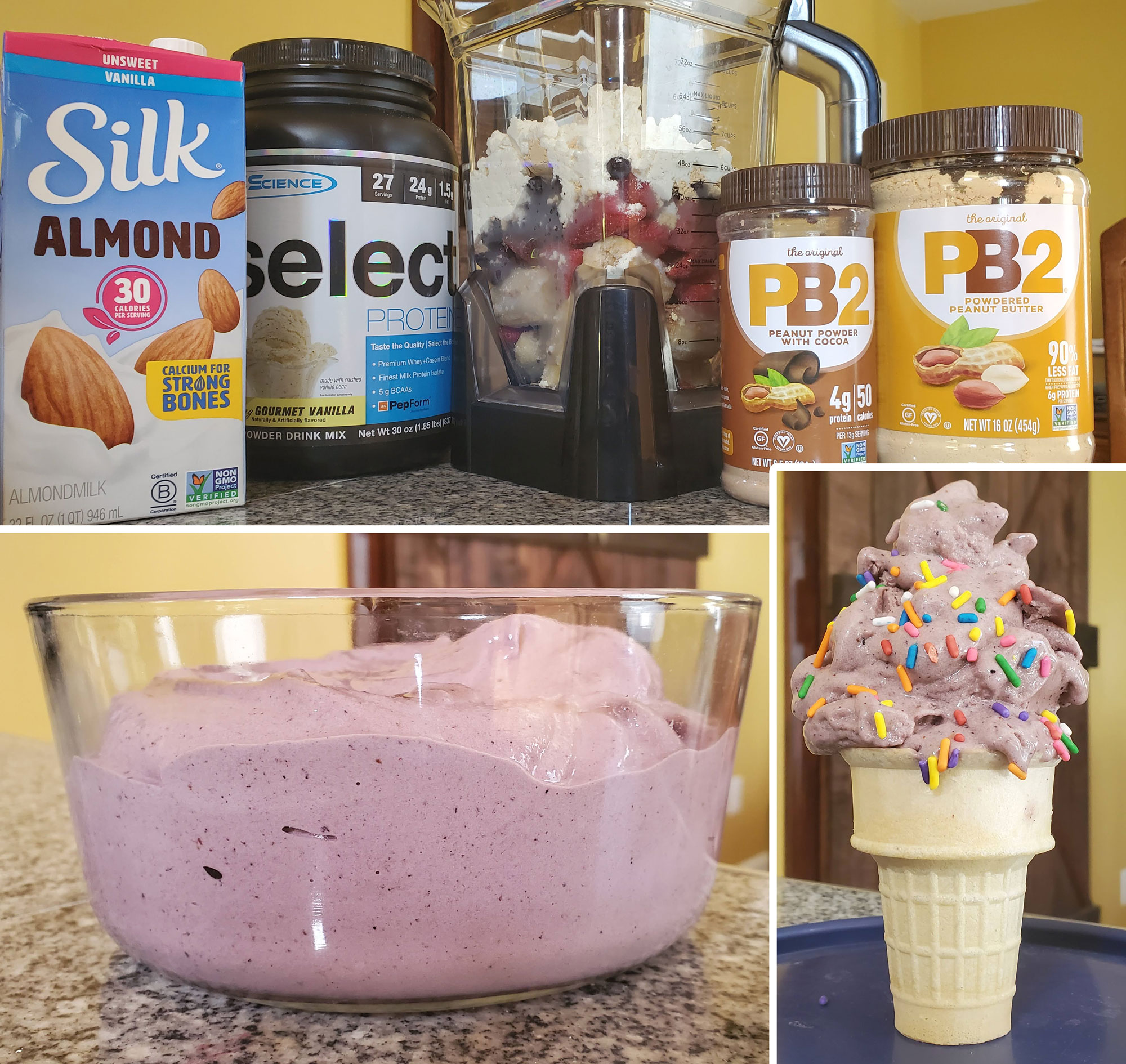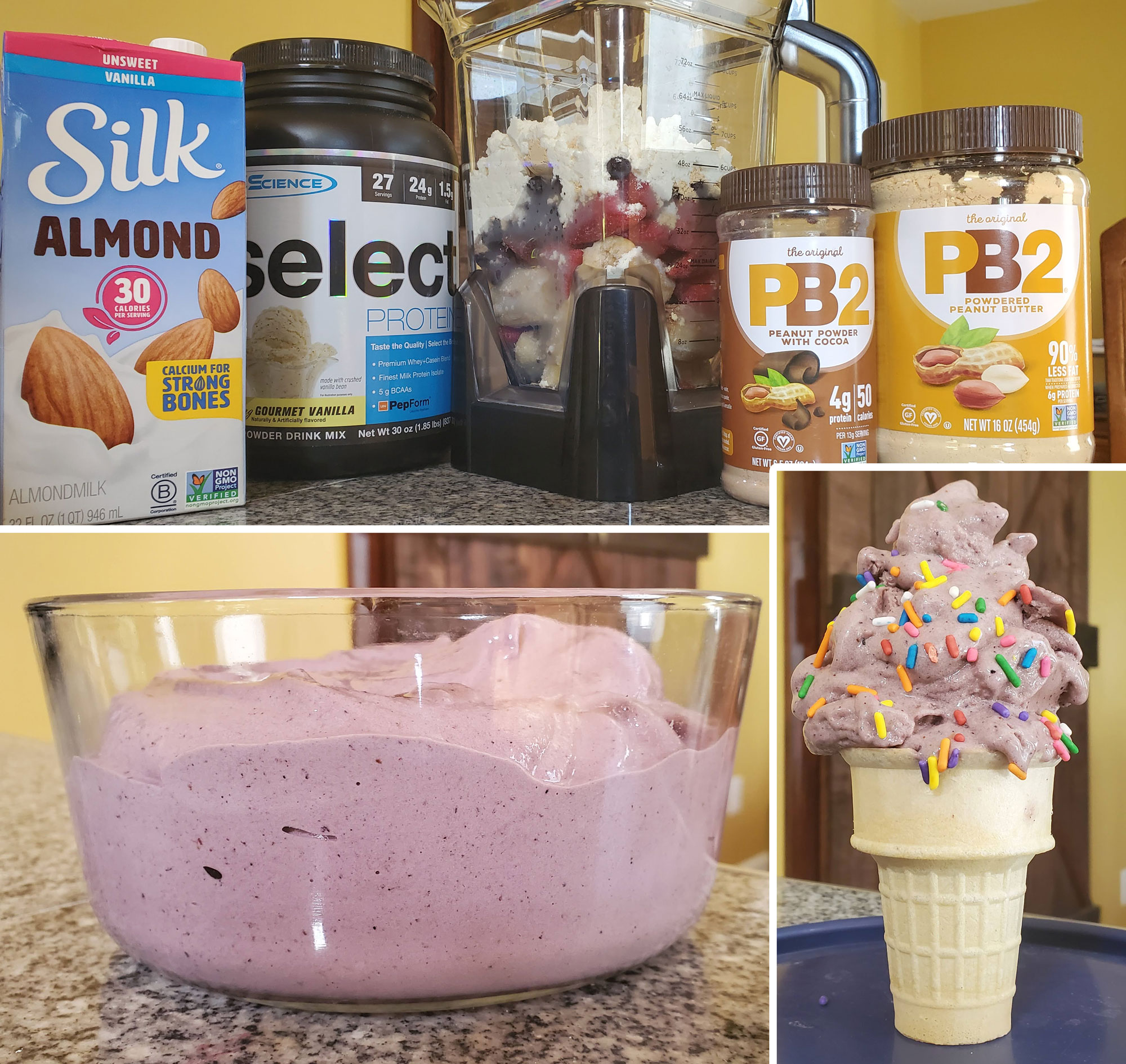 The 20 oz. Single-Serve Blending Cup is great for a smaller version of this recipe or blending a quick smoothie, puree, or dressing. Plus the Sealed Spout Lid makes it easy to just blend, grab, and go. The Blending Cup has a quick release vacuum tab located on the bottom to release the pressure from the "Drink Saver" mode, so you can easily twist the top off of your fresh drink. The Micro-Juice Filter is also very handy for extracting juice from whole fruits or vegetables without the pulp. I found that it didn't eliminate 100% of the pulp, but it did remove most of it. If you are really looking for zero pulp, then you'll need to run it through a different strainer or cheese cloth.
Durability: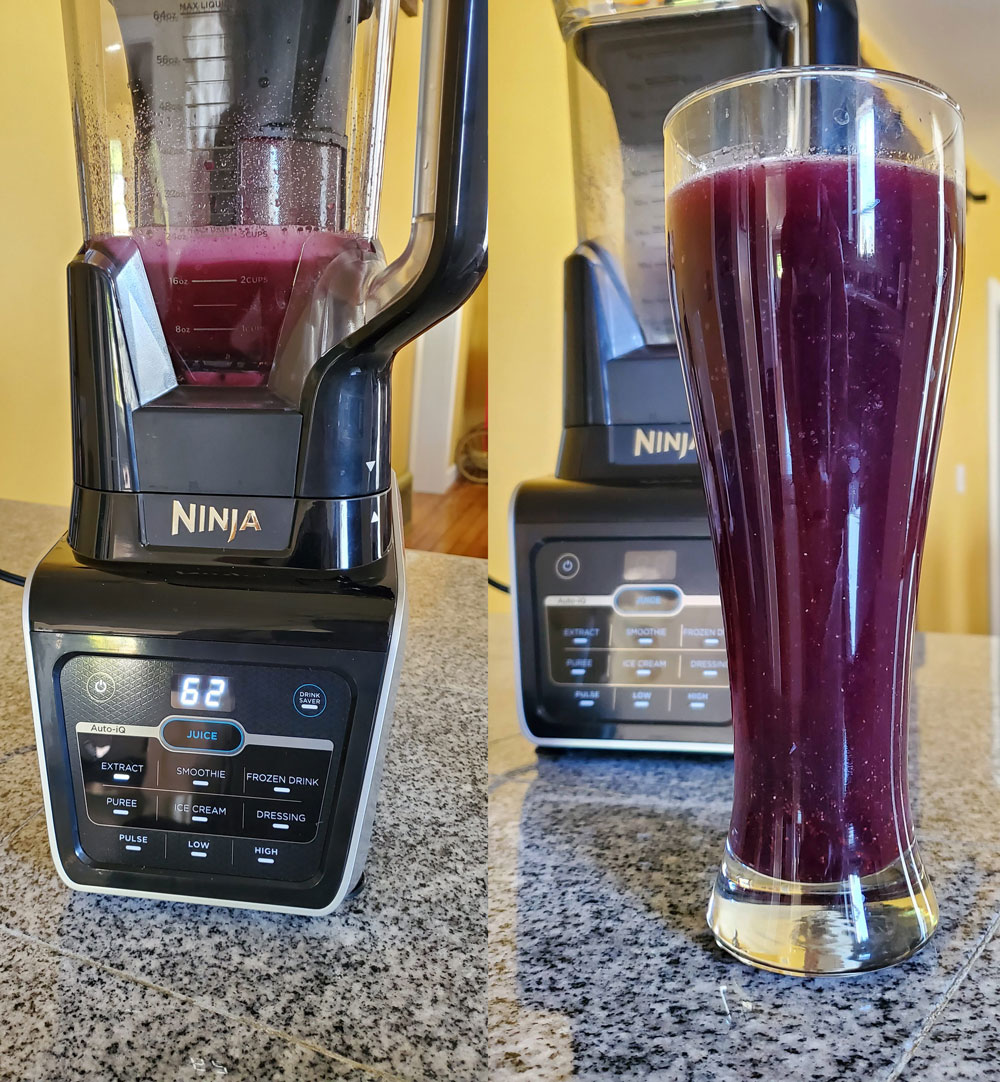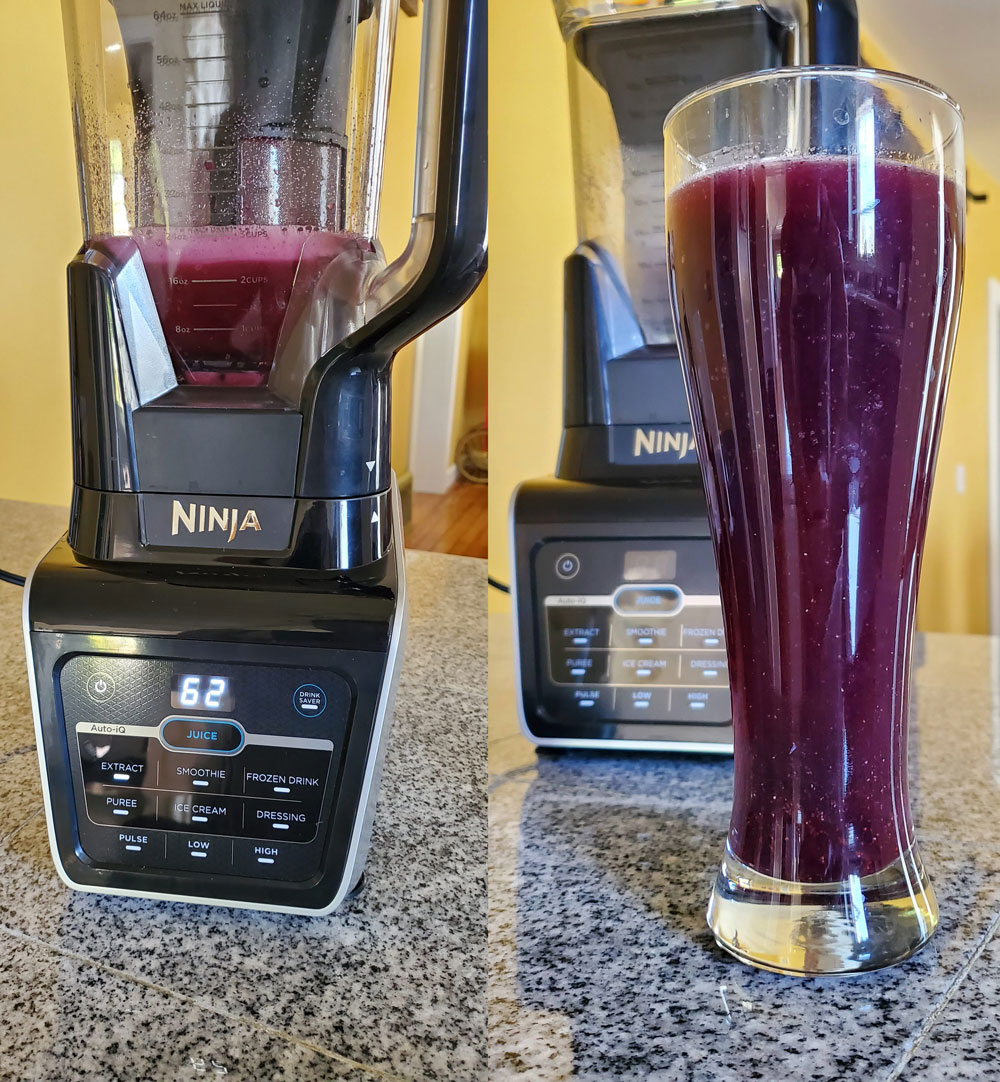 So far the blender has held up very well considering the amount I have used it. My main concern with any blender is usually the accessories and seals that keep the liquid in place. After using it consistently for a few weeks, there hasn't been any decrease in performance or breakdown of the seals.
Ninja Blender Value:
There are many blenders on the market today. Sure you could pay less for something else that sort of "does the job", but if you want a blender that'll last and makes it easy to blend a variety of different produce, then I highly recommend the Ninja Blender Duo with Micro-Juice Technology and Auto-IQ.
Buy Now: $199.99 or to learn more, check out: ninjakitchen.com
Ninja Blender DUO® - Appliance Review
The Ninja® Blender DUO® does a great job blending a variety of foods to the perfect consistency. Whether it's soup, ice cream, dips, or smoothies, the Ninja can chop, puree, and blend like a Kung Fu master.
The Good
Auto IQ Programs make it easy and quick to blend
Drink Saver mode keeps things fresh longer
Accessories and attachments make things easy and quick
The Not So Good
Can take up a good amount of counter space