Mid-west winters really put a damper on outdoor running. Most of us get tired of having to choose between the boring treadmill or risk slipping and causing injury, or total embarrassment, in the snow and ice. So when I was given the chance to try out a pair of Icebug Aurora-L BUGrip running shoes I felt like the chains were removed from me and I was just set free from indoor running.  Not that indoor running is bad.  I just like to run solo on varied terrain and not feel like I'm secretly racing the person on the treadmill next to me but never actually winning.
Icebug is a Swedish shoe company that wasn't officially launched until 2001 at one of the worlds largest sporting goods trade shows. Not long after, they became the world leader for traction footwear and I'm not surprised. The carbide tip studs and waterproof membrane make their shoes a great choice for outdoor winter running. Their design allows you to run freely on snow, ice and other slick outdoor surfaces.  Our trails through all the local parks a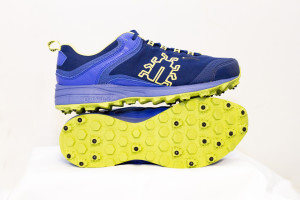 re usually only used by snowshoers and cross country skiers during the winter.  So I put on my Aurora-L BUGrip shoes and joined them.  A few heads were turned as I easily ran up the icy slopes zipping past them.  No twisted ankles, no bruised bums, no embarrassments. I already know I will be an "Icebug'er" for many years.
Key Features:
Carbide tip studs
Weather shield lining
Flexible injection molded midsole
8mm drop
Lightweight
Aurora-L BUGrip Review Breakdown
Design:
Icebug's patented carbide tip studs are the leading technologies in the traction footwear industry. Forget having to strap a pair of separate traction accessories onto your other running shoes, which are most likely your summer shoes with thin mesh, right? The ones you use for your indoor treadmill races?   No more of that.  These bad boys come already equipped to handle the most slippery terrain. This shoe has an invisible weather shield that prevents the snow, slush or cold air from bothering your feet and ruining your run, while still maintaining that flexibility.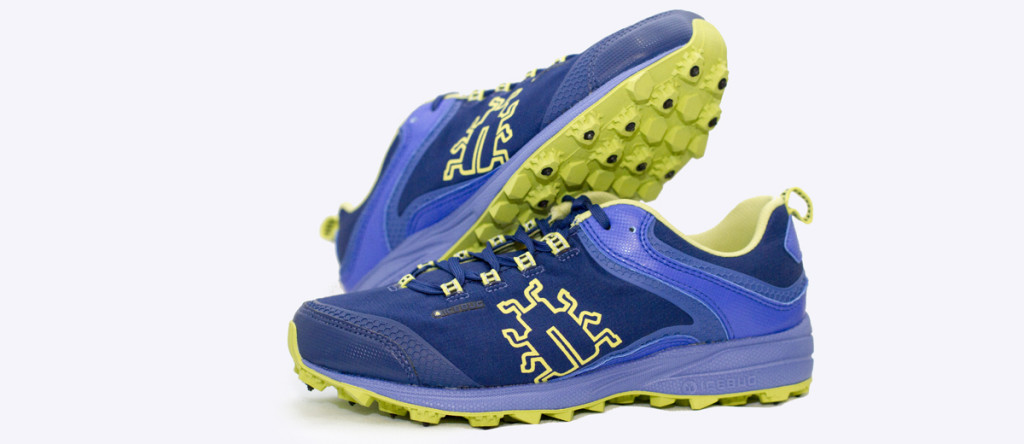 Comfort:
The Aurora-L are made to be warm and water-resistant.  Not to be confused with water-proof.  Don't use these to play in the water puddles with the kids.  My first thought was that these weren't going to be very comfortable to run in because of how thick and heavy I thought they might be; being made for winter that is. Once I hit the snowy trails with these shoes on, my first thoughts became nothing more than the sloppy snow I was running through. When I first took them out of the box, I was pleasantly surprised by how light and flexible they felt.  They kept my feet warm, dry and comfortable through the snow and bitter 14℉ trail runs.
Traction:
I never once felt my feet slip with the Aurora-L BUGrip shoes. Up and down hills through the trails, and even on the solid sheets of ice covering every square inch of our sidewalks.  BUGrip, if you're wondering, is the name given to Icebugs grip technology used for the most slippery conditions. The unique technical side of this concept is best described by the Icebug team themselves. Here is what they have to say. "The sole is made of a special rubber compound and has 15-19 integrated steel studs. The design of the studs, together with the properties of the rubber compound, give these studs a dynamic function. The studs work independently from each other and are not completely fixed. When weight is applied the studs push in toward the surface of the sole. How far they are pushed in depends on the pressure exerted by the user and the resistance from the ground. This dynamic function makes the studs adapt to the surface and provide the best possible traction on anything from dry asphalt to pure ice."  I couldn't have said better myself.

Durability:
The shoes may be light and flexible, but they didn't skimp on quality or durability. The head or sides of the studs may rust after long time usage in wet conditions, however, the carbide tips should not be affected and this is the main point for traction.  After many runs, all the studs are still securely in place.  The outer shoe is made of a thicker quick-dry mesh and weather shield layer, and all the seams are sealed tightly.  After just a handful of runs, I tend to end up with holes in the toe area on many of my running shoes, but the Aurora-L seem to be holding up very well.
Value:
The Aurora-L BUGrip shoes might be priced at the higher end of your usual running shoes, but you get more than just a traditional running shoe. They come equipped to handle all those slick condition runs through the trails and even the streets.  Allowing you to keep your training schedule going all year.
Buy Now: $180 or to learn more go to: Icebug.com
Icebug Aurora-L BUGrip Running Shoes
These Aurora-L BUGrip shoes are made for the hardcore outdoor runners. Not only will they will get you through those slick icy winters, but they can be used on those damp spring/summer days when the trails are still just a little slippery.
The Good:
Makes winter trail running easier
Keeps feet dry and warm
The Not So Good:
The Aurora-L is not fully waterproof like its 'sibling' Anima2 (but thats what makes it a lighter shoe)