When the Nike Flyknit Lunar2 box arrived we thought our good friends at Nike were playing a prank on us.  The box felt empty, so when we opened it, we were quite surprised to find an actual pair of Flyknit Lunar2's.  We have previously reviewed the LunarGlide 5 and were anxious to try out the new Flyknit Lunar2.  According to Nike the Flyknit Lunar2 Men's Running Shoe delivers the ideal blend of strength, support and comfort with an ultra-lightweight fit and soft, responsive Lunarlon cushioning.  The shoe is designed for those runners looking for a more balanced feel when running.  Nike believes that magic of the Flyknit Lunar2 comes through pairing the powerful and ultra light Nike Flyknit upper with the super soft and responsive Nike Lunarlon cushioning.  From the moment you hold the shoe, there is no questioning how light it is, but our questions are can it hold up and provide the support that we need on our runs?  We took the Flyknit Lunar2's through rigorous runs totaling over 75 miles and across a variety of terrains.  Here are our results!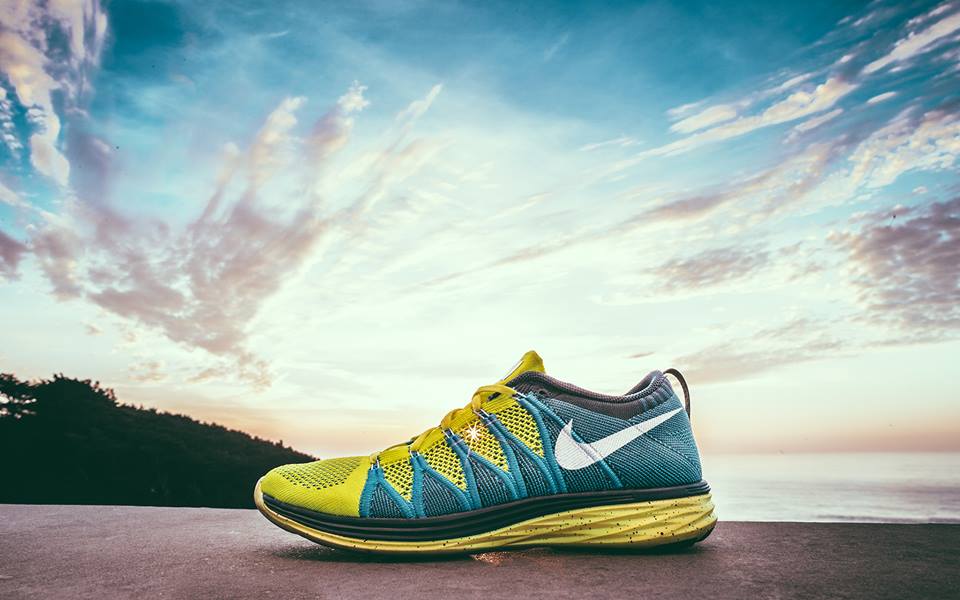 Technology / Specs: 
Knit tongue integrated into the upper for enhanced comfort
Pull tab on the heel for easy on and off
Fitsole sockliner conforms to the shape of your foot for support
Diamond-shaped cuts throughout the outsole for enhanced flexibility and cushioning
Environmentally preferred rubber lugs on the outsole follow a forefoot pressure map for an efficient stride
Reflective elements for enhanced visibility in low lightWeight: 9 ounces (men's size 10)
Scroll over the image below for an interactive look at all the features and technology Nike has packed into these running shoes…
Nike Flyknit Lunar2 Review Breakdown
Design:
The first thought upon lacing up the Flyknit Lunar2's was how light they were.  For being a balanced running shoe designed to handle long distance they are a feathery 9 ounces (on a size 10 shoe).  Usually for weight this low you are going to get a minimalist shoe designed for more foot to payment type running.  I was concerned about comfort but those fears were soon subsided when I slid the shoe on.  The Flyknit upper is designed by Nike to deliver a comfortable and supportive fit and I have to say they really hit the mark here.  The shoe has a great overall feel and support to it.  According to Nike, it is made entirely of polyester yarn, it's a one-piece layer that's woven more openly in areas that need greater flexibility and tighter in areas that need more support.  What makes the shoe feel so nice and snug is the Flywire cable system.  The  Flywire cables wrap the midfoot for added support. They work with the Dynamic Fit system, integrating with the shoe's laces for a secure, locked-down fit that moves with you.  For those of you new to this innovative Nike design, the Flywire helps provide ultra-lightweight support and comfort for your feet. It obtains its incredible strength from thin nylon fibers placed on the upper of the shoe which is designed to hold the foot in place. With the foot firmly secured this should to reduce slippage when working out. Nike believes this allows for a massive reduction in weight because material is used only where it's needed for structure.  Overall, we were impressed by the design and development of this shoe. Nike continues to push the envelope with their evolving Flywire technology.
Comfort: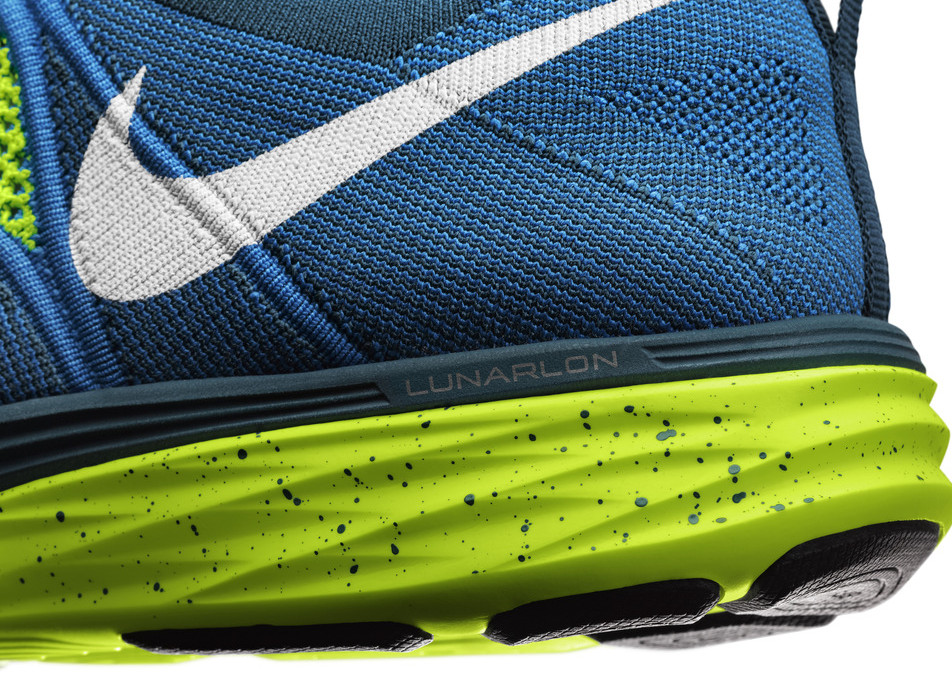 As we mentioned earlier this shoe is incredibly light and from our previous experiences, light shoes have a tendency to not provide great comfort.  The Nike Flyknit Lunar2 is aiming to make you re-think your approach to light shoes.  The Flyknit Lunar2 features a technology called Lunarlon.  Lunarlon cushioning is a soft, and resilient foam core encased within a supportive foam carrier for lightweight, soft cushioning, that provides a springy response and support. Nike, who invented this design, states that the Lunarlon is 30 percent lighter than traditional Phylon.  With this reduction in weight it allows the force of impact to be more evenly distributed and helps reduce painful pressure points on your foot.  After breaking the shoe in on a few short runs we decided to head out into some longer 6 and 7 mile runs and we found the support and comfort to be extremely enjoyable.  We did get into some 10-11 mile range and we did experience some slight discomfort in the heel, which also seemed to be a concern with other reviewers.  However, we truly believe these shoes are great in the medium distance runs.  For simple runs or looking for a nice walking shoe, the comfort can't be beat.

Traction:
Traction is no longer simply a measure of how the treads on the sole are set up. Much like traction on a car is not simply just about the tires.  While both are extremely important to traction there are other factors.  We talked about the Flyknit technology really securing the foot when running, especially on a variety on of terrains.  By having a secure foot you reduce slippage inside of the shoe and by reducing that slippage inside, it allows you to land your foot in a secure position.  When you don't have a good fit inside the shoe you have a tendency to land your foot at odd angles and this can easily lead to sprains or losing your traction if the terrain is not optimal. In an effort to create better traction, Nike created a new outsole system, which features a specially mapped traction pattern at the forefoot for proper striking and BRS 1000 carbon rubber at the heel for increased wear resistance.  With the combined Flyknit system and the re-designed outsole you are getting maximum traction on a variety of terrains.
Value:
Priced in the middle of the market of running shoes, we feel there is definite value in the Nike Flyknit Lunar2's.  You are getting a well designed, comfortable, and sturdy shoe that happens to weigh in at a ridiculously light 9 oz.  Featuring Flyknit, Lunarlon, and Flywire technology you are getting the latest advances in Nike running technology.  We do feel these are great for those medium range runs and if you have happen to be a heel striker you may want to take these out on a test run to see if they are the right shoe for you.
Nike Flyknit Lunar2: Fitness Review
The Nike Flyknit Lunar2 makes excellent improvements from the Lunar1 model. While the Lunar2 model does remove the Nike+ from the shoe design, we are okay with that. Everything that the Nike+ provide can be done inside of the mobile app and most people run with their phones now anyway. When looking for your next pair of running and/or walking shoe the Lunar2's are definitely worth further investigation. Happy running!