When you think of Dyson brand, you usually think of vacuum cleaners.  They were the first company to introduce bagless vacuum cleaners and didn't stop there.  Today they continue to develop products with unique designs that ease the frustrations that many of your everyday basic products have.  The common fan, for instance, can be loud and even dangerous with the moving blades.  Wanting a fan that moved more air with less noise and a higher safety rating, Dyson introduced the blade-less fan.  We had the opportunity to test out the Dyson AM07 tower fan during some hot summer days, and it was a crowd pleaser.
Key Features: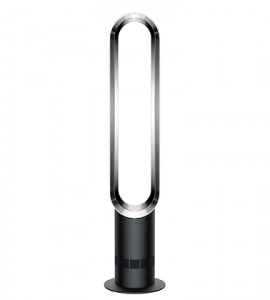 Air Multiplier technology
Sound 60% quieter
10% less power consumed
Sleep timer
Remote control
Oscillation control
Easy to clean
No fast-spinning blades
Dyson AM07 Review Breakdown
Design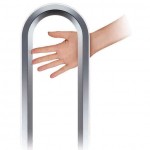 Standing 39.6 inches tall with an oscillation feature, this fan (as seemingly with most fans) will catch the attention of those "on the move" babies. Not to worry too much though, there are no harmful blades with Dyson's AM07 fan. You can stick your arm right through the center and it will come back out fully in tack. The air flow is still strong even with no blades, and this fan is much quieter than others we have used. We like how slim it is so it doesn't take up much floor space. They made the remote easily attachable to the top of the fan with magnets, and it's important to never lose the remote. This is the only way to control the fan besides turning it on and off from the base. The remote can control the sleep timer, the oscillation and the power level.
Technology
According to Dyson, their fans use Air Multiplier technology to create a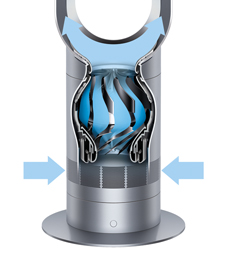 powerful stream of uninterrupted airflow. Air is accelerated through an "annular aperture, creating a high-velocity jet of air. This passes over an airfoil-shaped ramp, channeling its direction and creating areas of low pressure behind and around the fan. The change in pressure forces surrounding air to be drawn into the airflow, resulting in a powerful stream of smooth cooling air".
Dyson engineers were able to make them quieter by reducing turbulence. Only on the highest levels does the fan create a noise that is comparable to the lowest setting on a traditional blade fan. Reducing turbulence also means that less energy is required to move air through them. While the fans still produce powerful airflow, their motors are calibrated to run more slowly, drawing less energy and saving you a little money on your electric bill.
Functionality
When you just need to get air moving in a room, this fan works wonders.  It has a really good forceful push of air that can help cool down and get air moving in a stale room.  It is easy to turn on, set the power level and oscillation and walk away.  If you tend to forget to shut things off before leaving the house or going to bed, the timer feature is simple to use.  Cleaning the fan is easy and keeps it running top notch. You only need to use a microfiber cloth to wipe around the inside ridge, and just vacuum the dust collected around the base.  Aside from only being able to use the single remote to control all the settings, the Dyson AM07 fan is simple to set up and use.

Value
Hesitation will kick in when first debating whether the Dyson AM07 fan is worth the price tag. Once you get the fan and use it, it will be worth it.  It might not be a "let's put one in every room" purchase with almost a $400 price tag, but once you get one it won't take long before wanting more.
Buy Now: $399.99 or to learn more go to: Dyson.com
Dyson AM07 Tower Fan - Tech Review
Sleek modern style with blade-less technology, this Dyson AM07 tower fan is suitable for any home.
The Good
Blade-less.
Forceful air flow.
Quieter than traditional fans.
The Not so Good
Heafty price tag.
Can only control settings with single remote (so don't lose it!)