You might have seen some of our furry friends in other reviews before. It should come as no surprise that we love the animals that reign supreme in our house. The long-haired fluffy ones seem to have adopted us. Who could say no to a fluffy puppy or kitten!? Long-haired cats and a golden retriever dog roam our abode which means that fur is present in everything we do.  To battle the mess of these naughty, furry pals we checked in with the legendary Dyson to see how they could help us out with a few problems of keeping not only the house clean but also our travel trailer. They introduced us to the portable powerhouse, the Dyson V7 Animal Pro handheld vacuum.
Key Features:
2,100 mAH Lithium-Ion Battery
Up to 30 Minute Run Time
3.5 Hour Recharge Time
7 attachments
Tool Bag
Direct Drive Cleaner Head Attachment
Removable Extension Wand
Wall Mountable
Hygienic Dust Bin Emptying
2 Year Warranty
Cord-Free Use
98,000 RPM Digital Motor
About 5.5lbs
Dyson V7 Animal Pro Vacuum Review Breakdown
Design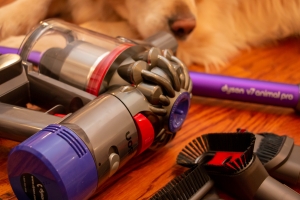 Dyson is very well known for design. They pride themselves on innovation, design, and doing things differently to make it better. In fact, the Dyson V7 Animal Pro comes with a booklet titled "The story of Dyson" that opens with a quote: "why does it do that? 'Just because it does' has never sufficed as an answer"
The concept of the Dyson is to have a bunch of tubes that create cyclones that use centrifugal force to spin the dirt out of the air and into the chamber. This means no bags or filters, just a bin that magically collects dirt, dust, and in this case, fur. Lots of it.
The V7 Animal Pro is a lightweight, wall-mounted vacuum with several configurations. The included removable wand allows you to use it with a feeling more like a traditional stand-up vacuum. You can also use it without to get a feeling like a portable handheld.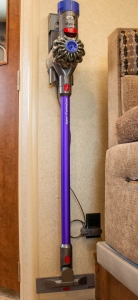 The wall-mounted docking & charging station lets it store and charge at the same time. With a nice pivoting design, it can be docked and stored with a single hand. There is also a place to put 2 attachments directly on the dock. This was great for our travel trailer. It kept it securely out of the way and allows for very easy charging in a tight space.
While vacuuming there are 2 power settings to choose from. Standard and MAX. The MAX setting will reduce the battery capacity, but it really goes into high power mode to pick up very heavy dirt.
Once you have filled the dust bin, emptying couldn't be any easier. Simply pull the red handle on top and the bottom of the bin pops open to release all the work its done. However, it seems a simple task but upon further inspection, there is more going on than meets the eye. While dumping, the entire pump assembly is lifted out of the bin and a squeegee type material actually scrubs any dust or fur that may have gotten stuck on the internal workings of the bin. This means every time you dump the bin, you are actually cleaning the internal workings also to make sure you never lose power. A great design choice since the target of choice for us is LOTS of pet fur.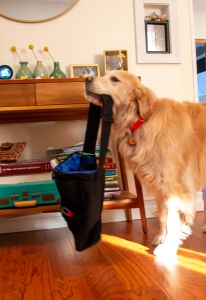 What really sets the Dyson V7 Animal Pro apart is all the attachments it comes with. More than the standard offering, the attachment menu is quite extensive. In fact, it comes with 7 plus an extension wand. That means there are 14 different configuration options to hunt dirt & fur right out of the box since we all know it will find itself everywhere.
For a nice touch to keep all those attachments together is a nice quality tote bag with pockets around the outside to store the vacuum and attachments altogether.
While there are not any bags to speak of, there are 2 filters on the V7 Animal Pro. One for air coming in and one for air going out. They are very easy to clean by running under cold water and letting dry 24 hours. But this only needs to be done about once a month, depending on how much you use it.
Cleaning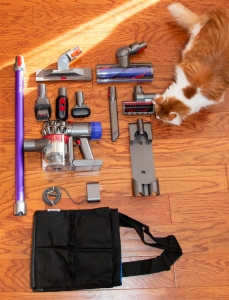 While the V7 unit generates the suction, the attachments are the workhorses. The choice of tool is what will determine your success fighting the furry enemies and the Dyson V7 Animal Pro comes with more than any other offering I've seen. Here is a quick breakdown of the tools included:
Direct drive cleaner head
Mini Motorized tool
Mini soft dusting brush
Combination tool
Crevice tool
Stubborn Dirt brush
Hard floor tool
So we took it to an extreme test. Our plan was to put the Dyson V7 Animal Pro in our towable travel trailer. Our Golden Retriever absolutely loves camping so he comes with us every time we go. This means that campground dirt gets mixed with long dog hair and then is sent everywhere inside the trailer. It's too small of a space for a full-size vacuum and an old fashioned broom just never seems to get it all.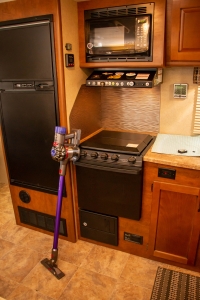 We let the trailer get nice and dirty during a particularly rainy, muddy, sandy, and busy camping trip. We even made sure to let our visitors know they should keep their shoes ON when they come in. Science was happening. To give an idea of the status of the floor at the end of the day, bare feet were picking up a lovely cocktail of dirt & fur. This was properly, gross.
With a full charge and a motorized head attached to the standard power setting, off I went. After a few passes and the dust bin starting to fill, the floor was remarkably clean short of a few spots with hardened dirt. I swapped to the stubborn dirt brush and put it on MAX. In seconds there was no sign of dirt to be found.  I then quickly dumped the bin and moved on to tackle the bed comforter where the dirty dog had been laying. With the Mini Motorized tool and the wand removed, all the hair was pulled from the fabric. Next, some detail work in the corners, and in no time the floor was again barefoot ready.


Battery Life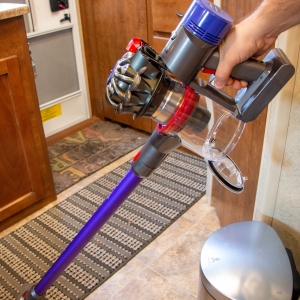 In our travel trailer cleaning experiment, I was able to do the entire 24′ trailer on a single charge. This was surprising because I didn't really hold back. Even with an occasional switch to MAX power, battery life was more than sufficient for our space.
After recharging for the 3-4 hours, I took the V7 Animal Pro into the house to see if it could make some quick work of a cat that likes to spill all his food while eating and then spread fur on 1 particular spot on the couch. While the fur did get pretty tangled in the powered brush, it didn't slow down and the entire brush removes easily using a coin to have good access for removing any fur that didn't make it to the canister.
Sure enough, there was enough battery to do a once over on the entire house while on standard mode. About 20 minutes of run time. However, the MAX setting really does cut down the run time. About 6 minutes is all you can expect.
With a mindful trigger finger and only using MAX when needed, our cleaning session lasted about 35 minutes as I worked my way around the house hunting fur, food & dust. Not really enough for a super thorough deep clean, but plenty for that touch up clean or targeting a particular mess.
One addition that would be nice to see is a battery level indicator to let me know how much power is left during use. Without this, you just have to use it until it is dead.
Portability
At about 5.5 lbs, it is very easy to carry around. Especially when you use the wand because some of that weight is supported by the floor.
The dimensions of the vacuum unit are what I would consider very portable. It fits very nicely in a small closet out of the way. However, the challenge for me was to find a spot out of the way that also had a plug within about 4 feet. That is about as far as the charging cable will reach so ultimately your choice of docking location will be made by where there is an outlet.
The inclusion of the carry bag is a very nice touch and helps keep all the attachments together. We have owned vacuums in the past and very quickly lose all the tools that make it so great. With the slightly padded bag in our travel trailer, we can keep them all together and protected as we head down the road.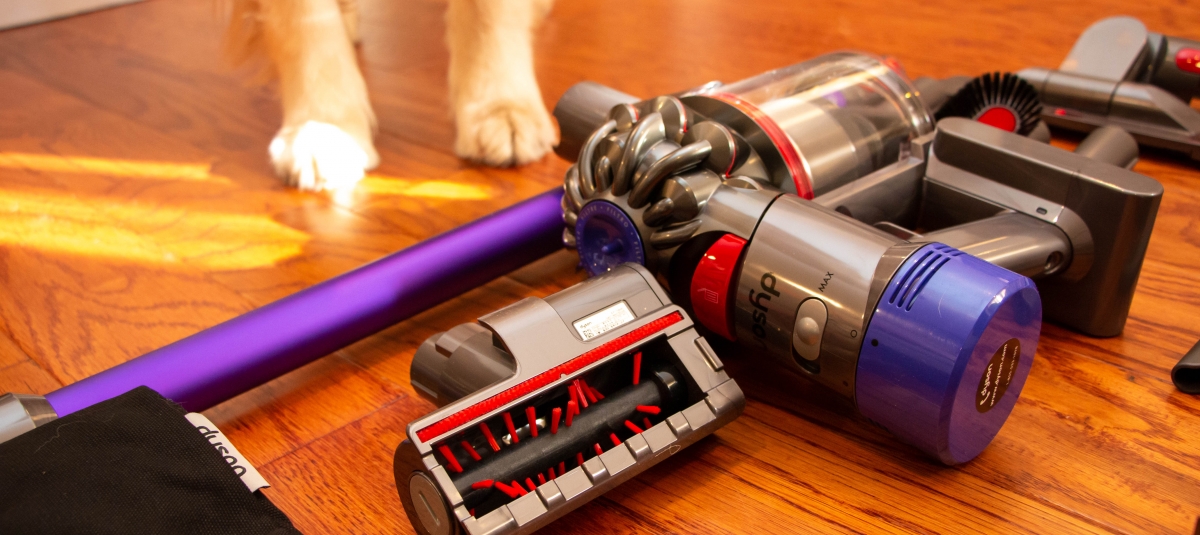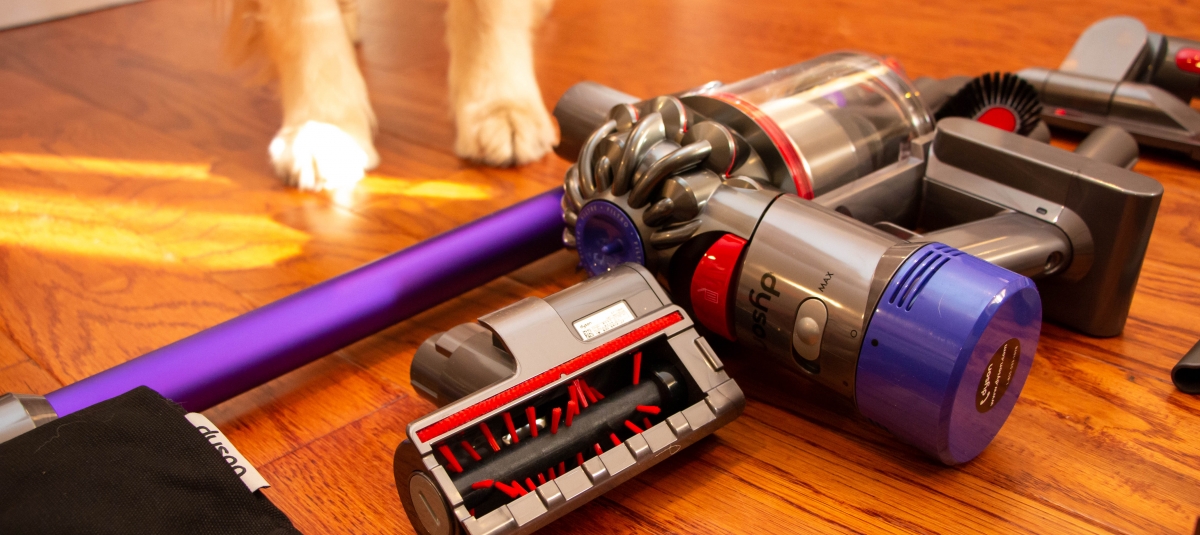 Value
Dyson is a high-level brand so prices tend to be on the higher side. But you do pay for performance. The V7 Animal Pro is based on the V7 line which is the middle of the road offering. This means you'll find a great balance of performance vs value on the main unit.
In my mind, what really tips the scales towards the high-value side is the number of accessories, tools, and attachments that comes with the V7 Animal Pro. Buying all the parts separately will be quite expensive but this bundle sets you up perfectly to clean all the messes that you can expect when having a furry friend around the house.
Buy Now: $399.99 – Amazon.com
Dyson V7 Animal Pro Vacuum - Tech Review
Do you have furry pets that leave messes and fur piles all over the house? Do you need a vacuum for those quick cleanup tasks or getting into hard to reach spots? The Dyson V7 Animal Pro was built with all those things in mind.
The Good
So many tools
Good battery life
Great wall storage
The Not So Good
Recharge time
Fur gets caught in brush
No battery level indicator