You've no doubt seen parents riding bikes around with a trailer that is the cozy little chariot for their kids.  But these days, kids aren't the only companions we like to bring with us. Let's not forget about our fur babies, also!
The folks at Burley recognized that Fido wants to go for a bike ride too and have created the Tail Wagon. A dog centered design that safely lets your best friend join you for a bike ride. In our case, it was our golden retriever, best friend and very best good boy pictured above, Ernie!
Key Features:
6061-T6 Aluminum Frame
16″ Spoked Alloy Wheels
Ready To Bike – minimal assembly
Flex Connector
75 lbs capacity
23.5 lbs weight
Cargo pockets
Compact folding design
Removable floor
Roll up zippered clear window covers
Burley Tail Wagon Review Breakdown
Design
Burley is definitely a leader when it comes to bike trailers. Whether it's designed to haul cargo, kids or pets, they know the best way to make sure you and your precious cargo stay safe.
The Burley Tail Wagon is made of lightweight aluminum and a bright, visible heavy-duty nylon fabric. There is an open mesh fabric down the sides as well as on the front and back to allow for the wind to still flow in.  But if there is bad weather, there are also clear window panels that zip down to keep the interior out of the rain or keep the cool breeze from getting too cold.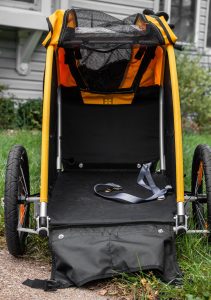 The interior is very spacious and is designed to fit your Buddy that weighs up to 75lbs. Although it does feel like it could carry more. However, dogs over 75lbs might find the interior to get a little small. The strong floor is made to be removable for easy cleaning and has D loops sewn in to allow for hookup of a leash.
In the back, the Burley Tail Wagon opens fully from the top and bottom like a big military cargo plane. This makes for an easy entrance and exit without having to carry your dog or make them jump over any flaps. Those flaps also overlap and secure tightly making a safe container that can't be escaped. This is especially great if you pass a squirrel or bunny while out and about.  Sorry, Ernie.
Outside the trailer are 2 quick release wheels with built-in wheel guards. There is also an integrated flag holder for extra visibility, or maybe just style. The tow bar is removable and very secure. It mounts to the bike with a bracket on your rear wheel and then a pin and safety strap to keep everything secure. The mounting bracket is made of super durable rubber so it flexes very well. I was able to completely lay my bike on its side without effecting how the trailer sat or worrying that I would damage my bike.
With pockets sewn all over the outside of the trailer, you can also bring all your pets favorite toys and gear with you. We were able to bring a water bottle, an extra leash and even have room for some treats and a few items of our own gear.
Finally, for safety, there is an available light kit but there are red reflectors on the rear, white reflectors upfront and yellow reflectors on the wheels making this extra visible if your adventure takes you into the evening.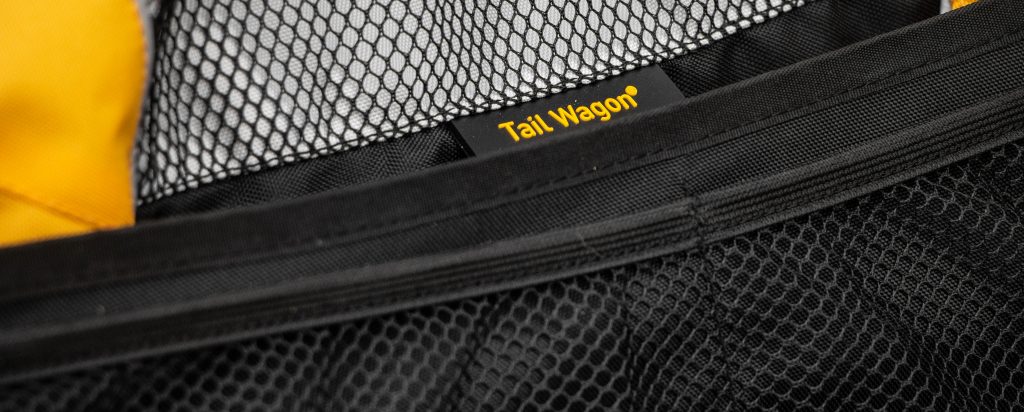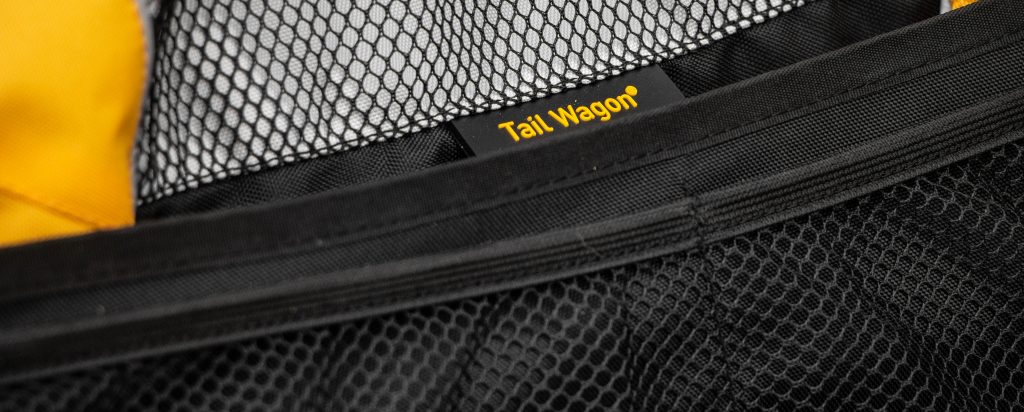 Ease of Use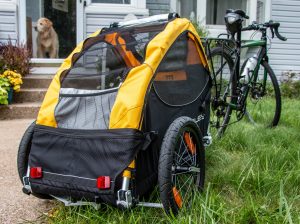 I was really curious how easy the Burley Tail Wagon would be for both Ernie and me. Ernie has never been on a bike ride, but he certainly loves car rides. I've been on lots of bike rides (and also enjoy a good car ride), but never with a trailer loaded up with a squiggly fur buddy.
To load Ernie up, we set the integrated trailer parking brake that securely locked the wheels to keep it from wiggling around and opened the rear flaps. To my surprise, Ernie hopped right in like he knew exactly how it worked.
Ernie is right at the upper limit of size, so I left the front flap open to let him feel a little less confined for the first few trips. He was definitely more comfortable this way, but he also got a little too excited and had his fluffy head right in my back tire. A rear fender on the bike would be a good idea to add.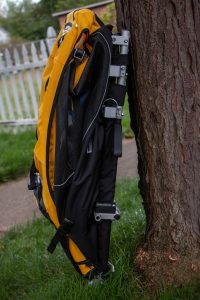 It took a little trial and error to get his leash tied in the right spot to keep him from sticking his head too far forward and it would be nice to see the front wall up a bit higher or some type of mesh gate that still lets him poke his head out, but not lean so far forward.  But once the leash was set, I secured the rear flaps and we were ready to take off.
Starting slow, I could immediately tell Ernie was having fun. His wiggly butt and tail were wagging so hard, the bike and trailer had a natural sway from side to side that was in sync with a very happy boy! Once I adjusted to the tail waggin (ahh, there's where the name came from!), we went for a bigger and faster ride.
At faster speeds, it was all much more stable and Ernie had a blast. I occasionally looked back and saw big grins, ears flapping and an occasional "WOOF!" of excitement for our new form of adventure.
At the end of the day, everything in the trailer folded down into an amazingly small package that would easily fit in a small car. That makes this an accessory that is sure to follow Ernie and me on camping trips or anywhere we bring my bike.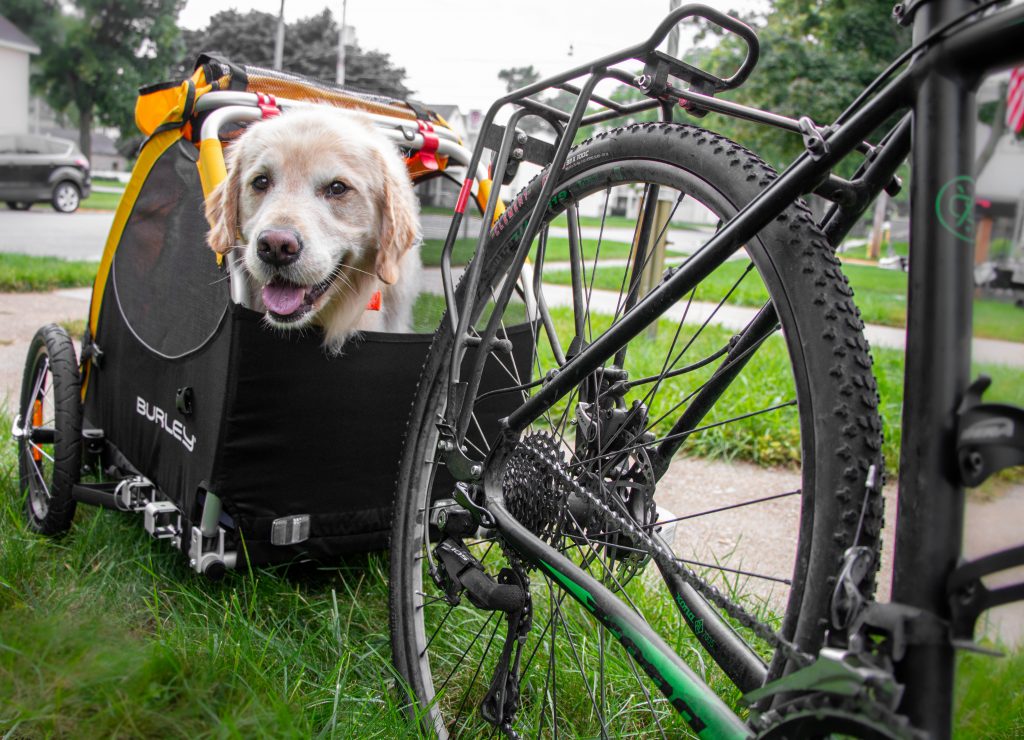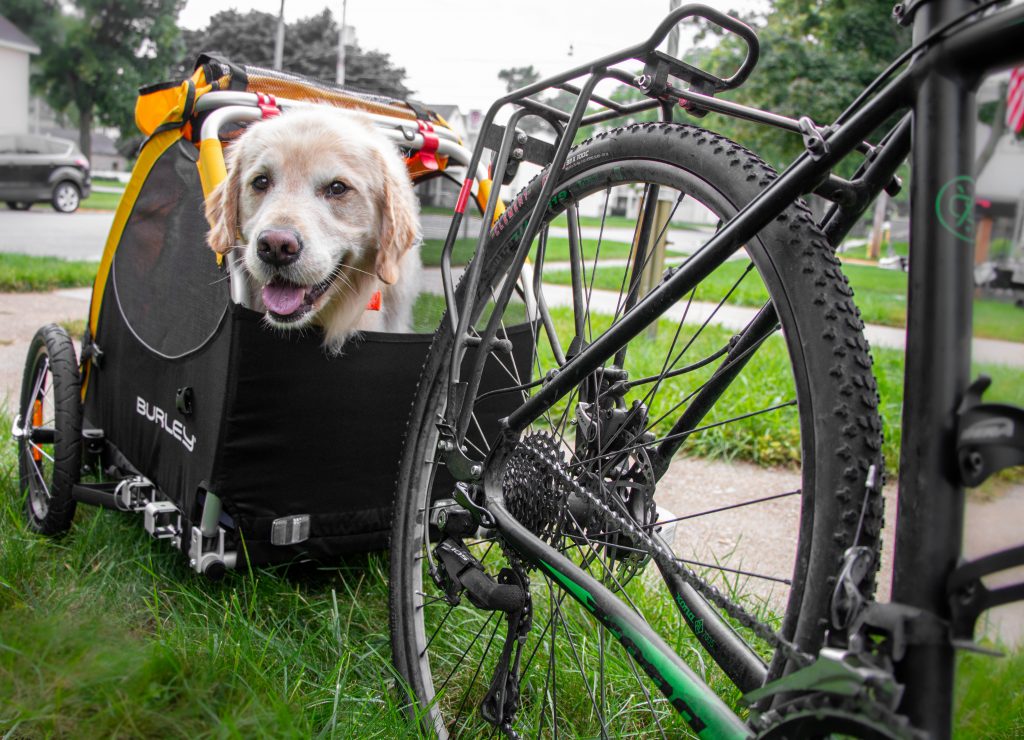 Maneuverability
Getting around with Ernie in tow takes a little getting used to. My first few trips with the Burley Tail Wagon didn't have Ernie inside just so I could get a feel for the space it takes up. After accidentally launching a few curbs, I eventually figured out where I could and couldn't go with the trailer.
When loaded up, the bike does run a little slower and with big dogs, you'll want to make sure your bike is in good condition with good brakes and I think you'll definitely want some good gears on your bike. The trailer only weighs 24lbs, but with a 75lbs dog inside, that means you have an extra 100lbs to get up and down those hills.
If you want to maneuver the Burley Tail Wagon off the bike, it comes ready with a large handle that can be used as a 2-wheel pushcart, or there is also a good collection of accessories that allow this to not just be used behind a bike also. A stroller kit will turn into a more secure wheeled cart. Or there is a waist harness kit that allows you to hook the trailer to you for hikes and walks. Or if you are looking for more year-round adventure, there is even a ski kit that would let you take this X-Country skiing in the winter!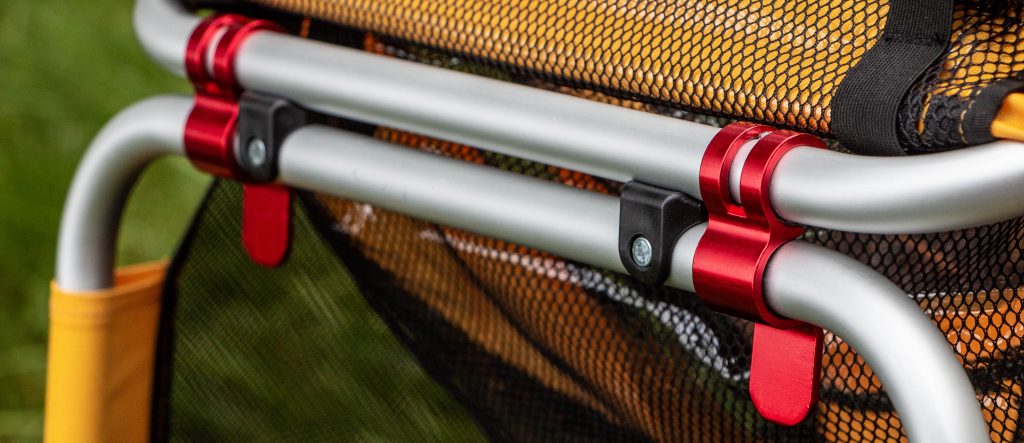 Quality
The quality of the Burley Tail Wagon seems extremely top-notch. It is clear this was made for big adventure and built to last a long time. I think the best place to view the quality was on the floor. With muddy dog paws and claws digging in, I was skeptical of how well it would hold up. After a quick wipe down after several rides, it looks good as new.  No snags, rips or tears.
That same quality carries forward into confidence that this is a safe way to transport our best friend. If this was a rickety cart that felt like it may give way, there is no way I would load up my dog and head out into traffic. But when fully assembled, I'm really surprised at how rigid and secure the interior of the trailer is.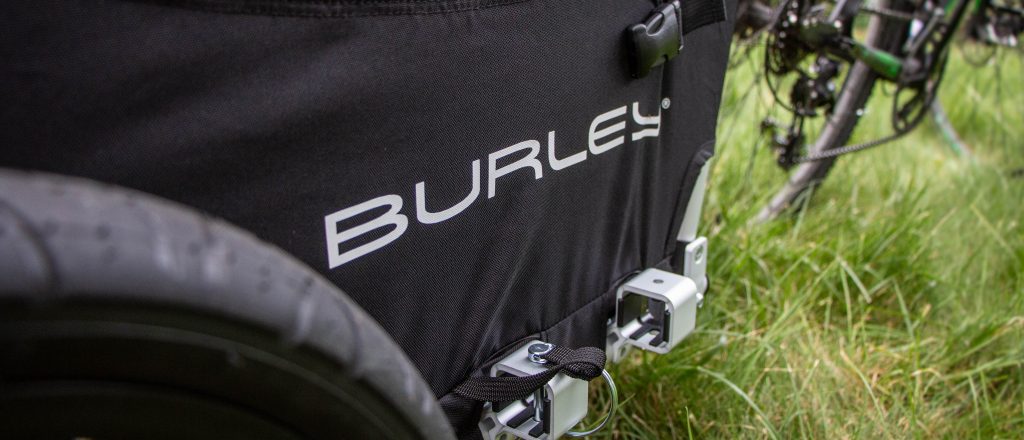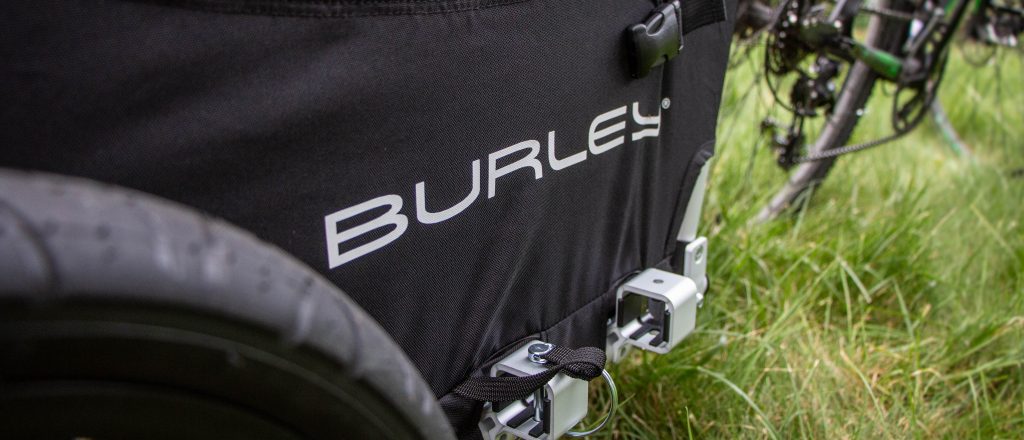 Value
At $399, this trailer is very fairly priced. I'm confident it will last a long time and compared to other trailers on the market it seems to have an excellent balance of quality and value.
Plus, just because it's built for a dog, doesn't mean you have to use it for a dog. This would make an excellent cargo trailer for getting around town by bike instead of a car or maybe taking a long bikepacking trip without worrying about carrying backpacks or loading up your bike frame.
Buy Now: burley.com ($399.99) or at a bike shop near you!
Burley Tail Wagon - Gear Review
Adventure is out there, bring your fur baby with you! The Burley Tail Wagon is a cargo trailer built to haul gear, but designed to safely haul your favorite cargo, your dog!
The Good
Safe for your pet
Very portable
Solid design
Not So Good
Need a way to keep head away from wheel
Doesn't come with an adjustable short leash