Brooks Running Company defines themselves as a team of men and women, united by an compulsion to deliver the best running experience on the planet.  Their company is guided by nine simple principles that define who and what they strive to be as a company.  Their first principle is; We do one thing and we do it better than anyone one on the planet.  For Brooks, this means everything they do, from the idea to the production is about the runner and the running experience.  When searching for running products it is easy to get lost among the million different products but its nice knowing that the folks are Brooks are obsessed with the run. As their second principle states; The answer is the run.
New Years is a bad time to start a workout resolution because looking outside and seeing old man winter can be quite depressing and un-motivating.  Whether you are continuing your resolution or looking to start a new one, Spring is the perfect season to get moving.  Right around 55 degrees is considered ideal running temperature and for the next month or so Spring will provide us with an abundance of ideal days, unless you are below the Mason Dixon line, in which case you can continue to enjoy your early morning or late night jogs to beat the heat.  To take advantage of these days, we have partnered with our good friends at Brooks to test and review a full lineup of PureProject gear for men to get up and running this year.  Read below for the full breakdown of each product!
Brooks PureProject SS T-Shirt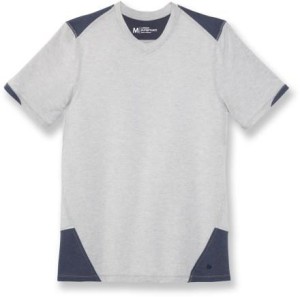 Features:
Overlocked reflective at waist seam
Reflective on back
DriRelease Fabric
Fabric: 94% DriRelease Tencil, 6% Spandex
The Brooks PureProject SS T-Shirt is an essential start to any running adventure. The Brooks drirelease fabric is lightweight and hardly noticeable on the body as you run.  The moisture-wicking fabric dries quickly of your sweat and the shallow V-neck will allow for some nice ventilation to keep you cool while working up a sweat.  The PureProject shirt also features front and back reflective strips to make you more noticeable to traffic during those early morning or late night runs.  In addition to being a great shirt for running, we also found it to be perfect for a hot yoga class thanks to the moisture-wicking fabric.  This shirt will quickly become your go-to workout shirt.
Buy Now: $60.00 or visit BrooksRunning.com
Brooks PureProject 9" Woven Short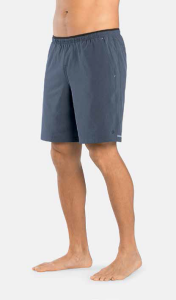 Features:
Fit: Semi-fitted
9-inch inseam
Brooks DNA fabric seamless liner
Four-way stretch woven shell fabric
Two slash hand pockets and back pocket with flap
Overlocked reflective detail at hem
The Brooks PureProject woven shorts will be unique for anyone not accustomed having a liner.  While common amongst serious runners, casual runners typically use regular lined shorts.  However, now is the time to make the switch as you will appreciate the comfort and support that these woven shorts offer.  The 4-way stretch woven fabric will wick away moisture  from your skin and dries quickly for enhanced comfort and temperature regulation during those long runs.  At the hem you will notice the overlocked reflective detail. The beauty of the PureProject shorts is that they feel like they were custom-built you for you due to the adaptive liner.  These are a must for those long runs where comfort is of the up most importance.
By Now: $75.00 or visit BrooksRunning.com
Brooks Henley II Long Sleeve T-Shirt
Features:
Snap detail at neck
Fit: semi-fitted
Back pocket with invisible zipper
360˚ tonal reflectivity
drirelease fabric
Fabric: 94% drirelease tencel, 6% Spandex
The Henley II long sleeve shirt is a must for spring running.  It is lightweight but the long sleeves will keep you warm for those cooler runs.  The snap feature at the neck will allow you to open up some ventilation if it starts to get too warm.  The Henley fits great over the PureProject SS T-Shirt if you want to run with both and shed the Henley later on in the run as being incredibly lightweight it will not impact you or get in the way.  The shirt is very stylish and can easily be worn as a workout shirt or just casual wear.  Overall, this is a top purchase and given its extreme comfort, you will find yourself wearing it often.
Buy Now: $70.00 or visit BrooksRunning.com
Brooks Essential 1/2 Zip III
Features: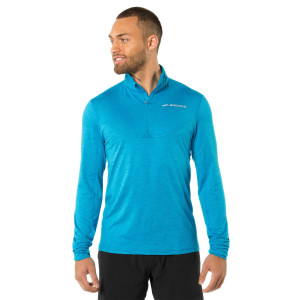 Soft, four-way stretch fabric
Thumbholes
Back zip pocket
Fabric: 88% polyester, 12% spandex
Thumbholes to keep sleeves in place
Backzip pocket
The Essential 1/2 zip is like your favorite sweatshirt that no matter how many other sweatshirts you buy you constantly go back to because of how great it fits and feels.  The Essential lives up to its name and especially for those really cool runs this is a must have.  The thumbholes are a nice feature as they help keep the sleeves in place during the workout and keep the hands warm.  When you pick up the Essential you might not think it will keep you warm because it is extremely lightweight but it holds up in cool temperatures and will keep you nice and warm. It is ideal for temperatures in the 40 to 65 degree range.  Overall, this was one of our favorite products from the Brooks line.  This very stylish top is great for working out but also sleek enough to wear regularly.
Buy Now: $65.00 or visit BrooksRunning.com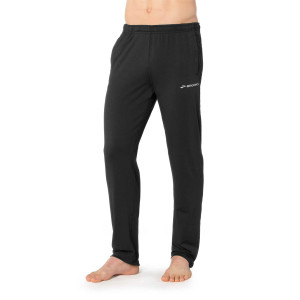 Features:
Soft and light fabric
Slim fit through leg
Plush elastic waistband
Two side zip pockets
Reflective ankle zips
A running (no pun intended) theme through all the Brooks gear has been about the comfort and fit.  All of the products mentioned have been semi-fitted and Brooks has found the right balance as nothing has been too tight and restrictive.  This holds true for the Spartan III pants.  Semi-fitted through the legs gives the pants a more modern feel and look but yet there is great comfort as well.  The reflective ankle zips will help you stay visible in low light and the ankle zippers allow you to easy shed these over your shoes if you want to remove them once you get warmed up during your workout.  With side zip pockets you will easily be able to take a key or wallet along with you and keep them safely secure.  While being soft and lightweight the pants still provided good warmth during cool runs.  We got caught in a rain storm recently during a run and while they are not waterproof they were able to keep us insulated until we made it back so we were not freezing.  The Spartan pants will be your go-to workout pant and living up to the their name are extremely tough and durable.
Buy Now: $85.00 or visit BrooksRunning.com
Brooks Glycerin 12 Running Shoes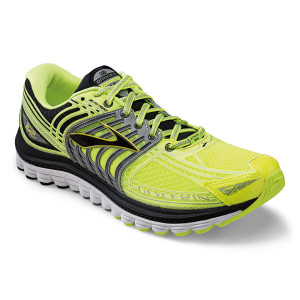 Features:
Midsole: Super DNA, Full-length S-257 Cushsole, Full-length Segmented
Crash Pad, Omega Flex Grooves, Universal Sprung Platform
Outsole: IDEAL Pressure Zones, HPR Plus, Forefoot Cush Pod Construction, Soft Blown Rubber Forefoot, Omni Grooves
Upper: 3D Fit Print, Profile Sockliner, Conformable Saddle Construction,
Moisture-managing Element Mesh, Synthetic Overlay Materials, Moisture-managing Element Linings
The motto of Brooks is Run Happy, which is behind everything they do and belive in as it is the emotional core of the running experience.  Run Happy very simply is each runner's deep and meaningful love of running.  With the Glycerin 12 it was very easily to love running.  We equate this shoe to taking a drive in a superior luxury automobile because it is all about the comfort.   Starting with the Segmented Crash Pad which gives your foot's lay-down superior cushion and a very smooth heel-to-toe transition throughout the run.  The crash pad is shaped like a caterpillar and is a midsole made up of independent, yet fully integrated shock absorbers. As your foot strikes the ground, the segments work together to customize your individual lay down to provide the right amount of cushion and seamless heel-to-toe transition for you.  The Glycerin features a 10mm midsole drop and is designed for runners with medium to high arches.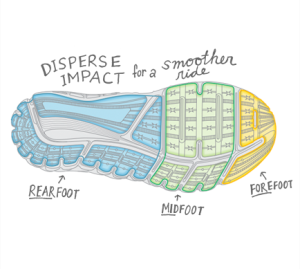 In addition to the Segmented Crash Pad the folks at Brooks also included Ideal Pressure Zones.  The zones are designed to distribute pressure evenly under your foot.  Instead of impact being located in just one are of the foot but that impact is spread out  evenly across the entire foot, leading to a smoother glide throughout the run.  For runners not used to this type of comfort and support the adjustment may be difficult for you.  Our first runs felt clunky as it was more shoe then we were accustomed to but after a few miles we found our feet and calf's to be fresher and no soreness as the shoe really does absorb a lot of the pressure.  Our longer runs left our legs feeling stronger and less strained.  While minimalist shoe runners would certainly struggle adjusting to this shoe we feel it is great for anyone looking for more comfort and great support.  Your feet will appreciate the luxury feel of the run.
Buy Now: $155 or visit BrooksRunning.com
Brooks Running Company's Spring '15 Collection
When it comes to running shoes and gear, there is not many companies out there as dedicated as Brooks. Brooks firmly believes that if you're having a bad day or you want to make a good day better, then going for a run is always the answer. Their dedication shines through in their products, making each product we tested in this collection well worth the investment.
Brooks PureProject SS T-Shirt
8.5
Brooks PureProject 9" Woven Short
8.4
Brooks PureProject Henley II Long Sleeve T-Shirt
8.3
Brooks Essential 1/2 Zip III
9.3
Brooks Spartan Pant III
8.8
Brooks Glycerin 12 Running Shoes
8.6