Happy New Year! The beginning of a New Year is a great time to reflect on what you've done in the last year and look forward to the coming year. This means you are going to reflect on all of the food & booze you just consumed over the holidays and the zero amount of exercise you did. Unless you do something about this reflection, you can look forward to not taking your shirt off at the beach this summer. Hello weird tan lines. So let's do something about it together!
– A Plan –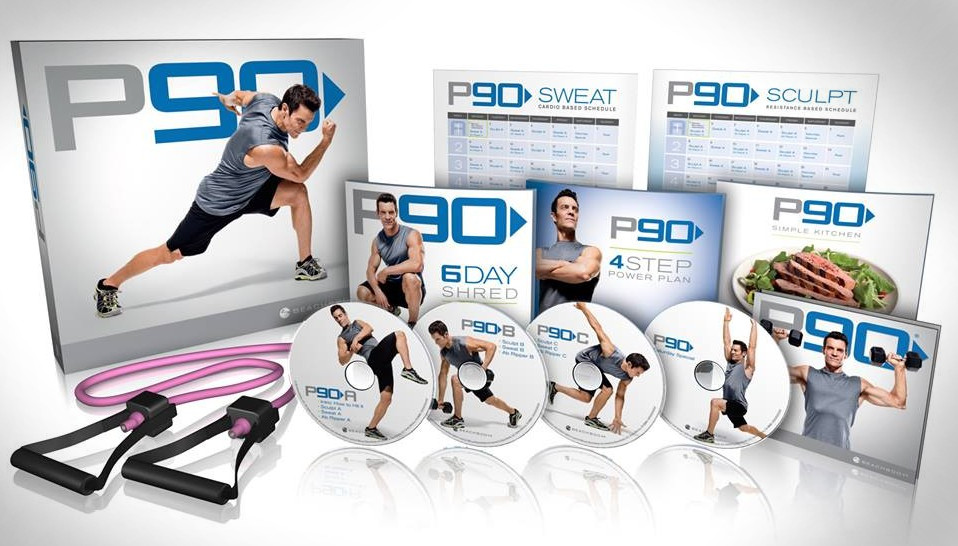 Just saying you want to lose weight, get in shape, and eat better isn't going to get you far unless you have a plan in place to make it happen. By now you've probably heard of P90X but may be a bit intimidated to take the plunge – especially if you're new to working out. Tony Horton, the creator of P90X, took note and created the new P90. This program was designed to be a 90-day body transformation for everyone regardless of age or fitness level. P90 is a set of 10 workouts in 3 progressive phases to gradually ease your body past its old limits. What makes this program even less intimidating is that the workouts are only around 30 minutes a day and you can complete all the workouts at home – so doable! Also it comes with nutritional guides including the Simple Kitchen Nutrition Guide and the 6-Day Shred that will help you kick start your diet. P90 comes with 24/7 Online Support and a 90 Day Money Back Guarantee.
I'm telling you right now, forget the gym membership and get P90 instead. It's cheaper than a gym membership, you can roll out of bed and do the workouts in the comfort of your own home and a gym membership doesn't include an easy to follow nutritional guide. Also I hate showering at the gym after a workout – eww. The probability that you will stick to this program and see results is extremely high.
After just a week of P90, I've already started to see results – I am so motivated and can't wait to see what the rest of the 90 day program does for me. If you are looking for a little more intense program or for the next step after P90, check out our P90X3 and T-25 workout reviews.
Buy Now or, learn more at: BeachBody.com
– Footwear –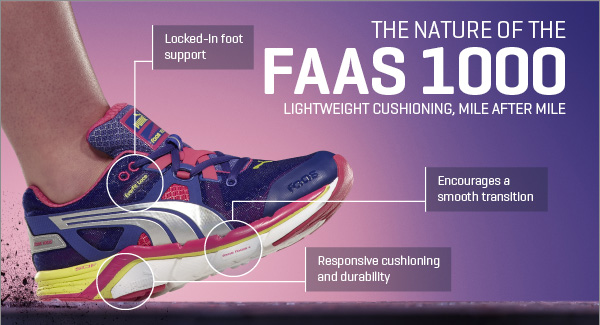 Hello comfort! The Puma Faas 1000 built with neutralCELL has an amazing level of cushioning and flexibility providing a smooth ride. The shoe's namesake comes from its FaasFoam+ midsole which is Puma's new proprietary blend of foam and rubber that makes it highly resilient, super comfy, but still responsive while you're on the run or during your workout. Thanks to the FaasFoam+, you instantly feel comfort as soon as you step into the shoe.
While the Faas 1000 is packed with cushion, it still remains extremely breathable and fairly lightweight. One of my favorite features is its EverFit Lace upper lockdown technology, which ties into the laces to help keep your foot in place. What's unique about these shoes is that they all come with a 30 Day Test Run. If you aren't 100% satisfied, you can return the shoes within 30 days of purchase.
The Faas 1000 is a great looking shoe. I just love how these shoes feel from the moment I put them on. They are so cushy that they automatically make you want to go for a run. I found that the Faas 1000 provides a enjoyable ride to not only for my feet but my knees as well. This shoe is in it for the long haul.
Buy Now or, to learn more, go to: Puma.com
Smartwool PhD Run Ultra Light Micro Socks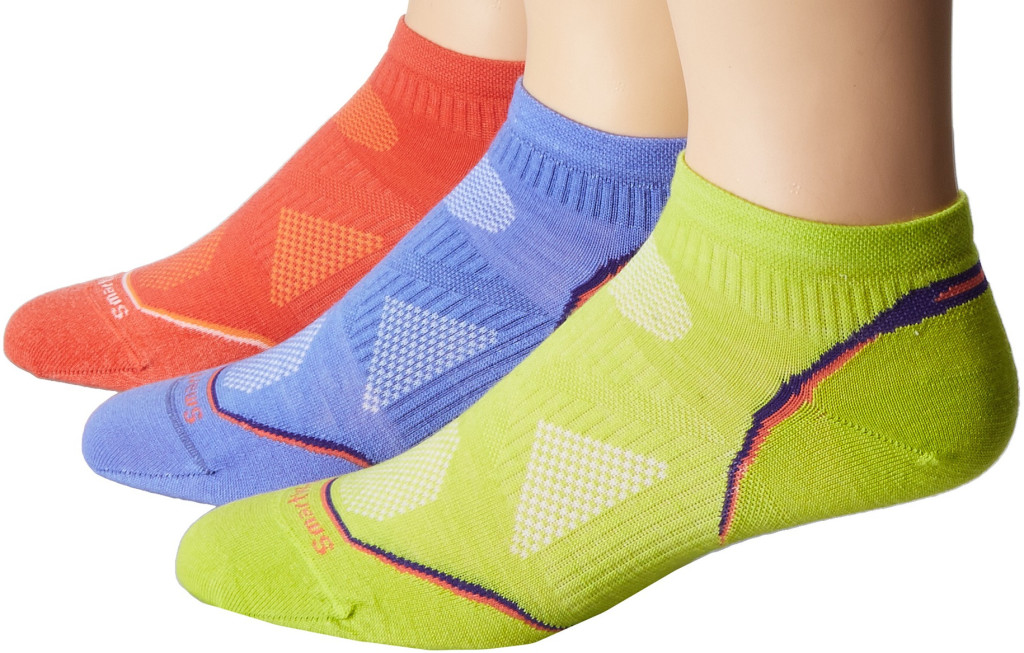 Pairing your quality kicks with quality socks helps complete the the footwear package. Having great shoes paired with regular cotton socks can lead to some pretty wicked blisters. The Smartwool PhD Run Ultra Light Micro Sock is the preventative maintenance package you need to keep your feet comfy during short or long runs. The new 4 Degree Elite Fit System uses two elastics for greater stretch and recovery to keep the sock in its place. The ReliaWool Technology is used in high impact areas to provide longer lasting protection. This means the PhD Run Ultra Light stays in place during your run or workout instead of moving every which way causing friction against your skin.
I've been a fan of Smartwool since I tried their snowboarding socks a few years back. One may not automatically think of Smartwool for running undergear but you need to change the way you think. They know how to make a high quality product that provides the protection, support, and goes the distance. They make the kind of products that will be in your wardrobe rotation for years – not just a few months. These socks are amazingly light and I am happy to report that they have kept my feet blister free.
Buy Now or, learn more at: SmartWool.com
– Hydration –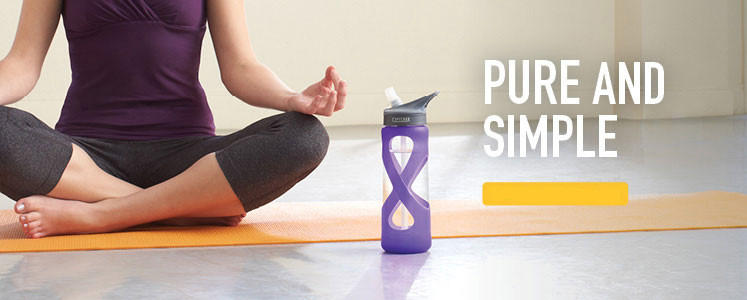 Hydration is key to keep your workout fueled and your digestive system rolling. It's recommended to drink at least half your body weight in ounces of water a day. So if you weigh 140 pounds, you need to drink at least 70 ounces of water a day. This can seem a little daunting at face value but it's actually pretty simple to accomplish as long as you have your water at the ready. I really dig the Camelbak eddy Glass water bottle since it works for my workout and for keeping hydrated through out the day at the office. The .7L eddy Glass water bottle is made from BPA-Free, lead-free glass so it won't retain odors and start to have that weird old water bottle taste. With Camelbak's patented flip-top bite valve technology, you don't even need to tip the bottle for a swig. The eddy Glass comes safely wrapped in a nice looking silicone sleeve to avoid slippage and avoid breakage. Drink up!
Buy Now or, to learn more, go to: CamelBak.com
– Audio Motivation – 
Outdoor Tech Orcas Active Wireless Earbuds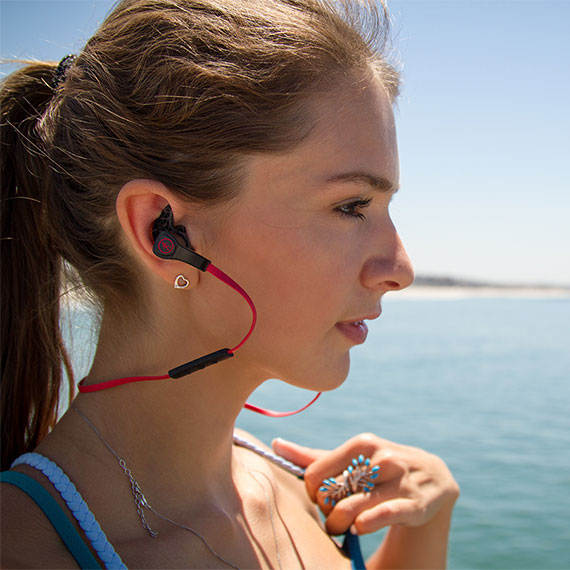 Nothing kills my workout vibe faster than to have my hand catch my earbuds cord in mid-stride causing my attached iPhone to rip out of my pocket and send it – earbuds and all –  crashing to the ground. God I HATE that. It makes me want to quit every time. So with the New Year, I'm freeing myself of this problem by upgrading to Outdoor Tech's Orcas Wireless Earbuds. The Orcas are lightweight, sweatproof, have a built-in mic and of course are equipped with Bluetooth to easily connect to your phone wirelessly. You can count on a the Orcas riding securely in your ears thanks to the included 3 sizes of ear tips and 2 sizes of fins (get it?) so they can be customized to fit in any ear. You can count on 6 hours of play time with each charge via the micro USB charge port. The Bluetooth on the Orcas is amazing clocking in at 32 feet so you don't have to have your phone in your pocket during your workout or you can walk easily around your office phone-free without missing a note. Finally, $1 from each Orcas sale goes to Save The Whales – love it!
Buy Now or, to learn more, go to: OutdoorTechnology.com
– Apparel – 
lululemon athlectica All Sport Bra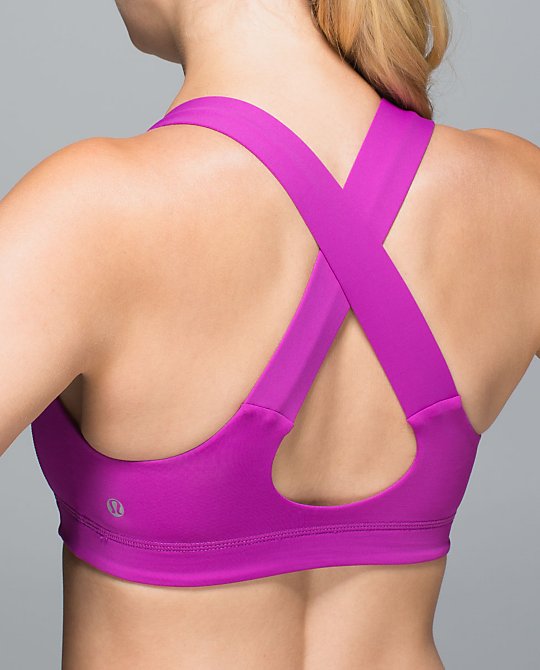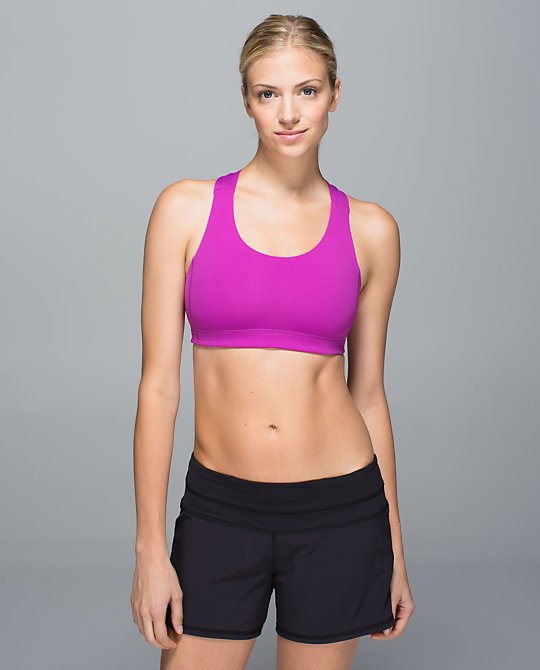 Ladies a great sports bra is an absolute essential when it comes to starting your new workout plan. The lululemon All Sport Bra is just the bra you were looking for to wear at all levels of your fitness routine. With its low-friction Luxtreme fabric this bra fits like a second skin and easily wicks sweat away. The All Sport has built in pockets for removable cups and wide straps to limit them digging into your skin. The crossback straps help maintain support and remain invisible when you're rocking a racerback tank. This bra comes in a slew of color combos (14 in all) and is ready for whatever activity you want including yoga, running, beach volleyball and more.
Buy Now or, to learn more, go to Lululemon.com
lululemon athletica Wild Tank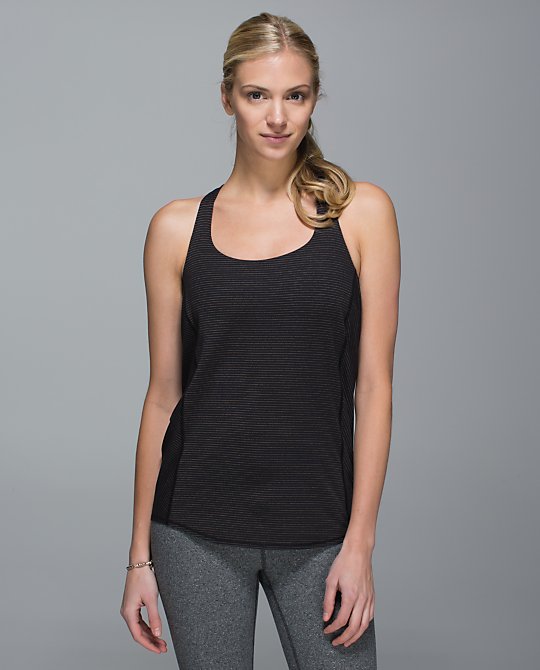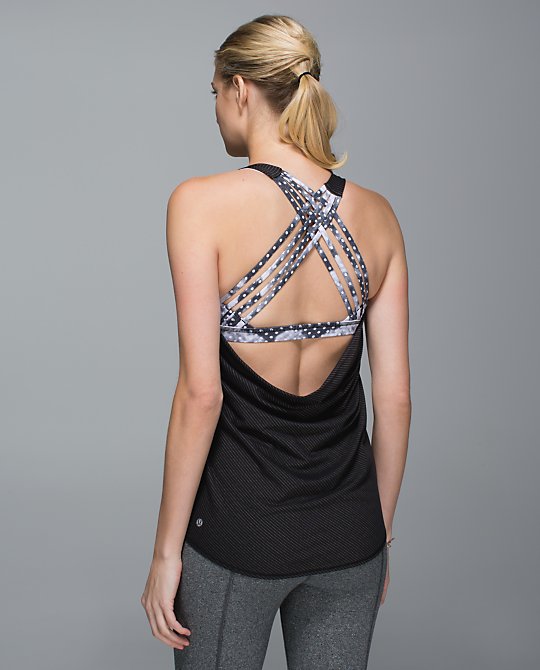 I mean…this is seriously the coolest looking sports tank ever. Just look at it! The lululemon athlectica Wild Tank has draping, open back providing awesome ventilation even during the hottest of hot yoga classes. The strappy, racerback design adds to its style and provides support along with the built in shelf bra. Designed with Light Luon fabric the Wild Tank wicks away sweat and keeps its shape thanks to Lycra. You won't have to worry about the Wild Tank turning into the 'Stinky Tank' with its Silverscent technology that protects it from the growth of odor causing bacteria in the tank. The low arm holes give you the freedom and room to move into any pose you wish. This tank is proof that you still can be stylish while working on your fitness.
Buy Now or, learn more, at: Lululemon.com
lululemon athlectica Think Fast Long Sleeve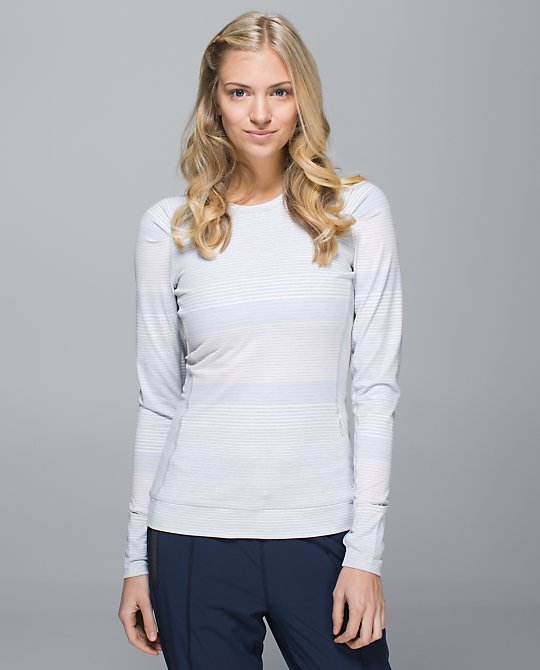 It won't take you long to think that the lululemon Think Fast Long Sleeve is amazing. It's a wonderful base layer for your outdoor workouts as the temps fall and the snow starts to fly. The super soft Rulu fabric slaps away sweat and provides a four-way stretch. Mesh panels under the arms gives your body room to breathe instead of swimming in your sweat. Think Fast's sleeves come equipped with thumb holes and these neat little cuff pockets that are a perfect place to stash a tissue. This is genius since a runny nose while cold weather running is almost guaranteed. Wiping your snot on your sleeve is just not cute. The Think Fast also comes with a handy zip pocket that can fit your keys, cash, or cards.
Buy Now or, learn more, at: Lululemon.com
Helly Hansen Speed Printed Lifa Flow Short Sleeve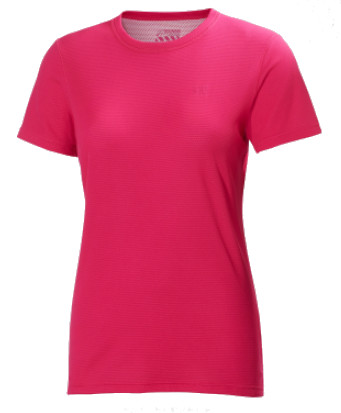 Toss aside your sweat absorbing, chaffing cotton t-shirts and upgrade to the Helly Hansen W Speed LIFA Flow Short Sleeve. Over the past 40 years, Helly Hansen has worked on perfecting its LIFA Stay Dry Technology which is exclusive to their brand. They believe it's the best moisture management technology in the world. That's a pretty bold statement but they aren't kidding. LIFA technology pulls excess heat and sweat away from your skin and keeps you dry during all workouts. The W Speed Short Sleeve is the perfect tee for every intensity level and won't suffocate you in the process.

Buy Now or, learn more at HellyHansen.com

Helly Hansen Warm Run Long Sleeve

'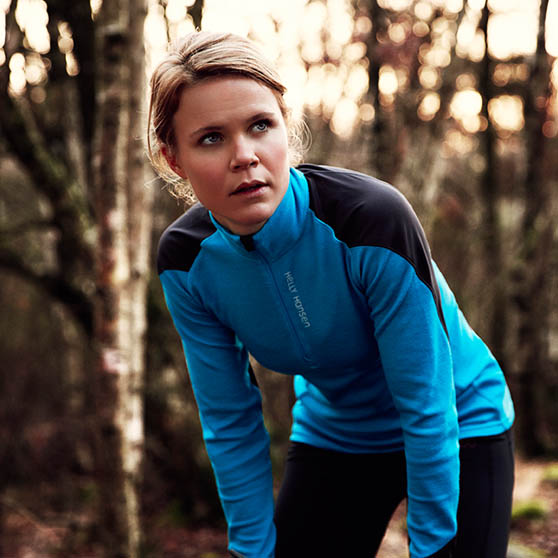 This slick half zip long sleeve training top is a great piece to add to your fitness arsenal. The Helly Hansen Warm Run Long Sleeve is a blend of their LIFA Stay Dry Technology and Merino wool so that it keeps you warm while keeping your dry and letting your body breathe. The Merino wool keeps you toasty while the back has the lighter LIFA fabric deals with that pesky back sweat. While it's made with wool, the HH Warm Run is not itchy and super light. The mesh fabric on the shoulders and elbow are strategically placed for run specific movement. And of course the HH Warm Run is rounded out with 360-degree reflectivity to keep you safe on your pre-work or post-work run.
Buy Now or, learn more at HellyHansen.com
Helly Hansen Challenger Jacket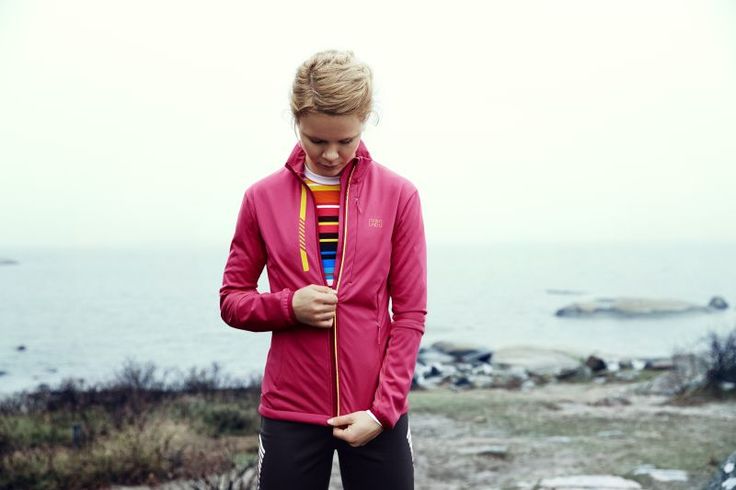 This is the jacket you have been looking for when it comes to cold weather training. The Helly Hansen Challenger Jacket is designed with their H2Flow Temperature Regulating Technology. What the heck is that? Well the H2Flow allows you to control your body's temperature using insulation that uses air to provide warmth. To keep you warm, the H2Flow air pockets and holes to trap air to store your body heat. With this technology, they don't have to fill the HH Challenger with extra insulation fabric and filling making it an ultra light jacket while keeping you from freezing to death. Think warmth without all of the bulk getting of the way of your workout. The Challenger has a windproof and waterproof front for those blustery winter days, 360-degree reflectivity and comfy stretch fabric in the back to keep you on the move.  This jacket is light but mighty.
Buy Now or, learn more at HellyHansen.com
Helly Hansen Pace Winter Tights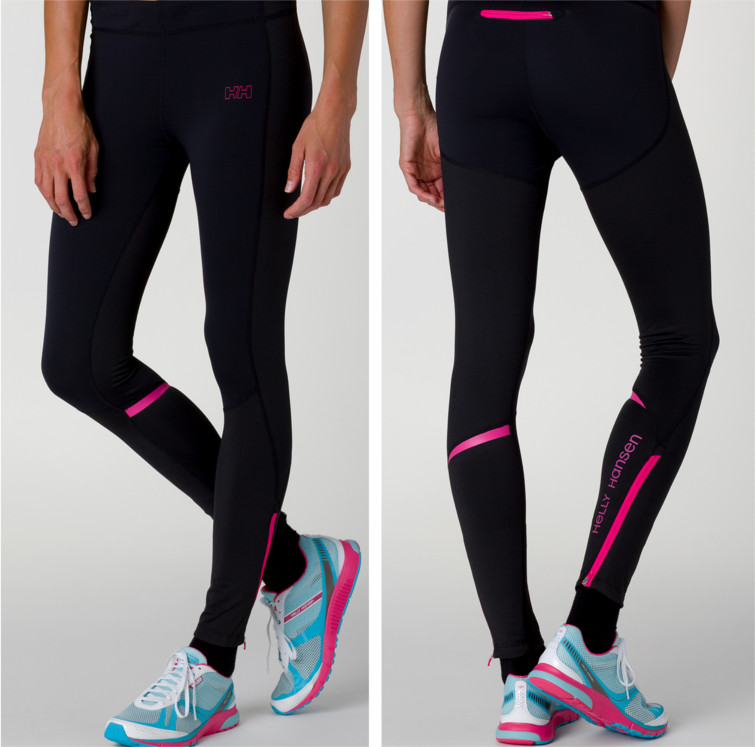 Just because it's chilly out, these tights give you good reason to mix up your workout routine and head outdoors. The Helly Hansen Pace Winter Tights bring you added warmth for your winter workouts. Using different thicknesses of fabrics, the Pace Winter Tights give you extra warmth in all the right places including your knees, thighs, and tush. Other features include an added drawstring at the waist to keep it from creeping around during your run, zippers at the hem, 360-degree reflectivity, and a sweat proof pocket in the rear for that can fit your keys or cash. The HH Pace Winter Tights are a great all around cold weather tight.
Buy Now or, learn more at HellyHansen.com
Helly Hansen Charger Windblock Tights 2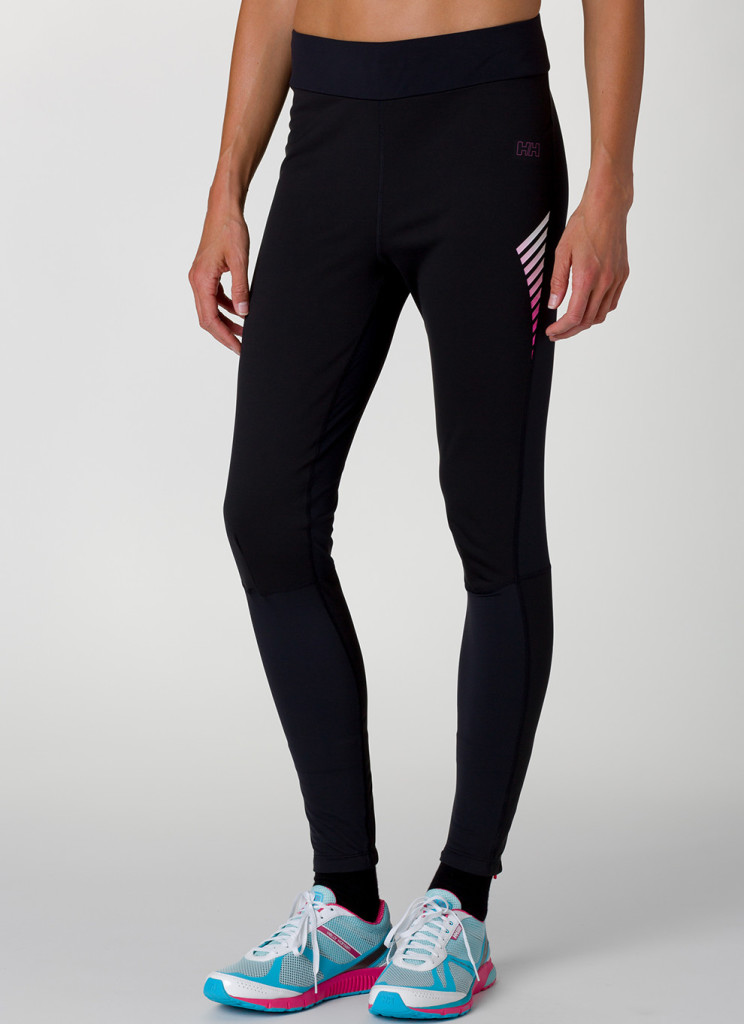 When Old Man Winter starts to get a bit long winded and surly, you're going to need to kick it up a notch when it comes to your outdoor leg wear. Living along Lake Michigan, the winter winds can be paralyzingly cold and the last thing you need while on a run is to be miles from home and freezing from windburn. Helly Hansen's Charger Windblock Tights are the layer of warmth and protection you are looking for. These tough tights have a windproof and waterproof front panel to shield you the blustery winds and snow. The Charger's pre-shaped knees help support your stride and the 360-degree reflectivity will keep you safe during the short days of winter. It even has a small side pocket to fit your keys and cash while out on a run.
Buy Now or, learn more at HellyHansen.com
UnderArmour HeatGear Armourvent Shorts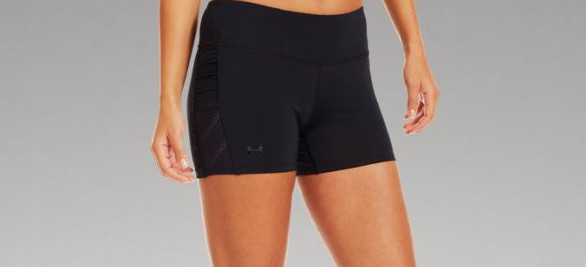 The UA HeatGear Armourvent shorts have locked-in UA compression fit which means they act and feel like a second skin keeping your muscles fresh and your recovery time fast. Even on the hottest days, the Iso-Chill construction and ArmourVent mesh help dissipate heat from the body to keep you cool. The signature Moisture Transport System wicks sweat to keep you dry even during the sweatiest run or workout.
The UA Short comes in 8 different colors and even has a hidden pocket in the waistband to stash your key, ID, or cash. I love me a hidden pocket. Pair these shorts with the UA Fly By tee and you'll find the heat relief and style you are looking for during your warmest workouts.
Buy Now or, learn more at UnderArmour.com
– Gear – 
TRX Home Suspension Training Kit
Remember how I said to skip the gym membership? This is another great reason why. The TRX Home Suspension Training Kit eliminates the need to rely on a gym's expensive, bulky machines and brings strength training where ever you are – at home, the park, a hotel, the office, and more. TRX was invented by a Navy Seal out of necessity to keep his team mission ready anywhere they were. The TRX Suspension Trainer uses your own body weight to build lean muscle and burn fat. No weights necessary. It's all you. Simply connect the TRX Home Suspension Trainer to any door using the door anchor and you are ready to go. It even comes with a suspension anchor that can be connected to a tree, swing set at the park and more. The kit comes complete with the TRX Get Started Guide with installation & workout instruction and a Token Card to use to redeem access to six digital video workouts. Workouts include a 30-minute TRX Total Body (that's what I'm talking about!), a 15-minute TRX Chest & Back (even better!), 15-minute TRX Arms & Shoulders (yesss.), 15-minute TRX Legs & Hips (butt buster), 15-minute TRX Core (15 minute abs!), and a 15-minute TRX Stretch cool down. The TRX Home Suspension Training Kit is a head to toe strength training workout system that can fit in the petite mesh bag in comes with. Smell ya later gym!
Buy Now or, learn more at TRXTraining.com
lululemon athlectica | The Mat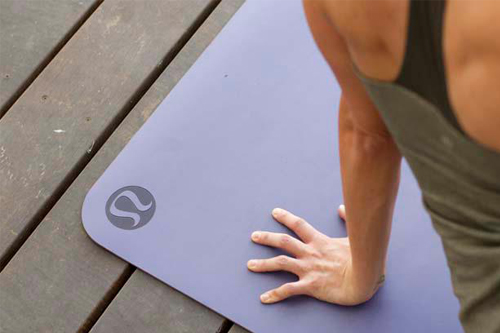 The Mat is a high quality, ultra-absorbent yoga mat that is designed to soak up sweat and wick away moisture so you can stay in place even during the sweatiest of workouts. The 5mm thick, cushy base layer comforts your hands and feet. Though The Mat has a bit of a rubber smell out of the gate (it will fade over time), you won't have to worry about it stinking like an old shoe the more you workout on it. It's antimicrobial additive helps prevent mold, bacteria and fungi from developing and The Mat can easily be wiped down with soap & water. The Mat will stay in place even during your most intense yoga session. It's time to upgrade from that flimsy, cheap mat you hate anyways.
Buy Now or, learn more, at: Lululemon.com
– Accessories – 
UnderArmour Perfect Headband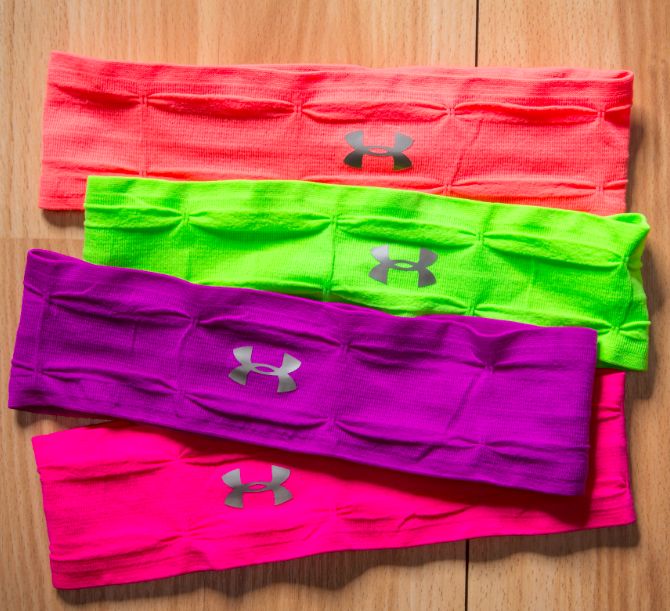 Well they knew what they were talking about when they named the UnderArmour Perfect Headband. It is perfection when it comes to keeping pesky hairs out of your face while being ultra comfortable. You might as well get one in every color.

Buy Now or, learn more at UnderArmour.com
lululemon athlectica Run With Me Ear Warmer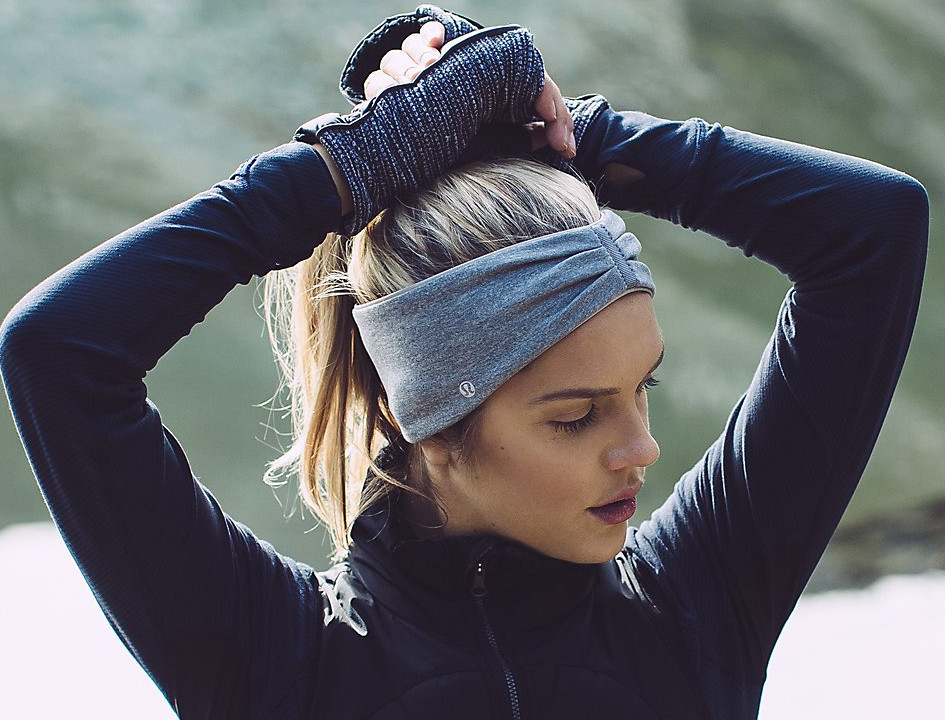 Top off your cold weather workout gear with the lululemon Run With Me Ear Warmer made with reversible Sherpa Fleece. The fluffy Rulu fabric wicks sweat and feels super soft against your skin. The Sherpa Fleece keeps the cold out on the chilliest of runs. The Run With Me's snug fit keeps it in place and is great for layering under a helmet or a hood.
Buy Now or, learn more, at: Lululemon.com