This summer season, we were on the hunt for a lightweight insulated jacket to stuff into the pack for day hikes and cool morning bouldering sessions or late-night stargazing sessions at camp. As a member of the Arc'teryx FL – fast and light – line, we were hard-pressed to find a better option than the Nuclei FL synthetically insulated jacket. 
It is a minimalist jacket in the truest sense. Weighing in at less than a pound, this windproof jacket punches above its weight with enough warmth to fight the chilliest mornings. It's not loaded up with features, it just there for when you need it most.
Barely noticeable in a pack, the Nuclei FL makes it easier than ever to be prepared for the worst. Keep on reading for my review of The Arc'teryx Nuclei FL. 
Arc'teryx Nuclei FL Key Features
Superlight 11.5 oz build

Windproof 10D Ripstop shell

Trim, but not slim, fit 

Stuff sack included 

Synthetic insulation
Arc'teryx Nuclei FL Jacket Review Breakdown
Design
The Nuclei FL Jacket was designed and purpose-built for climbing and alpine adventures. Weight (or lack thereof) and function are at the forefront of this design. Though I didn't use this piece for any multi-pitch, a reliably warm and incredible packable insulation piece welcomed addition to my gear locker – and pack for the summit pictured below. 
Weighing in at less than 1lb, the internal Eagle Scout dialogue of whether or not to "Be Prepared" and bring a puffy has now ceased. I've had it on hand all summer long, regardless of the weather forecast (which my girlfriend appreciated during a few cool evenings). 
To save weight, the Nuclei FL has a single drawcord adjustment for the hood and only two zippered pockets. You'll also find two internal drop-in pockets, one of which inconspicuously stores the Nuclei's superlight stuff sack. 
The drop hem along the backside is a welcomed addition that not only helps block drafts, but works hard to keep this jacket in place when moving about. 
An added bonus is versatility. Some technical garments are just too overbuilt for anything but their intended use, but the Nuclei FL looks great as a standalone piece. It's ripe for city wear due to the slim cut and minimalist design. Pair it with a t-shirt, black jeans, and street shoes, to blend right into the commute.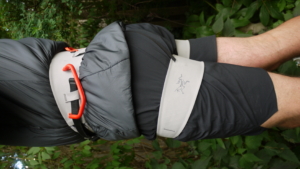 Comfort & Fit
Nuclei FL is very comfortable, primarily due to its weight. Soft ripstop fabric paired with synthetic insulation nets a low-profile insulating piece that feels weightless while delivering proper warmth. Whether I am sliding a baselayer under the Nuclei, or tossing it over a t-shirt to head to the climbing gym, the lining is nice next to skin. Nuclei also glides effortlessly under an outer shell without bunching under the arms, in the shoulders, or down at the waist. 
Arc'teryx categorizes this piece as "trim", which I find to be a tricky descriptor to gauge. It absolutely has a more tailored fit than its closest competitor – the Patagonia Micro Puff Hoody, which has a rather baggy fit – but it certainly isn't restrictive to movement like a "slim" fit might be. 
All in all, it shouldn't be mistaken for a "slim" piece, as it leaves ample room for range of motion and effortless layering of favorite baselayers.  
While I didn't do any big wall climbing while testing this jacket, climbers will also appreciate the slimmer cut and drop hem when layering under a harness for belay turns. Regardless, I brought out the trusty SL-340 to test the fit. 
Packability
While I am used to stuffing insulating pieces into their own pockets, Arc'teryx included a stuff sack that is daisy-chained to one of the inside drop-in pockets. It was new for me, but surprisingly enjoyable to use and efficient at packing the coat down.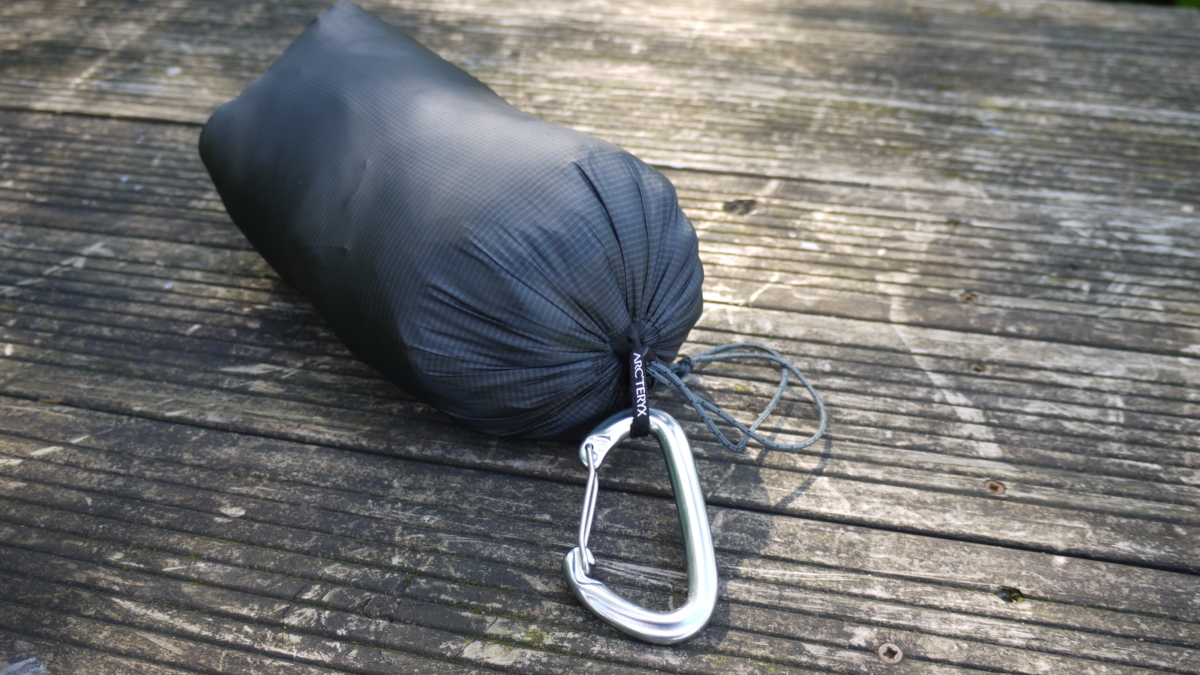 At first, I was simultaneously concerned about losing the separate stuff sack and getting annoyed that it's always there. Over time, I've outgrown both of those concerns. The stuff sack is much easier to, well, stuff compared to double duty pockets. The sack is also nearly weightless, so you don't notice it's there.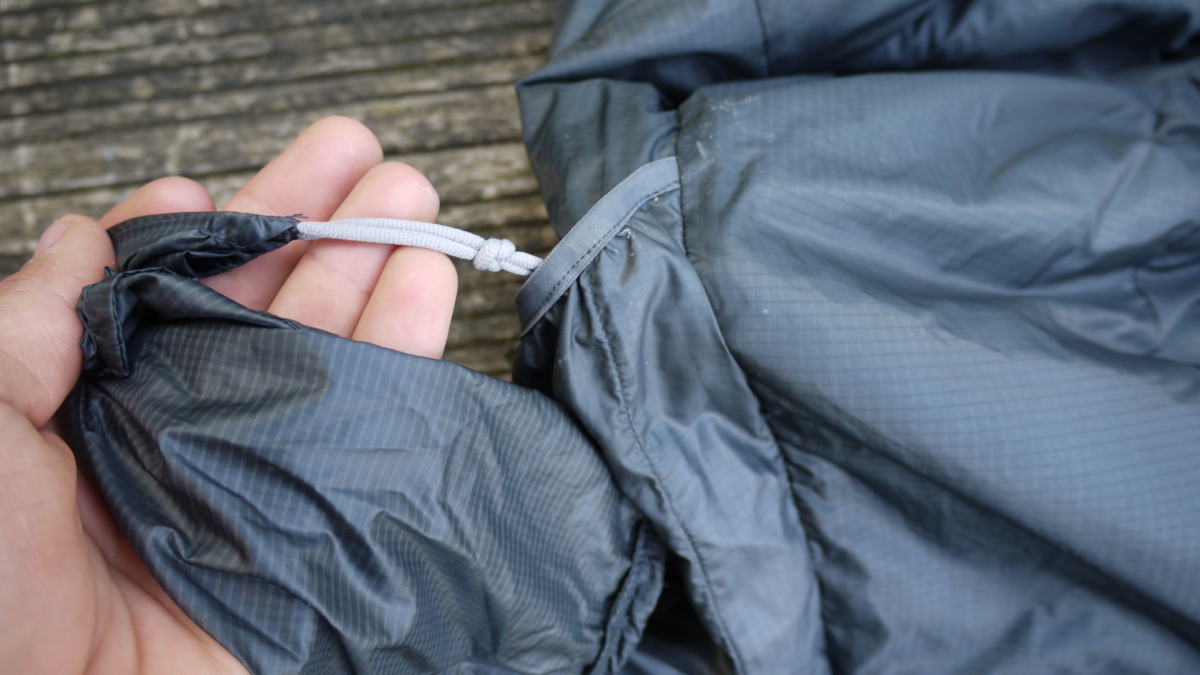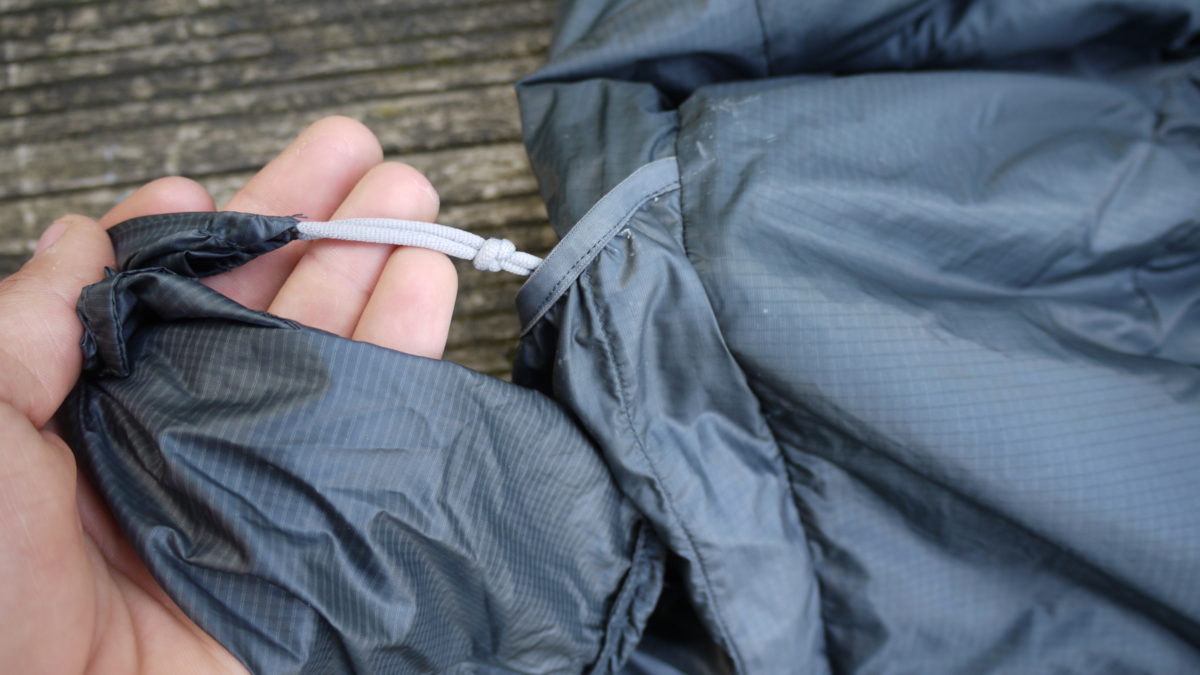 I've also conquered my fear of losing it by simply keeping it attached. I never unlooped the daisy-chain since the day it arrived at Busted Wallet HQ, and it's been a non-issue. You can easily stuff the puff while it's attached, and you end up with a short loop to hold or clip it when using this (still attached) method. 
Warmth 
I tested this piece through late fall and most of summer, so it is hard to give an honest opinion on the lower limits of this piece. But it has been a fantastic piece to keep in my bag for all my summer adventures. It has been absolutely perfect for cool mornings trekking into the bouldering fields and equally as great on cool evenings at camp. 
The coolest this piece has seen since testing was 45ºF, and it was more than sufficient to insulate with just a t-shirt on. In the winter months, I'd bet you could get away with just a t-shirt into the mid-30s before needing more insulation and/or a shell to up the wind resistance. Speaking of shells, here it is tucked inside street-styled Arc'teryx's Fraser Weatherproof Shell.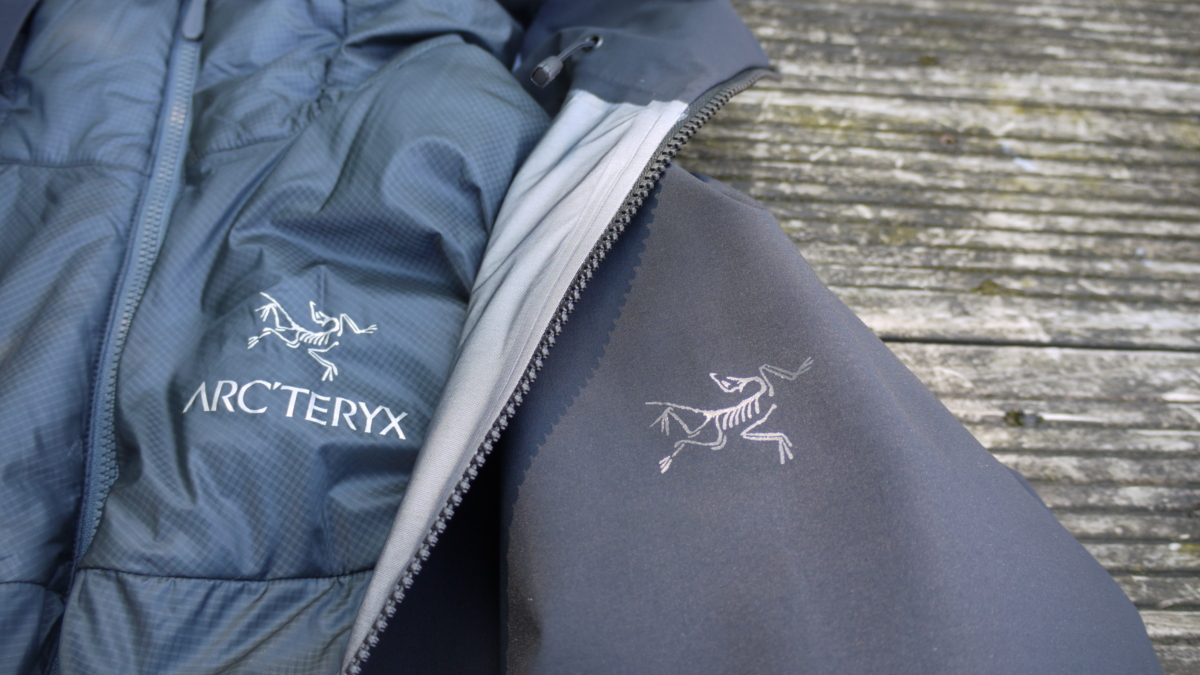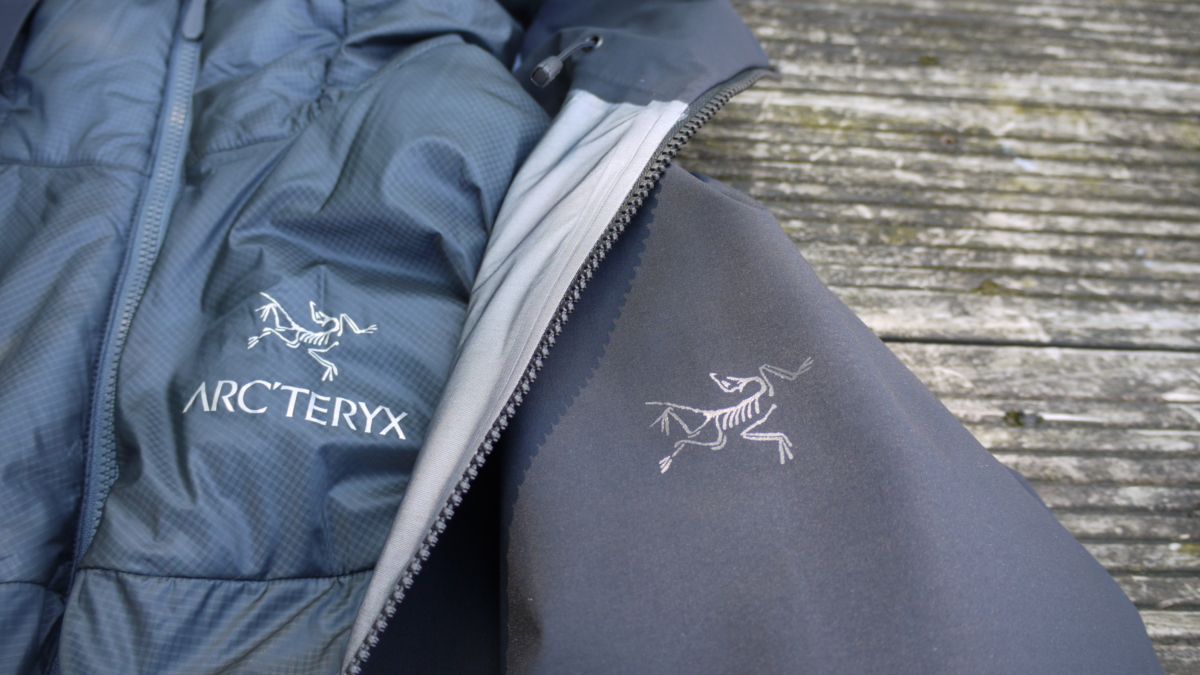 I look forward to testing it out this winter season for some snowboarding and breaks during snowy hikes. 
Durability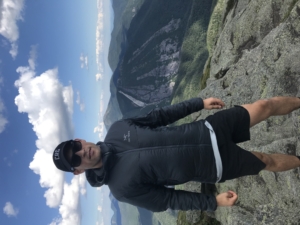 Arc'teryx claims to have increased the durability of this piece for the 2020 season. While I do not have an original Nuclei FL to compare against, this next-gen sample I've been testing feels quite capable of withstanding years of use. Arc'teryx's legendary build quality is apparent in every stitch. 
My biggest concern is the shell fabric ripping, not any of the assembly failing. Jackets in this class have to shed weight in order to remain competitive, and finding a balance between weight and snag shielding is a tricky task. The shell fabric on the Nuclei doesn't feel fragile, but I wouldn't describe it as burly either. 
Long story short, be mindful when bushwhacking, but otherwise, rock it like you would any other insulation piece in your gear locker. 
Value
At $299, the Nuclei is priced to match the competition. For an ultra-lightweight insulation piece, you're not going to get it much cheaper (unless, of course, you snag a sale). The Nuclei FL delivers exceptional weight to warmth in a versatile package that is both mountain- and city-ready. With a better fit than a lot of the lightweight alternatives and a not-overbuilt look, it'll easily find its way into your normal routine. 
Whether you travel frequently, climb, hike peaks, ski/snowboard, or just walk the dog in the winter, the Nuclei won't let you down. Take care of it, store it unpacked (yes, this matters for synthetic, too), and it'll take care of you for years to come. 
Buy now $299 or shop all Arc'teryx offerings
Arc'teryx Nuclei FL Jacket - Gear Review
Arc'teryx's ultra-lightweight, synthetic insulated jacket is hard to beat. At less than 1lb, this minimalist jacket will go anywhere and do anything with only a small sacrifice to shell fabric durability. You'll reach for it every chance you get from outdoor adventures to cold nights on the town.
THE GOOD:
Unmatched versatility
Superb warmth to weight ratio
Stuff sack is welcomed feature classic double-duty pocket design
THE NOT SO GOOD:
Shell fabric is a bit fragile
Zipper catches on occasion