If you've heard of Arc'teryx, you've heard of the Atom LT Hoody. 
With over 500 user reviews and counting, the Atom LT needs little introduction. Trusted by athletes across many disciplines, the Atom LT is a lightweight, breathable insulation piece that effortlessly performs double duty as a standalone piece. 
For fall 2020, both the Atom LT and its puffier sibling, the Atom AR Hoody, received a refresh. Both pieces were outfitted with more durable face fabric, new and improved synthetic insulation, and a handful of comfort features. 
Let's dive into our comparison review of the Atom LT & the Atom AR. 
Fall 2020 Atom Series Review Breakdown
Design
At a quick glance, the LT and AR look almost identical. Both share the same minimalist two-pocket design, rear drop-hem, reinforced StormHood™, elastic cuffs, cinch/closure systems, zipper pulls, and materials/insulation, but the similarities stop there.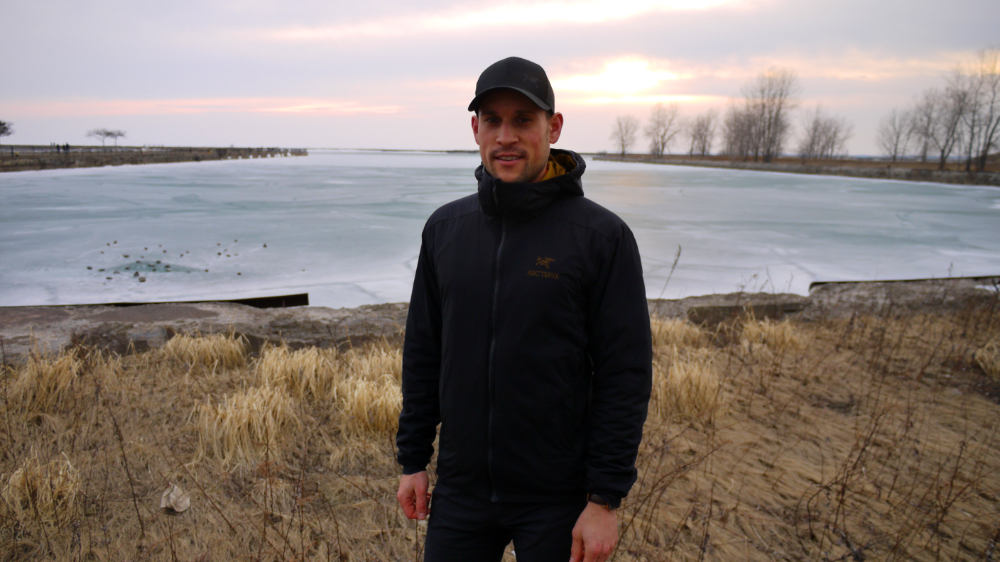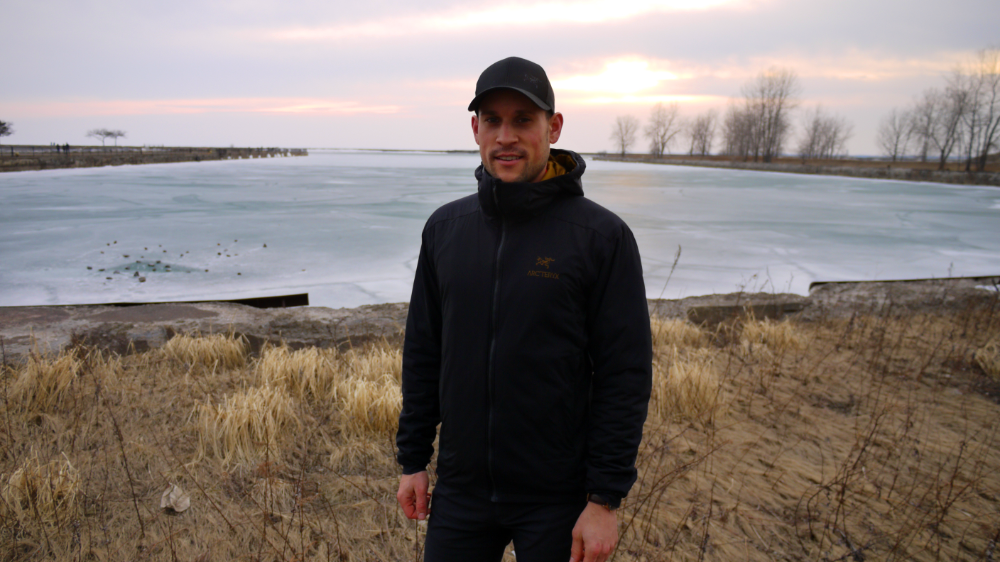 Arc'teryx's naming convention designates LT as lightweight and AR as all around, which on its own, does a great job hinting at the differences between the two.
The LT is visibly less insulated, has a trim fit, and is stitched with breathable, stretchy performance fleece panels that run from underarm to waist. The AR is visibly more insulated, has a regular fit, and breathable cutouts underarm only.   
The updated Tyono™ fabric (20 on the LT, 30 on the AR) has a durable look and feel without the noise of a stiffer softshell, and is treated with an effective DWR coating to shed light snow and moisture. While these pieces certainly won't keep you dry in harsh precipitation, getting caught by surprise is no concern. I find myself using these pieces in a much wider range of conditions than I initially expected to and often don't even bother bringing a shell along.  
Overall, my only complaint about the design of these jackets is the lack of an external chest pocket. When using either piece as an insulator for snowboarding, I find myself wishing I didn't have to unzip both my shell and the Atom LT/AR to get to my phone. In most other usage scenarios, the lack of chest pocket doesn't bother me – especially if using as a standalone piece. 
For those interested in an external chest pocket, consider the Proton LT Hoody. Sadly there is no AR comparable in the Proton line, but the LT comparable is the same scale weight but is designed to be more air permeable and high output focused. 
Warmth
I am going to lead with the beloved answer of it depends. While that is usually a cop-out answer, that is a reality with each of these pieces. Everyone has different base layer preferences and the warmth varies greatly depending on activity, but I'll attempt to break down the warmth into a few categories to help you follow what it depends means.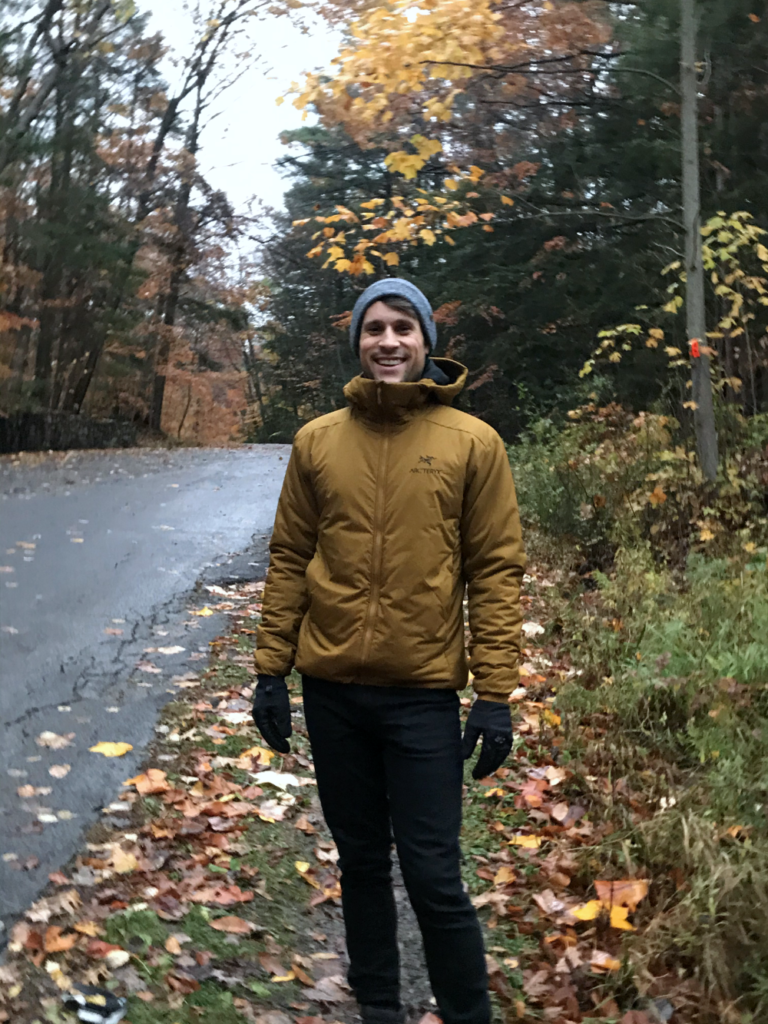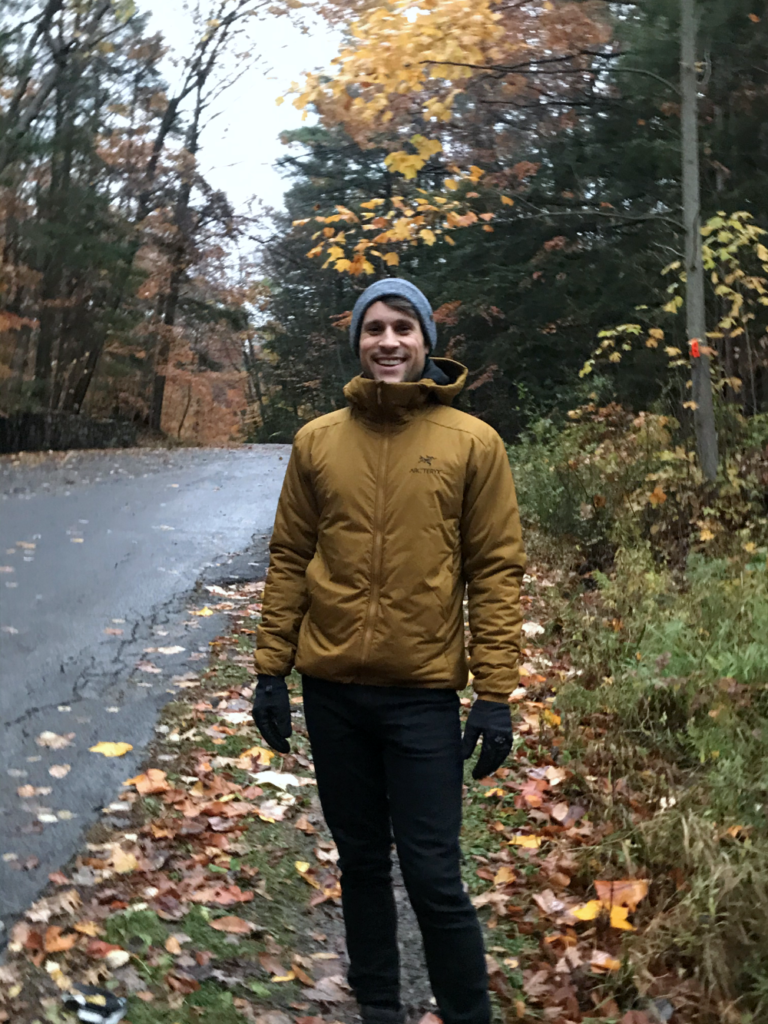 Everyday Warmth
Neither the LT nor AR is designed to be worn while standing around the patio of your local brewery. They are designed for active use where some movement is expected. That said, the AR's lack of full-length fleece panels and higher loft insulation makes it the obvious choice for low output winter activities. 
In 20-30º winter averages we see here in Buffalo, NY, I wear the AR as a standalone piece to and from work, in and out of the grocery store, and everything in between on a daily basis. I also choose the AR for cold-weather walks as a standalone piece. 
I've also used the AR for a mid-layer for nighttime skiing, the coldest night sitting around 15º with wind, layered under a hardshell and over a thin blended merino/poly base layer and a performance fleece.
I've been plenty warm in all those scenarios.
The LT, however, I won't wear as a standalone piece for everyday use on a colder day than 40º – the wind cuts through the torso length fleece panels.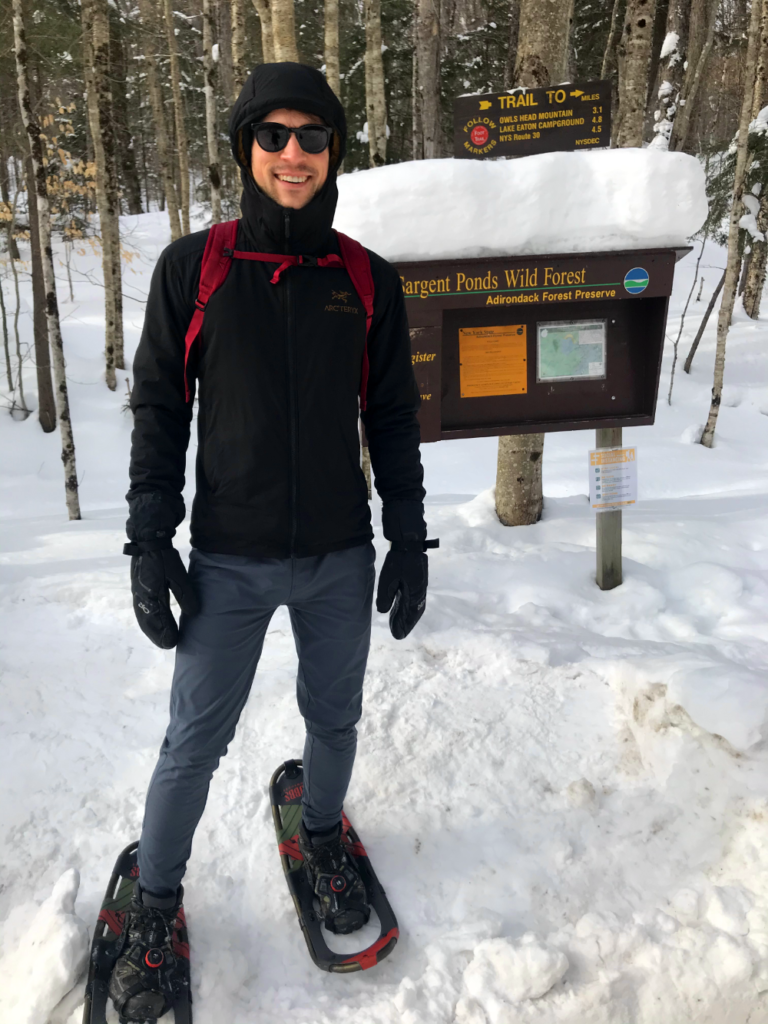 Active Warmth
As soon as you add any level of intensity, the AR becomes too much. On a recent trip to the Adirondacks, we hiked with snowshoes two days in a row with starting temps at 10º Fahrenheit. I quickly sweat through my wool baselayer ascending with the AR on day one. 
For day two, I went with the LT on a similar intensity hike with the same baselayer (dried out of course) to find the only sweat accumulation was underarm and lower back. With the AR as my standalone, I wetted out the entire baselayer by the peak and had to change before heading down. 
Warmth Conclusion
All in all, these results shouldn't be too surprising. 
For low output tasks, the AR will keep you plenty warm without much layering well into the teens – think no elevation walks in the park, resort skiing, and more. For high output tasks, the LT will keep you just as warm in the teens as long as you're moving – think accent hiking, skin-skiing, trail running, and more. Lastly, put a shell over either piece to up their warmth just a tad more due to full wind-resistance from the shell.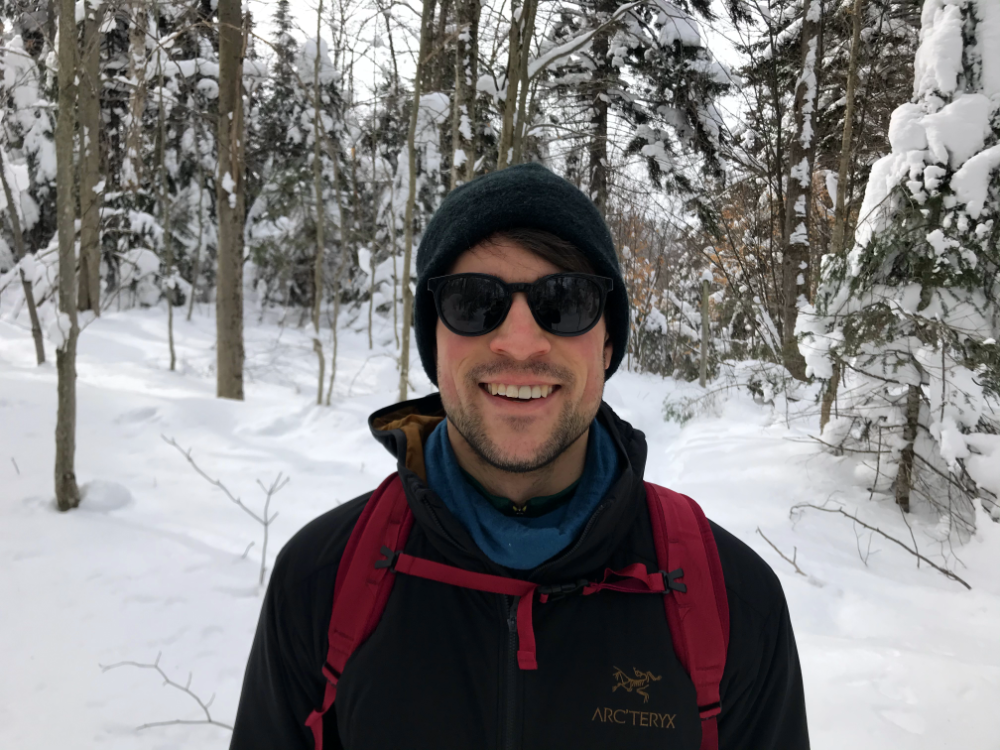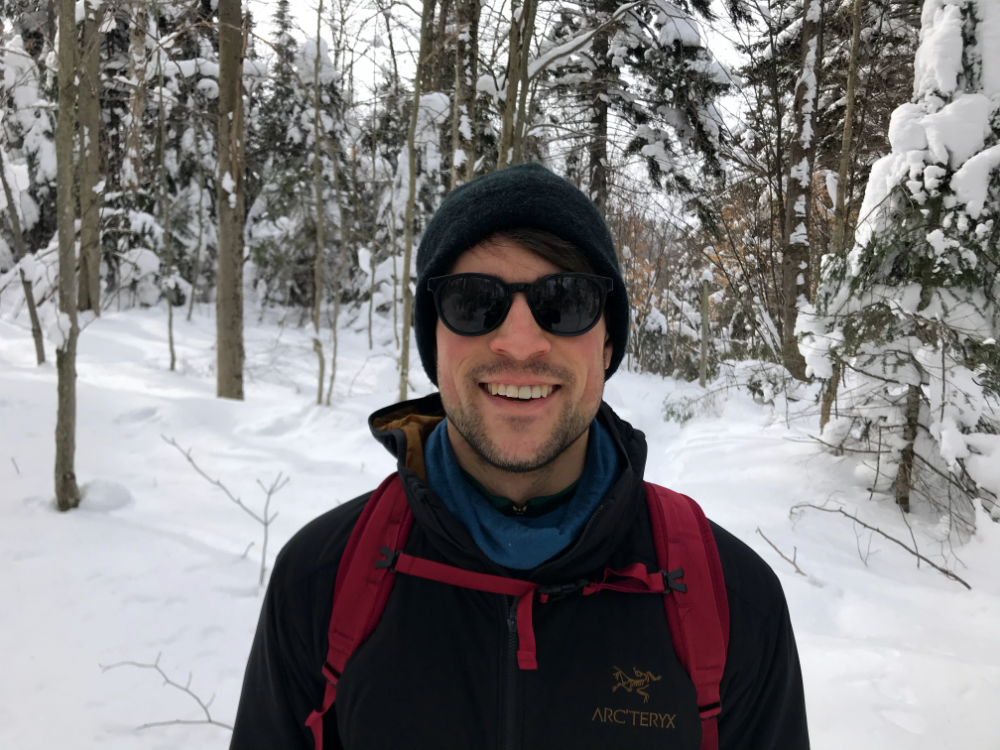 Comfort & Fit 
Both jackets are extremely comfortable with great next-to-skin comfort when wearing just short sleeves. The smooth liner fabric glides over your first layer, whether it's a base layer or a dress shirt. Years of perfecting the Atom line's design shows in these garments. From the perfectly stretchy sleeves that never require adjustment to the roomy collar when fully zipped.
I almost never wear a jacket fully zipped due to the constricting feeling, but the Atoms are the exception. Zippers up! 
These pieces are functionally simplistic in the best way possible. Two waist drawcords and one hood drawcord are all you have, and it's absolutely lovely. I find myself over-adjusting if there's much more. 
Both Atom variants have a very slight stretch in the face fabric, though the LT has a much greater range of motion due to the fleece side panels (pictured below) and lower loft insulation. The LT's fleece panels feature a full 4-way stretch which is fantastic for higher output, high movement activities like climbing. 
These jackets are designed to move with you; designed to provide warmth without the bulk. Both jackets feel very light and airy when wearing them, even the AR with the added insulation. They almost feel like you're not even wearing them – which is exactly what you want out of a jacket in this segment! Non-bulky, functional, simplistic warmth for active uses – couldn't ask for much more. 
The AR is specified as a regular fit while the LT is specified as a trim fit; both have a slight drop hem.
The LT definitely hugs the body closer, but the AR isn't too far off. There is little room for layering under the LT, which makes sense for its target temperature range. I've only ever tried it over a vest, but you could get away with a base layer and light performance fleece. Under the AR you can comfortably fit a mid to heavyweight fleece and baselayer. You could even fit the LT under the AR if you really wanted to! 
Packability & Durability
Unfortunately, the Atom jackets do not pack into their own pocket like some of the competition. 
There are a few solutions that I've used since I began testing the two garments: 
Roll up into the hood

Stuff into own sleeve
The sleeve method takes a little practice, but after watching a few YouTube videos, it is my favorite solution to get the Atoms into pack ready position (though it is noticeably harder to do this with the AR due to the extra insulation).
At about 13oz for the LT and 16 for the AR, neither jacket will weigh down your pack and are both absolutely phenomenal travel options. Toss 'em in a pack with a shell, and you're good to go for a wide range of temps and conditions. 
In over 6 months of hard testing from rock climbing and hiking to snowboarding and everyday wear, neither jacket has shown any visible signs of external wear. The AR's 24K Inverse golden color had some slight discoloration in high touch areas (neckline, cuffs) but came right out in the wash. 
The abrasion resistance has been great. There were definitely a few times where I caught the face fabric expecting a tear only to be pleasantly surprised upon inspection. Compared to a piece like the Nuclei FL, the Atom face fabric feels much less fragile. 
The LT saw a slight bit of insulation bleed/pilling at the internal seems whereas the AR saw none, but this small issue does not affect performance or external appearance.
With proper washing and care, these Jackets will undoubtedly serve you for years to come! A quick note on washing. These jackets have seen four machine wash cycles with a light detergent and no fabric softener followed by a tumble dry cycle on medium heat. Both jackets looked and felt absolutely brand new after each cleaning cycle with no degradation of the DWR coating – that tumble dry is an important step in re-activating DWR!
Value
The Atom LT & AR performance insulators are some of the most versatile jackets I have in my gear rack. Pick up both of these pieces, and you're immediately prepared for a wide range of temps across a wide breadth of activities. All that in a functional, ultra-comfortable package, you can't do much better than the Atom line.
While Arc'teryx pieces always hit the market with a premium price, the Atom line is one of the most beloved in Arc'teryx's portfolio. You will absolutely not regret paying full price for either the LT or AR, but Arc'teryx does refresh colors seasonally. Bargain hunters can easily score a deal during the transitional months through resellers, the Arc'teryx outlet (or outlet stores), or if you don't mind a little wear and tear, through Arc'teryx's used gear site.
Arc'teryx Atom LT & AR Compared | Gear Review
The Arc'teryx Atom LT & AR are top-notch active insulation options for active pursuit enthusiasts. Refined for 2020, the Atoms are the best yet.
Packability & Durability
9.5
THE GOOD:
Versatility is better than expected
DWR performance is surprisingly great
Super comfortable & weightless feeling
THE NOT SO GOOD:
No outside chest pocket
No dual-purpose stuff sack pocket