Unlike Arc'teryx's usual array of technical gear offerings, the Fraser Jacket is a standout addition to the lineup for 2020. More akin to pieces found at Arc'teryx's luxury urban wear brand, Veilance, Fraser is a minimalist garment designed for Arc'teryx's growing segment – everyday wear. 
While Fraser is designed with cityscape in mind, Arc'teryx didn't leave any technology behind when designing this piece. Featuring GORE-TEX shell fabric with GORE C-Knit™ backing, this shell is nothing short of serious when it comes to weatherproofing. While it could probably go without saying, water beads and glides effortlessly off the Fraser. A quick shake or two before stepping inside from a storm and you won't be dripping your way down the hall. 
At less than 1lb, the Fraser Jacket has a great weight to function ratio. It's light enough to pack for any slight chance of rain in the forecast without sacrificing features. It's also fantastic for travel, both leisure and business. 
After months of testing, I can confirm that I'd be hard-pressed to find a better option for the price, especially one that has such clean, minimal design. Read on to see our full Arc'teryx Fraser Jacket review and impressions.
Arc'teryx Fraser Jacket Key Features
GORE-TEX Fabric with GORE C-Knit™ Backing

Fully waterproof, windproof, and breathable

Clean, urban-inspired style 

Comfort adjustment-free cuffs

4 zippered pockets – 2 hand, 2 chest

Lightweight build, 13.2 oz
Arc'teryx Fraser Jacket Review Breakdown
Design
Mentioned above, The Fraser isn't your typical Arc'teryx garment. It is a minimally branded, urban look meant to service folks living in weather-prone areas. Borrowing tried and true technology from their best technical shells, Fraser can handle the worst Mother Nature can throw its way without looking like you're headed backpacking.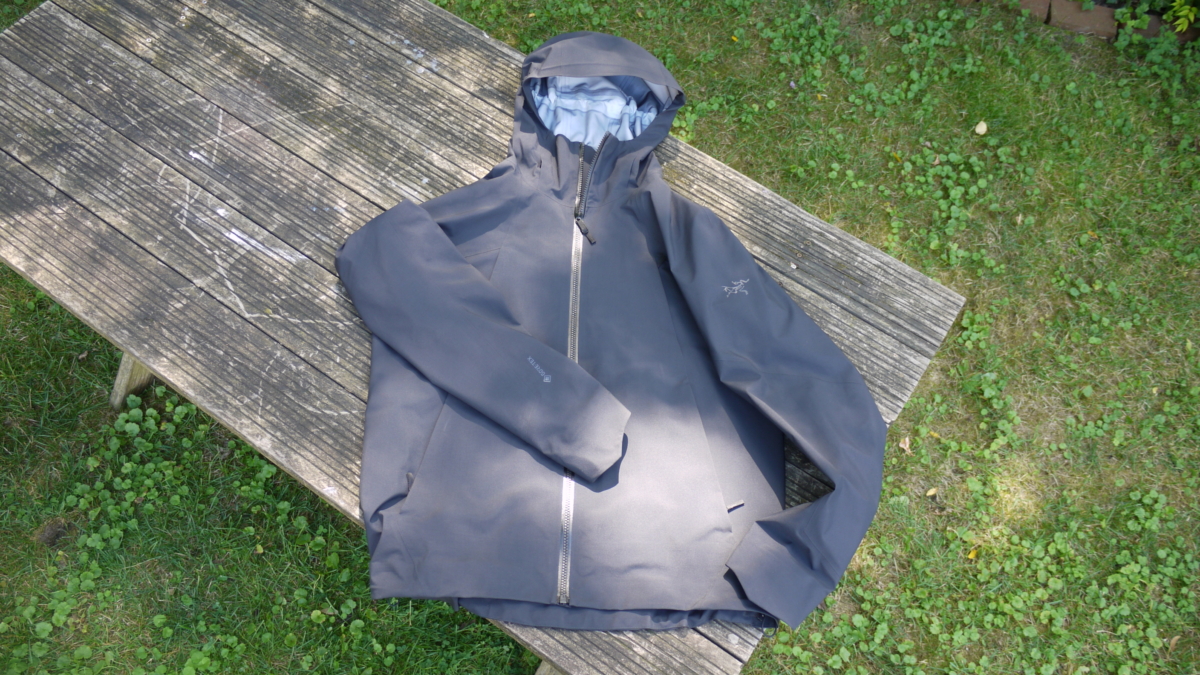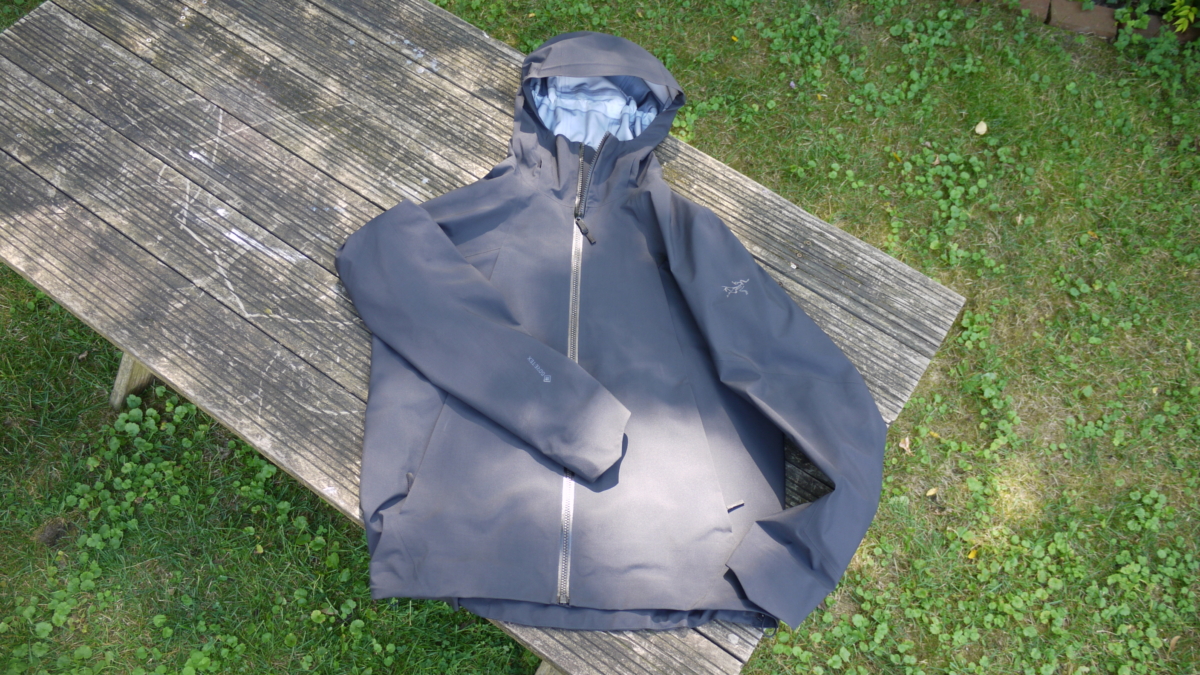 Fraser has a standard set of features you'd expect from a shell of this pricepoint – adjustable hood/waistline, taped zipper (no annoying storm flap), hand pockets, and chest pockets – though they're not perfect. The chest pockets are small – if you're an owner of any plus-sized phone, you'll struggle to wriggle it into the pocket – and the hand pockets can't be closed with one hand. In addition, the doubled over pocket design bulges more than I am used to when compared to other coats. 
Arc'teryx also left off a few features found on more technical shells: pit zips, adjustable cuffs, and internal pockets. In a coat designed for city living, this is certainly passable. For the intended casual commute use case, wearers are not likely to need pit venting nor would they want to adjust the cuff with every donning. 
Comfort & Fit 
Arc'teryx's Fraser has an easy fit. It's certainly a standard fit as suggested on the product page. It feels roomy when wearing a t-shirt or button-down, and comfortably snug when layered over an insulating piece.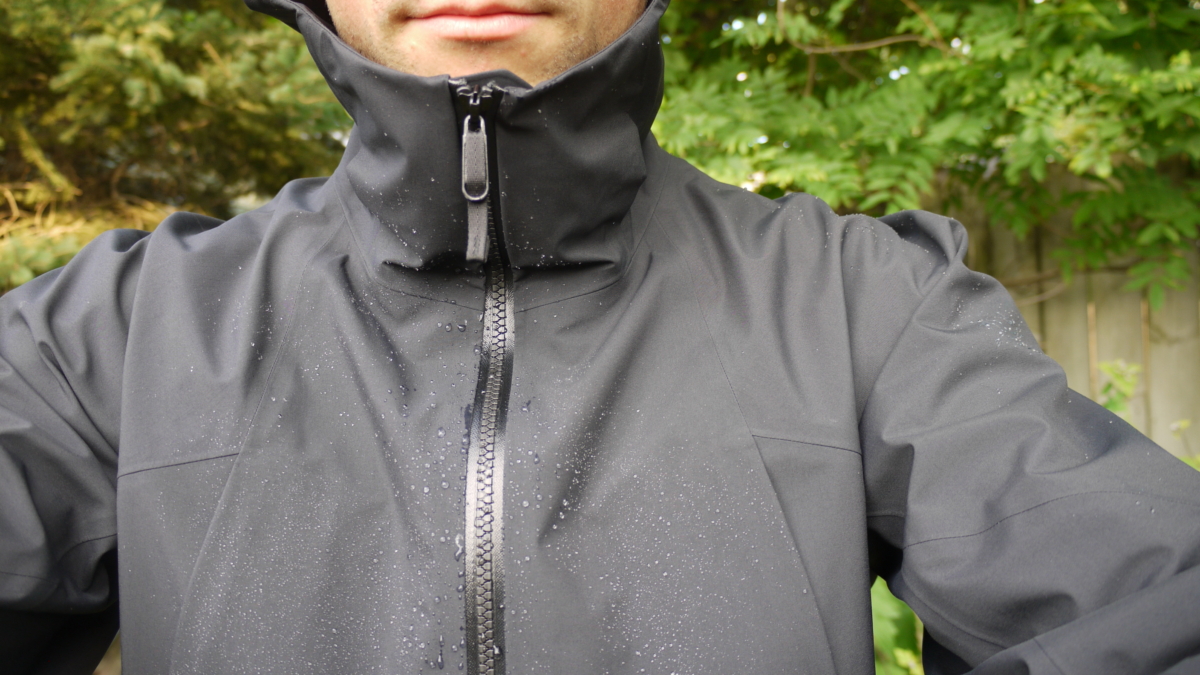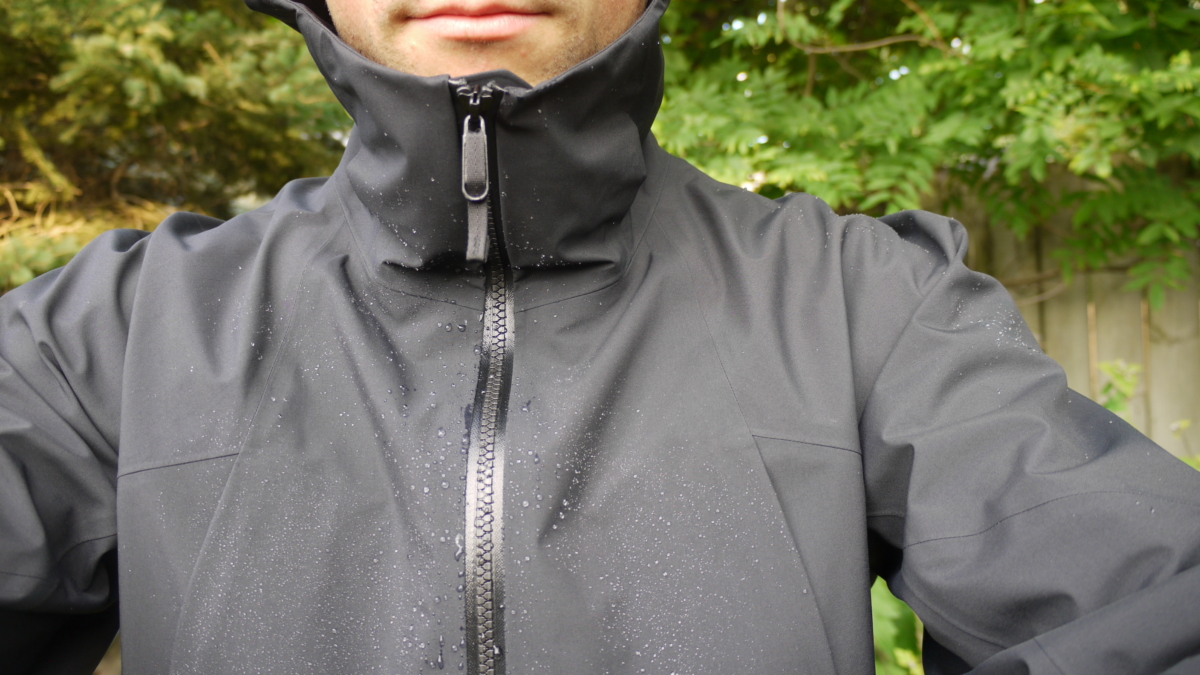 The GORE C-Knit™ backing has an almost silk-like texture that is exceptionally smooth when only wearing a t-shirt. Though, I did find it to get a bit "sticky" – in lack of a better term – if energy output is elevated on a hill or set of stairs.
The hood adjustments are great. The single rear drawstring sinches efficiently without feeling restrictive. The waistline adjustment is standard, and I appreciate the slight drop hemmed cut to direct water down to the ground (not the back of your leg). 
Surprisingly, I found the cuff non-adjustable experience quite enjoyable. It's a no-fuss design that's easy to slip on and off – perfect for city living. There is an interior elastic cuff that is soft to the touch and loosely hugs the skin avoiding irritation found in traditional elastic cuffs. The exterior shell cuff is elongated over the top of the hand to direct water flow down and away from the palms and wrists. No more pesky drips up the sleeve! 
Use Cases
While this is not a normal review section for me, I felt it would be valuable for this particular garment. While Fraser is certainly intended for the city, it is 100% capable of weekend excursions. 
With its lack of pit zips, the Fraser isn't really an ideal active hike jacket, but that doesn't mean it isn't a lightweight shell with proper waterproofing. For the weekend warrior who would get more usage in the city and doesn't want to shell out for two shells (hehe) or deal with the crinkle-factor in a true technical shell, the Fraser jacket can easily hold its own as a go-between.
While it's no replacement for a ski or board shell, it can serve as an emergency rain shell or wind block – and do a darn good job at it – without taking up too much weight in a pack for a hike or weekend backpacking trip.  
I've taken it on 3 camping trips, 1 summit hike, and trips to the cottage in between. Not once did I miss my true technical shell on those trips – the Fraser is just so light and easy to keep in a pack! 
Packability
Well, if you made it this far, you'll notice I mentioned the weight of the Fraser a few times now. At 13.2 oz, it's not the ultralight shell of your dreams, but it's definitely not as thick and crunchy as a full-fledged GORE-TEX Pro shell. Here it is alongside the ultra-lightweight Arc'teryx Nuclei FL.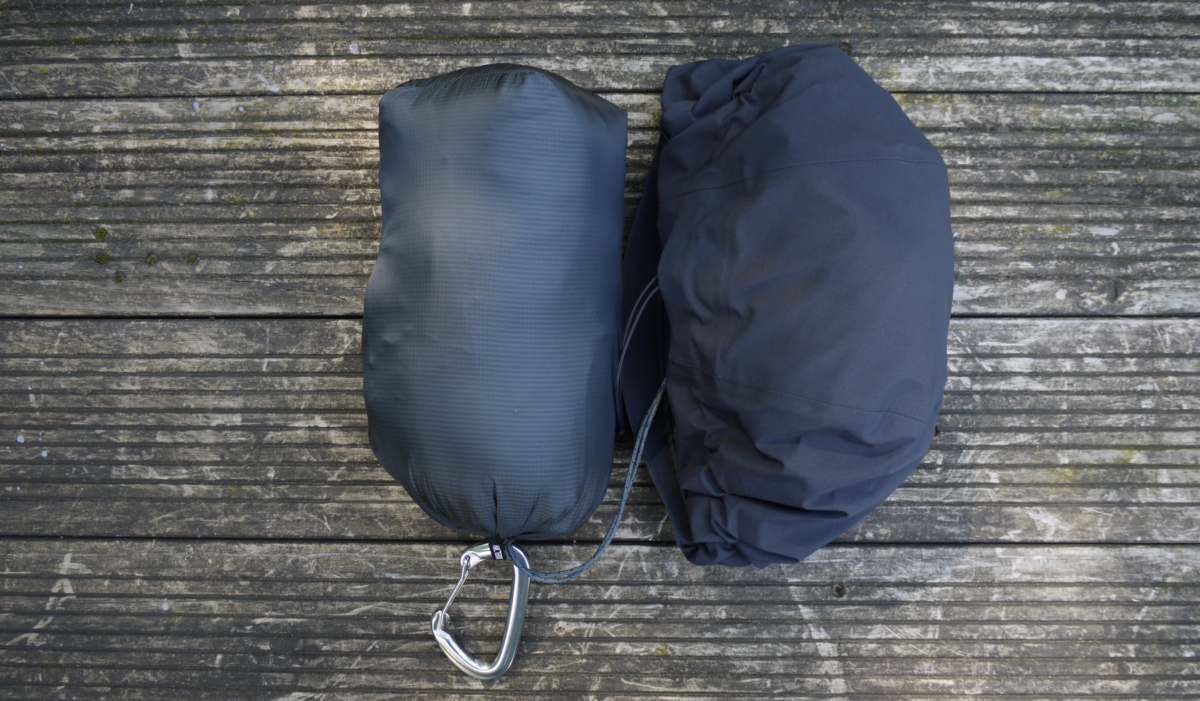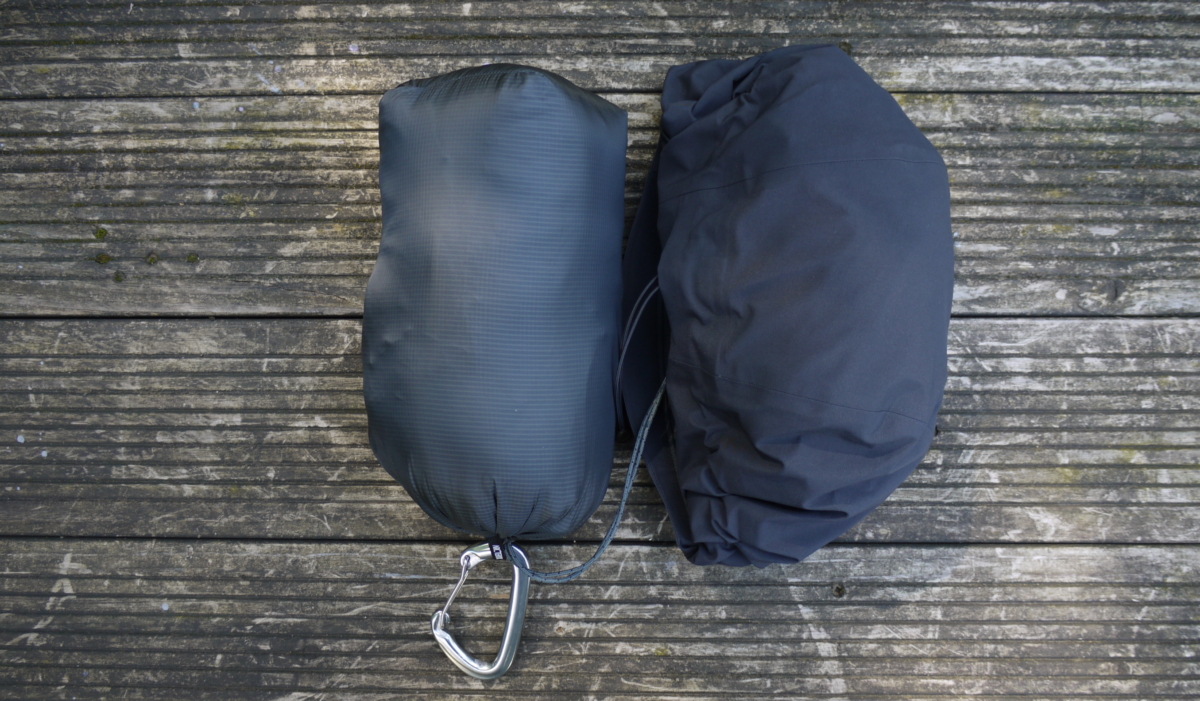 It can be quickly folded inward and rolled into its own hood. That method forms a small package ready to fit inside a messenger bag, backpack, or suitcase. 
Durability & Performance
Arc'teryx has chosen GORE-TEX as their trusted supplier for decades, and the Fraser is no exception. Fraser is a premium shell boasting exceptional waterproofing and wind-blocking capabilities. It can stand up to short bursts of heavy driving rain and wind or extended exposure to steady rain and shake dry at the end of it. 
That said, the GORE C-Knit™ backing does have a bit of stretch and the outer GORE-TEX fabric is softer than a true technical shell. While I wouldn't want to brush up against pine trees and rock scrambles day in and day out, it'll withstand everyday abrasion and live to see the next few years and destinations. 
Value
At $475, the Fraser is an investment. It's made for those who are serious about style and serious about weather protection. 
If you're a city dweller – walking frequently – who's in need of guaranteed wetness protection, this is the shell for you. Even more so if you get out to the wilderness on the weekends or travel to nature-filled destinations regularly. 
For all else, you won't be disappointed by the outstanding quality and performance Arc'teryx delivers no matter the use case. That is if you've got cash burning a hole in your pocket…
Buy now $475 or shop all Arc'teryx offerings
Arc'teryx Fraser Waterproof and Windproof Jacket - Gear Review
A style-forward weatherproof shell that packs some serious technology. From walks to the office to walks in the woods, the Arc'teryx Fraser jacket is a great option for city dwellers who like to get outside.
Durability & Performance
9.7
THE GOOD:
GoreTex is phenomenal
No catch zipper
Drop hem tail
THE NOT SO GOOD:
No pit zips, but understandable due to intended market
No built in way to pack it