Women strolling around in their luxurious and often ludicrous oversized hats, men smoking top dollar cigars, bets being made on the favorites with hopes of cashing in and the smell of horses, expensive perfumes and overpriced food.  The Kentucky Derby.  A yearly event built on history and traditions.  As the years go by, some things may change but one long standing tradition stays the same.  The mint julep.  Roughly 120,000 people at Churchill Downs will be drinking and toasting with the famous mint julep at this years 141st running of the Kentucky Derby.
This bourbon cocktail was once loved for its supposed medicinal properties and used by farmers for a quick "pick me up" before heading out to the fields for the day.  Today, however, we know the mint julep to be the official drink of the Kentucky Derby.  In honor of this years event, we gathered a list of mint julep recipes from 6 of our favorite brands of bourbon.
Woodford Reserve 2015 Kentucky Derby Mint Julep
75 oz Coconut Palm Sugar Syrup
6-8 Chocolate Mint Sprigs
Candied Orange and Lemon Slices for garnish
Powdered Sugar
Directions: Combine ingredients and shake with the mint. In the Julep glass, place 3 sprigs of the mint at the bottom and top with crushed ice. Strain over crushed ice into a julep glass, insert metal spoon straw. Top it with a mint sprig and candied orange/lemon slice and powdered sugar.
---
Wild Turkey 101 Grandstand Julep
1 ½ oz. Cynar
¾ oz. Wild Turkey 101 Bourbon
½ oz. Simple Syrup
½ oz. Fresh Lemon Juice
½ oz. Fresh Grapefruit Juice
12 Mint Leaves
2 oz. Soda Water
2 Dashes Fee Brother's Grapefruit Bitters
Directions: In a Julep cup or rocks glass add mint and all ingredients except soda water and bitters. Gently muddle, add ice then soda and top with bitters.
---
Tom Bulleit's Authentic Mint Julep
14 oz. Bulleit Bourbon (or Bulleit Rye for a different twist)
8 oz. simple syrup
30-40 fresh mint leaves
Crushed ice
8 julep cups or rocks glasses
*Preparation (serves 8 drinks):
Directions: Prepare mint extract by removing the small, tender mint leaves. Wash, pat dry and put 30-40 leaves in a small mixing bowl and cover with 3 oz. of Bulleit Bourbon. Soak the leaves for at least 15 minutes. Remove the mint leaves, place in a clean cotton cloth and wring vigorously over the bowl, bruising the leaves. Keep dipping the cloth in bourbon (several times) and wringing the leaves so the juice of the mint is dripped back into the bourbon. Set this mint extract aside for at least 1 hour. (Or if you prefer, you can place the mint leaves back in the extract for a more concentrated mint flavor.) Combine the mint extract with the simple syrup in a covered glass container or jar and refrigerate overnight. (This is the julep mix that will blend beautifully with the bourbon.)
To serve: Fill each cup with crushed ice and add 1 1/3 oz. of Bulleit Bourbon or Bulleit Rye and 1 oz. marinated julep mix. Top off cup with crushed ice (10-20% over the rim, like a snow cone). Garnish with a sprig of fresh mint, add a small drinking straw, and serve with a napkin.
---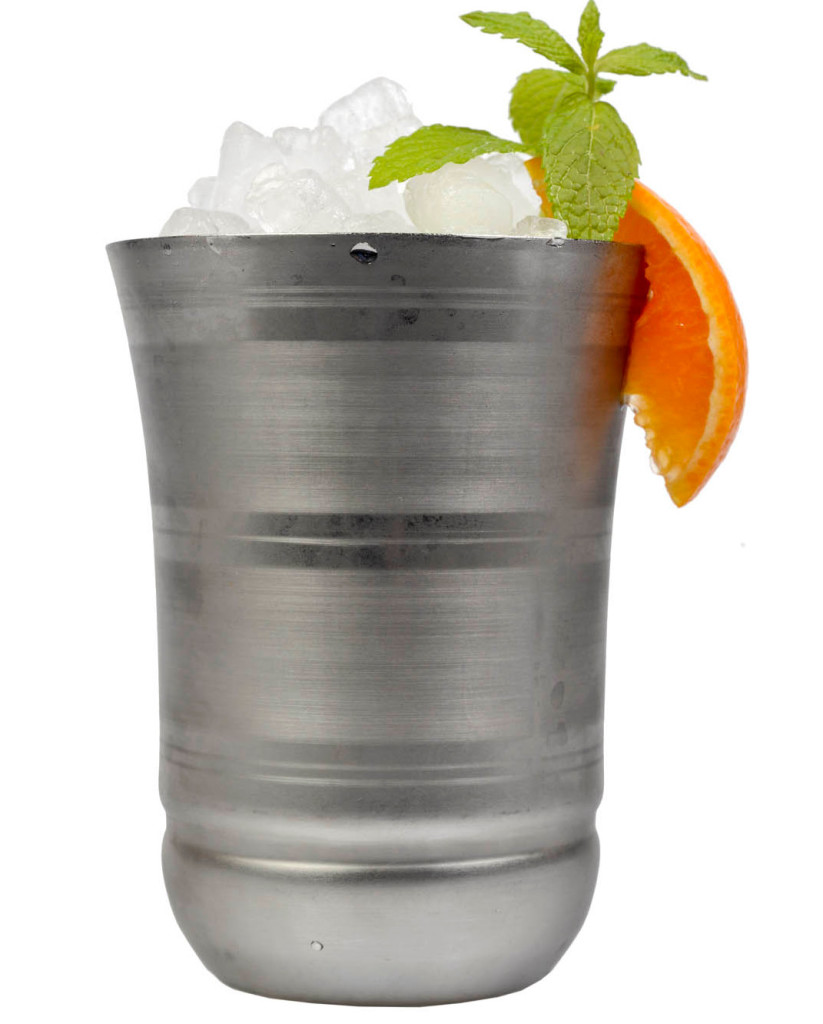 Tangerine Julep
1 part Jim Beam Devil's Cut
½ fresh tangerine cut and muddled with peel
6-10 fresh mint leaves
.50 oz simple syrup
Directions: Muddle the mint and tangerine with the simple syrup in a double Old Fashioned glass. Fill glass with cracked ice and add Devil's Cut. Stir to combine, garnish with a mint sprig.
---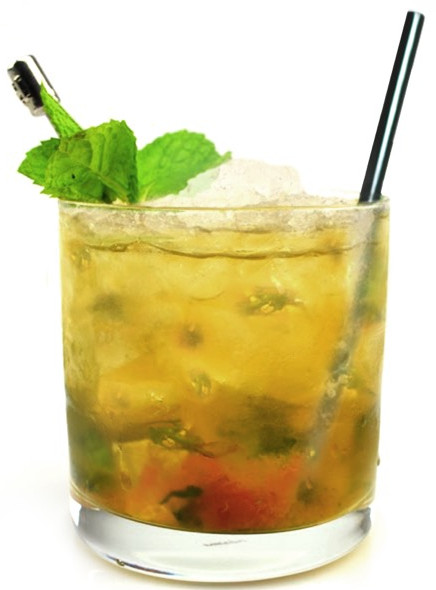 Basil Hayden's High Stakes Julep:
Directions: Add 8 mint leaves to a glass and lightly press with the back of a bar spoon. Add Basil Hayden's Bourbon, apricot jelly and crushed ice into the glass. Swizzle briefly and add more crushed ice until it is mounding over the top of the glass. Add a straw and garnish with additional sprigs of mint.
---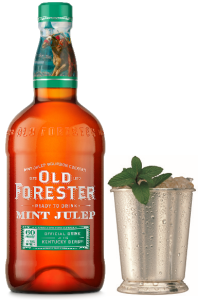 Old Forester Ready-to Serve Mint Julep
Designed for those of us who don't have the mixology gift, the Old Forester Ready-to-Serve Mint Julep is a fantastic concoction that requires no skill or prep work. It's a 60-proof ready-to-serve cocktail made with Old Forester Kentucky Straight Bourbon Whisky. You can find it for sale in select stores today.
Old Forester Mint Julep
Crushed ice
Fresh mint leaves (optional for garnish)
Directions: Unscrew the cap and pour in a glass over crushed ice.  Garnish with fresh mint leaves if you like to keep it classy.
There you have it.  Your 2105 Kentucky Derby mint julep recipes. Whether you're heading to the race or hosting your own Kentucky Derby Party this recipes are sure to be a hit! Oh, and don't think we forgot about those of you [Churchill] downers who may not be a fan of the mint julep.  All you have to do is pour any of these fine straight bourbons into a glass and drink; but you're going to need a fancier hat.