Let me start my review by saying that when it comes to footwear everyone is different, so what I love may be perfect for my feet and not-so-perfect for someone else's. Let me also say that I have been a fan of Teva footwear since high school, and am a huge devotee of the brand! After testing the Teva Sky Lake Trail Shoe for just over a month now my devotion is affirmed – these things are awesome, and totally worth the mere $95.00 price tag. They will cover you over a variety of terrains, in 3 (possibly 4) of the 4 seasons, and look good at the same time!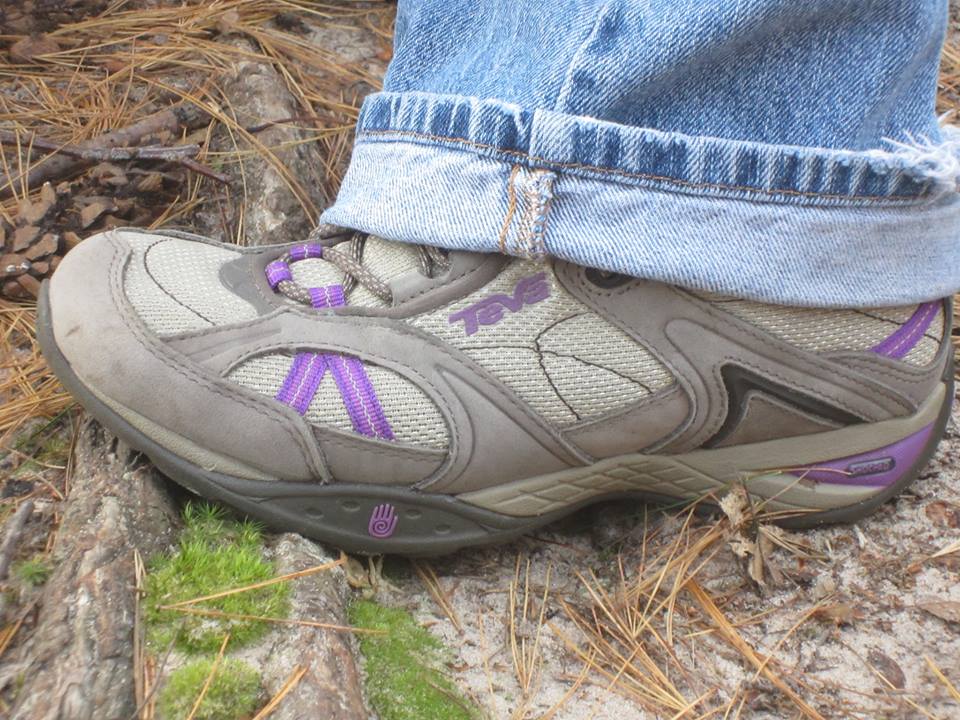 Key Features:
Spider365 outsole for supremely versatile traction
Nylon shank for stability
Nubuck leather and mesh upper
Women's specific last
Compression molded EVA midsole
Encapsulated Shoc Pad in the heel for shock absorption
Mush Infused Insole provides signature Teva comfort
Comfort:
The first thing I noticed when I took them out of the box was the weight – or lack thereof! These boots are so light that you almost question the quality . . . but then you remember they are a Teva product and quickly slap yourself silly for even thinking quality would be an issue! Weighing in at just 11 ounces you will be able to hike for hours and NOT feel like you're wearing cinder blocks on your feet.
Speaking of hiking for hours, I did that in these! I hit the trails around where I live, which consists of hiking a lot of steep sand dunes, rocky trails, lots of stairs (over sand dunes), and a fair amount of moisture as we've had a rainy fall. One thing I look for when hiking on an incline, and for an extended period is if my foot slips in the boot, because we all know that means: blisters on the bottom of your feet, which is probably the most painful, especially if you are on a multi day hike! These boots fit snugly, the laces stay tied, and there was no slipping for me.
The next thing I evaluate when I'm going to be wearing a shoe for a while is whether my feet will get too warm. Not sure if this is TMI (too much information), but my feet sweat . . . a lot. Yes, it's gross, and it requires that I take that into consideration when buying footwear – whether I'm buying a sexy stiletto, casual flats, or performance footwear, I need to know if I can tolerate them for more than five minutes. The waterproof breathable combo is always a selling point for me, and these totally lived up to my expectations. My feet did not overheat at all, and I was wearing thick socks on a warm fall day (~50*).
I was enticed by the Mush Infused Insole, because I have about 10 pairs (not exaggerating) of the Mush flip flops – I freaking love the Mush, and I live in the Mush flip flops in the summer . . . to the point where I have perma-tan-lines on my feet! While these boots are not as comfortable as flip flips, they are super comfy, yet durable. The "8" rating stems from the stiffness of the sole – it is not like walking on the traditional Mush you think of. However, the stiff sole provided excellent support when hiking, and even provided leverage in a way when climbing at an incline.
Design:
This boot provides the Teva Innovative Design Elements – T.I.D.E. – to cover your foot from all angles, keep you dry, and hiking for hours! As stated in the key features, the Spider365 sole gives you amazing traction on a variety of surfaces. I was hiking on sand, rocks, wet wooden stairs, leaves, and never felt as though I was going to lose my grip on the ground. When hiking at a down angle or making a step downward, the Shoc Pad in the heel totally softened your landing. The laces are a cord like lace, versus the webbing, and were easy to tie and they stayed tied, which is a must for me – I'm not one for trying to bend over and tie a boot if I'm hiking with a pack on my back.
Most impressively, I full-on stood on the shores of Lake Michigan as a wave came in and my feet stayed dry . . . right up until the second wave came in and went above the boot that is! I was beyond impressed by that – especially because of how breathable the boot was on my hike to the lake (over dunes and through the woods). The only reason I gave this a 9 versus a 10 was because I would have liked for a bit higher top . . . not 1980's pumps style, but something a bit taller than what it provides. Maybe the Sky Lake MID's would have been a better choice for the task?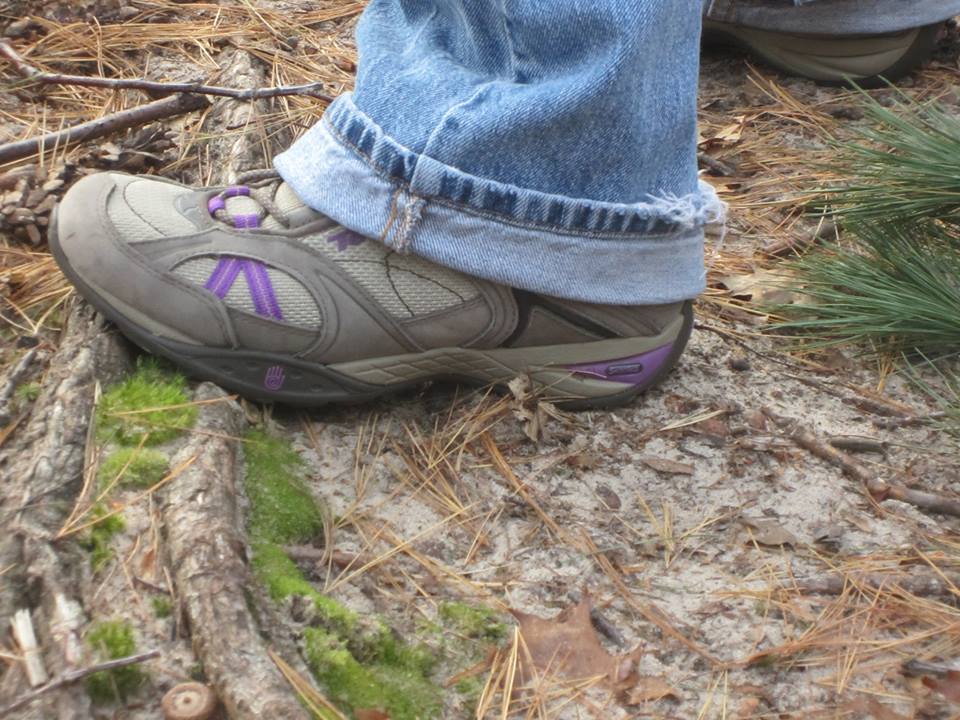 Finally – and this is a totally girly thing to say – but they are a cute boot! However, not "too" cute – they will keep your trail cred' intact as they are burly looking at the same time. I had the Dune color, which is a grey scale with dark purple accents; the other color, "Grey" is similar but with teal/blue accents.
Traction:
As I've stated above, I hiked on a variety of terrain. While I did not hike a 14er in Colorado (I only wish . . . Hey, Teva, feel free to send me to CO to test, I'd be happy to go!), I did cover a variety of West Michigan terrain. You can tell by looking at the picture of the bottom of the boot that these are made for variety. They held the "road" in wet conditions and dry. While the stiffness of the sole took a bit to get used to, once you do you realize why it's there – traction – and traction on a range of surfaces!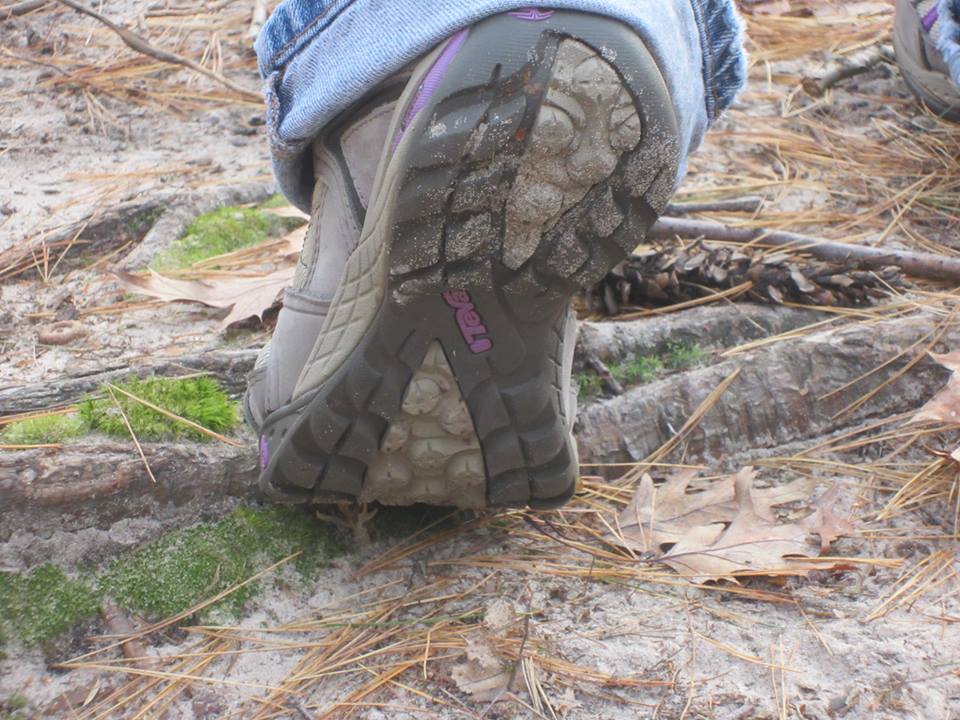 Durability:
I've talked about the feel of the sole a couple times – these puppies are not going to wear out! They are DUR-A-BLE!! And if you've ever owned a pair of Tevas, you know you will own them for many years . . . I have a pair of sandals similar to the Terra Fi Lites that are still going strong and I've had them since high school (and I'm in my 30s!!). The materials overall feel and look like they will hold up through loads of wear and tear – put them to the test, they will not let you down… and they didn't for us!
Value:
Hell yeah, they are totally worth $95.00 – Just buy them already!
Teva Sky Lake Trail Shoe: Gear Review
My favorite features are the waterproof yet breathable materials, Mush Infused Sole for comfort, and stability and traction of the Spider365 outsole. These will be great for hiking in spring to fall – possibly winter if the snow isn't deep, or if you have gaters – as they won't get too hot, they will keep your feet dry, and can handle a range of terrain. As the description on the Teva webpage says, "why choose between style and performance when you can have both?" They look good, feel great, and perform as you would expect a Teva product to perform.
The Good
Very Comfy
Surprisingly Breathable
Built to Handle Any Terrain