T

he river is calling. It's hard to describe to a non-angler the feeling of being there, surrounded by the calming flow of water and enveloped in nature. Fly fishing is truly an art form, both relaxing and tactical when done properly. For those of us that continue to be drawn back to seek the next big catch, we know all too well the importance of gearing up properly for the experience. The swath of gear necessary to achieve our goals can be broad and cumbersome. A rig that's organized and accessible at a moment's notice can mean the difference between total let down or a glorious tale to tell your fellow anglers for years to come. This fall we took the minimalist approach, packing our necessities in the Umpqua Steamboat ZS2 Sling Pack.
Steamboat ZS2 1200 Sling Pack Features:
ZS Retractor Station – with hypalon attachment band
2x ZS Hemostat Grab Tabs – ambidextrous
ZS Foam Fly Patch Station – includes foam patch
ZS Cord Tippet Holder – "stowable" when not in use
ZS Zinger Port
Net Slot – runs full length of back panel, for for longer handled nets
2x Stretch Mesh Pockets – on the face
Vented Back Panel
2x Molle Modular Attachment station, compatible with the ZS2 accessories

ZS2 Foam Fly Patch
ZS2 Gel Floatant Holder
ZS2 Shimi Shake Floatant Holder
ZS2 Tippet Holder
ZS2 Water Bottle Holder
ZS2 Net Holder

Closed-foot zipper sliders to minimize line snags
YKK zippers
Fabric:

Body – 420 Denier Nylon
High Wear Locations – Ballistic Nylon
Umpqua Steamboat ZS2 1200 Sling Pack: Review Breakdown
Design:
Let's get the big question out of the way… Why the sling pack? When we think fishing optimization, the vest seams like the obvious choice. A good vest is more compartmentalized, stores more gear, and everything you'll ever need is always in reach. But then there are occasions when we benefit by traveling light, carrying just the gear for the particular excursion. Also, on those blazing hot days, a vest will likely be detrimental to temperature regulation. Most anglers we know start out swearing by the vest, but when presented with a well constructed sling pack, they've either found purposes for the sling pack that suits them or given up the vest altogether.


We spent some time with the Steamboat ZS2 Sling Pack, and any interest in a sling's benefits are now renewed. With regards to temperature control, the back panel and sling is soft and well ventilated in all areas of body contact. The sling itself is adjustable to fit pretty much any size and frame comfortably and securely. During normal wear, a hemostat grab tab, one fly patch station, and one accessory attachment station remains in reach, so you can keep the basics accessible at all times, but anything bulky will need to be stored in the pack. That's not such a bad thing with this particular pack though. All it takes is a single unsnapping under the right arm and a pull of a convenient thumb loop, so access is a breeze. The strap provides enough friction to stay in place no matter the position of the pack, but it's smooth enough for practically zero difficulty switching positions.
Storage: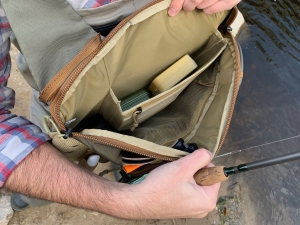 Here is a category where the Steamboat ZS2 Sling Pack genuinely excels. As we've mentioned, while most of your gear will be stored on your back, access is a breeze! When the time does come to grab an item, two main zipper pockets equipped with smaller internal zipper pockets make for surprisingly large volume and organized stowing options. Also, the internal packets are built with a durable webbed material, so in the event you're not sure where a particular item is stored, your inventory remains visible.
Aside from the main backpack storage, the Steamboat ZS2 Sling Pack is externally equipped with two customizable accessory attachment stations, an ambidextrous hemostat grab tab for pliers, an Umpqua ZS zinger port for any smaller tools you want tethered yet contained, a concealed tippet holder that can hold a variety of line weights, another fly patch station, not to mention numerous careener loops for hanging items. With a list of storage options like this, and a pile of available accessories we'll get into later, the personal customization and capacity of this rig is beyond impressive.
Bonus Storage: The Steamboat ZS2 Sling Pack also come equipped with a net holster behind the left shoulder for any anglers out there who want to carry this typically cumbersome item. We all know that net storage is a know problem for the majority of  vests and slings, but this one has you covered!
Durability: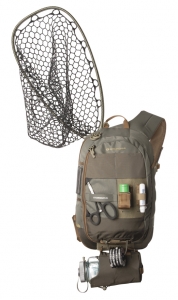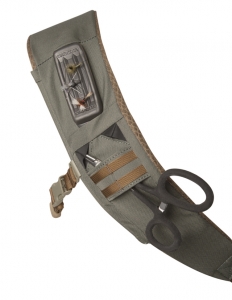 Nothing takes a beating like a fly fisherman's gear. It's likely gonna get wet, it may come in contact with some harsh weather conditions, and it will likely get caught on the brush and branches during hikes in and out of your favorite hole. Fortunately, Umpqua has built this pack primarily with a durable ballistic nylon that is not only soft and comfortable against the body, but impressively durable. After spending the season pushing the limits of the Steamboat ZS2 Sling Pack, we're happy to report all of the stitching remains solid, and there's practically no sign of wear to speak of.
The zippers are plastic, which can be a positive or a negative factor depending on use. While metal zippers tend to last longer, the adventurous angler will appreciate the lack of oxidation should they challenge themselves with some salt water fishing. As for normal wear and tear, the zippers remain in great shape on our rig, and we should mention that the closed-foot slider design has been terrific for easy access and line snag prevention.
Accessories:
We've already given Umpqua some high marks for storage and customization, but believe it or not there's even more to this story. Two modular external attachment stations provide even more options  for accessory attachments that all varieties of angler can appreciate! These include:
Value:
The Steamboat ZS2 Sling Pack has indeed impressed us, and it has us seriously rethinking the frequency we'll be using our vest versus the sling pack in the future. We were delighted by the customization it delivers to suit our needs, and with top notch construction we're confident the price point will more than adequately secure experiences on the river for many years to come!
Buy Now: 129.99 or to learn more at the online retailer, go to: TroutsFlyFishing.com
Umpqua Steamboat ZS2 1200 Sling Pack
With impressive range of motion, remarkably easy access to our gear, practically limitless customization options, and fool-proof storage in a small package, we might just give up on using our vest for the Steamboat ZS2 Sling Pack altogether!
The Good
Impressive Range of Motion
High Volume and Organized Capacity
Wide Accessory and Customization Options
The Not-So-Good
Little Front Storage
Only One Zinger Port