Our parents told us, spend money on anything that separates you from the ground: Shoes, Tires, & your Mattress. We've covered all of those here at Busted Wallet, and for the last 30 days we've been testing out a Tuft & Needle queen size mattress. If you're lucky, you don't think much about your mattress, and yet you're spending approximately a third of your day using it. Arguably it's one your most used products, and because of this, it isn't something you should cut corners on. It provides a foundation to your day by giving you restful sleep that prepares you for every adventure your day presents, from raising 3 kids like me, or spending all day on your feet teaching 2nd graders like my wife. We've been married 16+ years and we were on our second spring mattress, the latest one had a pillow top to lessen how much we felt the springs. It was great, but it was time to start looking for a new mattress.
Enter Tuft & Needle. They were founded in 2012 by two software engineers from Silicon Valley who were fed up with the lack of transparency and fairness in the mattress industry. Read their story. But basically, they didn't think it was cool to spend $3,300 on a mattress. Their thinking was it's good to buy quality, but don't spend more than you have to. That's practically our slogan here at Busted Wallet, not that we have a slogan, but if we did, it would be that, or something to do with whiskey. So we took a made in the USA mattress from Tuft & Needle for a 30 day test drive and here's what we discovered…
What's in the shipping box:
Another box (this is way more important than it sounds right now, just wait)
A compressed mattress in a plastic bag
What's not in the box:
Key Features / Specs:
Rayon and Polyester Cover
T&N Adaptive™ Foam in two layers
100 night trial period
No hassle return
Made in the USA
Tuft & Needle Review Breakdown
Ordering/Shipping
How do you even start to buy a mattress? Have you been to a showroom? Financing! Sales! Sales people! Pressure to make the right decision! It's a lot of money. This isn't like buying a coat. You can try on a coat in a store and determine fairly quickly if it fits. Mattresses can't be measured in 2 minutes at a store because really, have you known anyone to take a nap, in public, at a mattress store during the middle of the day? No. You go, you lay down on a bunch for 10-15 seconds at a time, you don't really know what you are feeling or looking at, and you've got a sales person telling you not to worry. That's not a very good process.
Tuft & Needle has 2 show rooms, if that's what you want, but I'm going to tell you, don't bother. Go to their website at www.tuftandneedle.com click "BUY" in the top right corner, and pick the size you need. Twin, Twin XL, Full, Queen, King, California King. They range in price from $350 to $750. They don't do coupons, or sales.
We started Tuft & Needle because of our own experiences with mattress gimmicks. This industry is already full of discount programs that deceptively inflate prices and trick people into thinking they are getting a deal. We believe that everyone should get the same price—the fair price.
Now that you've got your mattress picked out, click "Add To Cart", and process it like any other online transaction. They ship it to you and it arrives at your delivery address in 2-5 days. You can buy a mattress FROM your old bed in less time than it would take you to leave the house to go to a mattress store. But not only that you don't need to arrange delivery. Worried about it on your porch while you are at work? Have it shipped to your work. The box that our queen mattress came in could have fit in the back seat of a small 4 door car. You've just saved yourself hours, possibly days. Did you just notice we said you can fit a full size queen mattress in the back seat of your car? Sounds a bit insane, I know.
At this point in the review, you're a bit worried. Why? Because "That's not the way it's been done!" This is a major financial investment and you are asking yourself: how can you buy a mattress sight-unseen? We'll get to that in the wrap up at the bottom.
Unpacking at home
Remember above in the 'What's in the box", we listed 'Another box'. Here's where that come's in. For this test we picked the worst set of stairs in any house I've ever lived in. They are straight up and tight. I wanted to do the entire unboxing in the bedroom where the mattress would end up because I've moved mattresses up and down this stairs many times. The FIRST critique I had was "They need handles on this box". We got it up fine, but it's 70+ lbs and cardboard can be slippery enough.
Well, I'm stupid.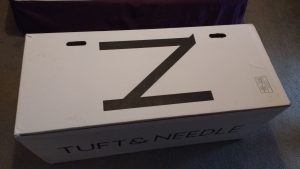 The inner box HAS handles. I should have opened up the outer box on our front porch. Either way, getting it upstairs was WAY easier than it's ever been for any mattress we've ever had. Not only that, it was easier to carry the new mattress in box without handles UP the stairs, than getting our old mattress down the stairs. We had to bend the old one around a sharp corner at the top of the stairs, while tying to not get knocked down the stairs while pulling on the old mattress.
Update from Tuft & Needle: "We send press/media their boxes in a brown shipper box so that the white box is clean for images. A typical customer wouldn't receive the brown outer box." Good to know!
Then, follow the instructions in the video.
Open the inner box (the one with handles),
Place mattress on bed,
unfold,
unroll,
cut plastic bag (well away from the mattress.
Watch the magic.
Wait 2-3 hours, and then go to sleep. If you had this delivered to work, you could unbox it at home before dinner and be sleeping on it that night. It's not spring loaded, so it's a very quick, but controlled, inflation. You don't have to be worried about knocking any thing over, but give your self room to work. It helps to have a second person once you cut the plastic, so you can slide it out from under the mattress.
There is a top and a bottom to the mattress. This isn't a mattress that you flip. The way you unfold and unroll it puts the correct side facing up when you are done.
Moving the mattress around, it's a lot softer than a spring mattress. It doesn't have handles, and it isn't 'ridged' so it can be hard to grab on to. It's not a huge issue but it's worth knowing. It makes moving it from one house to another a different type of challenge than a traditional spring mattress. While it'll bend around corners easier if we ever move it to another room, it's going to be harder to pick up.
Design
Unlike other mattresses that most of us are used to, it doesn't have springs. It's foam. But unlike other online mattress companies, it doesn't have layers of different foam. It's 2 layers of the same stuff from top to bottom. From their website:
Every mattress layer adds a layer of glue, and every layer of glue reduces airflow. Reduced airflow means hot sleeping, and paying for extra layers you won't feel.

We've worked hard to reduce our layers down to the essential two. The performance of your sleep surface is what matters most because it provides the comfort you feel and the interaction your body needs. Our innovative foam is what makes this all possible.
Missing are buttons that hold springs in place or look cute, or disrupt your sleep. Also missing is a hard edge. Take your normal spring mattress and try to cut it in half with a saws-all and you'll quickly learn that the sewn edge has a piece of hard metal in it. Go check the mattress you have right now. This is missing from the Tuft & Needle mattress. We never noticed it before, but it was the first thing my wife commented on. It sounds dumb, but it's a detail we've both mentioned a few times so it's worth mentioning here.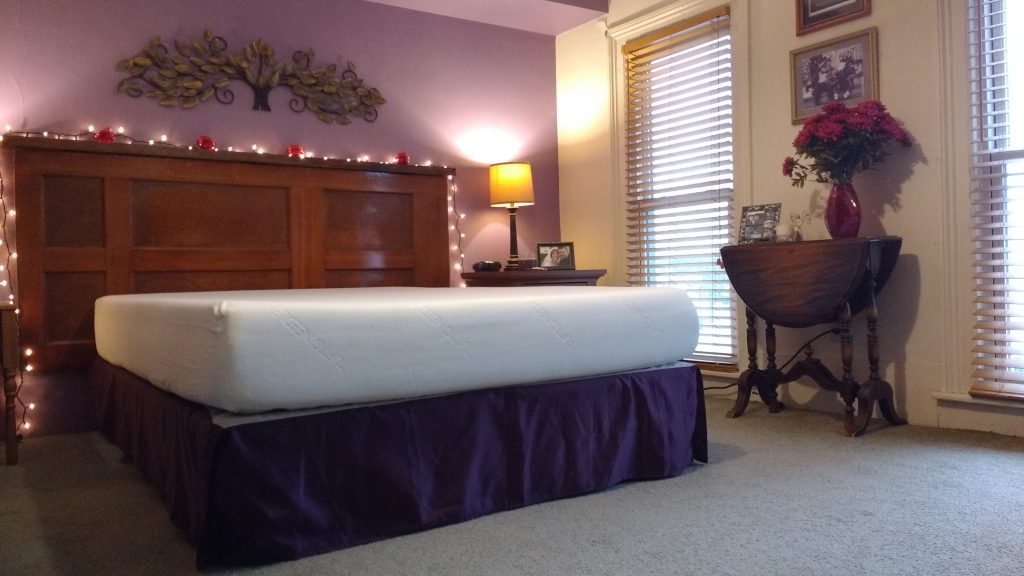 What else is missing? A smell. I truly expected some off-gassing, that 'new' smell, but there wasn't much of anything and nothing that bothered us that first night or since.
Comfort
This is where it all gets subjective. I like it. My wife likes it. My oldest daughter is o.k. with it, but is disappointed she can't jump on it. Why? Because there are no springs. It'd be like jumping in quicksand. Warning: Do not bellyflop on to a Tuft and Needle mattress. You'll regret it. What makes it not work for jumping on, makes it great for sleeping in my opinion. It forms and responds to my body. At first I though that it was too soft and I was sinking into it, but then after a bit I realized that it was actually supporting me. Think of it like water, you can't stand on a pool, but you can float on the surface.  If you kneel on the bed, you'll sink in a bit more than on a spring mattress, but you won't feel anything hitting your knees. But when you lay down on it, the heavier parts of you push down more into the bed than the light parts of you.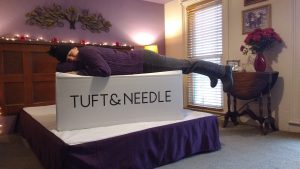 Laying on a Tuft & Needle mattress vs a traditional mattress, is like moving from sleeping on a hard surface to a traditional mattress. There is a lot more give, but I wouldn't call it soft. It's firm, but it molds to your body. Our next worry was, if this molds to our body, how's it going to be for heat retention? It's winter here in Michigan, we normally sleep with a heated mattress pad, and while you can use one with this mattress according to the manufacturer, for the sake of testing, we didn't for the first 30 days. It's warmer than a traditional mattress, but not overwhelming. By morning we were happy to have two blankets on the bed still. I don't foresee a problem in the summer. For the last few days we've had the heated mattress pad back on the bed and we're using it but at lower temperatures than what we used to use it at.
My wife's a hard core sleeper. So much so that people ask if she's o.k because of how long she'll sleep. In 2016 she started a new teaching job and the last 15 days of our test was her winter break. After Christmas, I think she spend the next three days at 14 hours of sleep per day before I let the kids force her out of bed. Since then she's put in several 12 hour sleeps and a few 10 hour nights. She said we can keep the mattress.
That first night…
They give you 100 nights to try it, and if you don't like it, you can get a refund. You are going to need some of those days to get used to it. I found it easier to fall asleep and I found my sleep to be less disturbed than on our old mattress. That might be because our old one was worn out, or it might be because of how this mattress shapes to my body. I can't tell you for sure, but I like it. Another warning though, I woke up sore the first few mornings. Nothing horrible, but my wife and I both noticed it. I chalk it up to using different muscles during sleep than usual. It's like when you sleep at someone's house, or out camping. Hardly ever is it the same as at your home. This went away after a few days, and like I said, I'm getting much better sleep than before we got this mattress. I had back surgery in 2012, so I paid this aspect a lot of attention during testing.
Value
Earlier I asked, "how can you buy a mattress sight-unseen?" and I promised I'd wrap that here. Here's how: It's a great mattress at a fair price without gimmicks or games and buying it online is a time saver.  I'm very happy with this mattress. The place we bought our last mattress is out of business, and I don't know who to trust, but with a 100 day money back guarentee you have nothing to lose.
The last catch… how easy is the return?
So what if it has a 100 day trial if returning it is a pain? Right? That's why we don't trust mattress stores. Returns can be confusing but they aren't with Tuft & Needle. You don't even need to keep the box it came in.
You do not need to keep the packaging. Instead of shipping it back to us, we work together to donate the mattress to a nearby charity. Send us a scanned or photographed copy of your receipt and we'll process your refund. If no charity is available nearby for donation, we'll arrange a 3rd party pickup for the mattress.
If you are in Alaska or Hawaii, you've got to pay extra shipping costs to get your mattress in the first place and Tuft and Needle doesn't refund those extra fees. It's good to know that up front and they say so on their website. And that's another win for Tuft & Needle, their website. It's full of information about what you are buying, and what to look for.
All in all, it was a smooth transaction, an easy install, a well built product, a 100-night trial, a 10-year warranty, and I could not be happier with it.
Buy now for $350-$750 or to learn more, head over to: TuftAndNeedle.com
Tuft & Needle Mattress - Sleep Review
All in all, It's a great, quality, made in USA product that comes with a stupid-simple return policy. It's no risk for 100 days. I'm 30 days in and I'm super happy with it. I'm not second guessing anything about this mattress. If you are looking for a new mattress you've got nothing to lose by trying a Tuft & Needle.
The Good
Affordable and Comfortable
Made in the USA
100 night, no-risk trial-period spelled out up front
The Not So Good
Floppier, harder to move once in place
Took a week to get used to
Not good for Jumping on or Belly Flops