You can order just about anything online these days. If you need a pair of shoes, just order them. Need a new bike? Order it! Yet there are some products you wouldn't ever consider ordering without first trying out in person. Things like a couch, a recliner and beds are items you might want to test for comfort before purchasing. That being said, you certainly can order them, and usually much cheaper online than at a retail store, but it would be hard not to worry that you're spending money on something that might ultimately not fit your comfort standards. This is a conundrum we've all been faced with at one point or another.
Recently, we were given the chance to test and review a queen size mattress from Casper. Never heard of Casper? That's not a surprise. They are a relatively new start-up, but are making waves in the mattress industry and are currently one of the fasting growing consumer brands of all time. What makes Casper so special? It's simple… Casper mattresses ship to your door via UPS Ground in a box. In that box is a tightly packed mattress, wrapped in plastic and Tyvek. Simply remove the plastic and Tyvek and the mattress springs to life. Pretty cool, huh?!
But is it comfy? That was our initial question too. So we spent the past two months testing our Casper. For this review sleeping-in was required. Today we're happy to share with you the results of our time spent sleeping with Casper. Here's what we discovered…
Key Features:
Cover: Made from premium textiles from the USA and Belgium, the cover is breathable, flexible and resilient. It is hand-sewn in South Carolina and Illinois, and fully removable for easy cleaning.
Sleep Surface: 1.5" of a proprietary dunlop latex foam balances a 13ILD load-deflection with an energetic springiness. The open-cell formula keeps you cool in hot months with superior air circulation.
Base Support: Combining a softer latex with contouring memory foam and firm base foam, the mattress relieves pressure from the hip and shoulder areas while providing core support.
Tech Specs:
Construction & Materials: 3-Layer Foam Construction, Latex Foam, Visco Elastic Memory Foam, Polyurethane Foam, Polyester/Polypropylene Zipper Cover
Made in the USA: Designed and manufactured in the U.S.A. with components from Illinois, South Carolina, North Carolina, Georgia, New York City, and one piece from Belgium.
Warranty: 10 year
Casper Mattress Review Breakdown
Ordering / Delivery: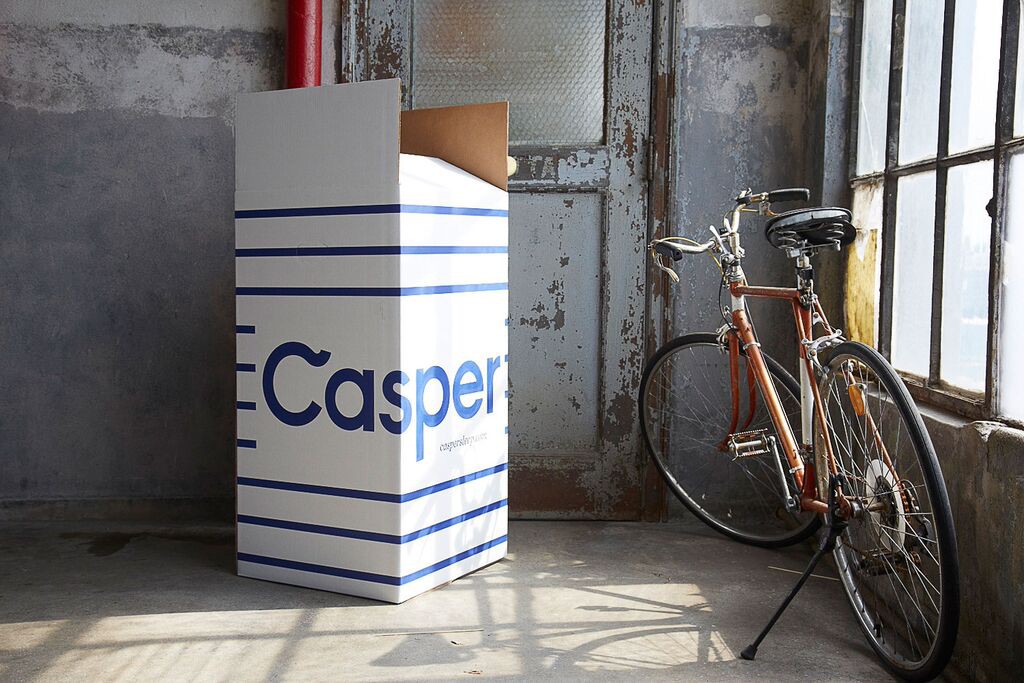 When ordering a Casper mattress you have 6 options to choose from: Twin, Twin XL, Full, Queen, King and California King. Starting at $500 and topping out at $950, Casper is an affordable option for renters, first time home buyers or anyone on a budget. Best yet, shipping is FREE.
After choosing your mattress delivery is quick (1 – 5 days). We received our mattress in just four days. In New York City and San Francisco, free same day delivery is available via eco friendly bikes.
The mattress arrives on your doorstep and no signature is required. Depending on which size you choose, the box can be quite hefty. If you're ordering anything bigger than the Full, we recommend having someone around to help you get the box in the door and ready to open.
Once you have the box in your home, you're going to want to open it in the biggest space you can find. The box is small compared to the mattress . So give yourself some space. Once you've opened the box, the mattress will come out rolled up in Tyvek and plastic. Casper provides you with a nifty tool to cut open the Tyvek and plastic without harming the mattress . After you cut the Tyvek wrapper, the mattress begins to spring to life, sucking in air and taking form. This takes only 30 seconds or so.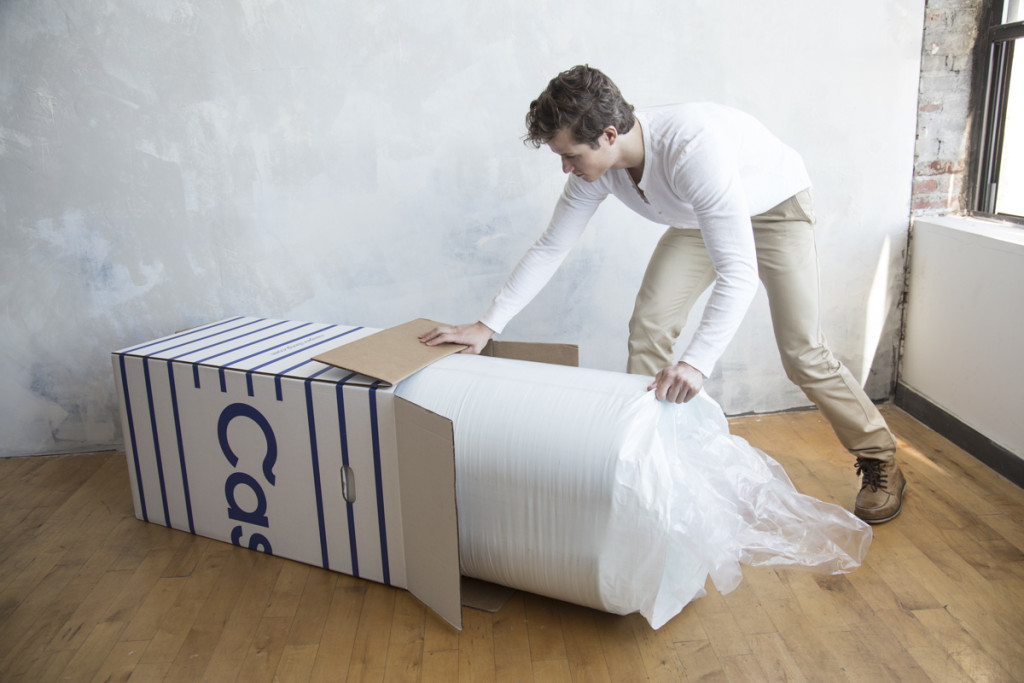 Overall, we were very happy with the entire ordering and delivery process. From point A to point B, it was an easy, hassle free way to find a mattress .
Design:
Designed to conform to your body with minimal "sinkage," Casper mattresses are built to relieve pressure from the hip and shoulder areas, allowing the contours of your body to be properly supported. The mattress itself is a completely spring-less design, produced from a mixture of memory foam and latex. The top layer of latex is designed to keep you cool, while the memory foam is there to support you while you sleep.
From night one, we found our queen Casper to be very comfortable. Upgrading from a lumpy 8 year old innerspring mattress to the Casper was a delight. We noticed the mattress was softer, quieter and delivered more support.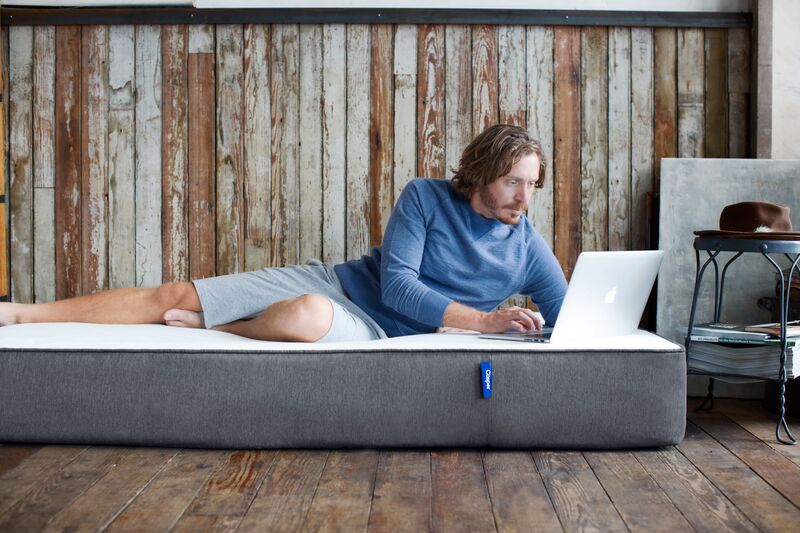 One of our favorite Casper features is that the outer fabric that covers the mattress can be removed and machine washed. Now every time we wash the sheets we wash the mattress cover too.
Comfort:
Throughout testing (sleeping, napping and other fun stuff) we found our Casper to be truly comfortable. When compared to the innerspring mattress it replaced, we noticed the Casper was much more comfortable overall. The mattress is soft yet supportive. It is also very quite. Making it easy to slip in and out of bed without disturbing your bed-mate when nature calls.
I've never really had back problems or anything of that nature, and after testing the Casper for just over two months I still don't have any issues, which is a win in my book!
If you're still weary of buying a mattress online and don't think comfort can come from a mattress in a box, Casper's got you covered. They offer a 100 night trial period. If you don't love it, they will pick it up for free and give you a full refund. No questions asked. So far we've made it 75 nights and we won't be taking them up on the offer!
If you're looking to max-out your Casper comfort and like yourself some one stop shopping, do yourself a favor and look into Casper's new line of sheets and pillows.  The pillows are dual-layered and engineered to remain supportive, cool and comfy. While the sheets are crafted from the finest cotton fibers in the world. Since they're cotton they're strong, soft and durable. The pillows run $75 each and the sheets are an additional $180.
Value:
"Affordable" isn't a word often associated with the mattress industry, Casper has changed that. With mattresses starting out at just $500 and peaking at $950, Casper mattresses are a true value for anyone looking for a good night's sleep. Casper also offers a 10 year warranty on all their mattresses. When you consider the ease of ordering/delivery, the comfort and the price – the value of Casper mattresses speak for them self.
Buy Now: $500 – $950 or to learn more, go to: Casper.com
Casper Mattress - Sleep Review
Casper is a total game changer! If you're in the market for a new mattress, Casper is the way to go in our opinion. They have turned the mattress world upside down in the past year offering one of the best values in the business. Never before has a bed been so easy to order, or comfortable to sleep on. With a 100 night trial period and a money back guarantee, we wholeheartedly recommend this mattress to anyone.
The Good:
Fast and easy delivery
Comfortable and supportive build
Machine wash safe cover
The Not so Good:
Casper makes it hard to wake up for work!