These days we find ourselves all over the place! Some of us scoot off from one destination to the next for business, while others of us are always preparing for that next spontaneous adventure. The lifestyles we chose that have us on the move can certainly come with some baggage, so this spring we took to horizon with our clothing and our gear in tow with the Thule Subterra Carry-on.
Key Features:
Thule Subterra Carry-on Review Breakdown
Design:
At first glance, on the surface the Subterra doesn't look a whole lot different than the conventional carry-on. Upon closer inspection though, you'll find a sleek style that breaks the mold of conventional expectations. While it carries all of the standard functions of just about every other carry-on you've ever had, nice little features are packed away without notice…we'll get into those in a bit. Even the quick access pocket that would typically be quite noticeable is well disguised here, making this carry-on interesting to look at as well as functional. Also, for anyone interested in something other than the common black, the Subterra is available in mineral and ember colors.
Storage:
"Here is where it get's interesting" …something we never expected to open with while describing luggage. The Thule Subterra Carry-on has the usual main compartment as well as a smaller easy access compartment. However, these are set up a little differently than we're used to, and the storage capabilities provided definitely make for some pretty creative possibilities for travel.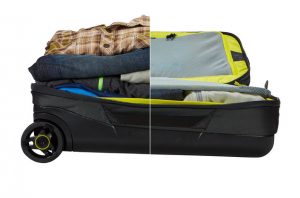 Firstly, the main compartment is divided into two sections by a zippered mesh barrier. This allows you to divide dirty laundry from clean, store camera gear and accessories from the clothes, heck, we took a trip to Colorado with the Subterra and used the divider to store our climbing gear so that we wouldn't get grime and climbing chalk all over our clothes. This feature can come in handy in more ways than we and imagine, we're sure. There is also a compression board included, so packing in more clothes and getting the Subterra closed is made much easier. All that's required is pushing down on the board and clothing is held tightly in place and made more compact.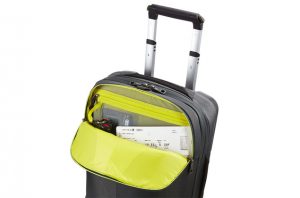 To release, it's as simple as pulling two side finger tabs, and the compression board comes loose with ease. The compression board also serves as a flat zippered compartment, which we've found beneficial for carrying power chords and tablets. We will say, sometimes the clips for the compression board can get caught while zipping the Subterra shut, but all it takes is a minor adjustment to get back in business.
The easy access pocket is also made more spacious than the usually tight zippered area on other carry-ons. If you need to carry slightly larger items like a glasses case or power unit, this'll probably hold it without a problem. The easy access pocket also comes equipped with an attached clip so keys don't go lost, and a zippered mesh back compartment for flatter items such as extra cash or plane tickets.
We should also mention the piggy back strap loop, that offers travelers the capability of leashing a smaller carry-on in tow.
Portability:
Getting around with the Thule Subterra Carry-on is as easy as it gets thanks to its oversized wheels and V-tubing telescoping handle. The telescoping handle has two settings, so adapting to the size of the traveler or going up and down escalators is do-able. We did have a little bit of trouble getting it to lock in the short position at times, but after a few tries it locked in just fine.
The Subterra Carry-on sizes in at 7.9″ x 13.8″ x 21.7″, which has been no problem storing in the over-head storage of all the flights we've taken it on.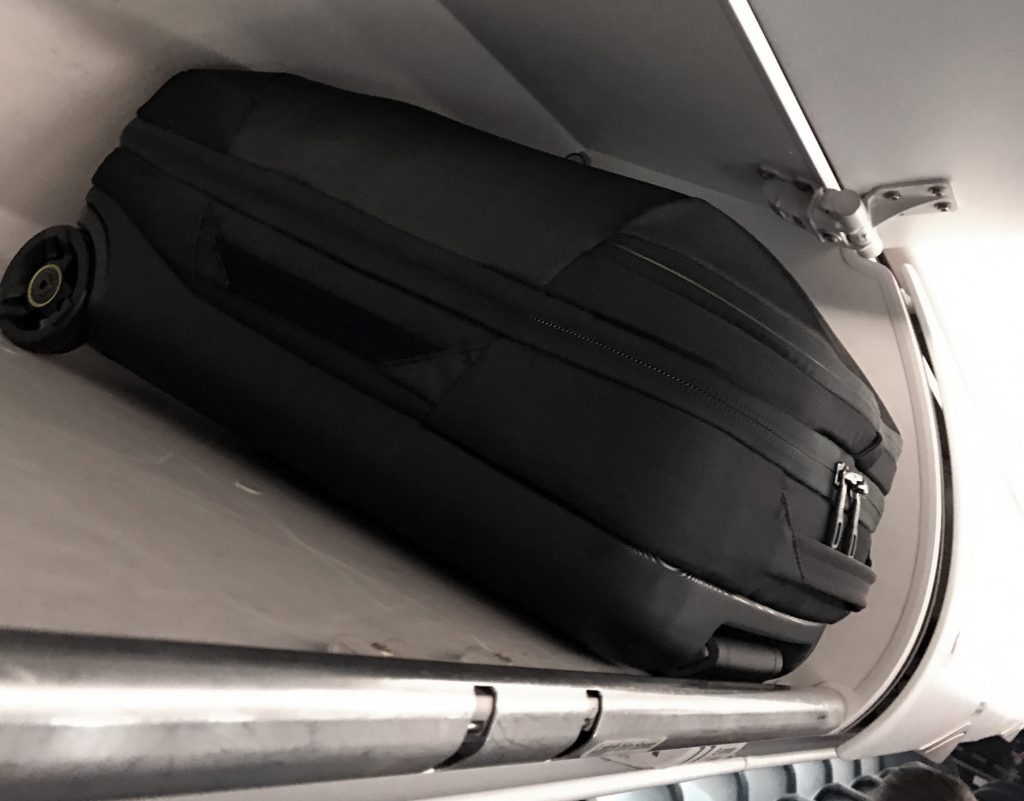 Durability: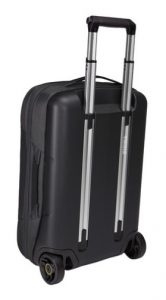 Thule has built their reputation for strong built goods that last, and we see the Subterra Carry-on making it for the long haul. The exoskeletal frame is incredibly sturdy, and it doesn't butt up against the water-resistant nylon outer shell. This provides give where necessary in the case of an accidental heavy impact, and reduces the chances of wear over time. We've been traveling with the Subterra Carry-on for a few months and all of the seams are still as strong as the day we first packed it full. The oversized wheels are holding together decently, but we are noticing a bit of wear along the edges.
Value:
The Thule Subterra Carry-on does price on the medium to high end of the spectrum, but it has a lot going for it. For the modern business traveler or active lifestyle enthusiast that requires ample storage for an assortment of gear possibilities, it'll do the job just as well or better than any other carry-on the market has to offer. The compartmental storage alone has proven it's value time and again in our opinion, and with a well established name like Thule known for producing lasting products, not to mention a sleek and clean design, we're convinced you'll get your money's worth to carry your belongings from place to place with ease and efficiency.
Buy Now: $279.95 or to learn more, head over to: Thule.com
Thule Subterra Carry-On – Gear Review
The divided compartments and compression board design of the Thule Subterra Carry-on make transporting belongings easy and efficient during travel. Whether you're taking a quick weekend trip across country by air, or just checking into a friends guest room for the weekend, this is a great option to carry your belongings to and from your destination of choice.
The Good
Compression Board Packs More
Divided Compartment Main Storage
Durable Exoskeletal Frame
The Not-So-Good
Clips Catch in Zipper Often
Wheels Wear Quickly
Telescoping Handle Lock Has Issues