Running, biking, skiing… whatever, as long as we're outside it's cool.  And then we had a baby…
We're happy to report that having a baby is not a death sentence for your outdoor activities, you just have to have the right gear (and ambition) to keep it going.  As far as parents go, we TRY to err on the side of "minimalism", because let's be honest, babies require a lot of stuff.  So when we do decide on a product, it's important that it fulfills a lot of our requirements.  When it came to buying a stroller we were faced with HUNDREDS of options.  What's important?  Is it good for running OR walking?  Is it lightweight?  Good for traveling?  We considered buying three different strollers to fit the various requirements, and then Thule Chariot Lite came along.
Thule is (by their own definition) an "international group of people united by our own passion for helping active families and outdoor enthusiasts".  Throughout testing the Chariot Lite, we set out to see if they are holding true to their word. Here's what we discovered…
Key Features:
Thule Chariot Lite Gear Review Breakdown
Assembly:
When we saw first un-boxed the Chariot Lite we expected the initial assembly process to be a little overwhelming.  As it turns out, the hardest part was locating the instruction manual.  Just screw on the handle and then pop open the stroller.  The buttons are all blue and easy to find, and there's handy little green/red windows to show you when the Chariot is locked and loaded (and safe to use).  The Thule Chariot requires the child to have good head control, otherwise they offer an infant insert which is sold separately and creates a nice cushy ride for the smallest babes.  One word of caution: Thule sells different inserts for different carriers, make sure you get the right one.
Design:
When Thule was designing the Chariot Lite, they truly thought of everything.  The Chariot boasts an easily adjustable handlebar which is such a great feature, especially when jogging.  The padded seat also reclines which is a must when you have a baby that alternates between wanting to sit up and see the world! To being exhausted from seeing said world.  The stroller easily folds down on itself by holding in the two blue (easily identifiable) buttons on the side.  It's small and light enough to easily lift into the back of our Jeep.  The wheels all pop off with the push of a button and fit nicely inside the Chariot, making it surprisingly compact for all that it's capable of.  It's not the smallest stroller ever, but you're not buying the Chariot because it's small – you're buying it because it's an all-around adventure machine!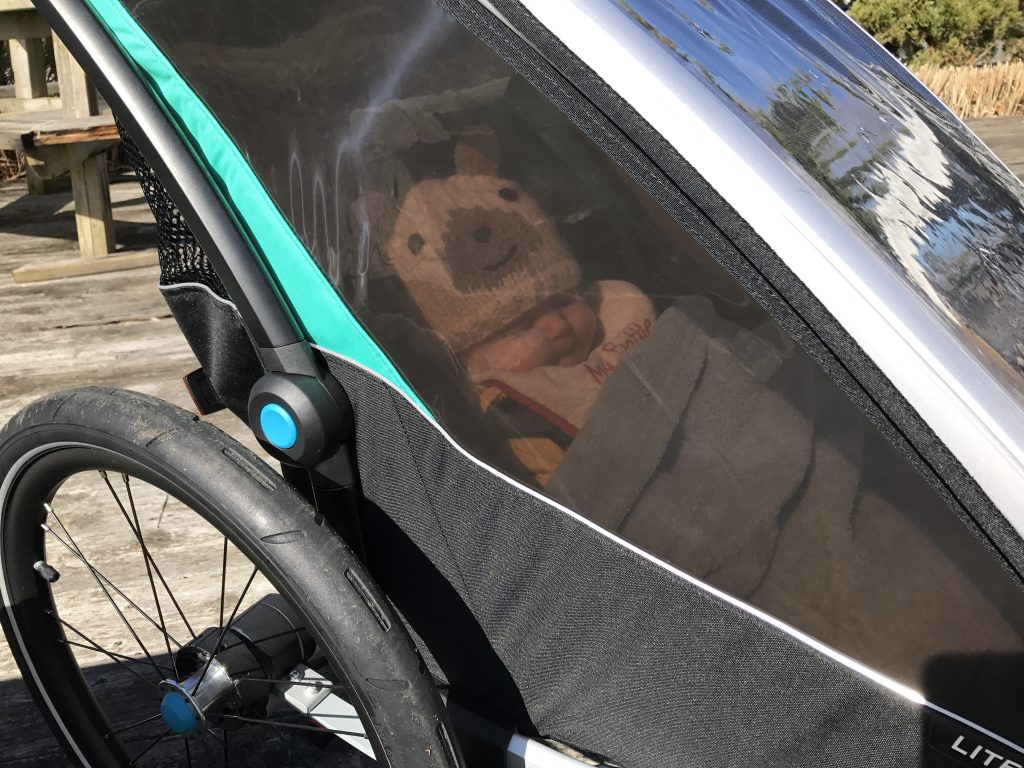 Safety:
The Chariot includes a 5-point padded safety harness that is easy to adjust, even when using the infant insert, as well as a built-in roll cage for added peace of mind.  The mesh screen zips down to keep bugs and debris out when you're cruising down the road.  Also included is an all-weather cover to keep babe warm and dry in all types of weather.  Once you have the rain guard on the Chariot is wind and water tight.  We felt comfortable taking our little one out on a blustery, 45 degree day.  We garnered some sideways looks from little old ladies, but inside the Chariot our babe was toasty warm.  One complaint is that once you get the rain guard all strapped on, it's a little hard to get to the child, but the straps do loosen up a little with use which makes it easier to attach.  When the weather turns warmer, there's also an adjustable sunshade that blocks UV rays (as well as the child's view; although the side window panels provide a way to see out).  All of these handy covers roll up and slide into the pocket on the top of the stroller.  This keeps everything you need at your fingertips, ready for any weather.  However, this top panel does also obstruct any view of your child while behind the stroller.
Ease of Use:
The Thule Chariot could not be easier to convert between activities.  This is probably the most important feature of the Chariot, because what's the point of having all these options of it's too much of a hassle to switch out the parts?  Don't take my word for it though, watch Thule's video here.
All in all, it takes about a minute to switch from the regular stroller wheels to the jogging attachment and back again.  The Thule Chariot comes with the bike attachment, which is equally easy to assemble.  Note, the jogging and cross-country ski attachments are sold separately (yes I said SKI's!)
Maneuverability:
This Chariot rides like a dream!  The suspension provides a super smooth ride and the Chariot is easy to turn with the stroller wheels on. The first time out our babe fell asleep before we even turned off our street.  With the jogging attachment on the Chariot is like a tank, handling curbs and sticks with ease.  The jogging wheel is static and does not have the ability to pivot.  When jogging this is ideal because it keeps the Thule Chariot going straight, you barely have to have a hand on it to keep it moving.  We just wouldn't recommend going for a walk with the jogging attachment on since the front wheel doesn't pivot.  Luckily, the "Click n' Store" feature allows you to conveniently store the strolling wheels and cycling kit while using the jogging wheel, and vice versa.
Quality:
Having tested many, many strollers, it was immediately evident that the Thule Chariot is a quality product.  It's so easy to push and maneuver, and just feels sturdy.  The fabric looks and feels nice, and  follows the Bluesign® and OEKO-TEX® standards.  Plus, Thule offers a limited lifetime warranty on all of its parts, so you can be sure your investment will last.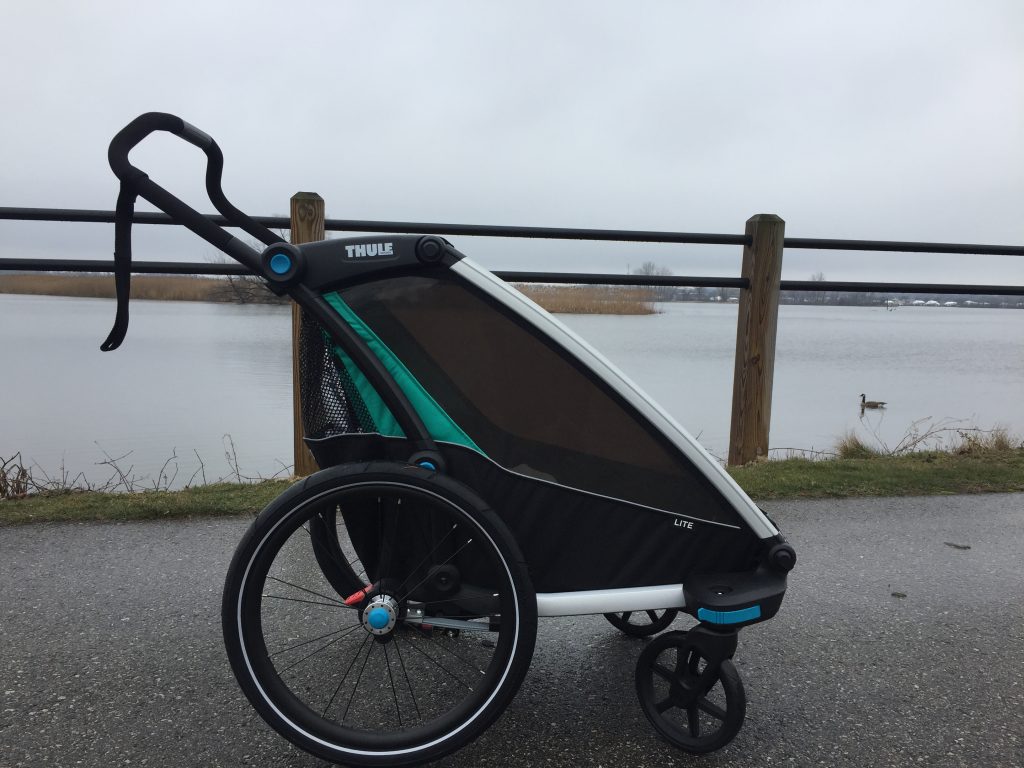 Value:
At $699.95 for a single stroller and $799.95 for the double, the Thule Chariot is not a small investment.  However, you're really covering a lot of bases (and activities) with one stroller.  You get a stroller you can use for walking, jogging, biking AND skiing, in all types of weather.  Plus, it is easy to stow and surprisingly compact.  We wouldn't recommend this stroller for grocery shopping or daily errands, but it's a great fit for pretty much anything else!
Buy Now: $699.95 or to learn more, go to: Thule.com
Thule Chariot Lite - Gear Review
This is the all-in-one stroller we've been waiting for. Thule has put together their innovative design skills together with thoughtfully engineered features that keep the baby safe and secure. The Chariot Lite is a tank built for any adventure you can think of.
The Good:
Multi-activity
Top quality
Easy to use
The Not So Good:
Not small
Not able to view child from behind