With the amount of smart home security systems available on the market today, you have to wonder which ones actually hold up to all the hype.  From monitoring your home through a wireless camera to controlling appliances the SwannOne Smart Home Control Kit seems to have it all.  Unfortunately, it falls short… way short.  We were truly hoping for a reliable system that would be easy (and free) to maintain, however, we were left with many false positive and a money-grabbing software with missing key features locked behind a paywall.
Key Features:
Detect Entry, Motion, and Sounds
Easy Setup
Energy Management
720p "HD" video monitory
Mobile Alerts
Night Vision
Remote Viewing
Secure and Private
Wireless
SwannOne Smart Home Control Kit Review
Setup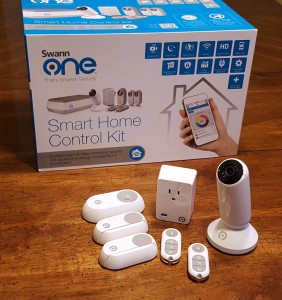 The SwannOne Smart Home Control Kit includes the Smart Hub, 2 KeyFobs, 1 Motion Sensor, 2 Window & Door Sensors, 1 SoundView Indoor Camera, 1 Smart Plug, Ethernet cables, power adaptors, batteries, security stickers, and a quick start guide.  Seems like plenty of good stuff for the cost right?  Let's just put that credit card down for now and keep reading.  The physical setup process was simple enough.  Everything either has an adhesive you can just stick onto a door, window, wall, or pop onto a screw for added structure.  The camera itself can be mounted on a wall or stood up on its base and placed just about anywhere inside to get a good view (same goes for the motion sensor).  The Window and Door Sensors are easy enough to put into place, but you'll want to make sure your doors and windows are flush to get a good connection when closed.
Setting up the software was easy enough, but time consuming as everything took several minutes to sync and setup.  Prepare to block off at least 20-30 minutes behind the computer for something that should only take (at most) 10 minutes.  Besides being cross-platform, this is where things start heading south.  Before setting up the system you'll want to create an account.  Then follow the prompts for installing and syncing each piece of equipment.  The prompts required me to scan a QR code on the back of the camera using my smartphone to gain connection with the Smart Hub.  Although this process was easy enough, each pairing generally took up to several minutes to sync.  And trust me, it definitely wasn't my internet connection (Nighthawk Router).  Once everything is setup, you can download and monitor all the gadgets through their SwannOne app.
Design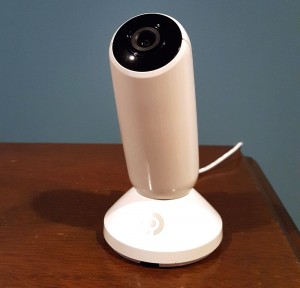 The overall design of each item wasn't bad, however the camera's cord was way to short to place anywhere up high.  You would think with every other item being wireless, why have a wired camera?  Luckily I had an extension cord so we could place it in the upper corner of our living room to get a clear view of the entryway, stairs, and kitchen.  However, because the field of view is way more narrow than that of most other security cameras, we were unable to get our side windows in view.  By comparison, we also have the Arlo security cameras which had a much better field of view and had way less video delays (plus you can use them outdoors and cloud storage is FREE).    
Technology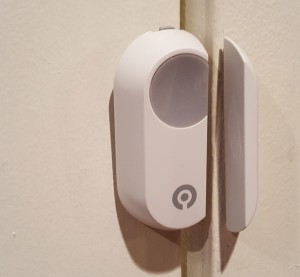 The software works on both desktop and mobile devices including iOS and Android.  The interface is pretty intuitive and easy enough to understand.  You can easily adjust the settings and rules, however, most of the icons link to a paid-only feature.  I can understand paying for Professional Monitoring, but how can you expect to be charged for adding Cloud Video Storage when most companies today offer that feature for free.  For example, Arlo video storage is free for 7 days, whereas SwannOne you will have to pay $7.95 for 7 days or $24.95 for a 30 Day Plan.  SwannOne does offer a 30 Day Free Trial, which I still had issues with.  We set this system up before we left for a 2 week vacation and expected zero notifications since there should have been zero movement in our house.  However, I was constantly notified of alarms "Intrusion ALERT", "Camera Motion ALERT".  So I tried to connect and view a live view of the camera to see who was lurking around in our house, and it took several minutes to connect.  Finally it connected and I didn't see any movement.  I tried to review the recorded video and there were none available.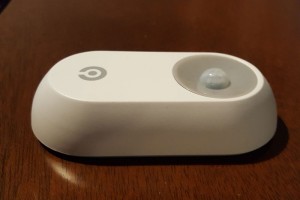 I figured maybe the 30 day trial for the video cloud storage isn't working, so I then tried upgrading to the paid version and was declined with 3 of my credit cards (all of which I've never had issues with and still do not).  So there I am getting bombarded with notifications of movement and I have to sit there and watch the camera waiting to see someone or something walk past the camera view.  After the third day of this (while on vacation), I was beyond frustrated and called their support only to be transferred and had to schedule a designated time to be called back.  Seriously?  After the 100th notification came through it was obvious something was wrong with the camera and it's sensitivity to movement.  I turned down the sensitivity and was still notified of movement.  It wasn't until after we returned from vacation that the video cloud service started working and I was able to see what was moving around in our house.  To my amazement it was…. NOTHING!
Value
If you've always wanted to turn your home into a smart home, SwannOne has a lot to offer, but in order to make use out of the already expensive hardware, be prepared to drop a few more bucks for all the features.  Also, if you don't mind slow and buggy software then this could be the perfect product for you.  But if you value a product that works like it should without key features locked behind a paywall, then definitely look elsewhere.
Buy Now:  $499.99 or to learn more, check out:  SwannOne.com
SwannOne Smart Home Control Kit
The SwannOne kit is less than impressive for the price and features offered. Sadly, we don't recommend this product.
The Good
Cross platform
8 items included in kit
Expandable
The Not So Good
Software is slow and buggy
Key features only available with paid subscription
Camera triggers many false positives