As the amount of data available to stream continues to increase rapidly, we as consumers need a way to connect to that data just as fast.  The ability to stream 4K is becoming the new norm, so of course we need the proper hardware to maximize the speed for seamless playback and downloads.  Plus, with the amount of devices in each household continuing to increase, having multi-band capabilities is a must.  Luckily, Netgear has developed the Nighthawk X6 AC3200 (Model R8000) that fits all our criteria for a Router that is built for speed.
Key Features:
WiFi Speeds up to 3.2Gps
Tri-Band (more WiFi for more devices)
Dynamic QoS bandwidth prioritization
6 High performance antennas
Smart-Connect
1GHz dual core processor with 3 offload processors
Beamforming+ improves range and reliability
USB 3.0 port for high-speed and storage-ready access
Netgear genie for remote access
Nighthawk R8000 Router Review
Setup:
Setting up a complicated device does not have to be difficult.  Netgear made it easy enough for someone with very little tech experience to set up the Nighthawk within minutes.  There are a total of nine steps to get up and running.  Although it may appear like a lot of steps, they are rather simple.
1.) Extend the antennas (position vertically)
2.) Prepare your modem: Unplug your modem's power (for at least 10 seconds)
3.) Connect your modem: Plug the modem back in then cable the modem to the yellow internet port on the router
4.) Check the router's LED On/Off switch: slide the LED On/Off switch to the on position.
5.) Power on the router: The LED lights will turn from Amber to White when the router is ready.
6.) Connect a computer: You can use an Ethernet cable or connect with WiFi.
7.) Log in to the router: Launch a web browser and a NETGEAR genie displays.  Simply follow the genie steps to connect to the Internet. (This is actually the last step in connecting to the internet).
8.) Get free apps: During the installation process, genie prompts you to download two free apps (Genie App and the Ready SHARE Vault App).
9.) Get the user manual: You also have the option to download the user manual online at: http://downloadcenter.netgear.com/
Design:
The design itself is pretty slick.  The Nighthawk looks like the Ferrari of routers.  However, good design is there for proper functionality.  The six Antennas all serve their purpose by being able to extend upward while working in unison to deliver optimal signal and coverage.  The LED On/Off switch on the back is great for areas such as gaming or entertainment rooms where the LED lights would be distracting if left on.
With the ability to have four ethernet connections and two usb ports, hard wiring multiple devices is very convenient.  There is a usb 2.0 port for connecting slower devices such as printers and a usb 3.0 for connecting faster devices such as hard drives that you would like to share over your WiFi connection.
Technology:
Now for the fun stuff… The Nighthawk offers Tri-band technology utilizing two 5GHz WiFi bands as well as one 2.4GHz band for legacy devices.  Now what is impressive about this technology is that the Nighthawk has the intelligence to assign each device to the best WiFi band for maximum possible speed.  This results in faster devices connecting and performing uninterrupted by slower/older devices, which means all devices are streaming at their maximum speed.  Now since we have multiple "fast" devices in our house we have several connections to the 5GHz WiFi band.  While watching Netflix on our Amazon Fire TV (at max quality) I had to upload several massive video files using the same 5GHz connection on my Macbook.  You could see the quality in Netflix downgrade for a few seconds until the Nighthawk switched our Amazon Fire TV over to the second 5GHz band and the quality went back to HD.  I have to admit I was impressed by the quick response time of the Nighthawk and continuous speed I was getting on my upload and download.
While going through the setup process you can download the Netgear Genie App on your computer (also works on your mobile devices).  The Netgear Genie App has a variety of useful options to help you diagnose and repair network issues, establish a guest Network, setup Parental Controls, and take a look at your current Network Map, Traffic Meter, and your connected media. The simple and intuitive interface makes it easy to use and takes the guess work out of trying to figure out network issues.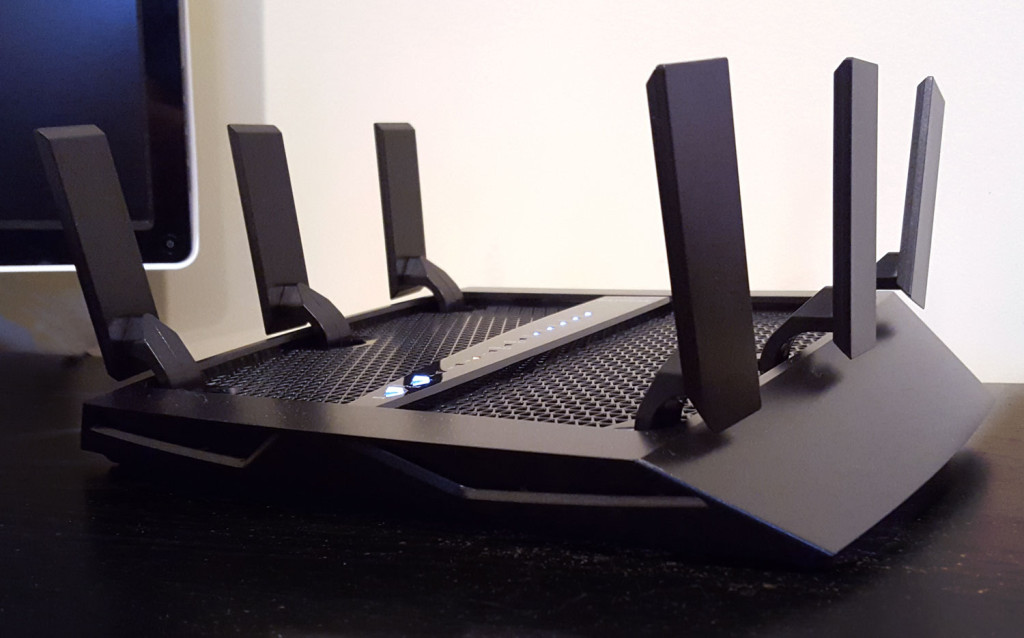 Value: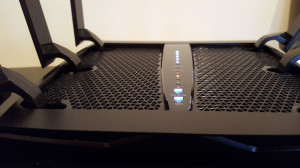 You can buy the Nighthawk from several retailers for the average price of $299.  However, Amazon is currently offering the Nighthawk with an 18% discount at $244.99.  There are of course cheaper options out there but I am a firm believer in "you get what you pay for".  I've gone through several routers in the past and the Nighthawk X6 AC3200 is by far the fastest and most reliable router I've had the pleasure of using.
Buy Now: $244.99 or to learn more, check out: NetGear.com
Nighthawk X6 AC3200 Tri-Band WiFi Router
The Nighthawk X6 AC3200 is by far the fastest and most reliable router we've had the pleasure of using.
The Good
Easy Setup
Tri-band Technology
Easy to use Netgear Genie App
The Not So Good
Although it's cool looking, It is a little bigger than most so prepare to clear some space