With Amazon's experience in software, electronics, streaming, and cloud computing – it's a wonder why they haven't developed the Amazon Fire TV sooner. Maybe they were holding back to deliver a prominent device that would crush it's competitors. Or perhaps they were not quite sure where to develop the strengths of this device. One thing is for sure, with the plethora of devices out there already, they have their work cut out for them.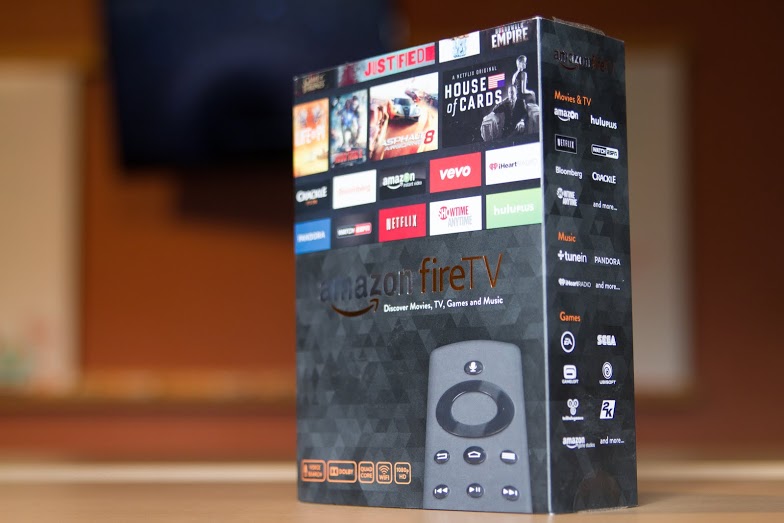 What is it?
So what is Amazon Fire TV Exactly? Amazon Fire TV is a beefed up digital media player and microconsole that offers almost everything that an online media junkie would want. There are immediate strengths and weaknesses that you'll see within 10 minutes of exploring the interface. So let's dive right in, shall we?
Key Features:
Massive selection – Over 200,000 TV episodes and movies, millions of songs, and hundreds of games.
Free 30-day Prime trial – Unlimited access to thousands of popular movies and TV shows including award-winning series from HBO and exclusive titles like Downton Abbey.
Voice search that actually works – Simply say the name of what you want to watch and start enjoying in seconds
Tiny box, huge specs – 3x the processing power of Roku and Apple TV. Fast quad-core processor, 2 GB of memory, and dedicated GPU, plus Dolby Digital Plus surround sound and optical audio out
Easy to set up and use – Pre-registered to your Amazon account so you can enjoy favorite titles and personalized recommendations
Instant streaming – Exclusive new feature ASAP predicts what movies and TV episodes you'll want to watch and buffers them for playback before you hit play
Connect your small screen to your big screen – Fire TV lets you fling your favorite apps to your TV to free up your small screen for other uses. Or mirror your phone or tablet to your TV. Learn more
Perfect for parents – Amazon FreeTime lets you easily limit screen time and create personalized profiles just for kids
Great for gaming – Play blockbuster titles like Minecraft-Pocket Edition, The Walking Dead, and Monsters University, plus free games and Amazon exclusives. Paid games start from just 99 cents
Amazon Fire TV Review Break Down
Set Up:
Setting up the Fire TV is relatively simple. There's the power cord, ethernet cord (if wireless is not fast enough for you), and HDMI. Once the device is plugged in, it will start up and begin to activate. It immediately ran an update then once it was ready, a friendly cartoon dude popped on screen and walked me through what Amazon Fire TV can do. This was followed by a prompt for me to log in to my Amazon Prime account or sign up for a free trial. Since I already had an Amazon Prime account I entered my info and presto – amazon loaded up all my video content and watch list. Now if you have a Netflix, Hulu Plus, or other video streaming accounts you can easily login to them through the Amazon apps.
Hardware & Software:
You control everything with the bluetooth wireless remote. The controls are easy to learn on this small yet intuitive design. The best feature on this remote is the Voice Control, hands down. Instead of keying in searches, you simple click and hold the Voice search button and it populates with a list of available media. Say you want to watch something with Robbin Williams in it, simple click and hold the button, and say "Robbin Williams". Within seconds you get a list of every movie with Robbin Williams. It is a really nice feature and it has worked every time without error for me. However the major downside to the voice control button is that it only gives you results from Amazon searches. I would like to see them include other Apps that I have activated as well. If my Netflix or Hulu searches were populated in the Voice search instead of just Amazon content I would have rated it a bit higher. Same goes for when you are inside an app. You are currently not able to search using the Voice control button within other apps like Netflix. There's talk about them incorporating this feature in the future, but this will also depend on cooperation from each app's development team.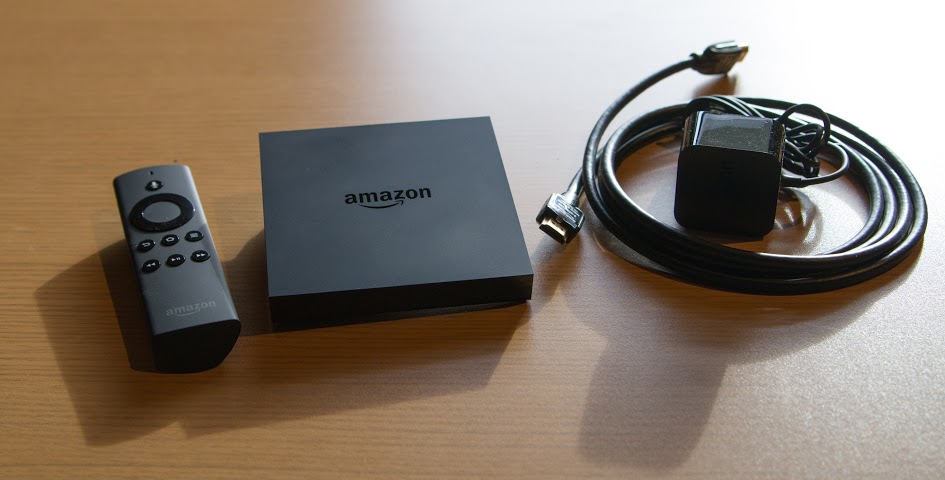 This is unfortunate but understandable since this is an Amazon product and Amazon's own content and services will take top priority. If you are purely an Amazon fan boy/girl then I'm sure you'll be fine with this, but if you like variety in other services then it is a slight let down. Since I watch numerous movies and tv shows on Netflix, it would be nice to see them appear in the Recent list on the Amazons Home page, however the App for Netflix is the only thing that shows – not the content itself.
If you are an Amazon fan then you probably own a Kindle Fire tablet or Fire phone. If so, then you'll have several more nifty features at your finger tip. The "fling" icon on the Fire phone or tablet will send your video and audio to your tv, leaving you free to use your tablet or phone for other tasks. After you fling your show to your tv, you can then use your device to learn more about tv shows and movies that are streaming on Amazon Fire TV with the Amazon X-Ray, powered by IMDb. Amazon Fire TV also supports standards like DIAL, which will allow you to also fling third party services like YouTube, Spotify, and coming soon, Netflix from other non-Amazon devices like the iPhone or Android phones.
Gaming:
Another major feature that sets Amazon Fire TV apart from other media streaming devices, is the ability to play games. Amazon has invested some serious time and money in developing their own games that are available to play on this tiny box. Most games can be played with the small remote that is already included, however if you want a better gaming experience then you can purchase the Gaming remote for an additional $39.99. The quad core processor with 3x the processing power of Apple TV and Roku stand out when it comes to speed. And the dedicated Adreno 320 graphics engine with 2 GB of memory (4x that of Apple TV, Roku, and Chromecast) are even more apparent when it comes to gaming. Now to be clear, if you are looking at this device strictly as a gaming console then it will not hold up in comparison with the Xbox or PS4, however, if you look at it as a media streaming device with the bonus feature of gaming, then it is a great bargain and offers more than any other media streaming device currently on the market.
Costing just $99 the Fire TV is a worthwhile investment for anyone looking to cut the cord and go digital. The software and hardware are robust and impressive. Considering all of the streaming devices on the market today, Amazon Fire TV stands out as a top tier piece of equipment.
Amazon Fire TV - Tech Review
The potential for this device is high, but at the moment it's not quite there. If they were to integrate the strong features like the voice control elsewhere or even offer live content when they are aired on cable or network TV then it would have been a game changer. Compared to the Roku and the Apple TV, it is a step up. If you already own a gaming system like Xbox, PS4 or other devices like Chromecast that stream media, then it may not be worth jumping ship unless you simply want another streaming device for a separate room. However, if you are new to the game of streaming media and do not own a device yet, then I would opt in and purchase the Amazon Fire TV above it's competitors
The Good:
Impressively Powerful
Easy to Setup
Makes Steaming Content Ultra Easy
The Not So Good:
Voice Control Limited to Amazon Streaming