.N[/dropcap]ETGEAR proudly touts that they turn ideas into innovative networking products that connect people, power businesses, and advance the way we live. No strangers to most people's businesses or homes. NETGEAR aims to make products that are easy to use, powerful, smart, and designed just for you. Recently, NETGEAR sent us their new in-home WiFi system; Orbi. Orbi systems are designed to address a broad range of home environments, from apartments and lofts to single family homes and sprawling estates. We set up the Netgear Orbi WiFi System AC2200 in our 100-year-old four level home with plenty of WiFi dead spots. Did the Orbi system solve our problems? Read on for the full review breakdown.
Netgear Orbi WiFi System AC2200 Review Breakdown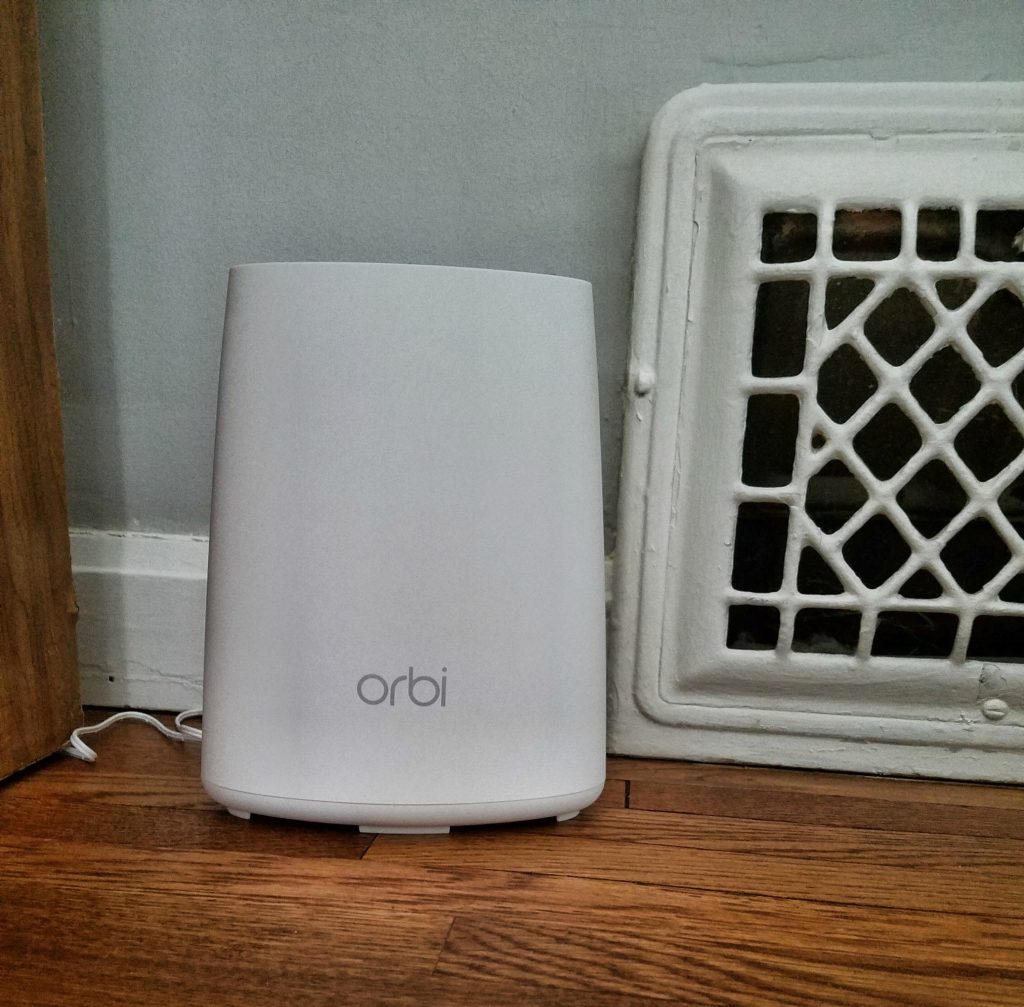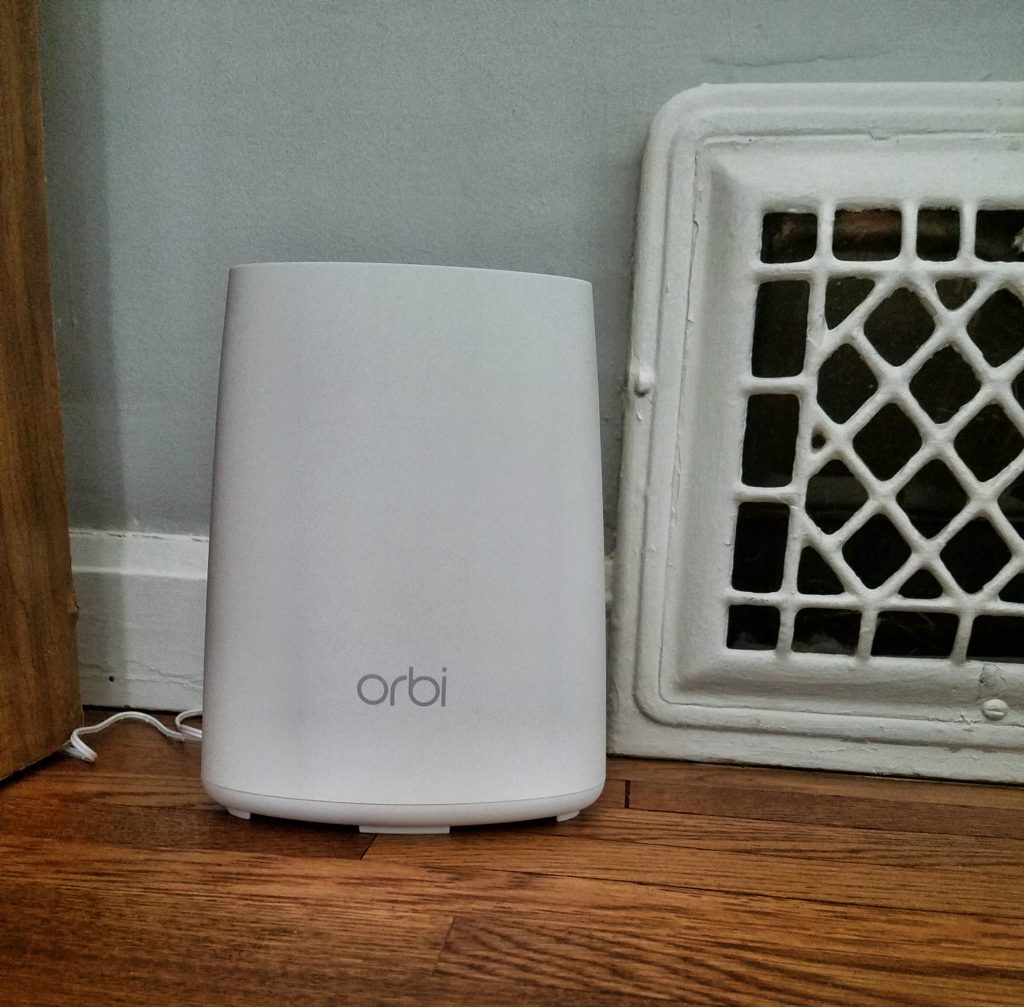 Tech Features:
Tri-Band WiFi system providing combined WiFi speeds up to AC2200 on the Orbi Router and Satellite creates a dedicated wireless connection between the Orbi router and the satellite or satellites, similar to a wired Ethernet connection
Simultaneous 2.4GHz and 5GHz WiFi on the router and satellite for connecting to your home devices all under one WiFi name
Easy setup with a single and secure WiFi network; Orbi comes pre-paired and configured and works with your internet service provider (ISP) right out of the box
Advanced WiFi security with automated updates, WPS-protected setup
Auto-updates of firmware available to ensure you have the latest security and software updates
Satellites extend WiFi signals and maintain one network name (SSID) for the entire network (2.4 GHz and 5GHz WiFi bands) throughout your home for seamless connectivity and roaming
Guest WiFi network—easily set up separate and secure Internet access for guests
4 Gigabit Ethernet ports on the Orbi router and on the satellite (wall-plug satellite does not include Ethernet)
Orbi Mobile App for iOS and Android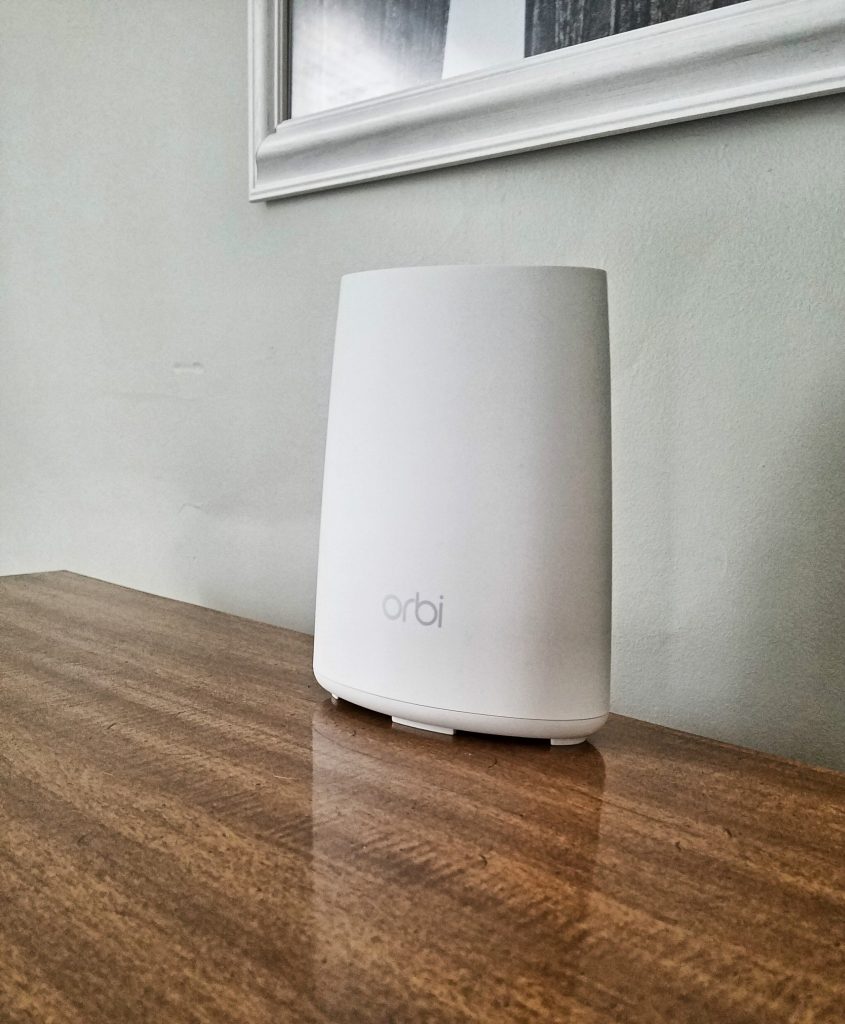 Design:
The Orbi system we tested is designed to cover up to 4,000 square feet with high-speed 2.2Gbps WiFi. The Orbi system we tested comes with a Orbi WiFi Router (RBR20) and one Satellite (RBS20) and replaces your home router and extenders. It also easily works with existing service provider equipment.
The Orbi system features their Tri-band WiFi, which may be new to some people who are more familiar with dual-band routers. A dual-band router provides two wireless bands, one 2.4 GHz band and another 5 GHz band. It's essentially like having two wireless routers in one. By dividing the devices you own, it allows to make items like wireless printers don't interfere with devices like laptops, tablets and phones. With the Orbi Tri-Band Wi-Fi you add an additional 5Ghz band, to give you two. This should cut down on interference for your network.
You can still have a wired connection or you can go wireless. The unite features Ethernet ports on the router and the satellite to connect your Smart TV, game console, or anything else you want to connect. As for the aesthetics of the units, they are both tall and white. They feature somewhat of an oval design. They look very nondescript and one house guest thought the extender was a mini humidifier. It fits very nicely to any room and looks very simple, which is nice as it can go in any room. On top of the Orbi units has a ring of light. This glows magenta, amber or white and flashes occasionally to indicate the status of each unit. While this is helpful, the lights do not always diagnose your problems and you may need to do some further digging if you have issues.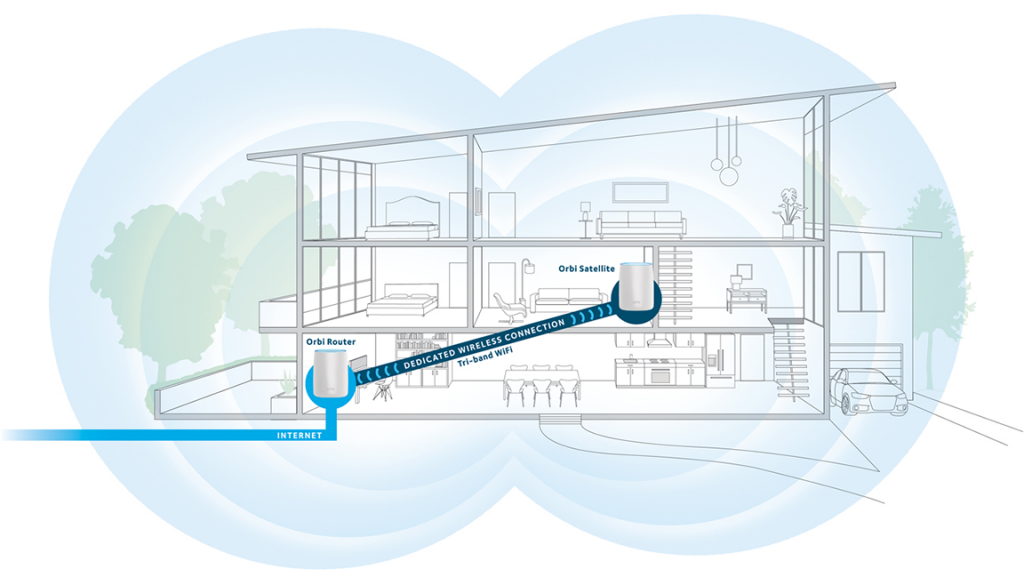 Setup:
With the Orbi, the setup is easy. You will plug-in your modem into the main router of the Orbi. as easy as plugging the main router into your broadband modem and power on. Wait for the Orbi router's ring LED to light solid white and then pulse white. Then lace the Orbi satellite somewhere in the middle of your house and power on. Wait for the Orbi satellite's ring LED to light solid white, then pulse white, and then pulse magenta as the two units work to find each other. You will then hope that the Orbi gives you a solid blue, which means the units are good to go. If it is magenta or amber, then you should consider moving the units closer. After setup, you will want to download some apps which we will address later.
Performance:
If you are in the market for a WiFi system then you are probably suffering from slow speeds due to multiple devices draining your speed. You may also have some dead spots in the house. These were the two main areas that we were looking test, as we have a large, older home with lots of dead spots. Older homes tend to have more walls that can restrict WiFi from flowing freely. Also, we tend to run everything off the WiFi, include our home security system.
We placed the main unit next to our WiFi on the ground floor and the second unit upstairs. We had significant problems under our old system streaming from our Amazon Firestick upstairs. Also, we suffered from dead spots in our WiFi in our main floor as it is spread out. With Orbi, our streaming and dead spots are basically gone. We have some very small pockets that still exist but by playing with the location of your units you can address those. Also, by having the tri-band you can add more devices without sacrificing speed. We eliminated cable TV and everything runs off our Xbox one for home entertainment so seem less streaming is very important. Overall, Orbi improved the WiFi and eliminated dead spots that had been plaguing us.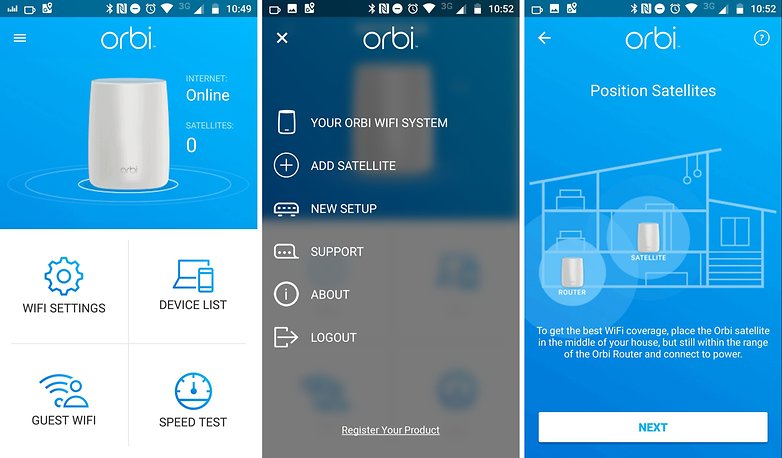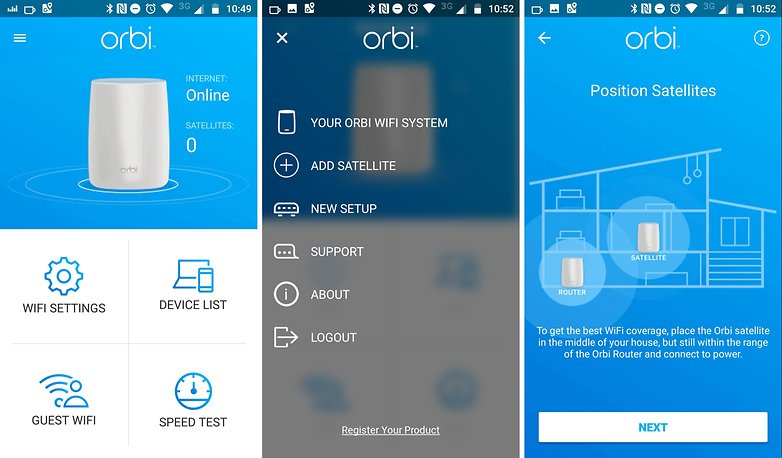 App/Functionality:
One necessity you will need with your Orbi unit is downloading the Orbi app. The app allows you to tackle a whole bunch of features of options. You will need it obviously for setup but it does a lot more. The app will also be used name your WiFi. You can also setup a guest WiFi so that visitors do not have to take away from your main devices. One of the more interesting features is the ability to run internet speed tests and view your speed history. If you are noticing slower streaming speeds you can easily check the app and see what is going on. If it's a trend, then you have some evidence to call your provider and see if something is going on. It also may help identify a bad router that needs to be replaced.
In additions, you can pause WiFi on connected devices. If the kids are still streaming at bed time, simply pause their ability to get online. Speaking of the kids, one of the nicest features is it allows you to enable Circle, with partners with Disney. Circle allows you to manage screen time and setup parental controls for your kids. Want to block Netflix from the youngest but allow your older kids to have access? No problem. You block sites and view history and see what your kids have been up to. It is a very easy way to make sure your kids are being responsible online.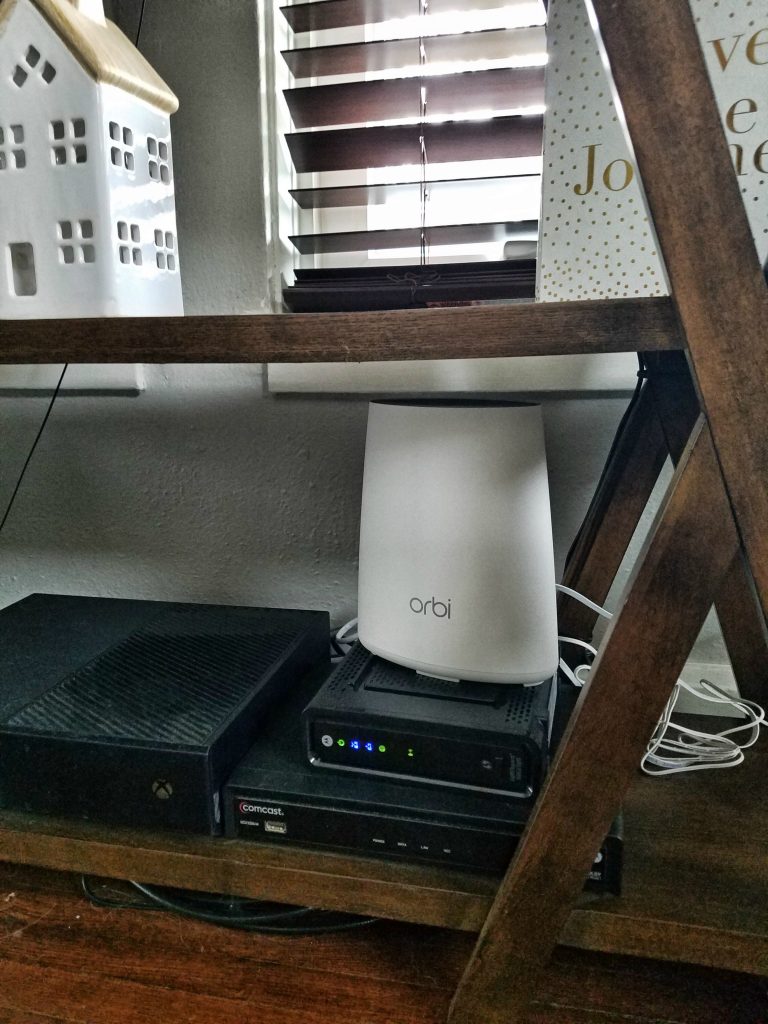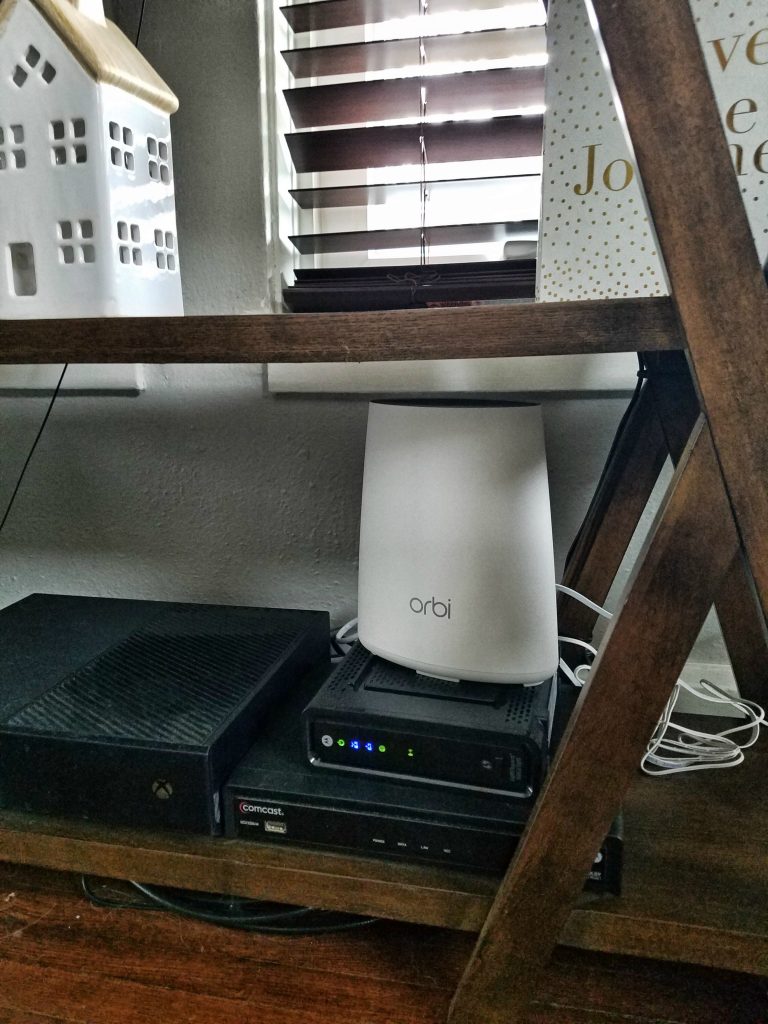 Value:
The
unit we tested
is designed for homes up to 5,000 square feet is priced at
$329
. If you are having issues with your WiFi coverage, we think the
Netgear Orbi
will be a huge problem solver for your house. In addition to providing great coverage the ability to control and monitor screen time is excellent bonus feature. The system setups in a matter of a few minutes and easy to get acclimated with. You will find yourself monitoring your speed. Also, it is incredibly easy to set up and provides markedly faster performance than any single router at long-range. The
Orbi
is a pricey option but will provide great relief if you are struggling with coverage and dead spots. Also, you are going to continue to add more devices so it's good investment. Since you will want a good system then there is no better place to start than with Orbi.
Tech Review- Netgear Orbi WiFi System AC2200
If your home is struggling with WiFi dead spots or too many devices are dragging down your connection speed, then we suggest you look hard at the Orbi WiFI unit. Orbi solves dead spot issues and ensures that you always have a great connection in every nook and cranny of your home. If want one of the best home WiFi units, then look no further than Orbi.
The Good
Easy setup
Can pause/limit content and programs for the family
Fixed dead spots and improved streaming ability
The Not-So-Good
Cost will be a barrier for some
Color coding system will alert you to issues but may take time to troubleshoot