Stio was founded in Jackson Hole, Wyoming – an outdoor recreation mecca. This stunning area of the country surrounded by the Rocky Mountains, Yellowstone National Park, and Grand Teton National Forest. So it's no surprise that Stio specializes in clothing that encourages you to get outside and take it all in. Their quality, stylish, and functional products are up for anything including skiing, snowboarding, hiking, biking, climbing, running – or relaxing at the lodge with a microbrew. Stio prides themselves on crafting apparel that you can live and play in. Their products make you want to throw them on an get outside.
Recently Stio set us up with some of their favorite items from their women's line to try out. Spoiler alert – I loved them as soon as I pulled them out of the box.
Women's Marsten Down Vest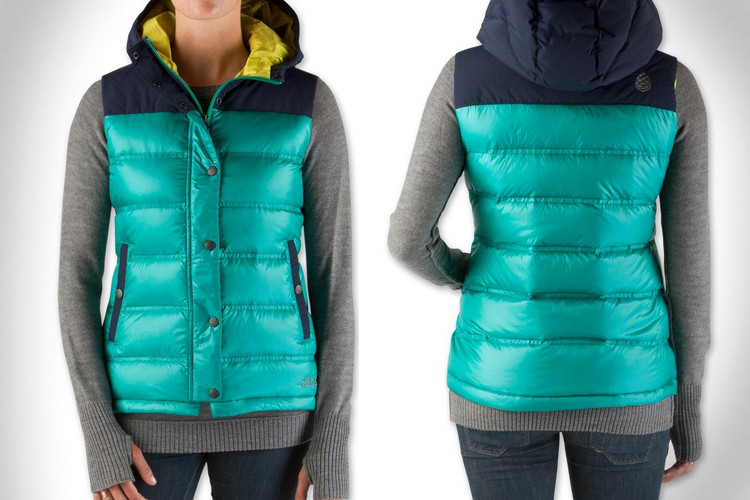 The Marsten vest was designed to be a cool weather staple that would get you comfortably through the chilly days of Fall, Winter, and Spring. It's a goose down filled vest which means it's lightweight but offers the warmth you're looking for. It's made with Stio's Illume Cire™ fabric that's an ultralight downproof plainweave fabric that is water resistant, won't tear easily, and has a shiny finish. The snaps along the zipper and the pockets add an extra level of protection from the cold. The pockets offer a cozy place to warm up your hands and a safe place for your belongings. The Marsten has a fixed, attached hood that is a welcome companion.
I am obsessed with this vest. It comes in three different color combinations and I've been wearing around the Spectra Green vest which is a combination of navy, aqua blue, and bright yellow – love it! What's great is that it's made for women so it's fitted and not bulky. Practically everyone I run into while wearing it wants to know where they can get one too. I could live in this vest.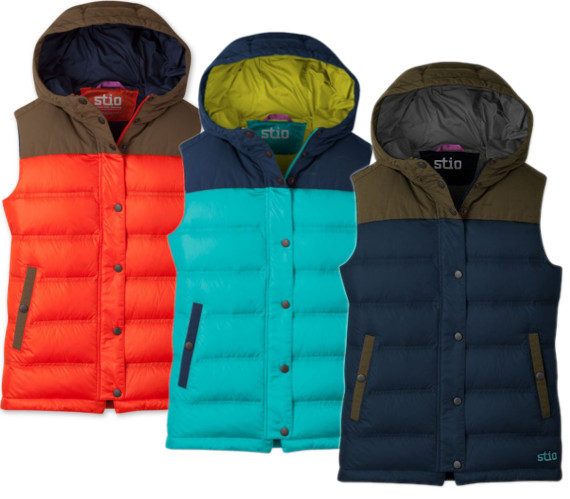 Key Features:
Illume Cire™, 100% Nylon fabric
Soft 500-fill goose down
Hand warmer pockets
Fixed casual hood
3 Different Color Combinations
Weight: 10 oz.
Review Breakdown:
Comfort: ……….9
Design: ………..10
Durability: ……8.5
Value: ………….9
Overall: 36.5 out of 40
Women's Sweetwater Fleece Quarter Zip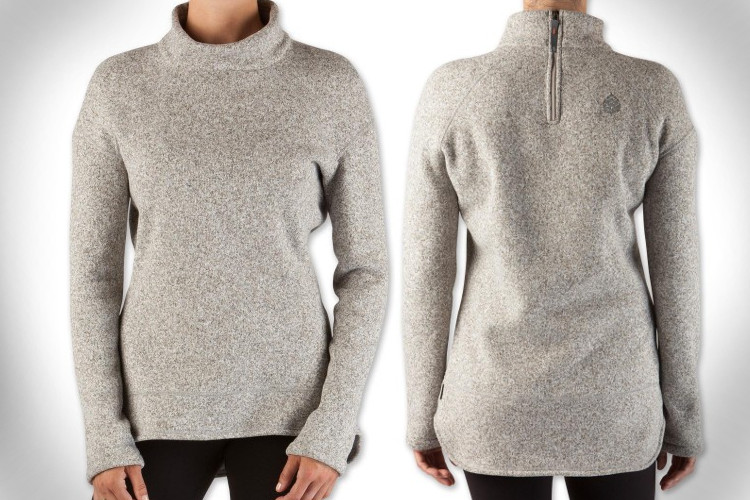 Every outdoor lover needs a quality fleece. They are perfect to wear alone in the Fall and Spring, they are a great way to layer up in the Winter months, and a casual essential for every day wear. The Sweetwater puts a contemporary spin on the traditional fleece pullover. The half-zip is in the back of the fleece instead of the front which makes it look and feel more like a sweater. Speaking of which, the fabric of the Sweetwater is a sweater knit fleece so it's a thicker fleece but it doesn't feel that way. The fleece has a feminine fit including a drop tail design in the back. I'm not gonna lie. I put the Sweetwater on backwards – with the zipper facing the front – the first time and wondered why it felt 'off'. Once I flipped it around the correct way – zipper facing the back – the fit was great! It wears well outdoors in the elements was well as with leggings and boots.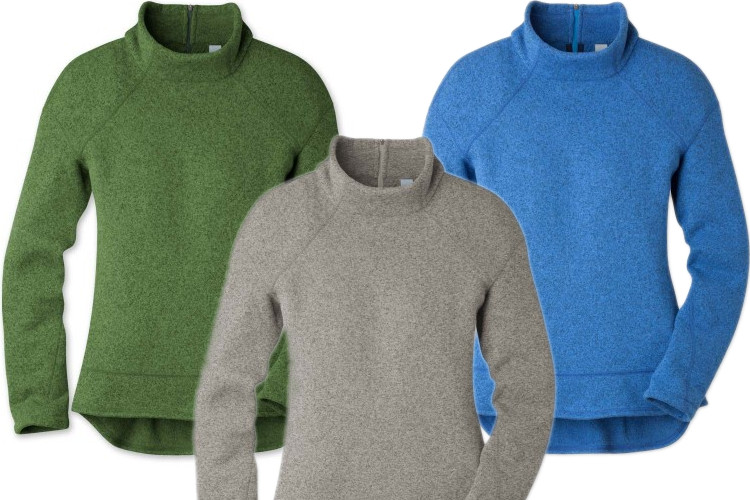 Key Features:
Sweater Knit Fleece, 100% Polyester
Fitted look
Zipper in the back for easy on and off
Drop tail design
3 Different Color Combinations
Weight: 12 oz.
Review Breakdown:
Comfort: ……….9
Design: ………..8
Durability: ……9.5
Value: ………….9
Overall: 35.5 out of 40
Women's Willow Flannel Shirt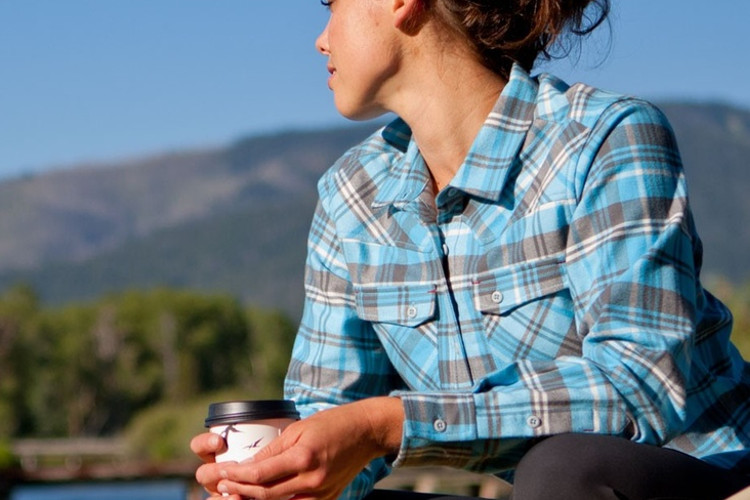 Flannel is the color of the outdoors. When you put on a flannel shirt you automatically want to put on some jeans, boots, a beanie and head to the woods. The Stio Willow is the go-to flannel you've been looking for. The brushed flannel fabric is 100% cotton which means it's warm, comfy, and durable. Again Stio is great at taking a cool weather classic and putting a contemporary yet functional twist to it. The Willow has a tailored fit and a modified shirttail so that it can be worn tucked in our out. It comes in four fun color combinations including Pesto and Smoked Pearl. So you should probably get yourself one in each color because they go great with jeans and leggings.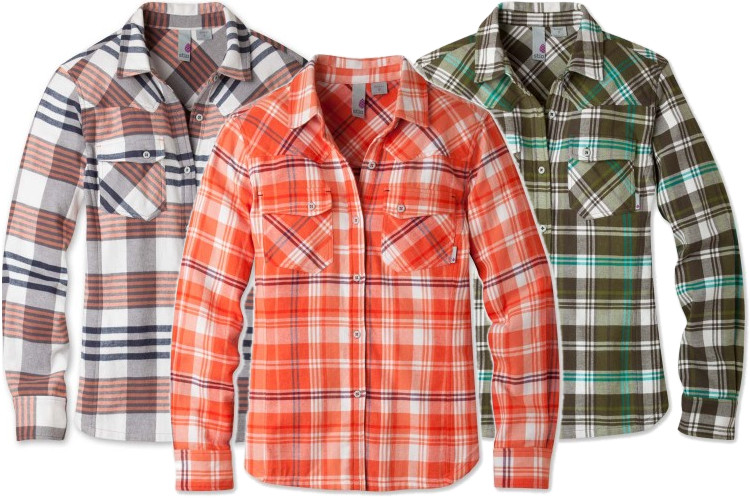 Key Features:
100% cotton brushed flannel
Custom yarn dye plaid
Chest pockets with buttons
Feminine cut
4 Different Color Combinations
Weight: 9 oz.
Review Breakdown:
Comfort: ……….9
Design: ………..10
Durability: ……9
Value: ………….8
Overall: 36 out of 40
Women's Bucking Jackalope Tee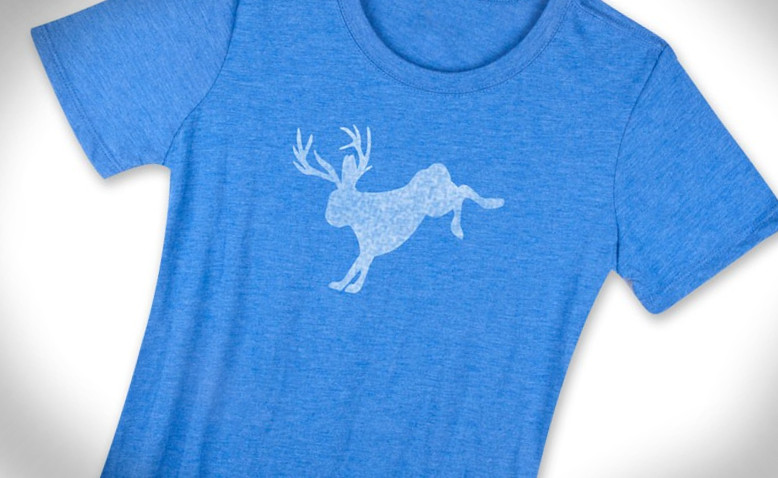 Because everyone needs a shirt with a Jackalope on it. The Stio Jackalope tee pays tribute to the mustangs of Jackson Hole as well as the famous mythical creature. The shirt is a fitted, tri-blend jersey tee making it ultra comfortable. Jackalope tee comes pre-washed to help reduce shrinkage in the wash. Due to it's fitted nature, I recommend ordering a size up if you want a more relaxed fit because this tee clings to all of the curves. The tee comes in six different color combos making it another go-to item in the Stio collection.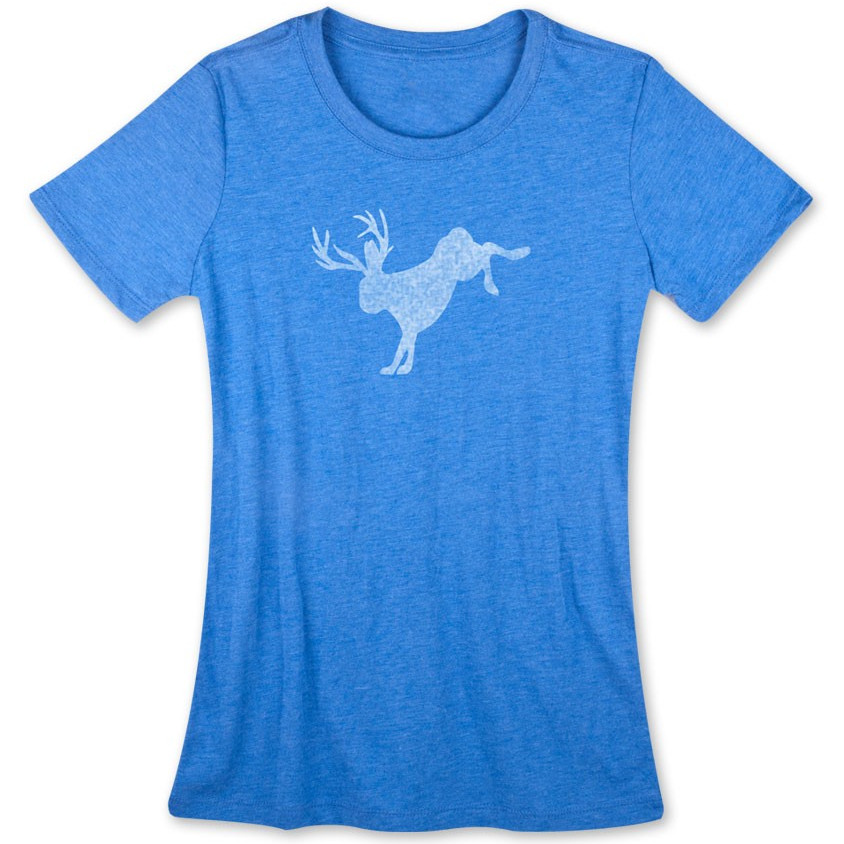 Key Features:
IT HAS A JACKALOPE IMPERSONATING A MUSTANG ON IT
Fitted, tri-blend jersey tee
Pre-washed
6 Different Color Combinations
Weight: 6 oz.
Did I mention it has a jackalope on it?
Review Breakdown:
Comfort: ……….8.5
Design: ………..8
Durability: ……8
Value: ………….9
Overall: 33.5 out of 40
Women's Basis Stretch Merino Crew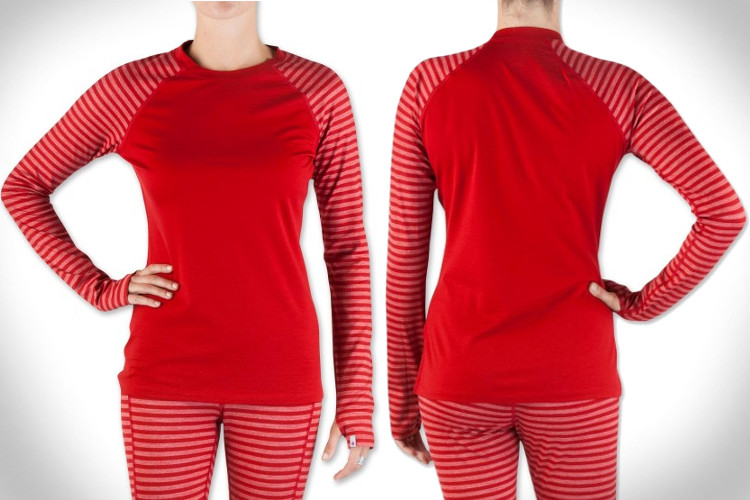 Layering up is key to the cooler months since it provides you the luxury of extra levels of warmth with the ability to pull off a layer when you start to heat up. The Stio Basis Stretch Merino Crew is the perfect base layer. Made out of a washable merino wool blend with spandex, the Merino Crew will keep you nice and toasty but still allow the flexibility you need while out in the great outdoors. Merino wool has great wicking and oder control properties which is a is a must for any base layer. The Merino Crew's thumb holes provide an extra layer of warmth and are key when you want to keep snow out of your sleeves. It has a fitted design making it like an extra layer of skin. Since it's made out wool, it feels a little scratchy at first but the feeling fades once you're on the move.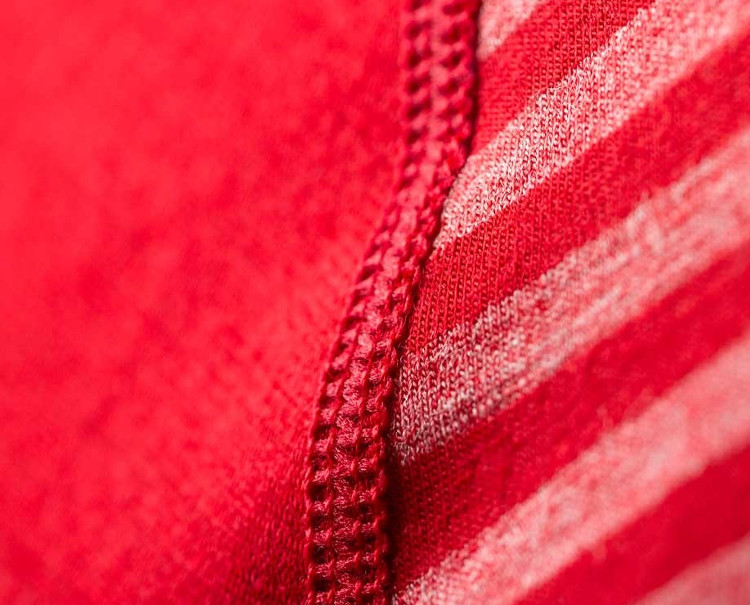 Key Features:
95% Merino Wool, 5% Spandex fabric
Slim, Next to Skin fit
Moisture wicking
Thumb holes in sleeves
4 Different Color Combinations
Weight: 7 oz.
Review Breakdown:
Comfort: ……….7.5
Design: ………..8
Durability: ……9.5
Value: ………….8
Overall: 33 out of 40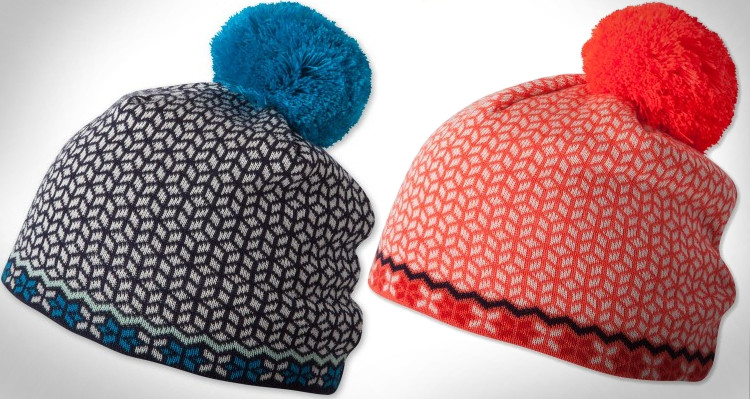 In the cooler months, the perfect way to top off an outfit and keep your ears warm is colorful beanie. Stio has great beanies to choose from but I gravitated to the Emmers Beanie since it came in the same color scheme as the Marsten Down Vest I am obsessed with. The Emmers is fully lined with cozy fleece that keeps the cold out and the warmth in. It's great for skiing or running around town. The Emmers keeps it classic with a snowflake jacquard print and a pom on top. You never have too many winter hats right?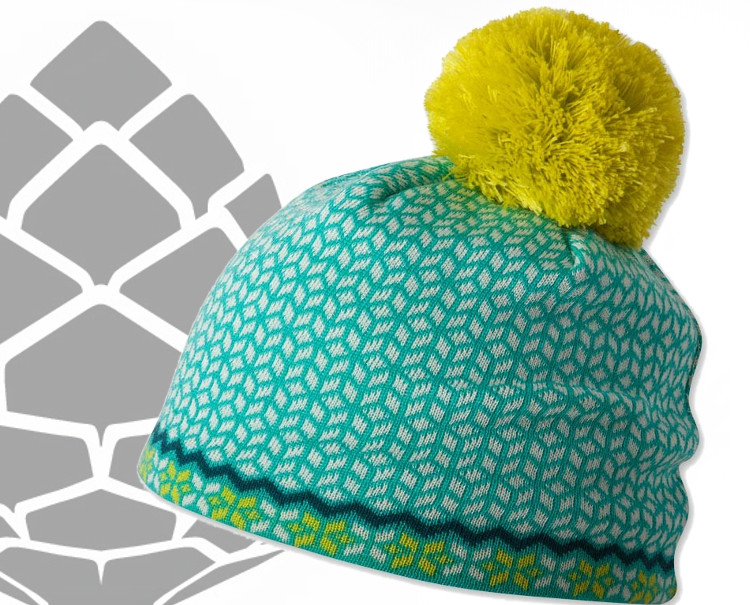 Key Features:
100% Acrylic exterior
100% fleece lining
Snowflake, jacquard print
A pom on top!
3 Different Color Combinations
Weight: 2 oz.[/column]
Review Breakdown:
Comfort: ……….10
Design: ………..10
Durability: ……10
Value: ………….10
Overall: 40 out of 40
If you're looking for high quality, durable, function, and stylish items for that next ski or camping trip, you have to try what Stio has to offer. I am in love with their products due to the excellent materials they use, their fun color combinations, their contemporary twists on classics and the fun use of their logo throughout their line. It is outdoor apparel perfection.