In my book when it comes to a seasonal beers, Winter ales are left off of the podium. With the overwhelming spice and sugar, they are by far the inferior seasonal of choice. That's why I was excited to try out The Frost Line Rye by Summit Brewing Company. Dubbed as a "between seasons seasonal" and carrying a suitable name this is a late Winter beer that is between a Winter Ale and a Maibock.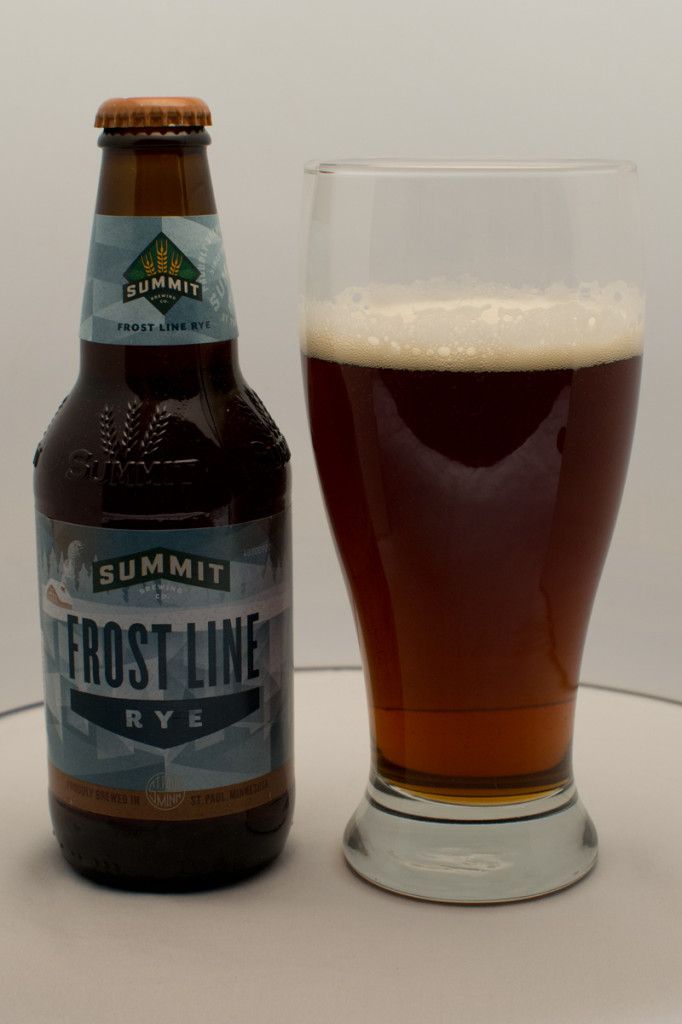 What's Inside:
Malts: US pale, US caramel rye, US pale rye, German chocolate rye, US flaked rye
Hops: Summit, Citra, dry-hopped: Citra, Experimental Hop #01210
Yeast: Ale Strain
IBU: 55
ABV: 5.8%
According to Summit Brewing, the Frost Line Rye is a beer "Hidden in the cold ground in the dark of winter, lie little seeds of hope. So, to help hasten the spring thaw, we give you an ale bursting with the spicy goodness of malted rye and floral, citrusy hops."
The thing that I noticed first upon pouring is the super strong caramel copper roasted rye & malt smell that hits you like a punch to the face. IT is a glorious smell that you'll find yourself taking in deeply before each taste. Maybe the name rubbed off on me , but it reminds you of the snow melting when the temperature peaks above freezing.
The carbonation is medium and it has a nice body to it and the ale has a distinguished dark amber/light brown hue.
As impressed as I was with the smell, I was equally pleased with the taste. The taste is quite malty with a bit of a pepper-y taste. This beer was much hoppier than I had expected and was a welcomed taste. The hopes were still medium and of the highly citrus flavor and left a clean taste in the mouth.
The Frost Line Rye finished well with an even match of rye, malt and hops and even left a dark chocolate/cocoa-y taste on it's way out.
For more information see the Summit Brewing Company site.
Summit Frost Line Rye - Brew Review
Overall, I was astounded how much I loved this beer. It really is an in-betweener seasonally and is the perfect ale for watching a hockey game on the television or after a late Winter ski. The Frost Line Rye truly captures the essence of the Winter to Spring transition and I will be looking for this beer each February from here on out.