Finding a solid pair of sunglasses that have the style you're after, plus the functionality and fit can be challenging. Usually it's a compromise between style and function, but with Spy's Dirty Mo 2 shades, you get the best of both worlds. The Dirty Mo 2 comes in a variety of frame/lens options, but for this review we went with the 25th Anniversary Matte Black Gold for the frame and the HD Plus Bronze with Gold Spectra Mirror for the lens color.
Key Features:
HD+ lens technology
Polarized lens options
Constructed from Grilamid®
Comfortable rubber nose pads
6-base polycarbonate ARC® lenses
Distortion-free viewing
Robust 5-barrel hinges
100% UV protection
ANSI Certified
SPY Dirty Mo 2 Sunglasses – Breakdown
Design:
The
Dirty Mo 2
is Spy's attempt at an improved design on the original
Dirty Mo
. It all depends on your preference, but for me, I think they nailed it. The front framing is elongated with a 6-base polycarbonate ARC® lens, which helps evolve the design and add more surface protection for the eyes. This design has 5-barrel hinges and made from Grilamid®, which is a super lightweight material with added strength and flexibility. So you basically get the "performance" from a sports lens and frame, but with a slick, modern style. The Gold trim highlight on the frame mixed with the Gold Spectra Mirror lens are a great combo that really make this design stand out. Although there are other color ways to chose from, I feel like the Gold style gives it a classy "Baller" look I was going for.


Optics:
Aside from the bold designs, Optics is what really makes this pair of sunglasses "Spy" worthy. Like most of their optics, the
Dirty Mo 2
 is polarized and has 100% UV protection. The lenses are layered and sealed with a protecting agent to help prevent scratching, hazing, and delaminating. The 
Dirty Mo 2
 lenses are also injected in a tapered shape to help provide a distortion-free viewing experience at all angles while preventing unnecessary eyestrain.
Comfort: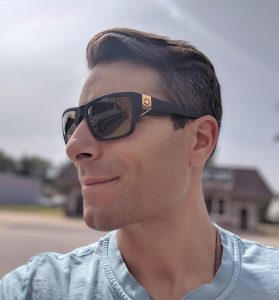 One of the first things I noticed when I tried on the Dirty Mo 2, was how lightweight they felt. Much lighter than the last pair I reviewed. These also have comfortable rubber nose pads that help make these sunglasses stay in place even when you are sweating. I've been wearing them while playing beach volleyball and they never once slipped out of place or became uncomfortable while playing. I also wear them while boating and every day commuting and the comfort lasts all day long. I do like how they maintain a secure and firm fit around the sides. If I walk inside or the sun goes behind the clouds, I like to flip my sunglasses up onto my head instead of taking them off and forgetting them somewhere. The fit on the Dirty Mo 2 allow for that, as well as maintaining the secure fit I desire. Because we all know that horrible feeling when you bend over or look up and forget about the glasses on your head that come flying off and smash onto the ground. Luckily, that hasn't happened yet with this pair thanks to the smart design and secure fit.
Value:
Surprisingly, the Dirty Mo 2 has a cheaper price tag than its predecessor, the Dirty Mo. The style I'm reviewing (Matte Black Gold frame and HD Plus Bronze with Gold Spectra Mirror lens) comes in at $130. Not bad for a newer model with style, comfort, and functionality that matters.
Buy Now: $130 or to learn more, check out: SpyOptic.com
SPY Dirty Mo 2 - Style Review
The Dirty Mo 2 Sunglasses have the style and comfort I was hoping for. Plus with the Distortion Free HD+ Lens technology, these have now become my #1 choice any time I need a pair to keep up with me during any summer activity.
The Good
Comfortable
Lightweight
Distortion Free HD+ Lens technology