Have you ever planned out one of those weekends where you intend to go running in the morning, have a day out on the boat with friends, and then break out the waders and do some fly fishing in the evening? We run into that a lot, so we thought we'd take a look into what might be some of the most versatile shades on market today: The Smith Dolens. Whether you're looking for style or functionality in harsh conditions, we took a look around, and these particular sunglasses stood out as a contender to handle it all.
Equipped with Smith Optics new ChromaPop polarized lens technology, which according to the manufacturer is the most visually stimulating lens in the world, the Dolens also have a classic sleek design that we were excited to take out into the world with us, and have a look around.
To understand exactly how ChromaPop is designed to work, take a few minutes to watch the embedded video below, which explains Smith's new technology in exceptional detail.
Frame Features:
Stainless steel optical hinges incorporating small springs within the hinge structure that keep the temples snug against the head.
Designed to smoothly self adjust in order to accommodate a broader range of head shapes and sizes more comfortably.
Resilient, tough, and flexible. Grilamid TR90, an exceedingly light and durable plastic that will maintain its shape under all temperature conditions.
Evolve bio based material
Frame Measurements 57-17-135
Lens Specs:
A unique combination of patented polarization and color management technologies. The result is a lens that delivers exceptional clarity, high contrast, and dynamic color optimization.
Advanced material that can accept the sophisticated dyes and tints needed to create a better visual experience.
Selective color filtering and color enhancement. Known throughout the industry for ophthalmic grade optics and superior performance, Trivex is the material that powers the ChromaPop lenses.
Patented film-free polarization coating bonded to the lens surface.
Hydroleophobic front and backside coatings. Designed to deliver a super slippery, smooth, easy to clean surface repelling water and debris while remaining highly scratch resistant.
Opthalmic quality backside anti-reflective coating in 6 layers. Designed for improved vision and prevention of bounce back glare and internal reflections.
Smith Optics: Dolen Review Break Down
Comfort: 
The Grilamid TR90 material Smith utilized in the construction of the Dolen frames makes them ultra light on the face, and therefore easy to wear. One might be concerned that in place of a nose piece, Smith has provided an inset hydrophilic megol material in the nose area and the temples, but after just a short time of wearing the Dolens, we discovered that this material grips the skin in an extremely comfortable manner. The absence of an extra nose piece also allows the frames to be worn in close proximity to the face, adding extra protection from the elements and reducing potential excess glare from the sun. We also noticed that the gripping power of these glasses increases when introduced to moisture, so whether you're out in the rain or enduring the heat of summer, these glasses will hold their position on the head like they're supposed to no matter what.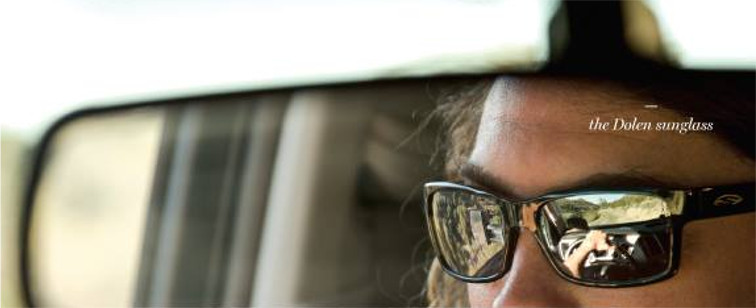 Design: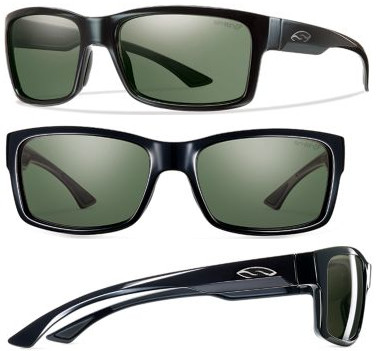 Tho Dolen has a distinguished and classic shape, making it work well with just about any facial structure. As we've already stated, these glasses fit close to the face, so you don't have to worry about the extra bulk around the temples that comes with the majority of sunglasses in the market today. The base curve of this model is one of the more reduced versions that Smith has to offer, so if you're expecting to engage in heavy activity where water or sun have a higher potential of hitting from the side, you may be interested in some of the other frame options Smith has to offer. For our use though, the Dolens stood up to the test with highly efficient protection while maintaining a strong sense of style.
Optics: 
Smith's ChromaPop lens technology is the strongest asset in their arsenal today. This advanced material provides exceptional clarity, contrast, and color optimization. The vibrancy of color projected through these lenses is indescribable in comparison to the more basic lenses we've all become accustomed to over the years. On top of color clarity, the slight up-shift in contrast makes these glasses wearable in more light conditions than we were used to as well. We noticed while wearing the Dolens out with a group of people, as the clouds began to cover and we began to loose light in the early evening, we were the last in our group to feel the urge to remove our shades.
We also should take note of the Hydroleophobic coating that has been applied to the lenses. this coating works great as a barrier against moisture and smudges. While you're caught in the rain, or just going for a swim, the water will noticeably bead up and disperse with minimal streaking. When the time does come to wipe down the lenses after the daily activities are completed, any extra grime or residue wipes away cleanly with no apparent scratching.
Although these lenses are polarized, we found the capability to see through the water while out fishing to be slightly diminished in comparison to other polarized lenses we've tested. This is the only shortcoming we could find in the lens technology, probably a side effect to the layered Chromapop Technology.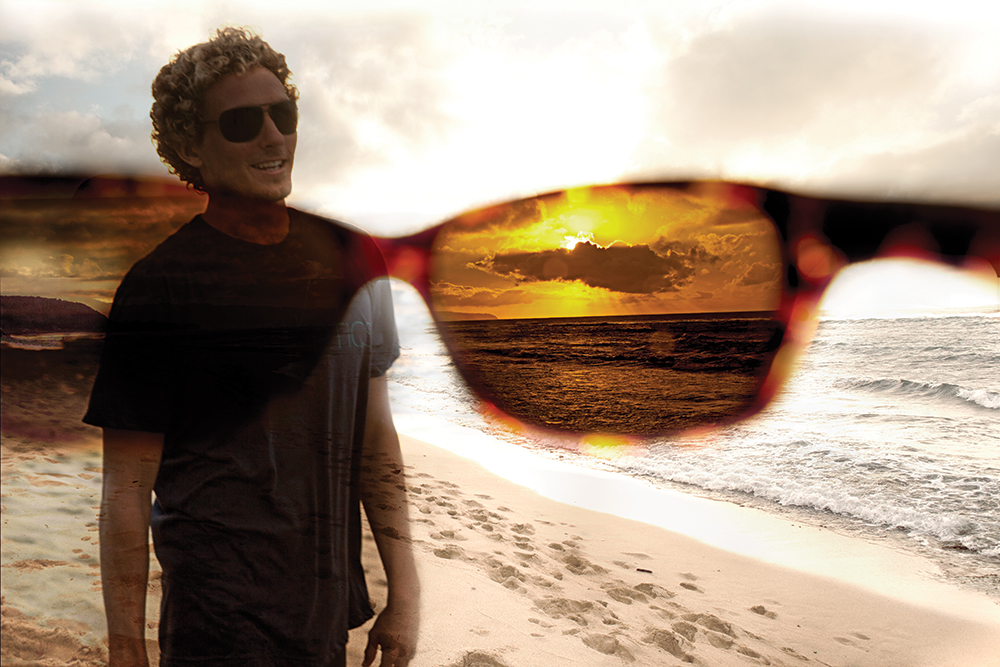 In addition, I am your classic geek, and I can't see a thing without my prescription. The Smith Dolens, and a variety of other models are available in prescription strength. All I had to do was get my perscription and pupil distance from my opticion and send it into the appropriate Smith representative. My prescription was dead on when I received the Dolens. You can find a dealer locator at smithoptics.com if you need to take advantage of this service.
Durability:
The Grilamid TR90 material is not only light weight, but remarkably flexible with good bounce back. From our experience, the frames are holding their shape with extremely little give, so you can count on the Smith Dolens holding comfortably to your head for a very long lifetime of use.
Smith's Evolve structure incorporates a revolutionary, Rilsan Clear material, which is derived from the renewable, non-genetically modified castor plant. This material has not only shown to be highly light and durable, but it is also 53% bio-based for those who tend to be more environmentally contentious.
The optical hinges are made with stainless steel, and incorporate small springs within their structure. Although they've held together in the time we've had the Dolens, the standard screw structure is the area in the glasses we see the most potential for issues in the future.
Value: 
These may be in the higher of price ranges in the industry, but you are getting what you pay for with one of the most innovative lens technologies we've ever seen with great comfort and style as an added benefit. Consider the lifespan you'll more than likely get out of them, and it's really not a bad deal at all.
Smith Dolen - Style Review
If the Dolen frames aren't exactly what your looking for, Smith offers one of the largest varieties of frame styles in the market with the same technology in structural design. We're most excited about the ChromaPop lens technology, delivering some of top optical experiences we've ever encountered. Smith has truly knocked it out of the park as far as optics are concerned, and that's before considering the sleek design and seemingly strong structural integrity. In our estimation, Smith has proven again why they have been one of the leaders in optical innovation worldwide for almost 50 years.