As your heart begins to pump faster, your legs start to kick harder, your music begins to take over your mind, and suddenly you are starting to get lost in your run.  Your mind drifts off, but your body keeps pushing you forward, almost on auto-pilot.  Soon, you approach a hill, and your body tenses up as you are about to push yourself to the max.  Just as you approach the hill a stiff head wind begins to gust and you  thoughts of doubt begin to pop in to your head as you worry about your worst enemy; resistance.  Resistance in the form of wind, but also weight.  Imagine that enemy conquered and you began your kick up the hill; legs burning and churning, mind drifting, and the burn becomes enjoyable.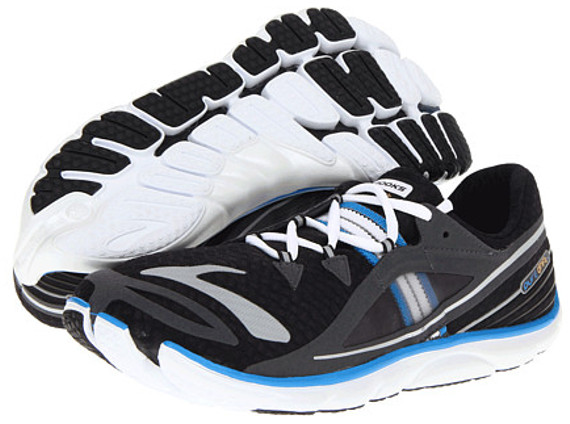 Running is a challenge that we do for our mind and our body.  With the PureDrift I found a lightweight companion for my feet that made the challenge a little easier and a lot more enjoyable.

Technology:
Dual Toe Flex
Injected Midsole
Removable sockliner
BioMoGo DNA Midsole
IDEAL Heel
Nav Band
Specs:
Category: PureProject
Platform: Anatomical
Sizes: Men's: 7-13, 14  Women's: 5-12
Widths: Men's: D  Women's:B
Construction: Strobel
– Brooks PureDrift Review –
Comfort: 
(8 out of 10) Putting on the PureDrift requires you to change your thought process when it comes to running shoes.   The dual Toe Flex splits allow your forefoot to flex through its three functional units, creating what Brooks says a natural balance and a spring push-off.  To put it in laymen's terms, it puts your feet in a position that you are not used to.  I spent a few hours walking in them to get used to the feel and I recommend you do the same.  It took me about three runs to really get comfortable with them and to start to appreciate their style.  Given the minimalist design of the shoe I expected it to be flimsy but it is actually quite firm, especially in the forefront.    It truly is a unique running experience which I equated to running on grass with bare feet, which every runner will tell you is a magical feeling.  Other reviews have noted a hotspot/blister issue that they were able to combat with the different insole.  I found no issues with blisters and I logged 40+ miles on them before writing the review.   
DESIGN: 
(9 out of 10) I gave these a 9/10 for the minimalist design, because they are perfect for that style.  However, if you are not into minimalist running then you will need to think twice about buying these.  What is minimalist running you ask? Minimalist running became hugely popular after the 2009 book "Born to Run" and 2010 study of Kenya's Kalendjin barefoot distance runners.  Barefoot running forces people on their forefeet, which absorbs the considerable impact that running places on feet and lower legs.  Traditional running shoes of the past 40 years are designed to make runners land on the cushy, raised heel, which can be contributed to lower leg problems.   
The PureDrift is for that minimalist runner that wants the closest possible run being barefoot.  A key design to the PureDrift is the adjustable drop, from 4mm to 0.  With the sock liner in, it's a 4mm drop shoe, which is designed for runners who like a more traditional shoe versus a barefoot shoe.  If you pull the sock liner, you will have a zero drop shoe that keeps your stride connected to the ground. I reccomend you play with this to determine which style suits you best.  I also really enjoyed the tongue on the PureDrift.  It is a integrated part of the upper on one side and lays over the foot.  It really made for a nice snug fit, which in turn increases comfort.    The PureDrift will force you to spread your toes with two split grooves that allow your forefoot to flex through its three functional units.  A hardly-there upper has a close fit and provides a small amount of coverage.  The feathery light 5.6oz shoe is designed for you to feel your run, as Brooks says about the PureDrift: "Feet, Meet Feel".   
TRACTION: 
(8 out of 10) Given the minimalist design I was worried about traction being an issue.  While I operate more on the road, I found the traction to be great and had no issues.  The spring and bounce from the road was great and with that I do find these to be more of a road shoe.  When I went to the park and did some runs on the trails, I found the traction to be a little slick  in the muddier and rockier areas.  Overall, if you are a road runner, these will work great.   
DURABILITY: 
(9 out of 10) Depending on the size of the runner, most running shoes will last between 400-600 miles.  Given the minimalist design you should not expect that much mileage about of this style of shoe, either with Brooks or another brand.  Brooks states that because of their lightweight design you should expect 250-300 miles from them, which with a minimalist shoe is more than fair.  I have between 40-50 miles on my shoes right now and they have shown no signs of slowing down.   
VALUE: 
(9 out of 10) Even though you will get less miles out of these than a typical running shoe, the cost of $100 is a great value.  In comparison to other minimalist shoes there are cheaper options but you will sacrifice some of the design features that really make this shoe great.  They are also more expensive options with similar features so I feel Brooks is providing you with an appropriately priced shoe with great features.  Overall, the price is right and these shoes will be a great investment for either the true minimalist runner or a beginner looking to get started.  
THE BOTTOM LINE

:
The Brooks PureDrift is a great running shoe that is closest thing I have found to running barefoot.  The sole is extremely flexible and overall the PureDrift has a very comfortable feel and provides a 4mm or zero drop experience that really allows you to find the perfect fit..  The PureDrift will provide runners with a great quality shoe while also giving that feathery lightweight feel that all runners are sure to enjoy.    Buy Now: $100 or go to: BrooksRunning.com