When I bought my first home I purchased a self-propelled gas mower. A few years ago the engine finally quit and I decided to go gasless. I opted for a Scott's 20" Reel Mower and I was happy. For a while. The Reel mower never bagged right, but I mulched. It was quiet, it cut grass really well, but ultimately it didn't get the high stuff like weeds and fast growing dandelions, so I'd end up going over the lawn again with the string trimmer. Every. Single. Time.
Enter the Ryobi 20 in. 40-Volt Lithium-Ion Brushless Cordless Walk-Behind Electric Lawn Mower with 2 Batteries. Ryobi has been making quality tools with professional features at an affordable price point for homeowners everywhere. From drills to lawn mowers, Ryobi makes one of everything, and most of that is battery powered. So even with their extensive knowledge of batteries, how good can a battery powered lawn mower be? Was Ryobi up to the challenge?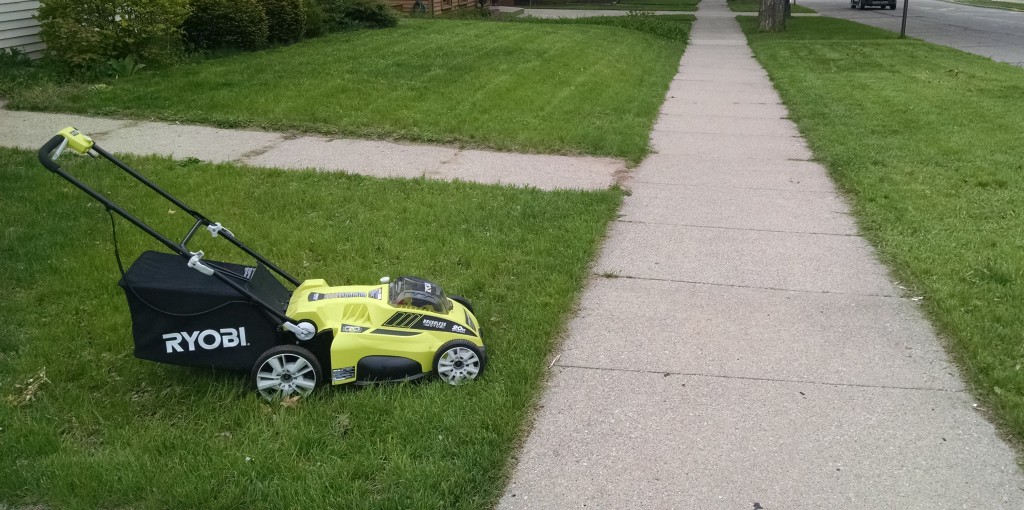 Recently Ryobi gave Busted Wallet the chance to review this battery powered wonder and I hoped for the power of a gas mower with the quietness and cleanliness of my reel mower. I wasn't disappointed. It is everything you like about mowing a lawn without all of the things you hate. Here is what we discovered…
What's in the Box:
Mower
2 40-volt Lithium-ion Batteries
40-volt Charger
Bag for grass clippings
Mulching Plug
Fuse Key
Owner's manual
Major Specs:
5 year limited warranty
3 year full warranty (including the batteries)
Adjustable mowing height from approximately 1.5 in. to 3.75 in.
90 minute charge time per battery
Bags and mulches
20" mowing width
47 lbs
Foldable for storage or transport
Rated for yard sizes 1/2 to 1 acre
Ryobi Battery Powered Lawn Mower Review Breakdown
Design:
Straight out of the box this mower is ready to go fully assembled. I needed only to unfold and tighten the quick release style catches on the handle. It is well built and light enough that when folded I can easily pick it up and put it in the back of my van for transport. The battery compartment holds the battery that is in use, has a slot for an extra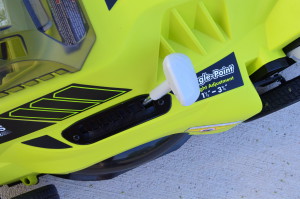 battery, and is where you put the 'key' which is a fuse that when pulled keeps the mower from turning on. This is a great safety feature for when you are putting in or taking out the mulch plug, turning the mower on the side to inspect/remove/reattach the blade, or leaving it where a kid might find it. There is no 'pull start'. You press a button, pull the handle back and the mower springs to life.
Setting the mowing height is also easy. It's one handle that has 7 positions between 1.5″ and 3.75″ One handle moves the adjuster on all four wheels.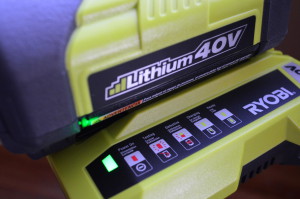 The batteries each have a 4 light power meter and they update/blink as they are being charged which is helpful so you don't have to check them. The charger diagnoses the battery every charge letting you know if it is good or bad, and if it can or can't charge it. The charger won't charge a battery that is too hot or too cold. The important part is, you don't have to think about it, the charger does it for you. In all the mowing I did with the mower the battery never failed to charge after being totally drained, they didn't seem to get hot with continual use.
Best part of the design? All the "Nos". No gas. No oil. No cords. No loud noise. Seriously. I can mow the lawn and not smell like I mowed a lawn. Electric plug-in mowers are very powerful, but cords get in the way.
Weight & Size: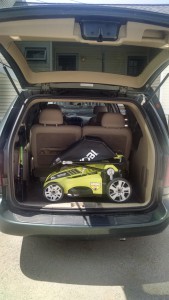 It's 44.7lbs pushing weight and that isn't as heavy as it sounds. My Scott's mower weighted in at 25lbs, but when you push a reel mower you put extra effort into it to turn the gears and blade. I found this to be about the same or less effort than the reel mower. Busted Wallet Recently reviewed the Toro 30" Timemaster and that weighs in at 132lbs! On Rich's lawn Rich and I took turns going back and forth with the mower, pushing up and down some hills. He has a self-propelled gas mower so I wanted his opinion on the missing self-propulsion. He said it was no better, but no worse than his self-propelled. That the decrease in weight made it just as easy to move over his lawn.
How often have you been asked to help mow a lawn for a parent or friend? My Scotts' reel mower doesn't fold to fit in my van and a self-propelled gas mower isn't an easy lift for 1 person at 130+ pounds. That and a gas mower is going to make your vehicle smell like a gas mower. Gas and oil. Oh, and don't forget to bring your dirty gas can and try not to spill any with your heavy mower.
The Ryobi battery powered mower folds for easy storage, it is fairly easy lift (I had back surgery in 2012 so I pay attention to this detail) when folded, and didn't make my van smell like anything.
Power:
Do you need 800 hp to mow a lawn? Nope. But even still, I didn't find any grass that I couldn't cut. I didn't find any weeds I couldn't cut. I did find a few sticks and rocks unfortunately. I did mow through some really tall weeds at a slower pace to make sure it was bagging it all. When the mower hits a patch that is tougher it adds more power. You can actually hear the motor rev up.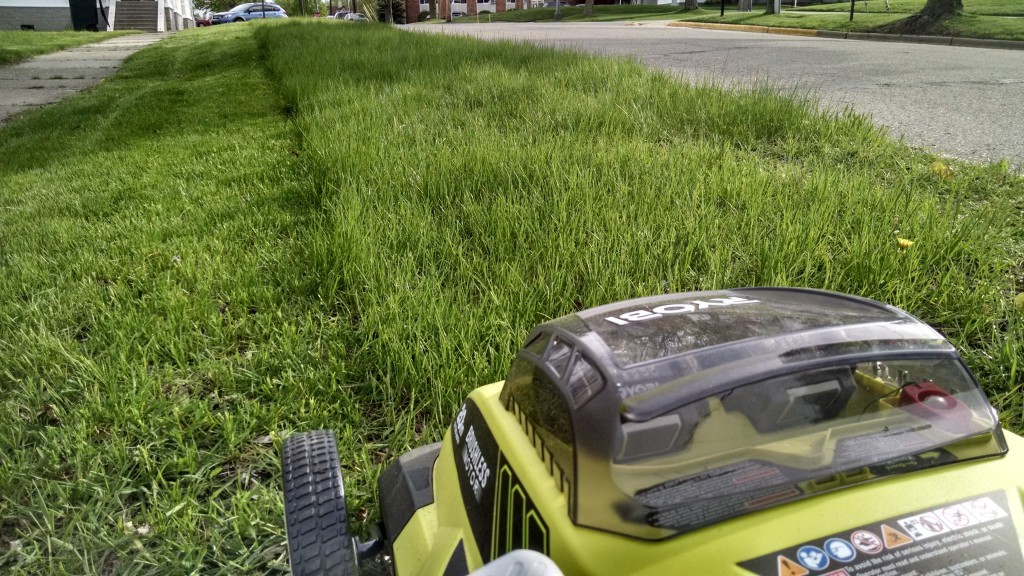 Efficiency:
I mowed my lawn several times but to give this mower a fair shake I had to find lawns to mow other than my own. I found Lisa's mom's lawn which is larger than mine, my sister-in-law Laura's lawn a little smaller than mine, Marshall's lawn which is about the size of a postage stamp, and a Rich's lawn the largest lawn of the ones I mowed.
On my lawn it met every expectation I had of a mower, not just of a battery powered mower. It takes about half to ¾ of one battery to do my lawn (bagging or mulching). I used both full batteries to do the Lisa's lawn and filled 2 full trash cans with clippings. At Laura's house I filled a lawn bag fully on less than 1 battery. Marshall's lawn it took less than a quarter charge (really small lawn). The variable power of the motor (automatically adjusting to the heaviness of the cut) keeps battery usage to as low as possible while still cutting everything.
Before mowing Lisa's lawn:

After mowing:

The real test turned out to be my buddy Rich's lawn and this is where I really learned something about the mower. Not just because of size, but because of the grass. We set the height of the Ryobi Lawn Mower to the same height as Rich's gas mower and must have cut enough grass to fill 6 lawn bags (his wife kept emptying them and taking them to a nearby garden). It had only been growing for a week, but he had fertilized and it had been getting plenty of water.
Rich's monster back lawn: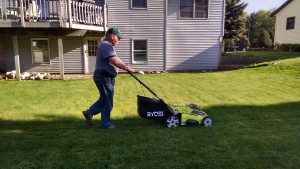 It was thick. And not just thick, it was grass, not weeds. It is a lawn that I hope my lawn becomes someday. Still, all in all, the mower performed well. It used both full batteries, one for 23 minutes of use (including time to stop and empty the bag) and the second battery for 32 minutes of use. By the time we were done with the second battery the first one had about 7 minutes of charge in it (they have a 90 minute charge time). At the end of that we mowed the back lawn and finished most of the sides. We had been at it for about 62 minutes and finished about 3/4 of the work. He normally does his lawn in about 45-50 minutes. My lawn which used half a battery takes me 45 minutes with any mower I use. That should give you some idea of what I'm talking about. It's not just the area you are cutting, you have to take into account what you are cutting. Lush lawns take more energy.
His gas mower is wider, and doesn't run out of power because he can refill it with gas. His lawn is of such a size that he is considering getting a riding lawn mower like his neighbor. If you've stayed with me this long I want you to understand, this isn't the lawn this mower was meant for but I wanted to challenge it.
And yet, his wife liked it, why? Because it did it all quietly. I heard this same comment about how quiet it was from just about everyone that used it or watched me use it.  Rich and I talked while we mowed. We didn't have to shout, we didn't have to wear hearing protection, and we didn't smell like gas. He and I figured if you have 4 fully charged batteries you could do his whole lawn on the worst day. That's not bad.
Ease of Use: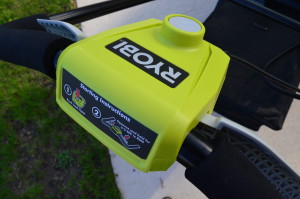 The hardest part of using this mower is the unboxing. Its actual use is straight forward. You don't have to warn another user about quirks or complicated starting procedures because your gas mower is on its last legs. When you bag a lawn with a gas mower you start it Every. Single. Time. You stop to take the bag off and put it back on. I'll let you think about how that affects your back…got that in your mind? Now imagine not having to do that ever again. When you bag with this mower it simply starts up again with the press of a button and pull of the handle. It's light weight makes it easy to maneuver around obstacles and up and down small hills.
The bag fills up great. It doesn't seem to block up by the mower. Half the bag is mesh, and the other half is solid. I imagine that helps direct the clippings to filling up the bag. I didn't feel like I had to stop too soon to empty it. When mulching it spreads out the clippings well. They didn't clump up like other mowers I've used.
Removing the blade for sharpening is also easy. Pull the fuse for safety, tip the mower on its side, then loosen the nut and remove the blade. Sharpen and reverse the process to install it again. I sharpened the blade after I hit a few rocks I didn't see in my lawn. The blade is thin. At first I was going to put this in the negatives, because it kinda feels like one. But ask yourself, how thick does a blade need to be to cut grass? The strength needs to be in the thin sharpened metal edge and on all rotary mowers like this I expect the sharp edge to be thin. I imagine that cutting down on the weight of the blade saves power. It sharpened easily enough and holds an edge, but like all mowers, avoid rocks.
Service Work:
I'm not 100% sure where I can take this to be serviced but I'm not that worried about it yet. It has a limited 5 year warranty and a full 3 year warranty on the mower AND batteries for personal use through Ryobi. See Page 13 of this PDF for more details.
Negatives/Improvements:
The folding handle. First, let me say that I like the folding handle more than I don't. Where it doesn't function well is when you are taking the grass clipping bag off and putting it back on. The middle bar just seems to be in the completely wrong place every time.
Batteries aren't free, if Rich really wanted to do his lawn without gas, we'd have to buy two more batteries at $99 each.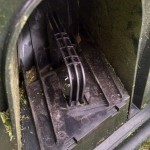 The mulch plug. Taking it out is easy. Maybe I haven't found the trick yet, but putting it back in seems awkward. It feels like it always wants to point down. Once in, it is secure, but you have to take a minute to make sure it's in all the way.
They really could use two handles built into the plastic housing on top for making a one person lift easier. It isn't bad to pick it up, but it is awkward. If Ryobi wants to give me a call I can tell them where I'd like them put.
Value:
At $399 this mower is comparable to gas mowers. It has the power of a gas mower. It cuts as good as a gas mower (it is the same rotary style blade as a gas mower so it should). A quick search showed push gas mowers weighing in between 60 and 70 lbs. So it pushes as easy, or easier, than a push gas mower. It isn't going to replace a riding lawn mower, but it will do the job for most city lawns and sub-divisions. You can get a gas mower for less money, but then you have to deal with gas.
I've harped on 'gasless' enough in this review, most people I know use a gas mower and don't see it as a problem is.  It wasn't until I went gasless that I realized how nice it is. You do pay for it up front, but you don't have to spend money on gas, or oil changes, or spark plugs or tune ups. Over all I believe it balances out, So don't be scared off by the starting price point. Add up what you've spend on your gas mower over the last 5 years with proper maintenance and you should see this as a comparable purchase.
I enjoy having a gas free lawn.
I enjoy being able to mow without disturbing my neighbors.
I enjoy being able to hear my kids play because I don't have to wear hearing protection.
I enjoy being able to put the mower away when I'm done with it, not having to wait for a gas mower to cool down.
This battery powered technology has been a long time coming and I think with the Ryobi battery mower line up, it is finally here. This isn't some pipe dream, it is reality. These mowers will only improve and I think they will become the standard over the next 10 years for home and personal use.
*Update: The model reviewed above is now available without batteries or a charger. The replacement for the mower we reviewed is now available here and comes with one battery that has the same capacity as the two batteries in our review.
Ryobi 20" 40-Volt Lawn Mower - Mower Review
The Bottom Line: If you are replacing your aging gas mower, or are looking to go gas free, give this mower a serious look. You've got 90 days to take it home and try it and I think the first time you do you'll be sold on it.
The Not So Good
Inserting the mulch plug is tricky
Handle in the way removing the bag
Upfront cost might frighten people, but i think it is a value