Life on the water is what summer is all about. How you get out on the water is your choice. If you're like us, you enjoy everything that beaches, lakes and rivers have to offer. One affordable way to enjoy all the waterways is with a kayak. Over the years we've reviewed everything from the super expensive to the ultra affordable when it comes to yaks. This summer we teamed up with Pelican to test and review one of their latest sit-on-top models better known as the Pelican CATCH 120NXT.
The CATCH 120NXT is an angler kayak that is built specifically for stability and comfort for fishermen and women who want to enjoy all day on the water.
After a couple months and many hours on the water we're finally ready to share our thoughts on this kayak with you. Is it fast? Is is stable? Is it comfortable? In this article we'll answer all those questions and more. Here we go…
Key Features:
RAM-X Premium Construction
Tunnel Hull Design
2 Quick-lock Storage Hatches (front / back)
Adjustable Footrests
Tank Well Storage Area (with bungees)
3 Fishing Rod Holders
Stand Assist Strap
Paddle Park
ERGOCAST Adjustable Seat
Anti-slip Foot Pads
3 Scotty Brand Slide Accessory Mounts
Measuring Table Sticker Decal
Specs: 
Overall Weight: 69 lbs
Max Capacity: 400 lbs
Length: 11′ 8″
Beam: 34″
Pelican CATCH 120NXT Review Breakdown
Design:
We've tested quite a few Pelican kayaks over the years and this is our new favorite! The green colorway is eye catching and stands apart from other bland kayaks on the water. If you ask me, for most recreational kayaking a sit-on-top kayak is the perfect fit for just about anyone. Typically they are more stable, have better storage and while you're paddling you can get a tan on your legs. The CATCH 120NXT is a great sit-on-top kayak for all those reasons I just mentioned and the fact that it is super comfortable. The adjustable footrest are easy to move. The new and improved ERGOCAST seat is super comfy and allows you to adjust your back incline and place the seat in an upper or lower position. If you really want you can even beach the kayak, pull the seat out and put it on land and use it as a makeshift camp chair.
Beyond its handsome exterior and comfortable interior, this boat has a lot of features you find in much more expensive kayaks. If you're an angler you'll really appreciate the 3 rod holders, the 3 Scotty slide mounts and the tape measure decal near the right footrest, which is perfect for making sure your keepers are legal.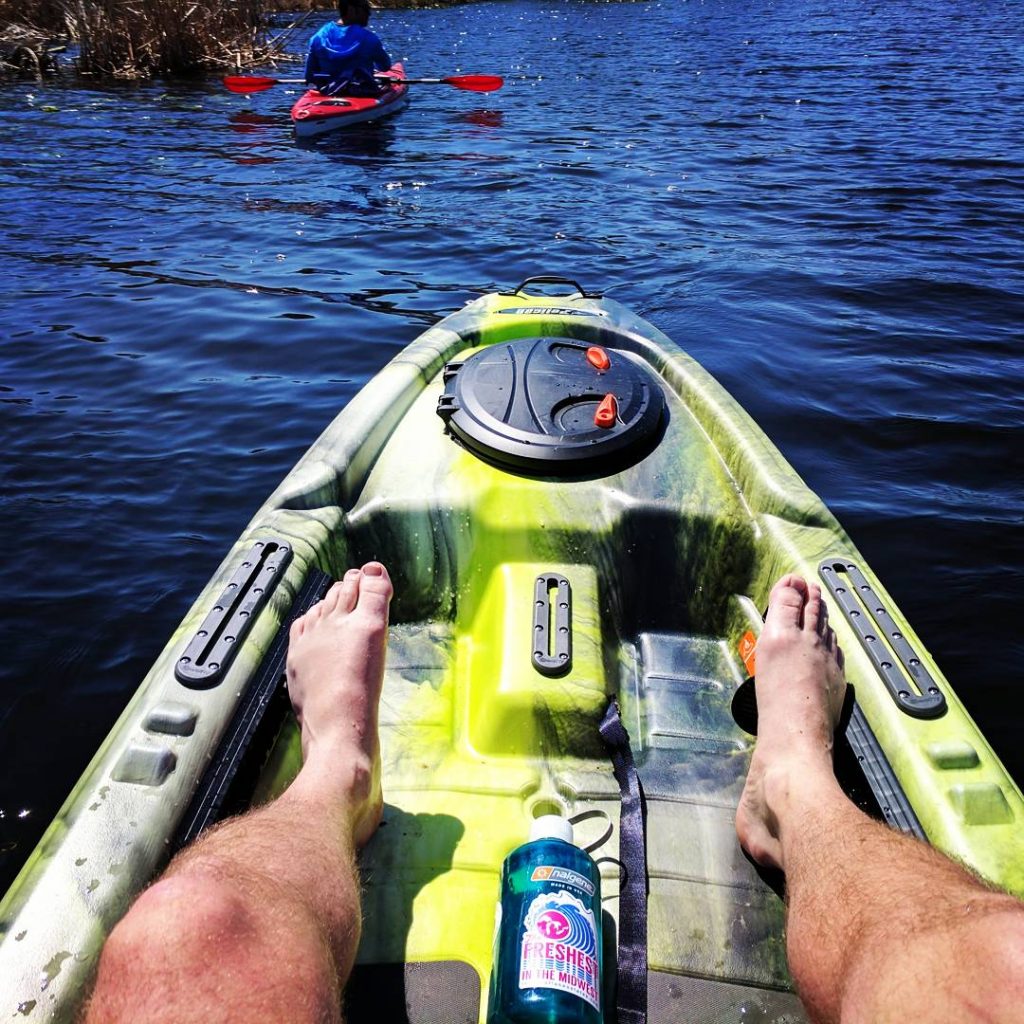 Some other features we really enjoyed were the 2 below deck storage areas at the front and back of the kayak. We'll talk more about those in a little bit. The paddle park is also a nice feature.  For good measure Pelican also integrated a cup holder into the deck too!
Maneuverability:
Not the quickest or most nimble kayak we've ever tested, the CATCH 120NXT is still excellent for paddling around lakes and rivers. This boat tracks really well for its size and can make turns with relative ease. The tunnel hull design displaces water really well and allows the kayak to float in super shallow waters. We've floated in as little as 4 inches of water at times.
On lakes this kayak was pretty much what we expected, but on the river was where we were truly impressed. Typically I wouldn't prefer a flat bottom or tunnel hull design on a river float, but this kayak handles the current just fine and was able to make turns and avoid obstacles without a problem. On fast running rivers we'd stick with a v-hull or something more nimble, but for most of your slower rivers this kayak is a pleasure to paddle.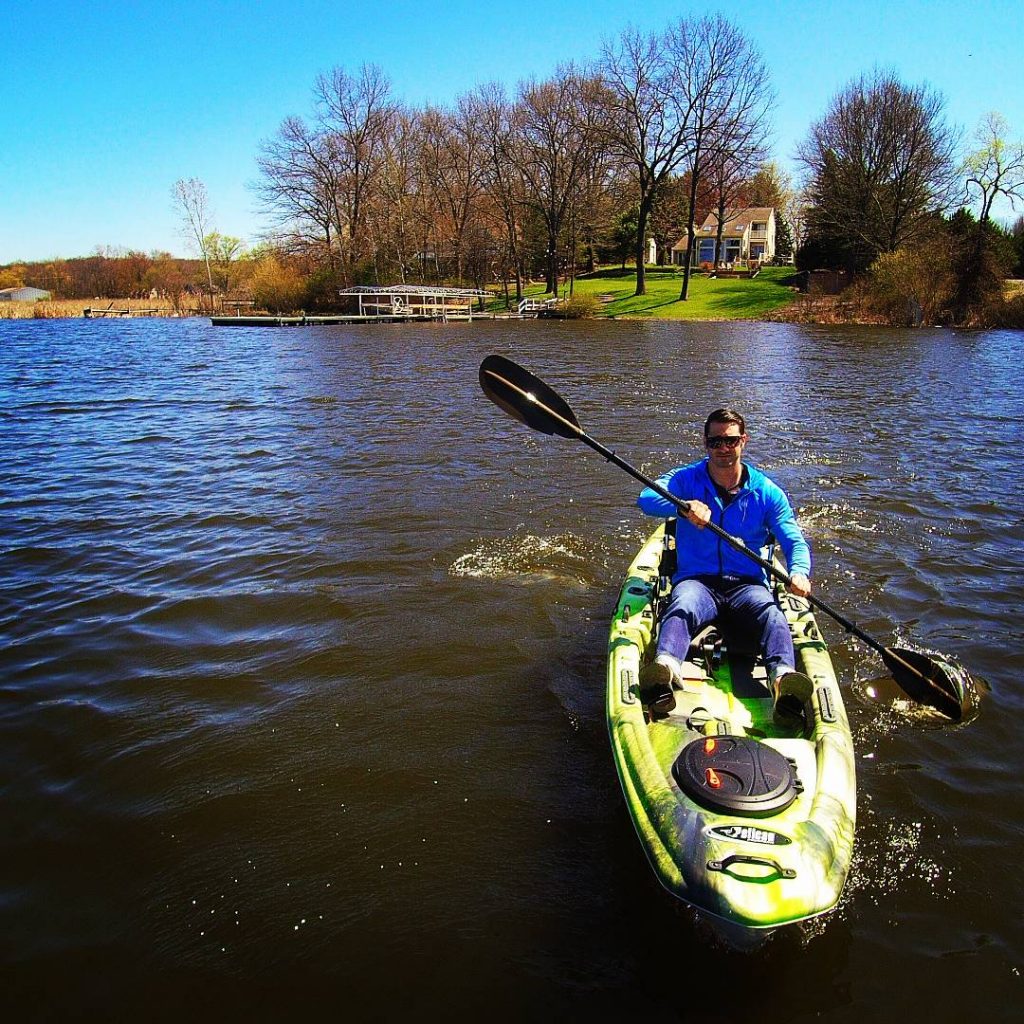 Stability:
Anglers will love this kayak. Pelican's tunnel hull design is no joke!  Using the stand assist strap it is easy to stand up in this kayak to cast or paddle. If you've never stood up in a kayak the first couple minuets area always a little touch and go, but after you settle in and understand the tendencies of the kayak it becomes second nature.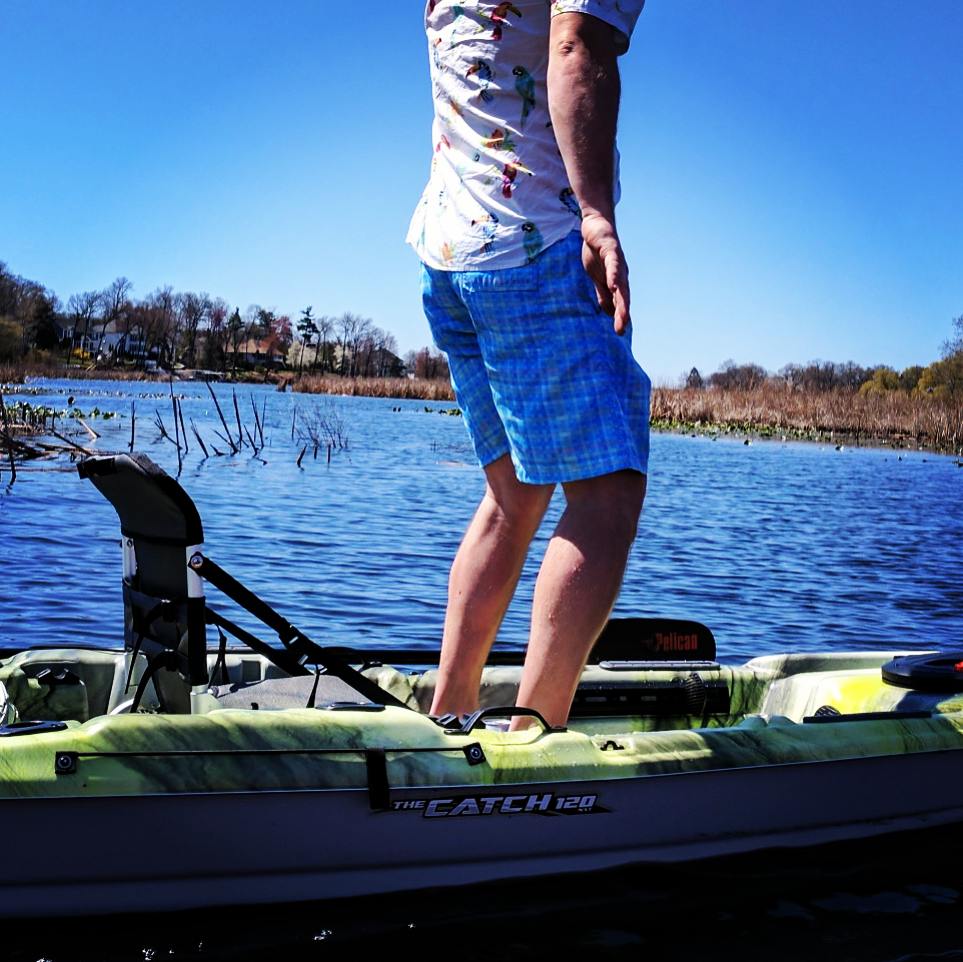 While fishing on flat water we enjoyed standing and using our vantage from high above to spot fish and cast into schools. While standing your feet are positioned on two anti-slip foot pads which are made of foam and feel great on your feet. They are also spaced out to keep your center of gravity positioned properly.
We've been paddling this kayak since May and haven't capsized yet. We're not saying it's impossible, but you'll have a hard time flipping it over.
Storage:
The CATCH 120NXT has plenty of storage. The front and back quick-lock hatches are ingeniously designed to keep water out and your belongings dry. On each of the quick-lock hatches there is a lip that doesn't allow water to flow into the hatch. This is a smart design that you don't see in every kayak. The quick-lock hatches aren't advertised as "dry storage" but we think they do a pretty good job.
The other area of storage that we found useful was the tank well, which is located directly behind the seat. This area is kind of a catch-all for anything you might need access to while paddling. Usually we keep a cooler back there along with sun screen, fishing tackle, throwable PDF and flippy floppys. The bungees allow you to secure everything in place and go about your adventures without looking back… well, until you need a beer!
Value:
This kayak is down right awesome! When you add it all up this is a fantastic kayak at a reasonable price. For under $900 you are getting a well built boat that serves well as a fishing kayak as well as a recreational kayak for paddling around lakes or floating down rivers. We've said it before and we'll say it again, sit-on-top kayaks are fun on the water for anyone. If you're looking for an affordable, eye catching kayak that is stable, comfortable for hours on the water and has all the perks anglers are looking for, the Pelican CATCH 120NXT is a kayak you should put at the top for your list.
Buy Now: $879 or to learn more, go to: PelicanSport.com
Pelican CATCH 120NXT - Kayak Review
This is an excellent entry level angler kayak. The price is on point and the features are outstanding. If you're in the market for a new sit-on-top kayak this is a great option. We highly recommend seeing the CATCH 120NXT for yourself at your local dealer.
The Good:
Very stable on the water
Plenty of good storage options
Set up to get on the water and start catching fish right away
The Not So Good:
Somewhat slow in the water
Won't turn on a dime