Recently, Pelican International, Canada's budget conscious kayak brand launched their newest line of kayaks dubbed – "Pelican Premium," with a emphasis on improved performance hulls minus the major mark-up in price you'd expect. The new Pelican Premium line boasts four "sit-in" and four "sit-on-top" kayaks in-all that are said to deliver bigger, bolder graphics and enhanced product features. This Spring we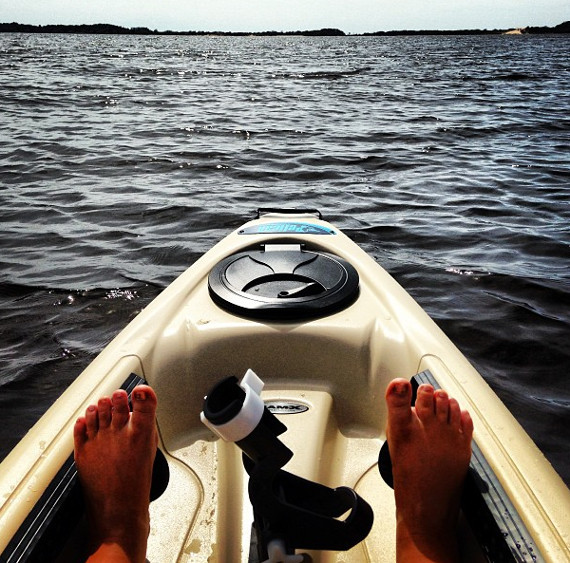 were given the unique opportunity to be one of the first media outlets to fully test and review Pelican's line of premium boats. To kick things off we decided to take a spin in the Strike 100x Angler, a mid-sized "sit-on-top" kayak with some killer features engineered specifically for paddling anglers.
The Strike 100x Angler is marketed by Pelican as "a simple, easy-to-use boat." Which is exactly what initially drew our attention to this kayak. As avid fishermen (and women) ourselves we understand the importance of a maneuverable boat with a functional layout for fishing. If the design is too simple you miss out on useful features like rod holders, paddle tie-downs, etc… then again with an overly engineered cockpit you run into problems with cramped space, trouble rigging and keeping your gear organized. The Strike 100x Angler seemed to have a nice balance of both going into our review.
For a closer (and interactive) look at what the Strike 100x Angler has to offer, take a moment to scroll over the images below…
Strike 100x Angler Key Features:
Weight: 53 lbs | Max Capacity: 325 lbs | Length: 10′ | Width: 30″ | Material: TST RAM-X Premium
Starting this year, in conjunction with the launch of Pelican's Premium brand, all Pelican International brand (Pelican, Elie, and Pelican Premium) kayaks will now feature a new limited lifetime warranty on their hulls. It's always nice to see a company stand behind their product!
"We understand that our manufacturing process is different than most other kayak manufacturers and we want to remove any doubt that may be in the consumer's mind about the quality of our kayaks. We know that our manufacturing methods and exclusive materials produce the industry's stiffest, strongest and most durable polyethylene kayaks and we are ready to back that claim with a warranty that is worthy of our product." -Noel Basque, Pelican's Executive Director of Sales
After spending several hours (totaling just over 20 in-all) paddling, fishing and tanning in the Strike 100x Angler through some of Western Michigan's most spectacular waterways we're now excited to share our experiences and opinions with you! So get comfy, because we're about to go in-depth. Enjoy…
Strike 100X Angler Review Breakdown
Design: 
As a fishing kayak the Strike 100X Angler is just about all you could ask for without going totally overboard. The rod holders (there's three total) are essential and actually fit a wide variety of rod grips – which is nice as this has not been the case with most angler specific kayaks we've tested in the past. A great setup for fishing out of this kayak from our experience, is to carry two rods and one net (depending on what species you're going after) with one rod and your net in each of the rear holders and the second rod in the front swivel holder. The fish won't know what hit em – trust us!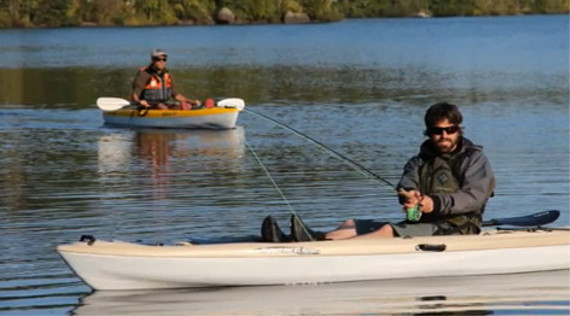 Beyond it's prowess as a stealthy fish-slayer. The Strike 100x Angler is also easy to get in / out of and is an all around fun kayak to paddle around in. We found that it handles quite well on both lakes and slow moving rivers. It has great lines that make it 100% functional and also quite stylish as well.
Some other design aspects we were impressed with were the paddle holder first and foremost  This is probably the most simple design element incorporated into the kayak, but during our testing sessions it was likely the most used element as well. We also found the adjustable foot pegs to be easy to use and able to accommodate a wide range paddlers. Additionally, we found the Strike 100x Angler's adjustable padded seat to be rather comfy… for a kayak… which means it's comfy at first then becomes less comfortable as the minutes turn into hours. All-in-all the padded seat is fine, but don't expect it to be like your living room lazy-boy. Inherently there's something about the motion of paddling a kayak that can make any seat less comfortable.
Maneuverability: 
For a wide – mostly flat bottom boat the Strike 100x Angler actually tracks along fairly straight. Much better than we had anticipated in fact. Most flat(er) bottom kayaks have a tenancy to drift off course with ease. This can be annoying, but it's often the sacrifice that is necessary to allow for the stability that's required for anglers looking to reel in big fish. At the rear of this kayak's hull there's a short stubby steg. It might not look like much, but it works and it's what keeps this boat tracking.
If this kayak had a worst enemy it would be wind! On calm days it tracks along pretty well. Nothing like a "V" bottom, but overall tracks quite well. Then as soon as the wind kicks up say goodbye cutting straight across the lake. With anything more than 10 mph of wind the Strike 100x Angler turns into a sail – which doesn't completely render it un-maneuverable by any means, but can make it a struggle at the end of a long day.
Overall we found that this kayak handled both flat water lakes and slow moving rivers with ease. The boat turns exceptionally well, tracks better than expected and is actually glides impressively well making it easy to cover lots of water without tiring too quickly.
Stability: 
We typically anticipate a bit more stability from angler inspired kayaks because fishing requires a lot of movement, fussing with gear and reeling in fish.  That being said, the Strike 100x Angler is still a comfortably stable kayak. Just not overly stable in our opinion. Take your time and make sure you have the seat and foot pegs properly adjusted before you set out on a day of paddling or fishing and you and your gear will stay perfectly dry.
Storage: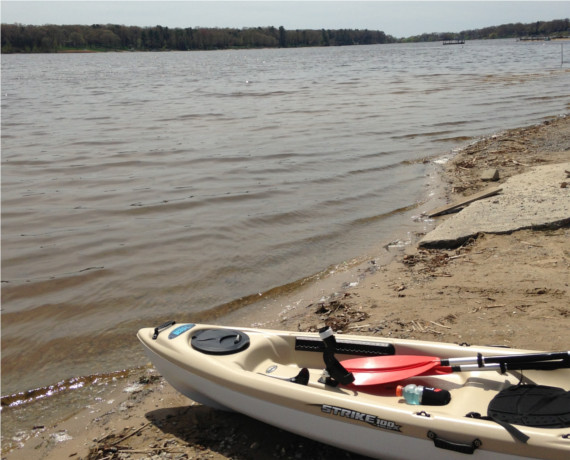 For its size (only 10 ft long) this kayak actually provides some excellent storage capabilities. The rear section is rather large and proved to be an excellent place for fishing gear (tackle, bait, cooler, etc…) and has nice heavy duty bungees to keep everything in place should the waters get rough. We specifically liked the 8″ storage hatch behind the seat. It's pretty hard to access while on the go, but is a great option for storing your necessities (wallet, phone, GPS, keys, etc…) because inside the hatch is a dry bag. So even if the kayak tips over – everything in this hatch will remain high and dry.
There's also a quick lock storage hatch at the front of the boat. Accessing this area should only be done with your feet firmly in contact with the ground. We learned that the hard way in 50 degree water. The hatch is simple to use by sliding the lever to the right to lock and to the left to unlock. The seal is watertight and since there's no bulkhead this storage area is also an ideal place to store your rods, net and tackle during transport.
Durability: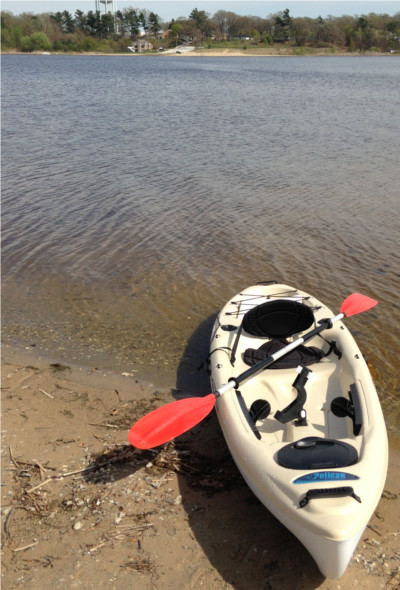 You'd be surprised the beating a kayak will take throughout its life. From the garage, to your vehicle to the river or lake – it's being lifted, dragged, dropped and pummeled by underwater hazards. You might think since you're floating in water that your boat is going to stay shiny and new forever. Unfortunately that's never the case.
During our time spent testing the Strike 100x Angler we didn't hold back, but we also didn't go out of our way to test the limits of it's TST RAM-X Premium deck and hull. Our durability tests consisted of real life use and abuse. After more than a month of use several visible scrapes and scars along the hull were noticeable, but nothing that compromised the integrity of the boat.
Overall we were greatly impressed with the durability of this kayak. The new premium RAM-X material from which is it made is much stiffer than previous kayaks we've tested from Pelican. As an added bonus – The Strike 100x Angler as well as all other Pelican Premium kayaks feature a limited lifetime warranty on their hulls. Other components and accessories are warranted for one year. Some nice piece of mind!
Value: 
At nearly $600 we found the Strike 100x Angler to be a fair value. If nothing else for its thoughtfully designed features, lightweight and overall durability. You can expect to pay anywhere from $700 to $1,100 from the other top brands and we feel that this boat stacks up pretty well against most.
Pelican Strike 100X Angler Kayak
The Strike 100x Angler from Pelican Premium is a fantastic all-around kayak. You don't have to be an angler to enjoy it - but it sure does help! I have to say we enjoyed the heck out of our review model for the better part of the past two months. If you're a fisherman (or woman!) who's looking to conquer lakes and slow moving rivers in search of the the "BIG ONE" we highly recommend you consider the Strike 100x Angler as one of your top options. It's highly maneuverable, loaded with storage options and down-right simple to operate.
The Good:
Impressive Storage Capacity
Budget Friendly
Highly Durable
The Not so Good:
Stability Could be Improved
Cheap (yet comfy) Seating
Lacking a Proper Cup Holder