Old Town Canoe Company is a legacy in the canoe and kayak business as consumers know them for their commitment to quality materials and impeccable craftsmanship. With the company gaining its name from the town it resides Old Town, Maine. In 1898, founder A.E. Wickett was inspired by the local Penobscot's tribe watercraft, which was made from sturdy birch bark. Wickett, along with local businessmen George Gray, set out to produce high-quality canoes with an obsession for crafting the perfect canoe. Soon their canoes were a hot ticket in town and after brief periods as the Indian Old Town Canoe Company and Robertson Old Town Canoe Company, the firm was incorporated in 1903 as Old Town Canoe Co.  After a long run as the largest canoe manufacturer in the world, Old Town made its first kayak in 1940. By 1970, Old Town had won national awards for material innovation with its fiberglass boats and was the exclusive manufacturer of canoes and kayaks to the US Team.  Old Town continues to reshape the canoe and kayak industry through their commitment to innovation while also keeping their keen eye for craftsmanship and detail, just as Wickett and Gray would demand.
Our good friends at Old Town Canoe Company recently set us up with their new and improved Loon 120 for a testing session in Northern Michigan.  The Loon 120 is touted by Old Town as the world's most advanced recreational kayak. We put the 12-foot kayak through the rigors of the Au Sable River and are pleased to present our full report. But before we get too far here is the features and specs that make this kayak so appealing…
Key Features:
Active Comfort System 2.0 (ACS2) Seat
Removable Workdeck with USB
Thigh Pads – Match ACS2 Padding
Support Track Foot Brace System
Click Seal Hatch with Bulkhead
Bow and Stern Deck Bungees
Bow and Stern Carry Handles
Paddle Clip
Drain Plug
Sharp Keel Line for Performance
Specs:
Material: Three-Layer Polyethylene
Length: 12′ / 3.6 m
Width: 30″ / 76.2 cm
Cockpit: 22″ x 56″ / 55.9 x 142.2 cm
Deck Height: 15.25″ / 38.7 cm
Weight: 56 lbs / 25.4 kg
Max Load: 375 lbs / 170 kg
As you can see the Loon 120 has a lot going on and while they don't always like to toot their own horn the marketing director thinks this is one of the finest sit-inside boats on the market…
"The new Loons are the most comfortable, advanced and efficient sit-inside kayaks ever made. Loons are easy to paddle, designed for performance and have more exclusive features than any other kayak on the market." – Luke LaBree, Old Town's Marketing Communications Manager
Well, now that you know the ins and outs of the new and improved Loon 120 let's get down to brass tax. We've been paddling this boat for the better half of spring and today we're happy to share what we discovered about this unique kayak.
Old Town Loon 120 Kayak Review Breakdown
Design:
Two years ago Old Town set out to recreate the ultimate recreational kayak by redesigning the 20-year-old Loon. The new Loon series features a completely redesigned hull that is designed for a more effortless glide and straight tracking. One of the newest features we enjoyed is the removable workdeck. The workdeck is positioned an arm's reach in front of the paddler to give easy access to the accessory trays and bottle holder. The workdeck has a large dry-storage compartment with a latched lid for secure gear management. It also features a USB port to keep phones, cameras, GPS units and other electronics charged. There is also an integrated Slide Track mount that makes accessory attachment easy, and there is a convenient cell phone shelf with bungee.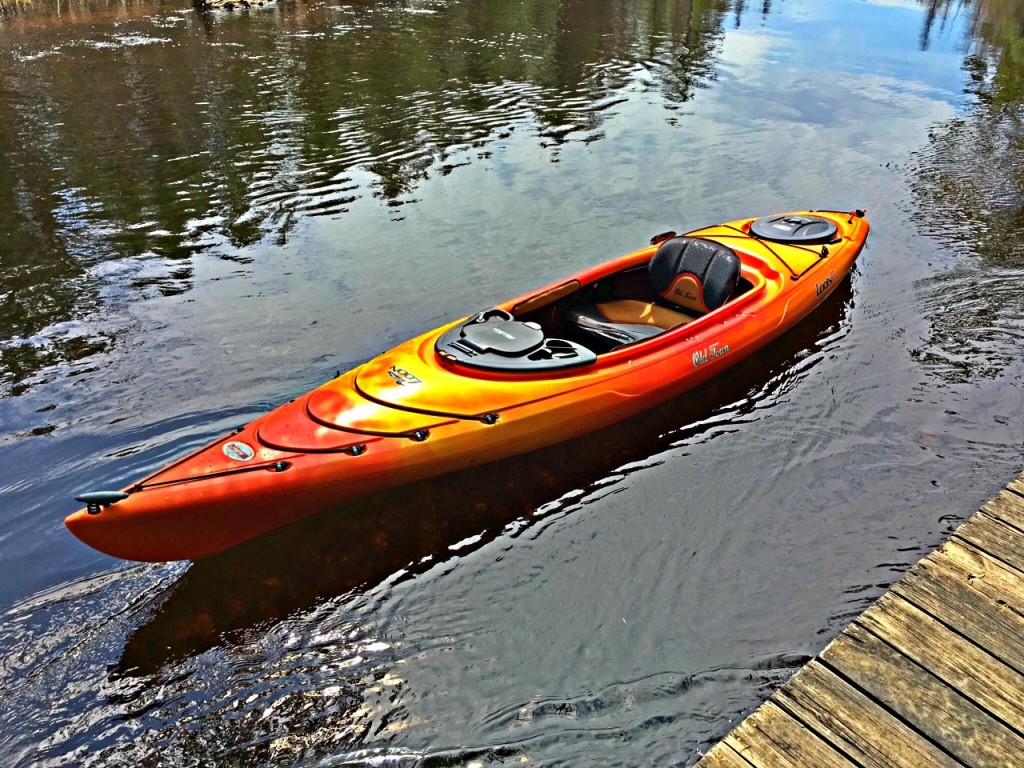 The Loon 120 also contains the Active Comfort System (ACS) 2.0 which combines aesthetics, comfort and performance. The ACS2 system features easy and intuitive adjustments, leg support, plush padding and a flow-through ventilation system. The ACS2 system also has quick drying mesh fabric and contoured seat pan for extra back support. Needless to say, this is one of the most comfortable kayaks we have sat in. The ability to adjust and the extra padding really comes in handy for those long days on the lake or river. The adjustments are easy to make so you can quickly find the right comfort level while you enjoy a nice day on the water. The kayak also features a foot brace system for added comfort and a paddle clip for easy storage of the paddle. Overall, this kayak was well designed with some nice little additions that make it extremely comfortable and very functional.
Maneuverability: 
Being a 12ft recreational kayak you might not expect the Loon 120 to be a speed demon on the water but we were pleasantly surprised with how quickly and efficiently it tacks down the water.  Old Town touts the Loon as a kayak that features very straight tracking and they weren't joking.  This boat will guide its own way down the river while you can sit back and relax.  At 12ft in length this boat was quite agile around tight spots and the boat responds very well to some simple paddle movements to get the boat back in line.  The Loon also has good acceleration when you need it and does a very good job at turning.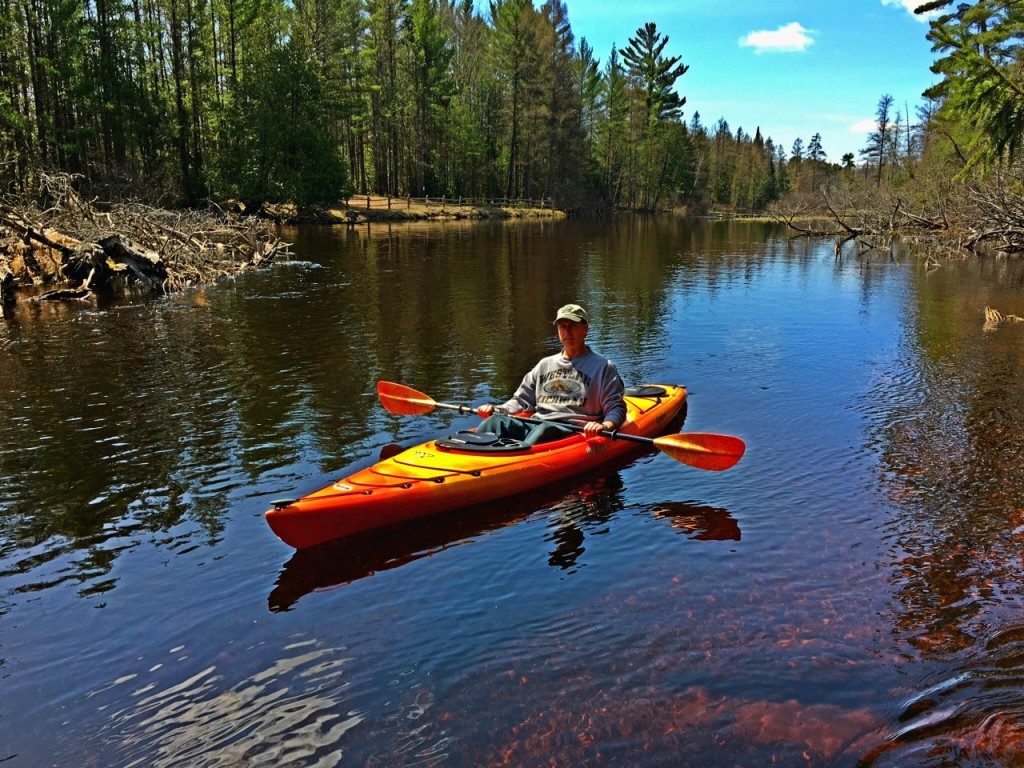 Stability: 
Recreational kayaks are often considered the best kayak for beginners but with the technology, design, and pure luxury of the Loon 120, this boat has proven to be a great fit for anyone. When they redesigned the Loon they focused a good chunk of time on the hull which increased stability and made the boat even more secure.  We found this boat to be extremely stable and easy to maneuver. It is ideal for quiet water paddling on lakes, ponds, and class I rivers. The boat was very easy to get in and out of as well and the stability made it very safe. Throughout testing we never had issues tipping over or taking on water. Also with the ACS2 system, you may find yourself adjusting your seat on the water, much like an office chair, and the sudden movements or adjustment never seemed to question the integrity of kayak and the Loon remained extremely stable.
Storage:
The Loon series features an impressive amount of storage regardless if you are trying to keep dry or if you are fine with it being out in the elements.  We previously mentioned the removable workdeck which features a dry storage location and also a USB charge port.  You can keep your phone or other gadgets nice and dry and charged inside the workdeck.  Also great if you have a little waterproof Bluetooth radio you want to plug and keep the tunes on while you float.  On the bow and the stern, there are deck bungees which will hold those bulky items, and the rear Click Seal hatch will keep those larger essential items nice and dry.  Overall, this boat has plenty of storage for a quick trip or if you need pack to be out on the water all day, the Loon 120 has got you covered.
Value:
Priced at $999, the Loon 120 does come with a bit of a price tag.  For people in the recreational market this might be tough to swallow, but rest assured this kayak is built to perform and built to last.  The folks at Old Town have been doing this for over 100 years and quite frankly they just build great boats.  The Loon 120 is ideal for anyone looking for a boat that is well-built, tracks perfectly, and is extremely stable.  If features good acceleration and is easy to maneuver in tight corners.  It is also one of the most comfortable boats we have paddled in a while.  Comfort, stability and storage… the Loon 120 is much more than your average recreational kayak.
Buy Now: $999 or to learn more, visit: OldTownCanoe.com
Old Town Loon 120 - Kayak Review
The Old Town Loon series was recently completely redesigned, the effort and dedication from the folks at Old Town definitely shines through. This is a well-built kayak and would be a great fit for anyone looking for their next kayak.
The Good:
Great storage and electronic charging station
One of the most comfortable kayaks on the market
Extremely stable and secure on the water
The Not so Good:
Price point will be a barrier for some newcomers