Designed for golfers who want copious amounts of storage in a stylish golf cart ready package, the OGIO Chamber Cart Bag is half golf bag – half armored truck. In fact the OGIO Chamber Cart Bag is the first-of-its-kind to feature the "Silencer Club Protection System." This unique system developed by OGIO features a 14-way top that incorporates a protective membrane to center and gently hold each club's shaft, while a compression-fit mechanism at bottom of the bag adds stability for reduced clanking of clubs and amazing protection.

To help you understand exactly how the silencer system works, please take a moment to watch the embedded video below. The video is admittedly better able to explain how the system functions than we can verbally… click play! We'd be lying if we said that OGIO's Chamber cart bag just recently landed on our radar. The fact is, we've had our eyes on it since it was released almost a year ago. And as luck would have it we recently were given an opportunity by our good friends at OGIO to fully test and review this year's model just in time for the 2013 golf season to begin!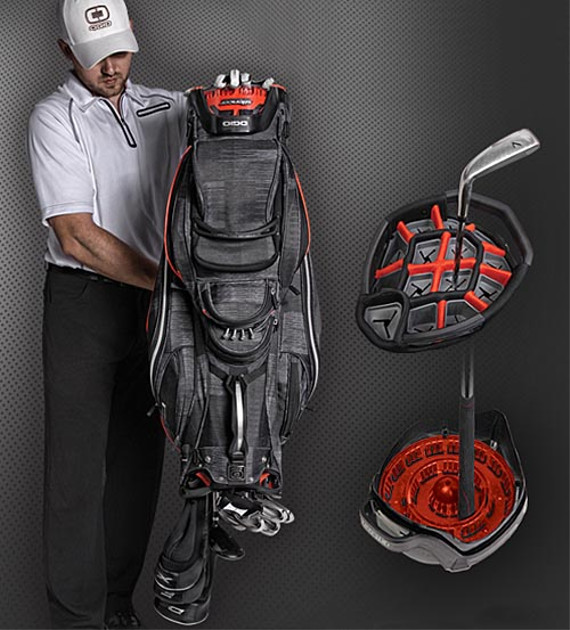 Photo Credit: OGIO.com  
By offering golfers a revolutionary feature such as the Silencer, we ensure that players can keep their attention on the course and off of the distractions that clamoring clubs can make, while also protecting equipment from scratches and dents. -Tony Palma, OGIO's CEO
OGIO Chamber Cart Bag Key Features:
The Silencer Club Protection System provides incredible protection for club shafts and heads combined with silencing technology that greatly minimizes the unpleasant sound of clanking clubs
ZBP (Zipperless Ball Pocket) allows for convenient, one-handed access to the pocket's contents
Features a weather-resistant, fleece-lined valuables pocket, insulated cooler pocket, umbrella containment system and a snap on, zippered rain cover
14-way Diamond Performance cart top with advanced Silencer club protection membrane and integrated handles
RPP (Red Protection Pocket) crush resistant molded EVA armored pocket
Insulated zippered cooler pocket
Weather-resistant fleece lined valuables pocket with cell phone sleeve
– OGIO Chamber Cart Bag Review –
Design: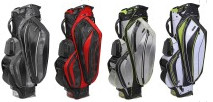 (9.5 out of 10)
 The OGIO Chamber cart bag is an absolute beast! It's large (almost 10 lbs), yet not overwhelming to carry from your car to the clubhouse and fits snugly into the back of any golf cart. It also felt very well balanced when strapped into a push cart.   Physically, we found OGIO's design for the Chamber to be quite handsome overall. Not too flashy, but eye catching at the same time. It's currently available in 4 colorways, including: Charcoal, Formula, Chrome/Acid and Acid. The bag we chose to review was the Acid model. In our opinion, the white on green on black combo is outstanding, but does end up showing dirt and grime rather quickly. Nothing a quick scrub with dish soap and water didn't take care of though.   One small drawback we encountered with this cart bag was it's ability to secure a putter into the "Silencer Club Protection System" (we'll talk about this protection system more in-depth later). Putters that are 35″ or shorter have a difficult time locking into the system, especially if they have a head cover on due to the shaft length. Basically the club must lock into the base of the bag. Shorter putters have a hard time reaching the locking point before the club head hits the top of the bag. The real truth of the matter is that you really don't need a putter head cover when using the Silencer technology, but it is a bit of an annoyance initially.  
Storage: 
(10 out of 10)
 With 10 pockets in-all, the Chamber cart bag is equipped to handle all 14 of your clubs, a 6 pack of beer and a week's worth of clothes (if needed). Seriously… this golf bag comes standard with a built-in "beverage" cooler! Sneaking brew-pops onto the course just got a whole lot easier and cooler… quite literally!   One of the highlights of the OGIO Chamber cart bag for us was the zipperless ball pocket (ZBP) which is situated near the bottom of the bag and is ultra easy to access. The ball pocket opens with a simple pull of a handle and is re-secured shut with integrated elastic bands. The ball pocket itself is massive and will easily hold up to two dozen balls.   The outside pockets are great for storing rain gear, equipment, golf shoe etc… while the (smaller) inner pockets are lined with soft fleece materials to protect your personal items (phone, watch, etc…). The bag also comes equipped with a RPP (Red Protection Pocket) crush resistant molded EVA armored pocket located at the middle of the bag. This pocket is great for anything you're worried about getting damaged throughout the course of a round. Think sunglasses, cigars or your GPS. This pocket isn't quite bulletproof, but we can verify it's definitely kick-proof after that 4-putt on hole six for double freakin' bogey!!  
Club Protection: 
(10 out of 10)
 OGIO's patented Silencer Club Protection System is no joke and is actually simple to use too. The 14-way top has slotted soft rubber membranes which keep clubs protected from swaying and clanking into each other.   Then there's the heart of the operation… the Silencer Base, which utilizes a compression-fit mechanism at the very bottom of the bag to secure the grip of each individual club and lock it into place. With every club locked into the silencer system you can actually take the bag and flip it upside down without a single club falling out (pictured above). This is not only a great protection feature for your clubs, but it's also a great way to win some cash from your playing partners – "hey Jim, I bet you $10 I could flip my bag upside down over my head without dropping a single club." Cha-Ching!!   Rolling down the fairway over humps and bumps has never been so quiet with what we experienced with the Chamber cart bag.   
Durability: 
(9 out of 10)
 Overall this bag is highly durable in our opinion. The fabrics and stitching feel luxurious yet rugged, while the zippers and handles are all heavy duty. During our time spent testing the Chamber cart bag we didn't find any areas of weakness or defect. OGIO puts quality at the top of their priority list and it shows in this golf bag. In fact, it's our estimation this could be the last bag you ever own.   
Value: 
(8 out of 10)
 The OGIO Chamber cart bag is a golfers dream bag… and dreams don't come cheap! Retailing at just above $300, the Chamber is priced at the very high end of golf bags you'll see on the market today, but with that price it also comes with all the bells and whistles you'd expect and much more. There's currently no other bag on the market with the patented Silencer technology which is designed to keep your golf clubs looking newer and more valuable for when it comes time to sell them off and move on to the next set. That's added value right there if you ask us.   If you want the best you need to pony up for it. In our opinion this golf bag is priced a smidgen too high for most recreational golfers, but if they dropped it another $40 we'd have no problem giving it a 10 out of 10 score.  
The Bottom Line

: 
There isn't another cart bag that we would recommend more highly than the
OGIO Camber
. It's fantastically designed to protect your sticks and comes with amazing features that you'll absolutely use. If you're a serious golfer who's not only looking to impress your playing partners, but is also in need of serious storage and style there's currently no better bag on the market in our opinion.
OGIO Chamber Cart Bag
 may be a bit pricey, but we can assure you there'll be no buyers remorse this season if you spring for it. 
Buy Now: $299 or go to: OGIO.com