The sun is shining and the mountain is calling. It beckons you to scale its surface. To glide over rock & rubble, slice through streams and to power though it's peaks and valleys.
This year you've got a new cornerman for hire to help coax you to the summit. This motivational mascot won't be found ringside, instead they are manifest themselves in the form of a boot. A very formidable boot in fact. The Ultra Fastpack II Mid Gore-Tex Hiking Boot is a new arrival from The North Face that is here to help propel you past your breaking point.
Let's dive into the Ultra Fastpack II Mid Gore-Tex Hiking Boot, the newest boot from the The North Face.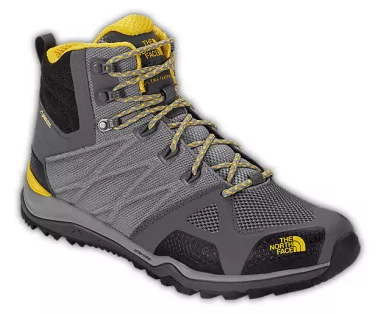 Key Features:
Waterproof, breathable GORE-TEX® membrane
Updated Ultra Protect™ CRADLE™ technology provides proper heel support
Dual-density, injection-molded CRADLE™ GUIDE midsole for cushioning and support
Vibram® Megagrip outsole for durable sticky traction in all conditions
Rubberized toe cap and screens for toe and metatarsal-head protection
Ultra Fastpack II Review Breakdown
Style:
Hiking boot are supposed to look rough, rugged and brown, right? Well the Ultra Fastpack II's look more like something you'd see on the hardwood at a pick-up hoops game. The available colors range from the Grey/Yellow combo (as tested here) to an electric Macaw Green and even a black-on-black option. These boots don't broadcast "Hey, I'm going to hike a mountain!" out to the world, instead they simply look great.
I absolutely love the look of these boots and had a hard time picking between the 4 color options. North Face hit this out of the park in my book, but may be off-putting to traditional [read boring]  hikers.
Comfort:
Thanks to a Dual-density CRADLE™ GUIDE midsole for cushioning and support and Updated Ultra Protect™ CRADLE™ technology heel support these boots offer fantastic support for your feet. These boots lean to being a bit more friendly to those that underpronate thanks to strong outer support. Additionally, the Ultra Fastpack II's are feather-light weighing in at just 15.2oz. To give this context, these boots fall below most modern LeBron basketball sneakers.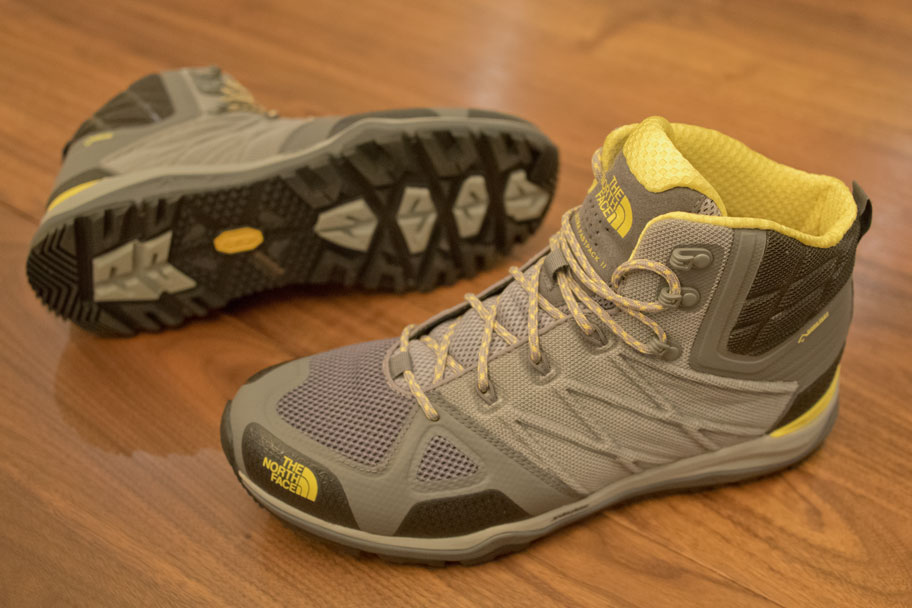 Before rolling these out on the trails, I wore inside for 14 straight hours to get acclimated to my foot. While the cushioning was out of this world, the top inside area of my feet became a bit irritated after a few hours. I tightened a few different ways, but found that it would agitate both feet (while wearing a lightweight hiking sock). This didn't lead to blisters of pain, it simply didn't have the padding that other areas of the boot had.
Water Resistance:
Most heavy morning dew leaves feet frigid and funky. In multiple test runs we failed to experience this with the Ultra Fastpack II. While we didn't dip our feet in a pond/stream, the Gortex successfully kept our tootsies toasty and dry in conditions that would leave any standard sneaker soaked.
Design:
One of my favorite aspects of the design is a rubberized toe caps that give you protection right where you need it. When I was breaking these shoe in before a hike I accidentally whacked the top of my inner toe on a baby gate when carelessly hurdling past. These caps give the boot an exterior protection so the fabric won't rip or wear in the usual places that hikers stub and scratch their shoes. These caps actually add to the design and aren't grandiose or gaudy.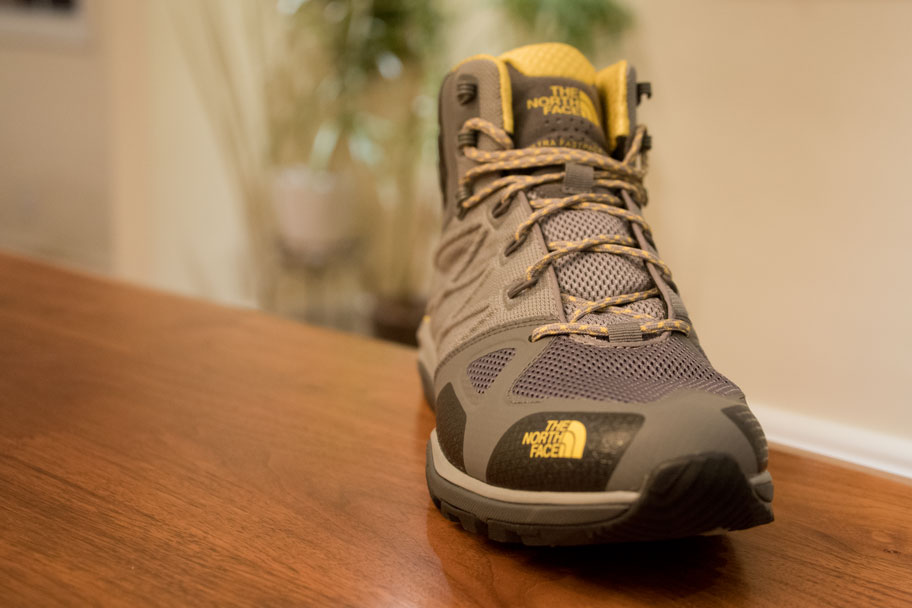 The embedded cables that can be clearly seen on the exterior of the shoe actually add to the design. Meant to give midfoot support, the triangular patterns give the boot a subtle design element on a typically bland portion of a boot.
The lacing gives the user great adjustment throughout the boot and helps the foot become one with the boot. The boots run fairly true and lean towards the larger size as most hikers do.
Traction:
If you simply look at the bottom of these boots, you may not be impressed. There are no gimmicks, gadgets or tricks. However, the soles are very much function over form and have an amazing grip thanks to a Vibram® Megagrip outsole. These boots are touted to have durable sticky traction in all conditions and we agree!
Value:
These boots are priced right at $155 and would be given a 'buy' rating up to $175. This price point is standard for a quality GoreTex boot, and the Ultra Fastpack II is a high quality boot.
Buy Now: $155 or to learn more, go to: TheNorthFace.com
North Face Ultra Fastpack II Mid Boot
A great looking boot that is lightweight and will perform quite well on the trail!
The Good:
A look that can't be beat
Fantastic support
Ultra light
The Not so Good:
Minor irritation on top of foot
Design my offput traditional hikers
Not value-priced