A modern take on a classic design, the Nike Geo Emboss Blade 5" swim trunk performs without sacrificing style. Built with comfort in mind, the Blade swim trunk collection features a comfort waistband, 4-way stretch fabric, traditional brief mesh lining, and perforated legs to allow for water or airflow. 
Treated with a DWR finish, all versions of the Blade trunks resist water and dry quickly to keep you 
moving from the beach (or pool) to lunch, happy hour, the gym, and more. 
Available in a collection of prints and colors, there's a Blade short to suit your style. Keep on reading for thoughts and review of the Nike Geo Emboss Blade Trunk. 
Key Features:
Comfort stretch waistband

Mesh pockets for drainage

Leg vents for air and water flow

Hidden rear zipper security pocket

Bonded hems for modern look

Built-in mesh brief

DWR quick-dry finish

5 inch inseam 
Nike Blade 5" Trunk Review Breakdown
Design 
The Blade's 5" inseam has a nostalgic look from afar, but these are far from your dad's swim trunks. Nike took design cues from a few of their apparel lines, bringing together technical fabrics and clean, urban design. They look and feel premium. 
From bonded seams to stretch fabrics to unique heat transferred accents – Nike Swoosh and stripe across the seat – Nike's Blade trunks look as good as they perform. 
For a longer fit, Nike offers a longer 9" inseam version. Or, for a more adventurous look, Nike offers a Global Camo pattern in two colors that will surely turn heads wherever you go. Or for a blue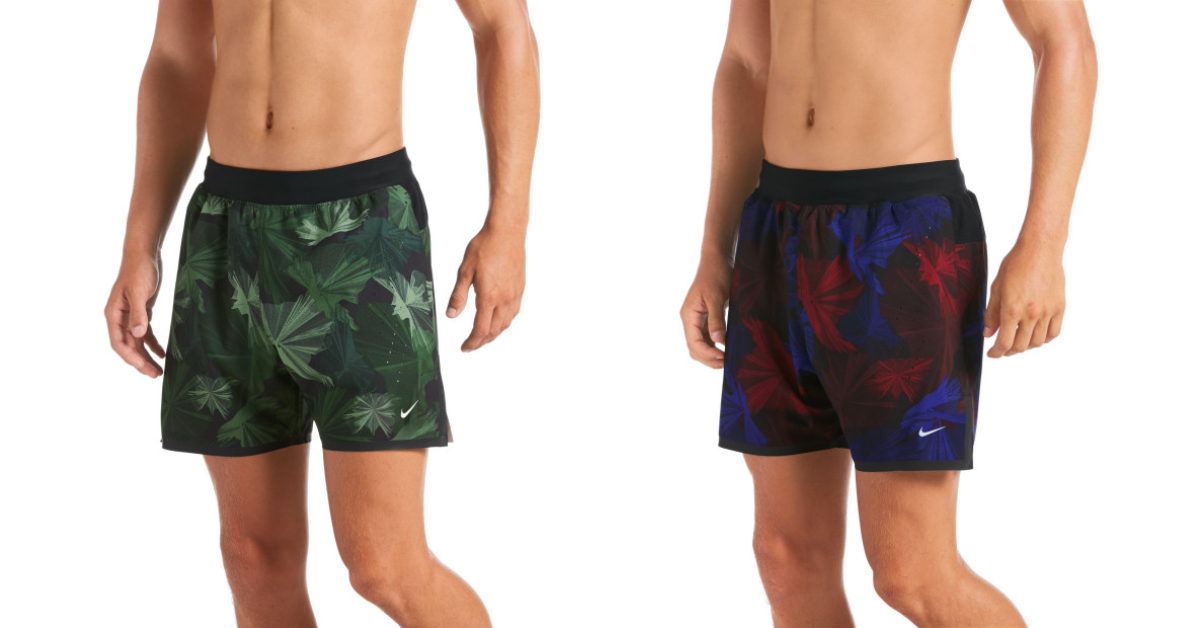 Fit 
The Blade shorts definitely have a trim fit that hugs the thighs. At 5'10" and 170, I was right on the borderline between a small and a medium. Whenever stretch fabrics are in play, I opt for the smaller size as I know there will be a bit of give. The waistband fits perfectly without any need to cinch up the drawstrings, but the stretch is a bit lacking.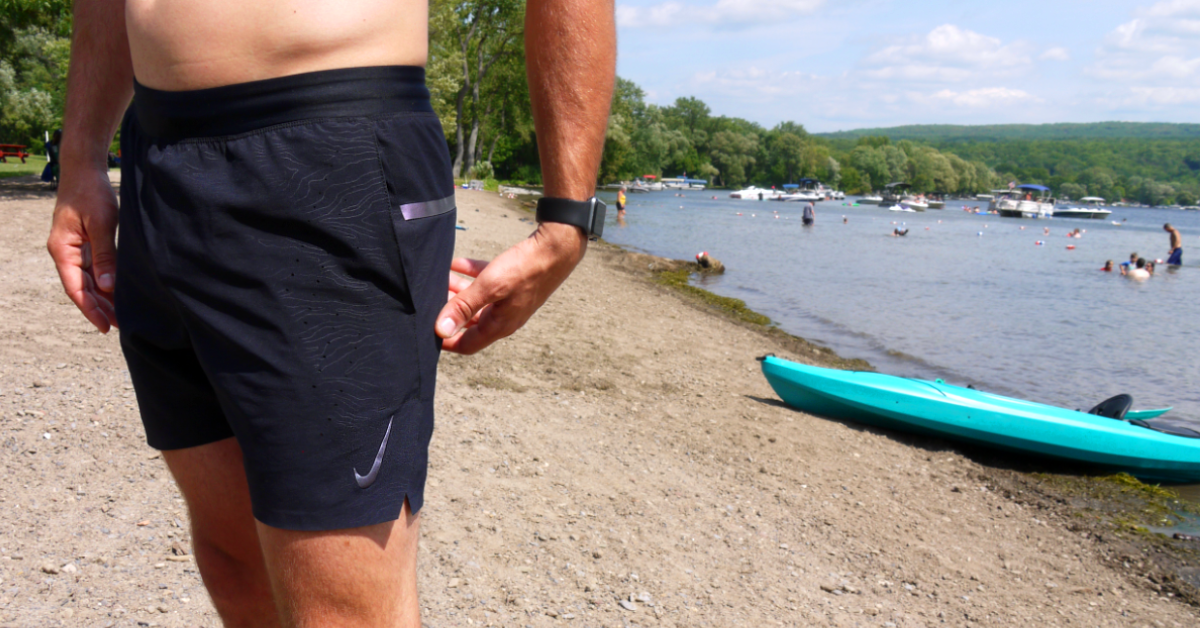 For swimming and lounging, the Blade shorts are great, but I do find the stretch to be a bit unforgiving for heavy activity – lifting, running, hiking, etc. Nike doesn't specify, but it appears to be a moderate 4-way stretch material.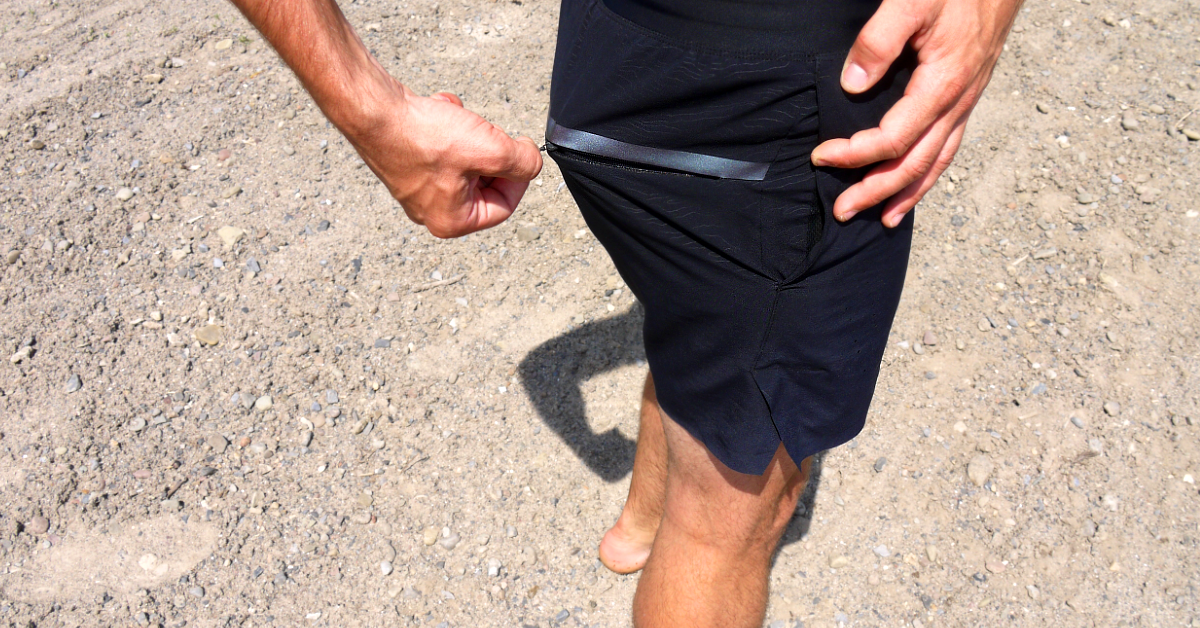 All that said, if I went with a medium instead of a small, I'm sure I'd sing a different tune about the athletic performance but would run the risk of a baggier waistline. 
Comfort 
For me, there are two parts of a swim trunk that usually bother me: 
The waistband, and

The brief-style mesh liner
Nike did a great sourcing the materials for both of these components. The waistband is a silk-like material that does not dig into the skin, and the mesh liner is luxuriously soft (compared to many other brands) next to sensitive skin.
Generally, I am strongly against mesh-lined swim trunks. In all honesty, I usually cut out the liners and wear compression shorts or boxer briefs. But the first time I popped these on, I knew I could live with the mesh. Other brands cheap out there, leaving precious cargo supported by an itchy, uncomfortable net.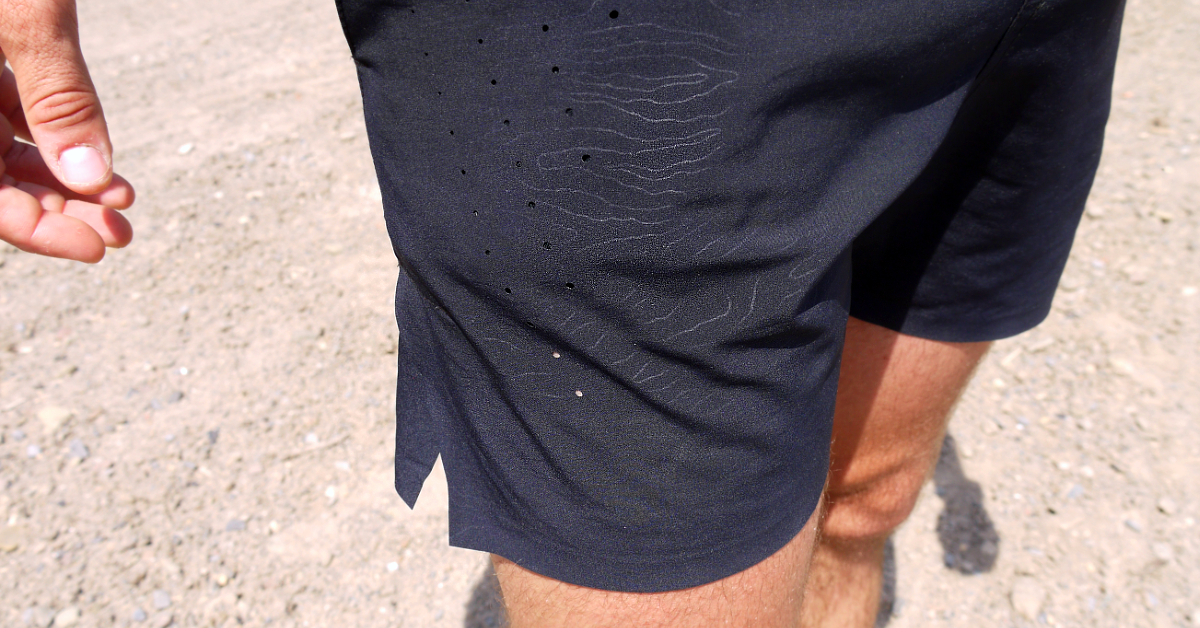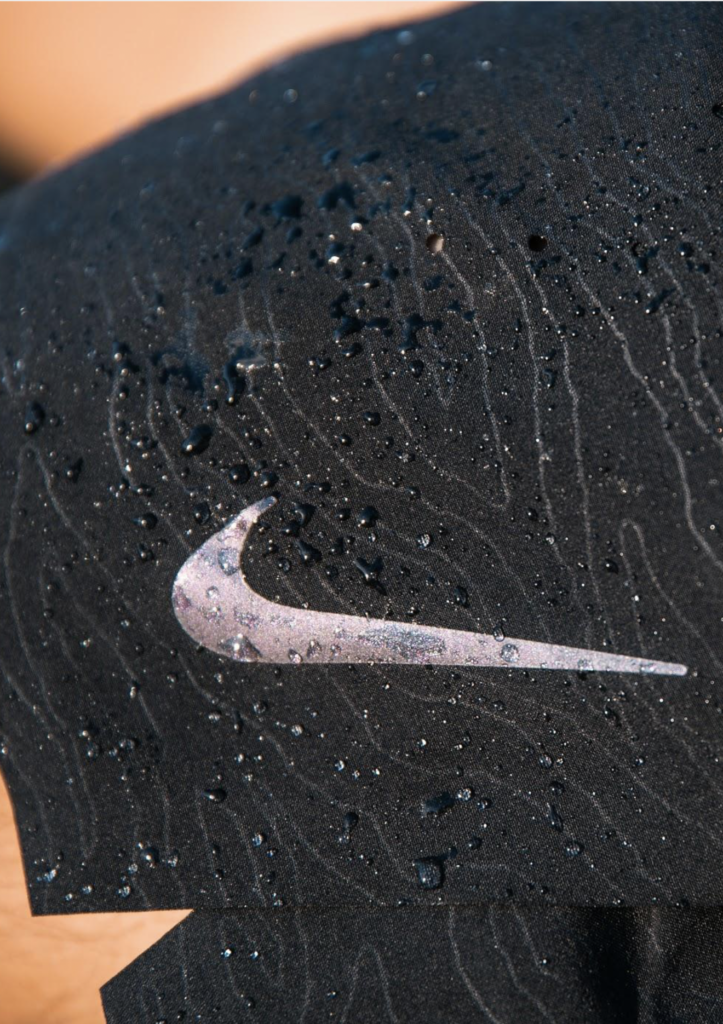 Fabric Tech
In recent years, many brands have started incorporating Durable Water Repellency (DWR) coatings to fabrics beyond raincoats and technical winter gear. 
The tried and tested finish usually works to keep garments dry and leak-free during inclement weather, however, Nike utilized their version of a DWR finish to increase the drying time of these trunks. 
In the water, the DWR coating helps prevent the fabric from getting as wet as untreated fabric would. The trunks shed water from the face fabric promoting faster drying times when hopping out of the water. 
DWR coatings also have an added benefit of easy washing and stain resistance. That might not matter as much on the black Geo Emboss print but could save the trunks if you opted for the Global Camo print. 
Value 
At $72, these aren't your typical department store swim trunks. They are a premium swim trunk with a premium price meant to compete with the likes of a certain athleisure brand many know and love. Whether you spend a lot of time on the water or not, Nike's Blade line is a competitively priced option for a variety of activities. 
Depending on the sizing route you take, these shorts can easily play double duty tackling any adventures you have in mind from morning runs to afternoon workouts and evening hikes. 
If you're in the market for premium, you know what to expect both price-wise and material wise. Shell out a bit more for the Blade trunks, and your skin will thank you.
Buy now $72, or browse all Nike Men's Swim
Nike Swim Geo Emboss Blade 5" Trunk Review
A stylish swim trunk that performs in and out of the water featuring a comfort stretch waistband, DWR quick dry finish, soft mesh lining, and much more.
THE GOOD:
Cool embossed design changes in the sunlight
4-Way stretch fabric moves well
Rear pocket is large and secure
THE NOT SO GOOD:
The DWR finish isn't implemented as well as some other brands