Shoes are your foundation.  They literally support your entire frame.  They receive and distribute the force of impact as your every step collides with the ground.  A good pair of shoes can be the difference between back pain and a great sleep; inflamed and healthy joints, a drug free day or a couple Ibuprofen.  This is particularly true for running shoes.
Designed to give you high levels of stability while staying extremely light and breathable, the New Balance 860v5's are built for the long haul. Luckily for us, we were recently given the opportunity to pound the pavement with these bad boys.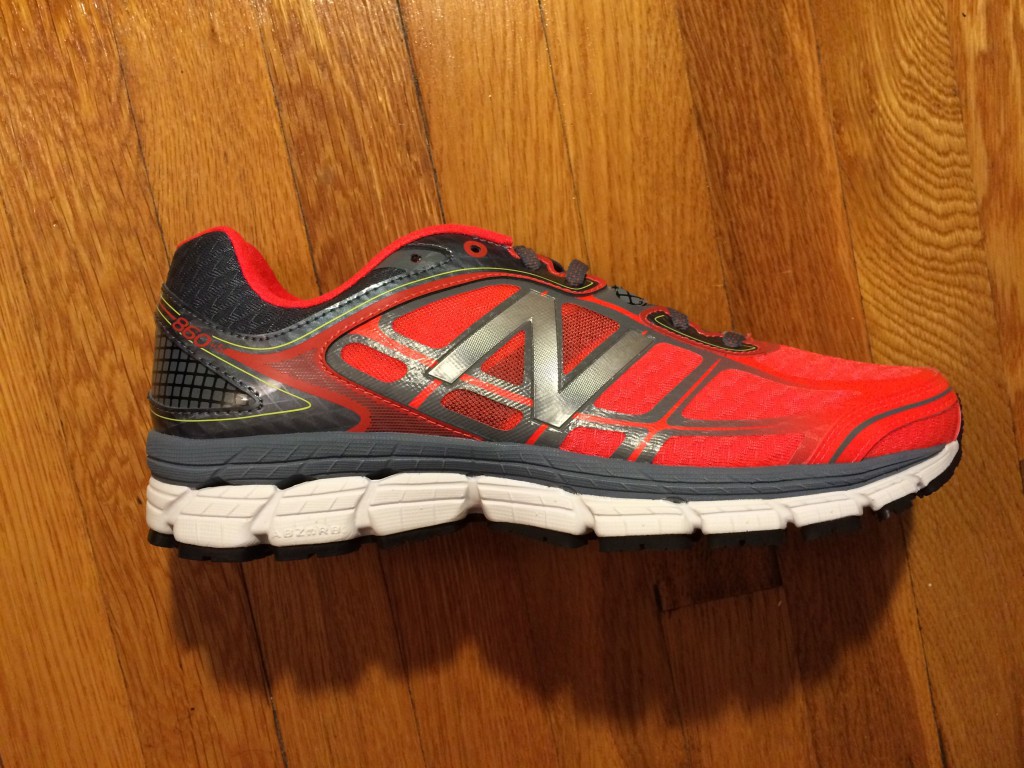 New Balance is headquartered in Boston, MA.  They are the only major shoe company that manufactures athletic footwear in the U.S.  In 2013, 1 out of every 4 pairs of shoes they sold in the U.S. was made or assembled here.
Key Features:
Weight: 10.23 oz.
Breathable air mesh – this shoe is light and cool
Insole provides cushioning for arch support
Midfoot cushioning yields additional shock absorption
Multiple stability technologies for arch support
Let's just get this out of the way:  I don't love running, and running isn't crazy about me.  I run 2 – 3 times a week (usually two) to keep my weight manageable.  Risking disdain from purists, I listen to podcasts or my favorite music to distract from the pain and monotony of the task at hand.  But it's worth it.  Running helps me breathe a little easier when I walk up and down stairs.  It keeps me functioning during a good mountain biking sesh.
The point is that I'm not a marathoner or any kind of running guru, but I have run enough to know what I need in a shoe.  You should also know that I don't have a whole lot of access to treadmills and padded running paths, and the idea of running in a circle around a track fills me with anger, so it's the concrete jungle for this guy.
I took these shoes on two 5k runs through a typical neighborhood and retail business district in the Midwest.  This means lots of cement, concrete, and other hard surfaces.  I occasionally went out of my way to cruise up on grass whenever a fluffy strip presented itself, but that wasn't often – even the dirt in cities can feel like concrete.
New Balance 860-V5 Review Breakdown
Design:
After pulling these guys out of the box – I was immediately struck by two facts: First, the colors were bright and bold and they somehow still matched.  Now, I'm into that sort of thing, but if it's not your cup of tea there are four other color sche

mes including a slightly more conservative silver with optic blue, or my favorite, the stunning electric blue with dark sapphire.
Second, the shoe was light and you could almost feel the air almost pass through the upper tow section. It's worth noting that the sole and materials are so

obviously solid and well constructed that the shoe's light weight does not make it feel cheap.
Comfort / Traction:
I put the shoe on and the synthetic mesh upper wrapped my foot quite nicely.  There was nothing poking at me from inside the tongue or along the stitching inside the shoe.  The flexibility of the synthetic is a definite advantage for comfort, and I confirmed during my run that these shoes would require little breaking in.
I do wonder how long breathable synthetic would resist water during a slushy winter run – but what shoe can?
Within a few dozen steps of my first run I immediately noticed the cushioning.  I promise you; you'll notice it too.  It was decadent.  Kind of like laying down on a new pillow top mattress and spreading your arms wide.  My next thought was that the cushioning, luxurious at first, might become a burden deeper into my run – kinda like a soft tire or a pillow top that's too soft.  It didn't.  The shoe is designed for stability and those tech features compliment well the comfort features – the mesh material and cushion of the sole.  Also, the soles are grippy and flex with the contours of the ground for better traction.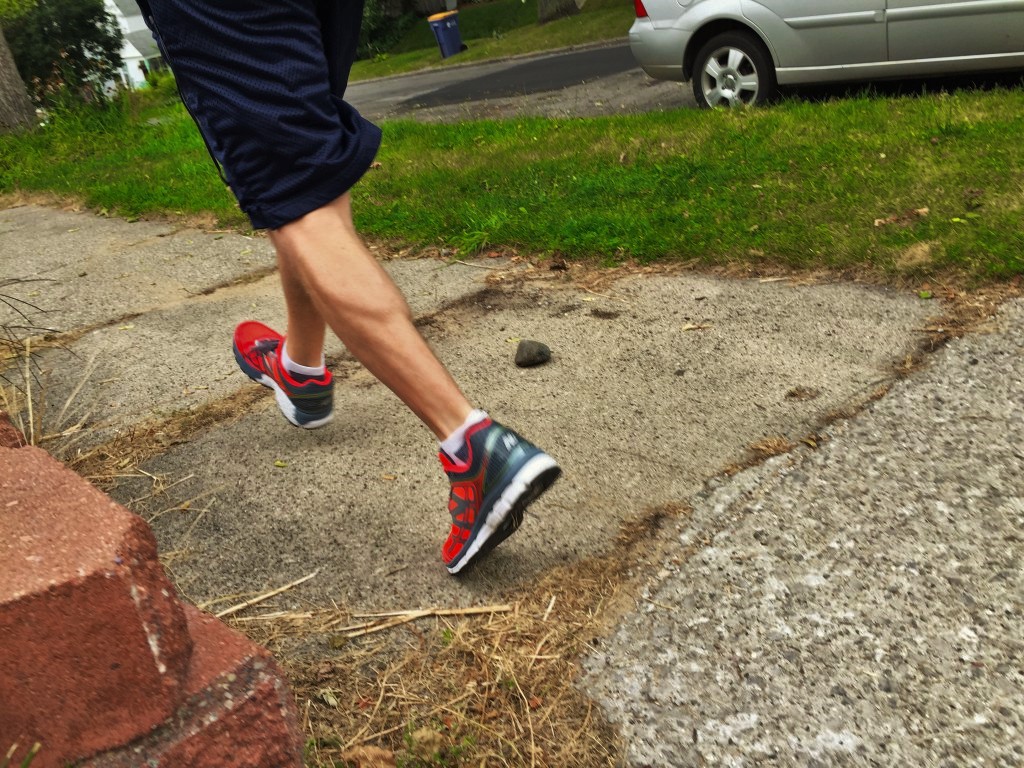 Ventilation:
The shoes were broken in and completely molded to my foot a mile into the second run.  It was an 85 degree August day with 99% humidity.  I was miserable, but my feet were fine. The air flow into the shoe was excellent, and my foot wasn't sloshing around inside a sweat soaked shoe. Score one for breathable air mesh.
Value:
3 out of the 5 color schemes are bold enough to turn some heads, and I wouldn't mind wearing them with a pair of jeans and nice shirt when I'm feeling a bit fashion forward.  The stitching, substantial sole, and craftsmanship convince me that the shoes will last at least the standard 300-500 miles. Retailing at 119.99 they're worth checking out.
Buy Now: $119.99 or to learn more, head over to: NewBalance.com
New Balance 860-V5 - Fitness Review
Overall, these running shoes look and feel great. They are a quality blend of comfort and performance, with cushioning to spare.
The Good:
Light and Bright
Cool and comfy
Built in Stability features
The Not so Good:
Mesh outer likley not water proof
Thick soles may not be ideal for weak ankles
Less stability than the New Balance Motion Control series