This summer season, I was in search of a stove system that would expand my options for camp cooking. I wanted a system that felt more natural and versatile than a standard screw-on burner without the form factor of an old two-burner stove.
Enter MSR's WindBurner® line. As a heavy car camper, my primary goal for this system was to cook real food. I went with the Group System, which comes with a single 2.5L ceramic-coated, nonstick cook pot. It checked all the boxes – volume cooking, real food cooking, quick setup, and self-contained, nesting storage. 
With a radiant burn, deep burner lip, stable tri-fold base, and a deep, nonstick, center-locking pan, the MSR Group System is a backcountry chef's dream. 
Keep on reading to see if MSR's ceramic-coated cook pot passed the egg test in our in-depth WindBurner® Group Stove System review.
MSR WindBurner® Group Stove System Key Features
Radiant burner with heat control

Windproof design for consistent performance

Nesting design inside fold & lock lid pot

Self-centering pots fit perfectly in stove lip

2.5L ceramic-coated nonstick pot

Strainer lid w/ locking latch
MSR WindBurner® Stove Review Breakdown
Design
To kick it off, I wanted to first talk about MSR's satisfying self-contained stowage. You can certainly tell WindBurner® designers went through many iterations to get this just right.
The whole system packs down right inside the cook pot, including the fuel canister. That is if you actually read the product listing mentioning an 8oz canister unlike me. 
While I didn't get to test the nesting capability to its full potential due to my oversized 16oz canister, I will say is incredibly satisfying to break down the system, tuck inside the pot and lock up the lid. Much better than my 3 piece system of the past – stove in plastic box, nested pots in mesh bag, and canister all floating around separately.  
Every collapsing/moving piece feels solid and dependable. The Folding Talon™ handle is easy to use and delivers a noticeable click when locked in place. The locking lid delivers a similar physical feedback when opening and closing. And the feet of the tri-fold base effortlessly glide through their channels and secure nicely at the end of their travel.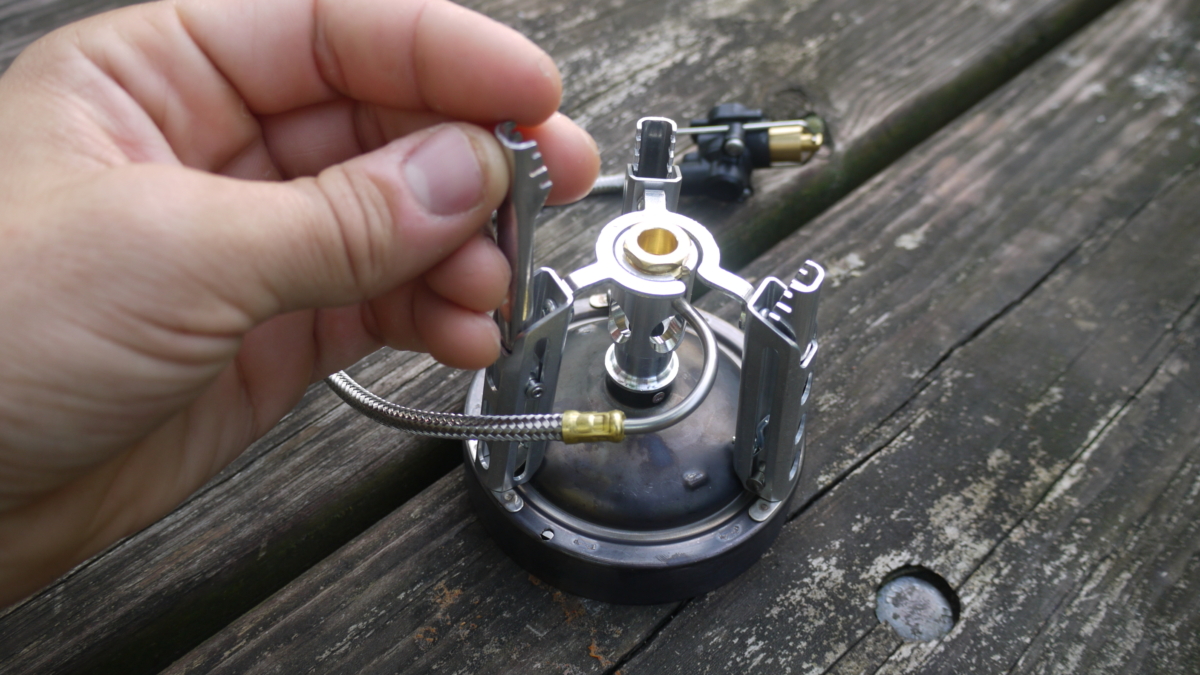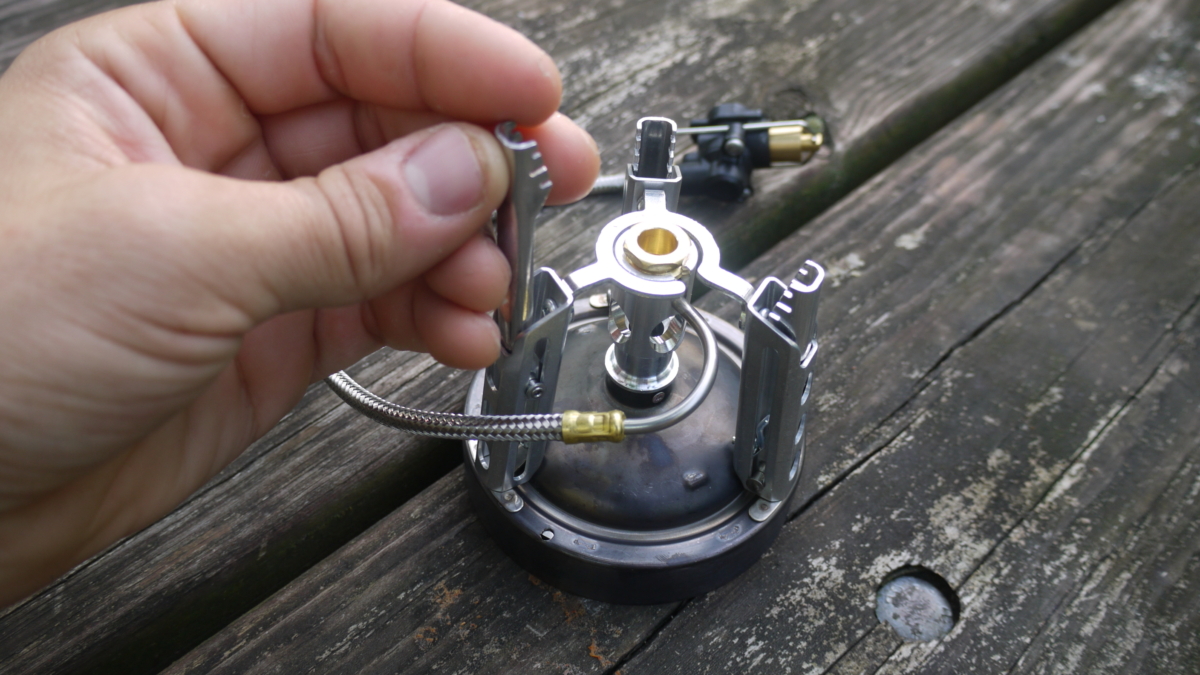 Burner
I've cooked with many stoves over the years, but I can't honestly say I've come across a more interesting design. WindBurner® is a radiant burner – hence the name! – that minimizes inefficient tall, open flame. 
Fuel combustion is contained inside a dome-shaped, wire mesh structure that radiates a hot, even heat. If you have the control arm cranked all the way open, you will see the occasional flame sputter up, though. Overall, the unit delivers a low, consistent flame that's reliable and efficient in any weather condition.
Windburner® has such a unique burn, that MSR included an ignition indicator. In the daytime, it's nearly impossible to tell if the burner is lit by sight alone. To help out (and not have us customers burning ourselves attempting to hover-feel the flame) MSR added a single, thin wire positioned across a 1/3rd of the burner surface. It turns molten red if/when the stove is lit and is actually quite mesmerizing to look at in the nighttime.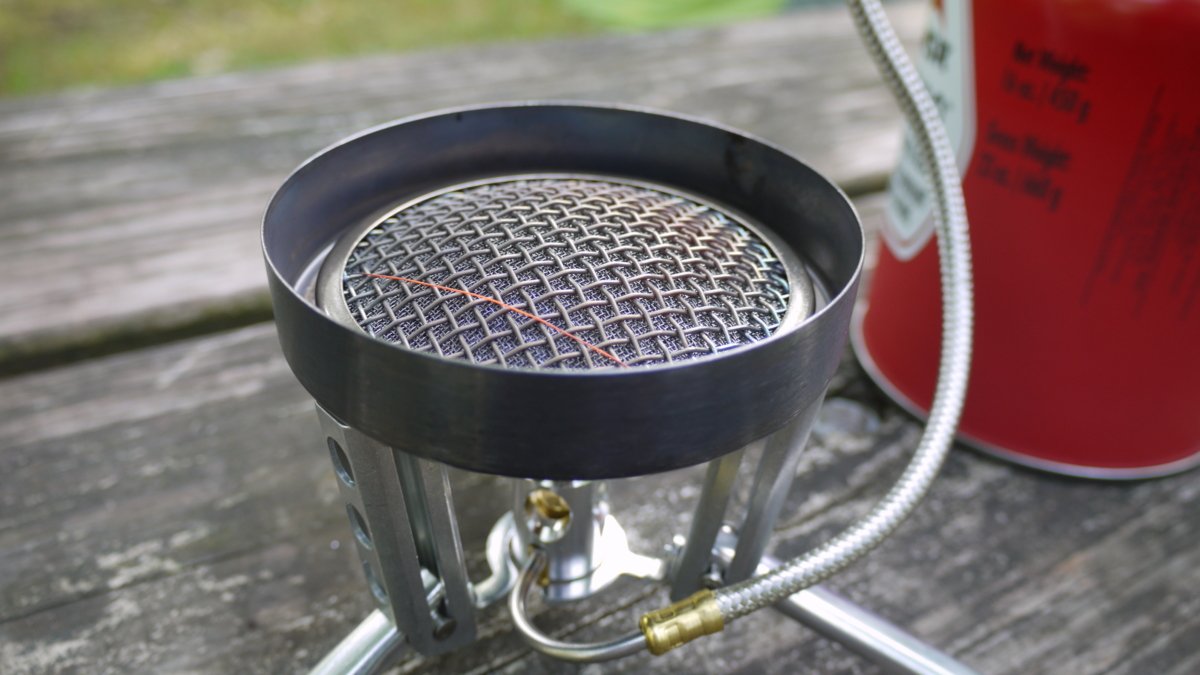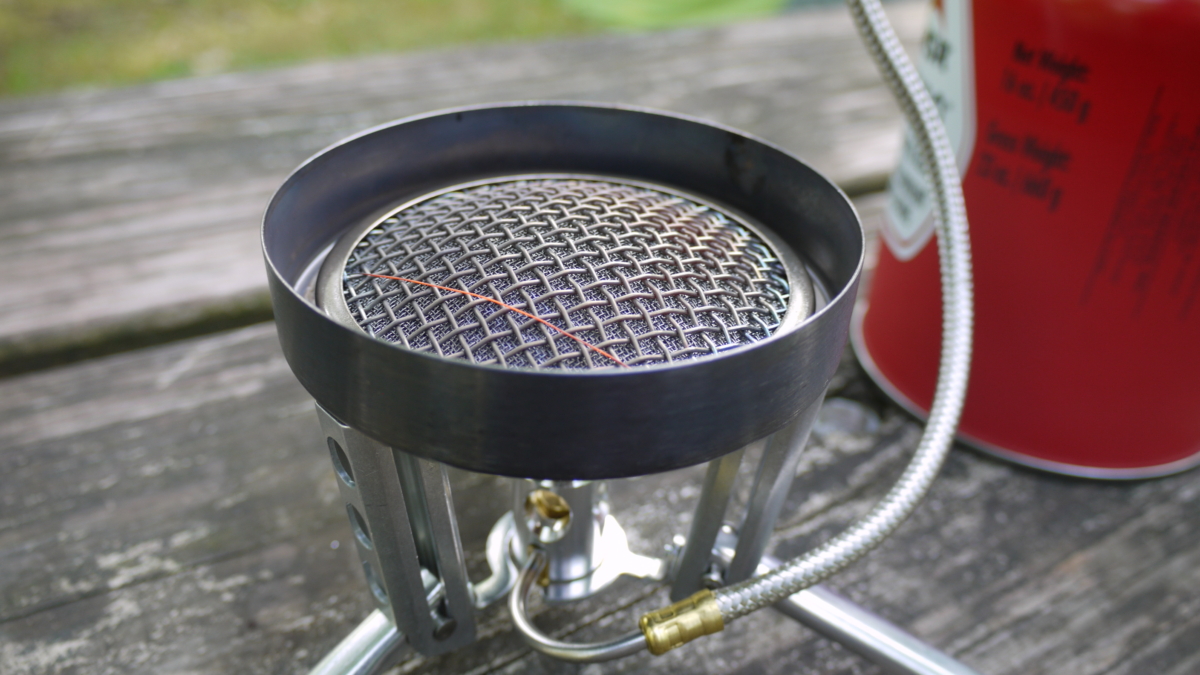 Stove Performance
I honestly didn't do much in the way of timing boils or anything of that nature. Part of camping for me is the ability to slow down and enjoy cooking a meal, something I tend to rush back at home. 
That said, MSR claims boil time for 1L of water is about 6.1 minutes. While it's no match for the WindBurner® Personal Stove System's time of 4.5 minutes, it's not meant to be! This system is meant to be a solution for real food cooking outfitted with a full-sized pot without any special heat transfer tech. It heated plenty quick for me and made pasta in the same amount of time I'd make it at home. 
One nuance that did take some getting used to was the burn control arm. The fully unscrewed/open position is actually the stove's off position, with the fully screwed-in/closed position the full burn position. This is the opposite of my other stoves but is really no big deal once you get used to it. I did find it a bit hard to get a true simmer with this control arm (this burner puts out heat!), so I did a bit of toggling on and off during a meal or two. 
Cook Pot
If the burner is the star of the show, the 2.5L ceramic cookpot is a close second. I have never had a more luxurious camp cooking experience. It felt like I was cooking with my best nonstick skillet, but in the middle of the trees! The ceramic-coated, nonstick surface is a true nonstick cooking surface. I've burned a few too many meals attempting to cook real food in traditional ultralight camp cookware.
The 2.5L pot passed the egg test with ease – heck, I even made a full-on omelet out in the wilderness! What more could you ask for? That is if you're a breakfast for dinner kinda guy like me. 
Everything from eggs to peppers & onions, and oatmeal to backcountry chili cooked up quickly and efficiently without burned residue. In most cases, a swirl of water eliminated any residue, but I did use a sponge a few times for those peskier meals. 
In addition to the nonstick glory, the pot also features a strainer lid that is super great when locked into place. No-fuss attempting to position the lid to let water but no noodles out, just clean and easy water evacuation. 
Value 
At $199.95, you get what you pay for with this one. All things considered, the price is very reasonable for an efficient burn, lightweight solution that cooks real food, for families of 4, way out in the woods, without interruption from wind and weather. All this in an easy to clean package that conveniently folds into itself for storage? MSR wins. This package is a no brainer!
If you keep an eye out for sales, you could even snag this system for $149 – the current price at the time of this review. 
Buy now, or browse all MSR stove offerings
MSR WindBurner® Stove System - Gear Review
A portable, self-contained stove system designed for real cooking in the backcountry. No more freeze-dried-whatevers with MSR's WindBurner® Group Stove System.
THE GOOD:
Self-contained storage
Non-stick cook pot
Easy cooking for 4
THE NOT SO GOOD:
Hard to control burn temp