A watch is a personal thing. It's a reflection of your own style and a glimpse at what kind of person you might be. Full of gizmos and functions? Loaded with diamonds and flashy? Sporty and rugged? How about understated and sophisticated? That's where the Morveau Connoisseur would fall, a timepiece we've been testing for several weeks now.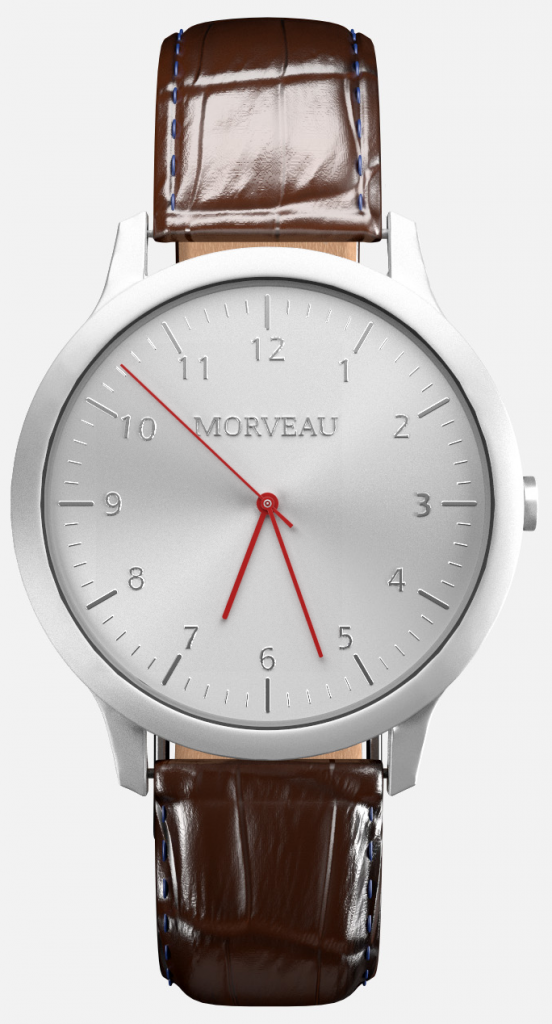 Any watch should be able to tell you the time (though some do it better than others), so a watch needs something different to separate itself from the pack. For me it generally comes down to a few key functions, the look, and the comfort. Let's see how the Morveau stacks up.
Key Features:
6000 series aircraft grade aluminum
Full grain leather band
Swiss Movement
Slim 5mm case body
Scratch resistent sapphire dome
43mm face diameter
Water resistent to 3 ATM
Tool less strap replacement
Morveau Edgy Connoisseur Review Breakdown
The entire premise behind the Morveau watch company is that their timepieces are built with aircraft grade aluminum. The allure is that your watch 'could' have come from a recycled WWII aircraft, a space shuttle, a classic car, or some other cool item from history. If you buy into that, it can make for an interesting conversation starter. In reality however, basically all aluminum is recycled aluminum. That means your most recent can of pepsi likely has the same pedigree as your Morveau watch. That fact didn't stop about 700 people from backing Morveau's Indigogo campaign which raised nearly $90,000 to launch the brand.
Design and Build: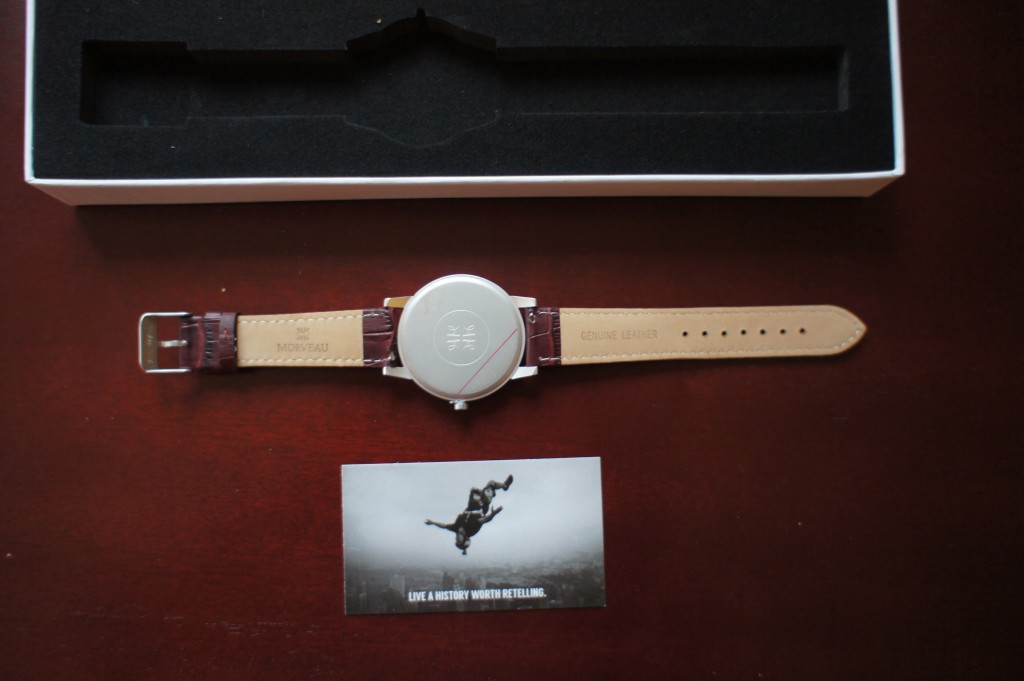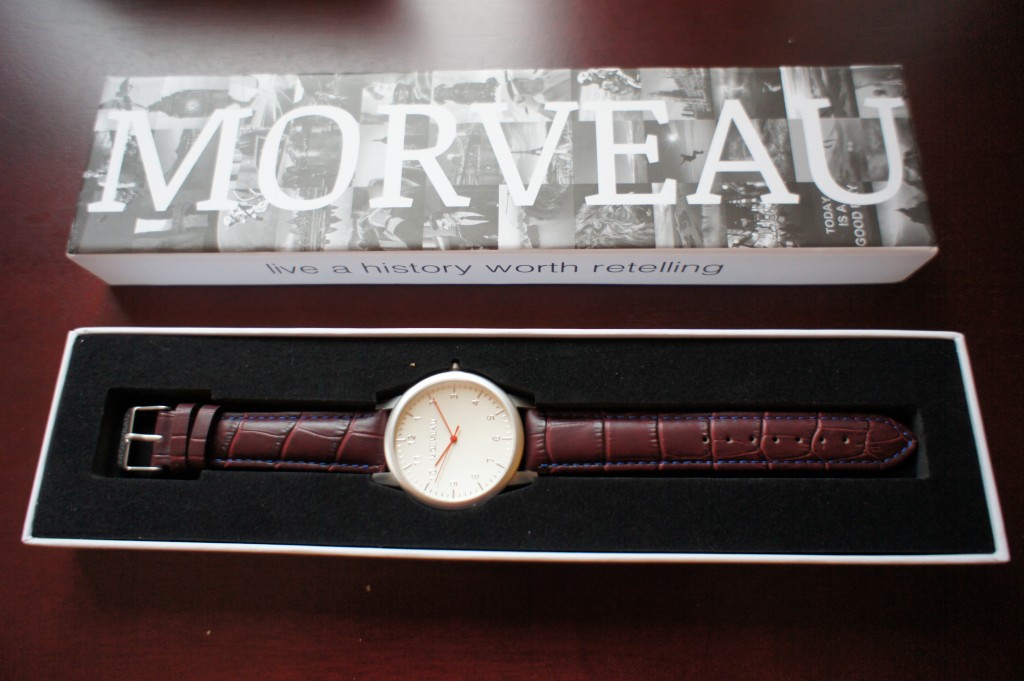 Skepticism of the origin story aside, the quality of the material has allowed Morveau to create an incredibly slim and light weight watch body that looks and feels very premium. This is not a watch that tries to convey its quality via heft. Instead it goes the other direction offering a sleek, precisely machined, and minimalistic construction paired with a higher grade swiss movement.
In addition to the aluminum body, the same material and process go into the strap clasp and crown. The strap itself, full-grain leather on my model, is comfortable and looks great. Morveau uses a 'signature' blue stitching for the leather bands which took some getting used to at first but I've since come to appreciate it as it can work well with your shirt cuff. In the product photos on the Morveau website the leather band can have a high gloss, almost waxy appearance. In person it's much more matte and that sheen wears off pretty quickly leaving the band to look as you'd expect.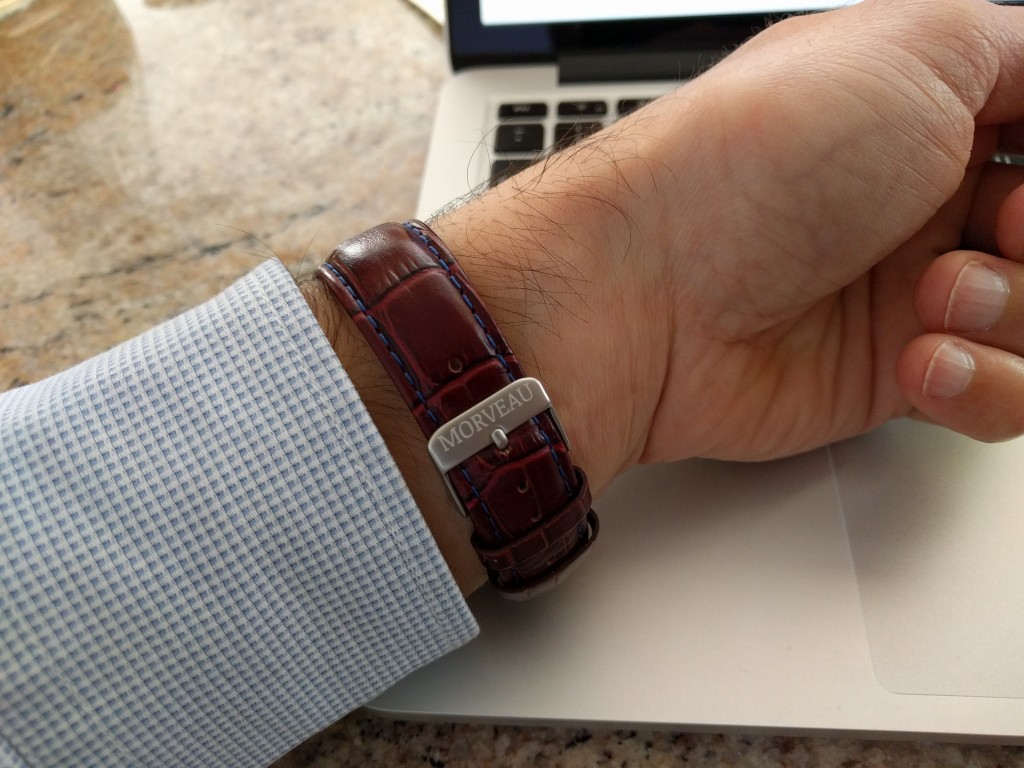 The top of the watch is made of a domed sapphire crystal, another premium grade material. Sapphire is one of the more scratch resistant materials, it's also costly and difficult to manufacture. Famously, the iPhone attempted to make a move to a sapphire screen but had to abandon its plan, although it did make it into the Apple Watch display. That's the level of quality we're talking here in a sub $200 watch. One minor gripe we have with the domed glass on the watch face is that it reduces the viewing angle of the face. You need to be looking nearly straight at the face of the watch, otherwise the time is unreadable.
The last visible components are the numbers on the face and the watch hands. The hands come in a bright blue, black, or in this case red and add a nice accent to the watch. The numbers, hashes, and branding on the face are something that, in my opinion, take away from the premium feeling of the watch. I'm not sure what they're made of but they have the look of a beveled metallic plastic sticker. It looks just OK from the perfect angle and can look downright cheap from others.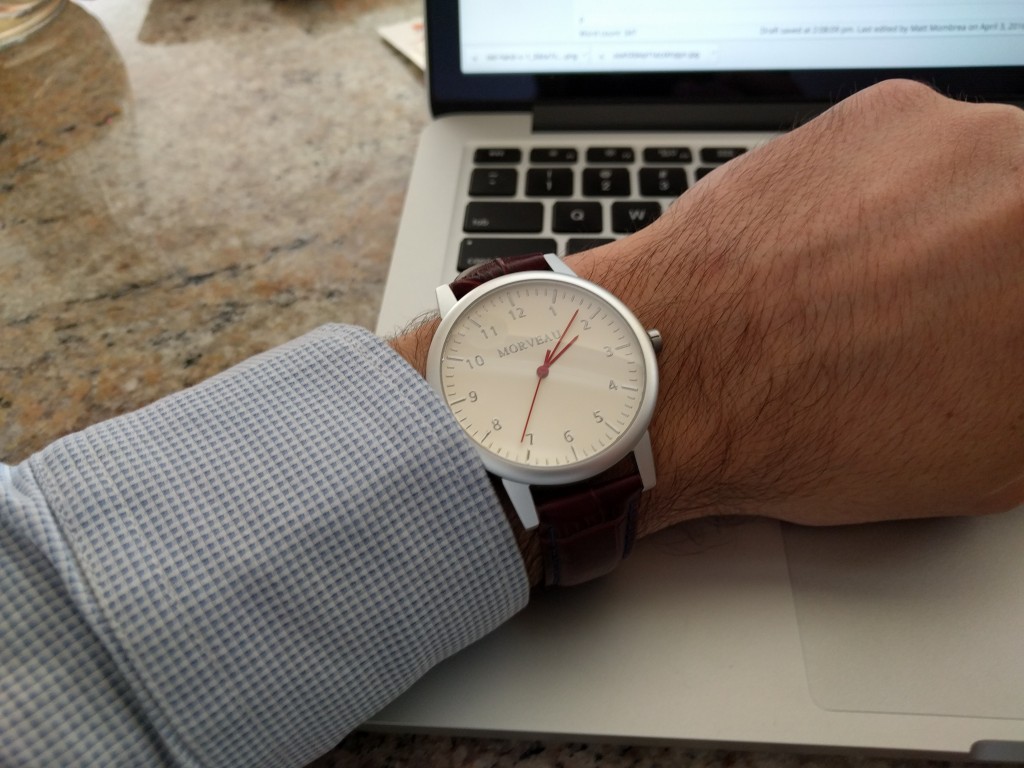 Features and Functionality:
External features are very few. It tells the time, allows you to set the time, and is water resistant. That's it. There is no ability to see the time at night, no date indicator, no chronometer, no alarm setting, nothing. That's kind of the point of this timepiece though. It's thin, light, and minimal. To add a bunch of bells and whistles would diminish that purpose.
The watch bands do have a neat trick though. They offer tool less installation and removal of the band so that you can quickly and easily switch up the look of your watch with another Morveau strap. Other watches can require a special watch kit to remove and install the spring loaded pins where the strap meets the face. A nice touch for making it easy to achieve the perfect look.
Value and Conclusion:
Is it functional? Yes. Does it have features? No. But a watch is often more about appearance than utility. Morveau has succeeded in creating an attractive timepiece for those who favor simplicity over complexity. It strikes an excellent balance between casual and sophisticated which is something I personally favor.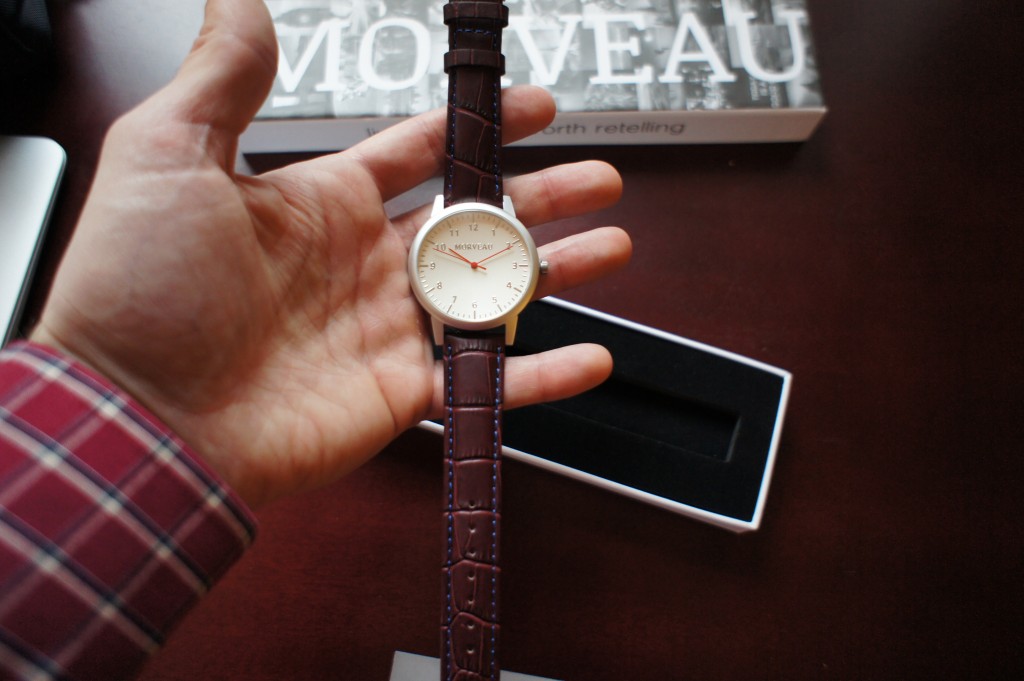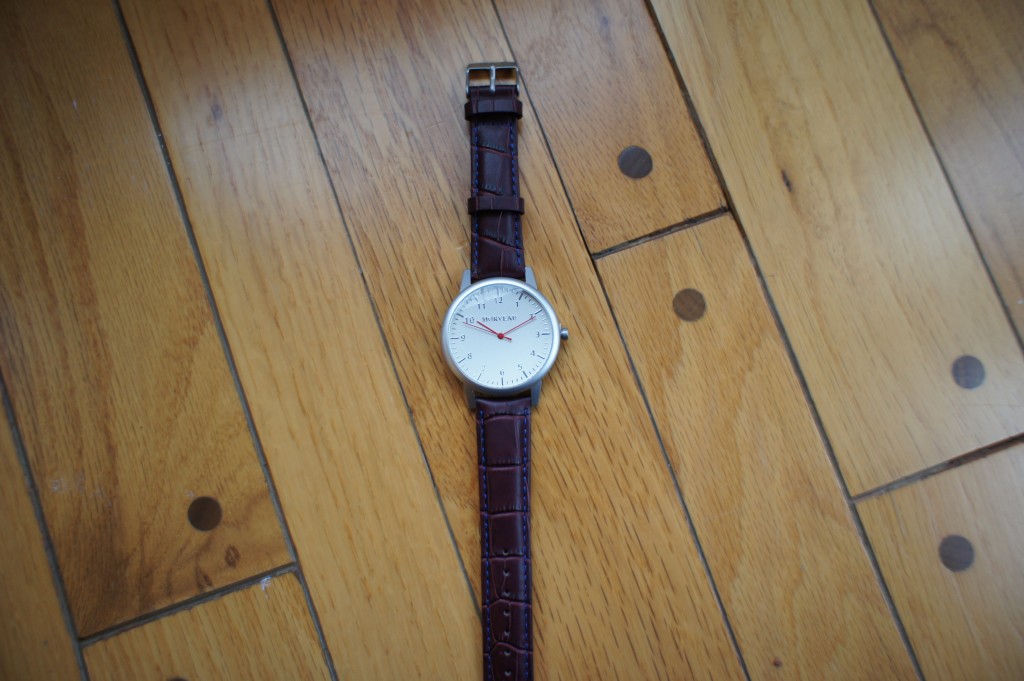 Morveau is entering a crowded market however. There are hundreds of cheap watches out there which are of lower quality than the Morveau but have a facade that belies that fact. If you want to have a bunch of watches with a different look for different occasions, you can achieve that for a lot less money by looking elsewhere. If you, like me, care about quality over quantity – Morveau is worth a look for a distinct and carefully crafted watch.
I've been wearing my Edgy Connoisseur for about a month now and haven't gone a day without it. I've received numerous compliments and inquires into the type of watch which speaks to its style. When I bring up the point about the Airplane Aluminum, it usually generates a puzzled look or a laugh rather than a genuine interest. And that's the distilled version of this review. The Morveau watch can stand on its own as a great looking timepiece with or without a gimmick. It's a nice watch for a reasonable price, especially considering the higher grade components and the fact that they are being made in small batches by an individual. A solid buy that won't kill your wallet and will look classy in every situation.
Buy Now: $189.99 or to learn more, head over to: Morveau.com
Morveau Edgy Connoisseur - Timepiece Review
A minimal, stylish watch with good build quality at a decent price.
The Not so Good:
No Date
No Night Visibility
Blue Stitching