Edifice is Casio's race inspired watch brand that focuses on sleek and stylish timepieces built specifically for men. The Edifice EFR516PB-1A3V timepiece is no exception. Utilizing bold luminescent green hour indexes set against a gloss black dial, the Edifice EFR516PB-1A3V timepiece adds a flash of color to Edifice's Black Label series. A few weeks ago we were given an opportunity by our good friends at Casio to fully test and review this uniquely stylish watch ourselves… and now we're prepared to share our results with the world!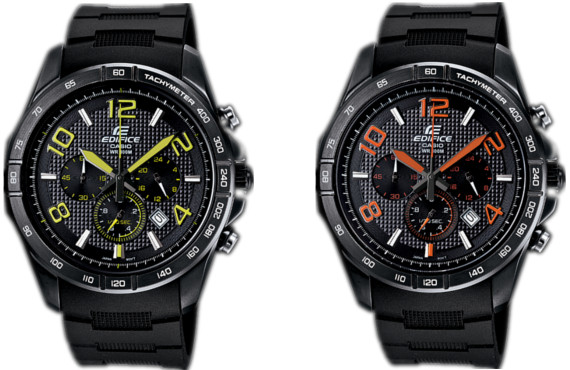 The EFR516 from Edifice also comes available in luminescent orange if you're opposed to green.
Key Features:
100M Water Resistant
1/20th Second Chronograph
Tachymeter
Date Display
Specs:
12/24 Hr Format
Mineral Glass
Screw Lock Back
Resin Band
Stainless Steel IP Case
Stainless Steel IP Bezel
Accuracy: +/- 20 seconds per month
Battery: SR927W
Approx. battery life: 2 years
Module: 5066
Size of case / total weight
EFR516PB 50.0 x 44.2 x 11.6mm / 86g
– The Review –
Comfort: 
(9 out of 10)  The black resin watch band is soft, flexible and easy to adjust for a comfortable fit. For me, this timepiece fits best when locked in at the fifth notch… not too tight not too loose. The weighting is also quite nice at 86 grams. Enough heft to warrant its high quality stainless steel casing, while not feeling bulky in the least. After donning this watch for 12 hours straight we found that it was easy to forget you were even wearing it at times. I also did something I rarely do… slept with a watch on! It's comfy enough that you easily forget to take it off at night.
Design: 
(8.5 out of 10) What looks like a fairly simple yet stylish accessory at first glance, is much more once you get up close and personal with it. This watch features both 12hr and 24hr timekeeping as well as a tachymeter that allows you to accurately judge speed in both MPH and KPH. Additionally, this sleek watch is also quite rugged despite its appearance, featuring 100 meters of waterproof protection and a scratch resistant mineral glass face. 
Ease of Use: 
(10 out of 10)  With two buttons in all, we found the EFR516PB-1A3V to be extremely easy to operate. To start the tachymeter timer simply push the top right button. To stop the timer push the same button again. To reset everything, push the bottom right button. It doesn't get my easier than that! To adjust the time pull out the crown as far as it will allow and spin it to the desired time. You can use the same method for adjusting the date as well. 
Durability: 
 (8.5 out of 10) As we referenced earlier, the mineral glass face proved to be surprisingly scratch resistant and its waterproofing capabilities are excellent and dependable. Overall we found this watch to be impressively durable with only slight surface scratches showing near the bezel after three weeks of use.
Value: 
(9 out of 10) At nearly $200 we found this timepiece to be an excellent bang for your buck. It's deceivingly techy and overtly stylish. A combo that isn't easily accomplished while remaining comfortable and durable simultaneously.
The Bottom Line:
This is an everyday watch that's affordable enough for almost anyone. You can just slap it on and forget about it. If you're a style conscious man who's looking for a dependable watch that not only looks good on your wrist, but is also shockingly easy to adjust and operate we highly recommend the Edifice EFR516PB-1A3V from Casio. It's extremely comfortable, surprisingly durable and functional. All-in-all it's a very nice timepiece!

Price: $180 or go to: Edifice.Casio.com