When it comes to fashion, men live by a pre-determined set of rules that have been established long before I was born. To be cliché, I didn't write the rules, I just live by them. Some of them are simple, like making sure your belt matches your shoes or your socks match your pants. As fashion evolves, we take liberties with these rules. One rule that should never be broken is: A Man Should Own a Watch. While watches have evolved as a fashion accessory rather than a simple time-keeping device, this principle shall always remain the same; Men Wear Watches.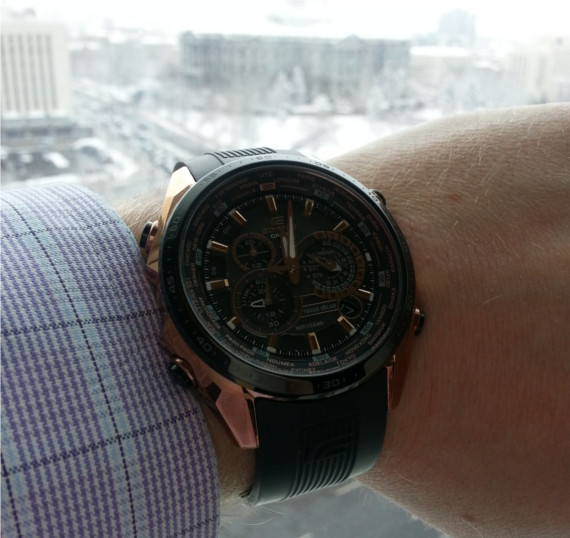 The Casio Edifice EQS500CG-1A has style but also contains a lot of substance. The black resin band is complimented by a sharp rose gold accent that makes for an eye catching wrist watch.  
Key Features:
Solar Power
1/100th of a second stopwatch
Daily alarm and a full-auto calendar
Specs:
Tough solar power
100M Water Resistant
Neo-brite Luminous Hands & Markers
World Time , 29 times zones (29 cities + UTC), city code display, daylight saving on/off
Beeper alarm
1/100 second chronograph
Measuring capacity: 23:59'59.99″
Measuring mode: Elapsed time, split time
Day & Date Display
12/24 hour formats
Storage battery: Solar rechargeable battery
– Edifice EQS500CG-1A Review –
COMFORT: 
(10 out of 10) The EQS500CG-1A wrist watch is lightweight and very comfortable. With an adjustable black resin band you can determine the best fit for your wrist.  I forgot the take the watch off while going for run and did not even notice it. Throughout the course of a work day I tend to take my metal, bulkier, and heavier wrist watch off to give my wrist a break. I never once did that with the Edifice EQS500CG-1A as I went days without taking it off, a true rarity for me. Overall, the comfort of this watch was a huge draw for me.
DESIGN: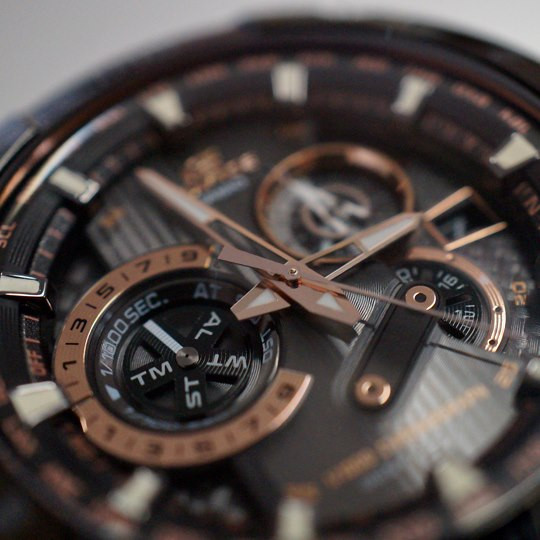 (9 out of 10) Casio really stepped their game up when designing the Edifice EQS500CG-1A. The sleek design looks simple at first glance, but when you take a deeper look at the face you really begin to notice the amount of details and features that demonstrate the amount of quality and time that went into the development of this watch. While rose gold adds that flair of style we are looking for in today's wrist watches, this watch really earns it marks for the all of the extra frills Casio designed. It features a chronograph that measures 1/100th of a second and includes features such as solar power, daily alarm and a full-auto calendar. It also features 29 different time zones, city code display, and a setting for daylight savings time. Check out the key features for all the details, as there are too many to list! To say the least, no detail was spared by Casio in making this watch.
EASE OF USE: 
(8 out of 10) Casio says the Edifice is the watch for smart men who value the moment.  I don't think they meant this as a metaphor that you have to be smart to use the watch but it definitely challenged my intelligence with all the extra features. I am used to simplistic watches with two buttons to set the time. The four button design took me by surprise and I am man enough to admit it, I had to read the instructions. This turned out to be a blessing in disguise as I really found out about all the features of this watch. Do yourself a favor and take the time to do some reading, you will be shocked at what you find out!
DURABILITY: 
(9 out of 10)   I have praised the watch for it light weight, sleek design. Many people wrongly associate lightweight with cheapness but that is simply not true.  The Edifice EQS500CG-1A is meticulously put together with an emphasis on craftsmanship. I found the watch to stand up to the day-to-day grind of work life but also home life. When a watch is as a comfortable as this, you tend to leave it on for longer periods of time and expose it to more wear and tear. The EQS500CG-1A held up and then some! The watch still looks in mint condition and is proving to be extremely durable.
VALUE: 
(8 out of 10)   The old quote states; "You get what you pay for". Retailing at $330 the Edifice EQS500CG-1A may provide sticker shock to the casual watch buyer, but let's be honest- This watch is the real deal. It has quality AND quantity. Many watches either give you substance in terms of the gadgets or are just about style, this watch has both. In comparing it to competitors with similar features, this watch has great value is appropriately priced. I would recommend this as a nice present for a special man in your life as he would not be disappointed!
THE BOTTOM LINE:
This is an everyday watch that you put on in the morning and you will never have to worry about throughout the day. I got multiple compliments from people about how impressed they were with the look and style of the Edifice EQS500CG-1A. The rose gold really pops in contrast to the black resin band and catches people's eye.

Buy Now: $330 or go to: Edifice.Casio.com