Maker's 46 - Drink of the Week
Maker's 46 is the bourbon that nearly didn't happened… you see, after more than a year and 120 trial batches the bourbon experts over at Maker's Mark almost called it quits on the 3rd whisky variation to carry the "Maker's" namesake since 1954. Never one to give up, Rob Samuels and his crew pushed on until they finally stumbled upon the unique process of re-aging their original Marker's Mark formula in barrels outfitted with French oak staves (No. 46 French Oak staves to be exact… hence the label "Maker's 46") Staves that have been slowly seasoned and cooked in order to produce caramelized sugars in the wood that transfer to the whisky throughout maturation. This unique process is said to produce a bourbon that is more intense – yet free from any bitter aftertaste.
Photo Credit: Maker's 46 on Facebook
 How They Do It:
To produce Maker's 46, Master Distiller Greg Davis utilizes good ole Maker's Mark bourbon that has already been aging in warehouse racks for upwards of 6 years. The process begins with removing every last drop of bourbon from the charred American white oak barrels. At this point, ten French oak staves are added and the bourbon is reintroduced for a period no longer than four months – where it continues to age in a cool environment. During this time the bourbon is closely monitored on a daily basis for peak maturity and taste. A labor intensive process, but one that is said to deliver a bourbon fitting of the Maker's Mark brand.
Photo Credit: Maker's 46 on Facebook
Recently we teamed up with Maker's Mark and wrangled up a few samples of Maker's 46 to taste and review after hours. With most of our tasting panel consisting of true bourbon fanatics, we knew this was going to be a true test of merits. Maker's Mark original is a personal favorite of mine and a staple in my personal liquor cabinet, so I was very intrigued to see if this newest rendition was up to snuff. Enough with the details… here's what we discovered. Cheers!
– Maker's 46 Review –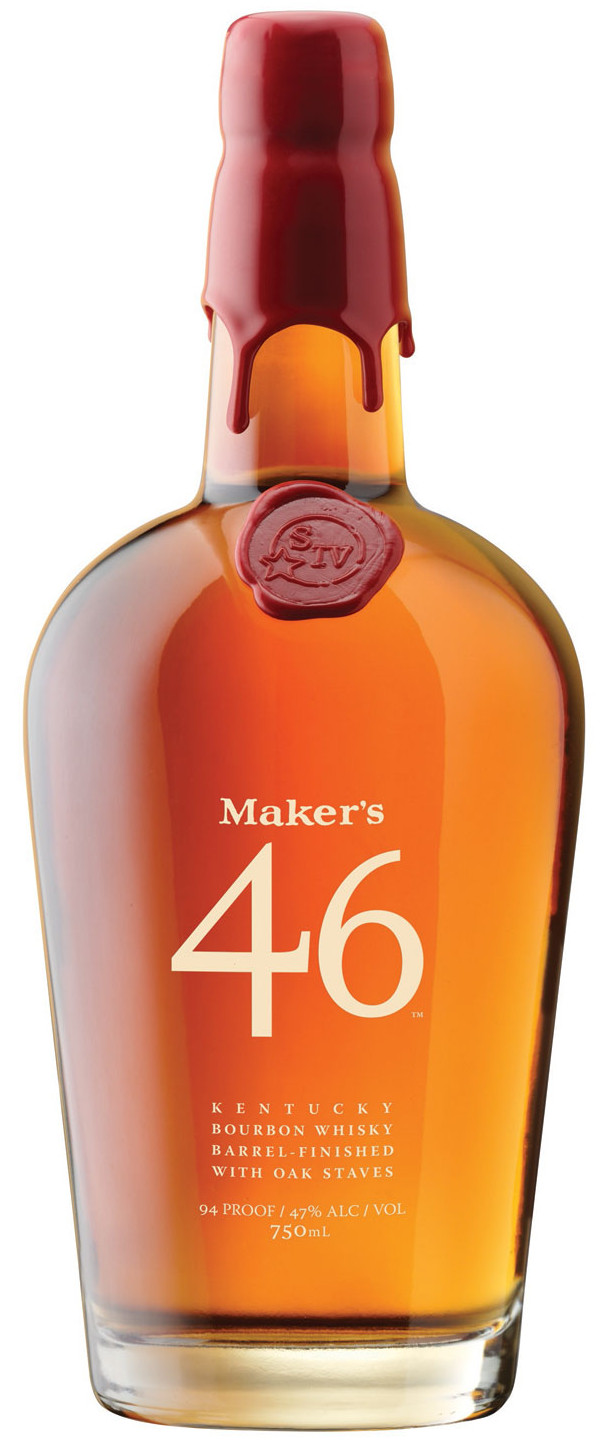 Proof: 94 (47% ABV)
Age: 6 to 7 yrs
Appearance: Deep amber
Nose: Vanilla, oak and cinnamon
Flavors: Honey , vanilla, caramel and nutmeg
Price: $35.98 USD (750ml.)
The Bottom Line: This is an exceptional bourbon that is wildly tasty however you take it. Mixed, neat or on the rocks… we simply did't find a way this bourbon was't enjoyable. Holding Makers Mark's original formula in such high regard we were a bit leery that Maker's 46 might fall short of our expectations, but all our fears were quickly squashed after taking that first sip. Maker's 46 is undeniably Maker's Mark, but it's also much more. The additional French stave aging gives this whisky a more complex and rich overall profile that delivers a perfect balance of boldness and smoothness. If you like whisky 46 is worth picking up for yourself.
Ingredients: 2 oz. Maker's 46, 1 oz. boiled cider or cider syrup and a strip of lemon zest.
Directions:Combine Maker's 46 and cider syrup over ice and stir gently. Twist lemon zest and drop into drink, stir again, and enjoy!