Alibi Whiskey - Drink of the Week
Distilled and aged in Kentucky (Heaven Hill Distillers), then blended and bottled in Florida, Alibi is a newly released 90 proof American Whiskey produced from a selection of corn, rye and malted barley, which is then in-turn matured in new American oak casks before being blended, bottled and tagged for retail at Alibi's Head Quarters. This unique new whiskey was designed as a counterpoint to current, more mainstream bourbon and rye's on the market. Alibi Whiskey is described by its purveyors as "easy to drink; any way you want to drink it."
Launched by Panache Beverage (the same folks who brought you Wódka Vodka and Alchema Vodka) in late 2012, Alibi Whiskey was developed, in-part, to exploit a gap in the exploding brown spirits category – an edgy, cool, premium Whiskey that appeals to the younger generation, but with a price tag that doesn't feel stuffy, overpriced and unattainable. At nearly $25 a bottle (750ml) Alibi is positioning itself as a party whiskey of sorts. A whiskey meant for consumption however you like – mixed, on the rocks or served off the stomach of the hot blonde you just met at the bar!
After checking out their ads and website it's perfectly apparent what Alibi Whiskey was meant for… and that's getting the party started and keeping it rocking till the music stops, or the bottle runs dry. A marketing campaign that any twenty-something booze hound (or 30 year old man-boy like myself ) couldn't help but fall in love with.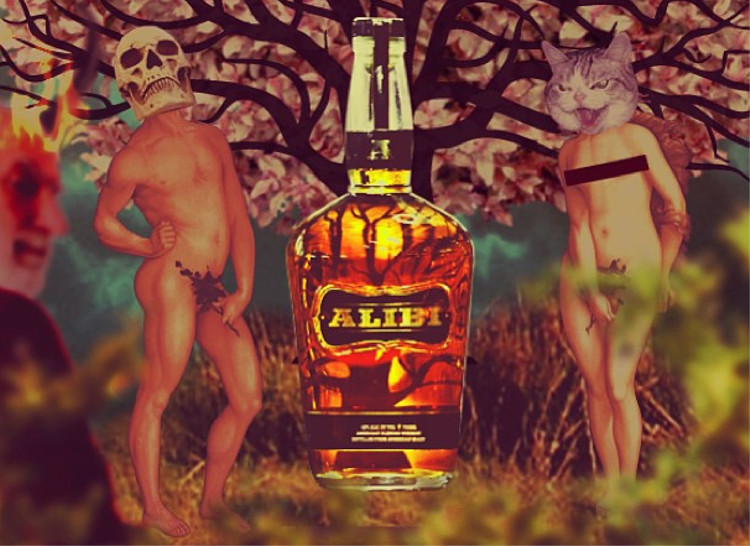 In our opinion, the packaging is fantastic. Alibi Whiskey has that "premium" look that really pops off the liquor store shelf, a custom bottle that is easy to handle and as we all know – it always feels nice to hear the "pop" of that cork before making a pour. The only question left to answer is… does the whiskey contained within stack up to the hype and presentation? Here's what we found out…

Proof: 90 (45% ABV)
Age: 3 to 4 years old – Blended
Appearance: Golden Brown
Nose: Vanilla, molasses, brown sugar and wood
Flavors: Caramel, oak and vanilla
Price: $21.99 USD (750ml.)
Scoring a 7.5 out of 10, we found that Alibi Whiskey stands strong as a base for mixing cocktails. Its sweet – yet potent profile makes Alibi an ideal additive to your favorite cola & ice drink. It even goes over well in most classic concoctions too… I personally enjoyed Alibi served up as a whiskey sour.
As for sipping, sadly Alibi Whiskey lacks the maturity and complexities we'd like to have seen. In our opinion, 3-4 years simply isn't enough time in the barrel for Alibi to develop the proper character that can be appreciated sipped neat. Though for the price, fans of mixing whiskey won't be disappointed from our experience.  The bottle is a show stopper and would look fantastic in anyone's home bar.
MIX IT UP… "Ali-bye bye bye"
Ingredients: Alibi Whiskey, Carbonated water, 1/2 tsp powdered sugar, 1 twist lemon peel, 1 orange spiral.

Directions: Mix powdered sugar and 2 oz. carbonated water in a collins glass. Fill glass with ice and add Alibi Whiskey. Fill with carbonated water and stir. Add twist of lemon peel and orange spiral so that the end dangles over rim of glass.