Founded in 1870 in the small town of Cascade Hollow, Tennessee, George Dickel is a small-batch whisky brand that has grown over the past 140 some-odd years to produce five whisky variations, including George Dickel Cascade Hollow, Old No. 8 Brand, Superior No. 12 Brand, Barrel Select Tennessee whiskies, and now George Dickel Rye.

George Dickel Rye is a straight rye whisky that is distilled from mash consisting of 95% rye and 5% malted barley. That rye is said to be the best available and is sourced from Lawrenceburg, Indiana. In order to provide consumers with the smoothest finish, George Dickel Rye is finished using the "Dickel Process." In which the distillers chill the whisky to exacting specifications before charcoal mellowing. "Mellowing" is a process in which the whisky is filtered through a thick bed of charcoal before it is put into new charred oak barrels for aging. A process that is expensive, time consuming and currently utilized by only five distilleries in the US. This tradition stems from George Dickel's belief that his whisky was smoother in the cold winters than in the hot summers.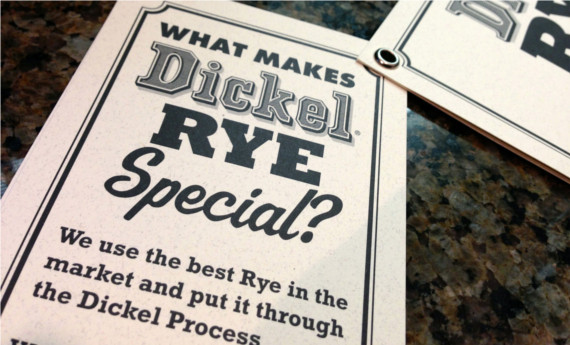 Photo Credit: ThirstySouth.com

You may be asking yourself "why rye, why now, after 140 years without it at George Dickel?" Well, if you haven't noticed, the whisk(e)y industry has experienced a huge resurgence over the past several years. In fact, Rye whiskey sales have tripled over the past five years. Mixologists and bartenders are largely responsible for rye's popularity, because of its excellent mix-ability qualities. Right now whiskey is trendy, especially rye whiskey!

If you're an avid fan of our "Drink of the Week" articles, by now you probably know we're suckers for Whisky. So when we were approached by the folks down at the Cascade Hallow distillery to test and review George's newest whisky we kindly accepted and let the sipping and mixing begin. Here's what we learned…
– George Dickel Rye Whisky Review –

Proof: 90 (45% ABV)
Age: Blended
Nose: Rye, smokey oak and caramel.
Flavors: Vanilla, rye, cinnamon, caramel.
Taste: B (Good)
Mix–ability: A- (Excellent)
Buzz Factor: A- (Excellent)
Price: $22.99 USD (750ml.)
  Overall: We give George Dickel Rye a B+ (Highly Recommended) Registering a tad-bit "hot" for sipping at 90 proof, we found that this rye whisky was best enjoyed mixed in an icy cocktail in our opinion. That being said, it doesn't take much to prep Dickel Rye cocktails. George Dickel Rye delivers an unmistakable oak flavor and subtle sweetness that is easily complemented by simple ingredients for making a cocktail. Grab a highball glass, fist full of ice and add some soda. Then give it a stir and enjoy. That's all it takes!   There are more than 50 rye whiskies on the market to choose from these days, if you're looking for one that packs a punch while remaining exceptionally mixable, we suggest you give George Dickel are whirl… literally!  
MIX IT UP WITH… "High-Ryes"
  Ingredients: 2 oz. George Dickel Rye Whisky and Ginger Ale. (sometimes the best drinks are simple)   Directions: Build with whisky in a highball glass and fill with Ginger Ale. Garnish a lemon peel twist.    Buy Now: $22.99 or go to: GeorgeDickel.com