If you've never heard of Küat (koo-at) before, they are a brand that started in 2008 and is comprised of avid cyclists and outdoor enthusiasts that have pooled their diverse talents and interests together to bring us some very well designed products that are built to last. I'll be honest, this is our first review of any product from Küat, and as we all know, first impressions matter. We have reviewed plenty of bike racks from other companies, so we have a bar that is already set pretty high. However, after a few weeks of traveling with the Küat NV 2.0, we think it not only hits that bar, but raises it a few notches. 
Key Features:
Adjustable front tire cradle system

Re-designed pivot with optional foot assist

Fully integrated cable locks

Trail Doc included

Front tire ratchet design with intuitive release

Rear tire strap features co-molded strap to protect wheels

No-tool install with hand tight hitch cam system

Premium gloss metallic powder with water transferred logos

Hitch lock included
Küat NV 2.0 Review Breakdown
Installation:
Unlike some of the other bike racks we've reviewed, installation on the Küat NV 2.0 required a little bit of assembly.  It took me about 30 minutes to assemble everything, but probably would've been a little quicker if I didn't just skim through the manual and actually read it. I jumped ahead and bolted some things together that I had to re-do once I actually read the instructions. Not much of a reader? Well, what are you doing here!? Here's a quick assembly video…
After it was put together properly, the brilliant design made a lot more sense.  You can assemble by yourself, but there were a couple times I had a second person hold some things in place while I tightened some bolts together, which made it much easier. Once everything was in place and tightened down, attaching it to the hitch was super easy. The hand tight hitch cam system made things quick and easy and required no tools.
Design: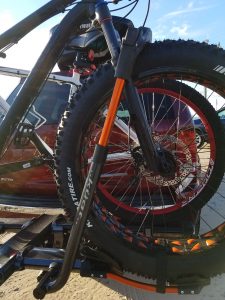 The Küat NV 2.0 has a 2 bike capacity up to 60 lbs. each. One of the main reasons we were interested in this rack, is its ability to hold a Fat Tire Bike with a wheelbase up to 48″ and tires as thick as 4.8″ (with their Phat Bike Kit). The front tire cradle system is adjustable and also has a front tire ratchet design with an intuitive quick release lever for easy take down and stowing.  The Rear tire strap has a co-molded strap that helps to protect the wheels and keep the bike locked down and secured to the rack.
The Trail Doc is a nice feature when you're out on location and need to do some work on the bike or just need to tuck it away for a bit without having to strap it down in the cradle. The re-designed pivot with optional foot assist is easy to use and proved useful when I only had one hand free. This system is perfect for what I need, but I also like that if I plan on a bigger trip with more friends, I can opt in for the NV 2.0 Add On that allows for 2 more bikes (4 total) to be attached to Küat NV 2.0.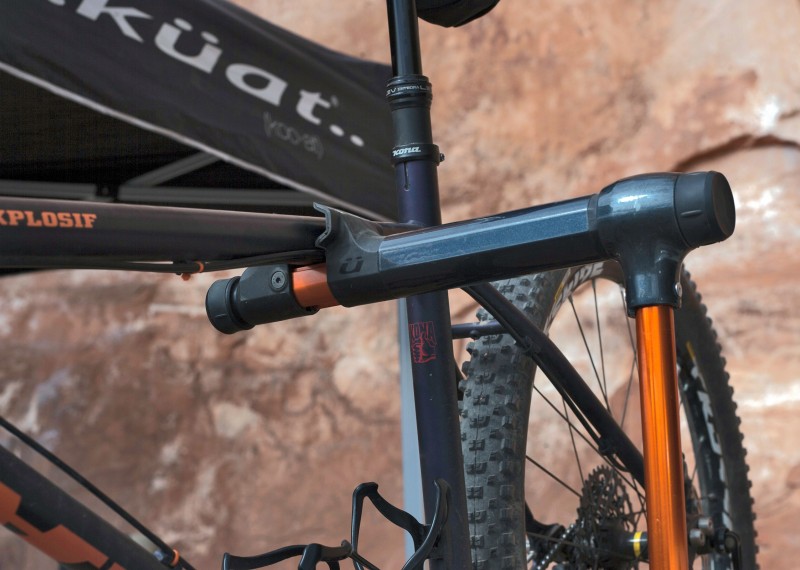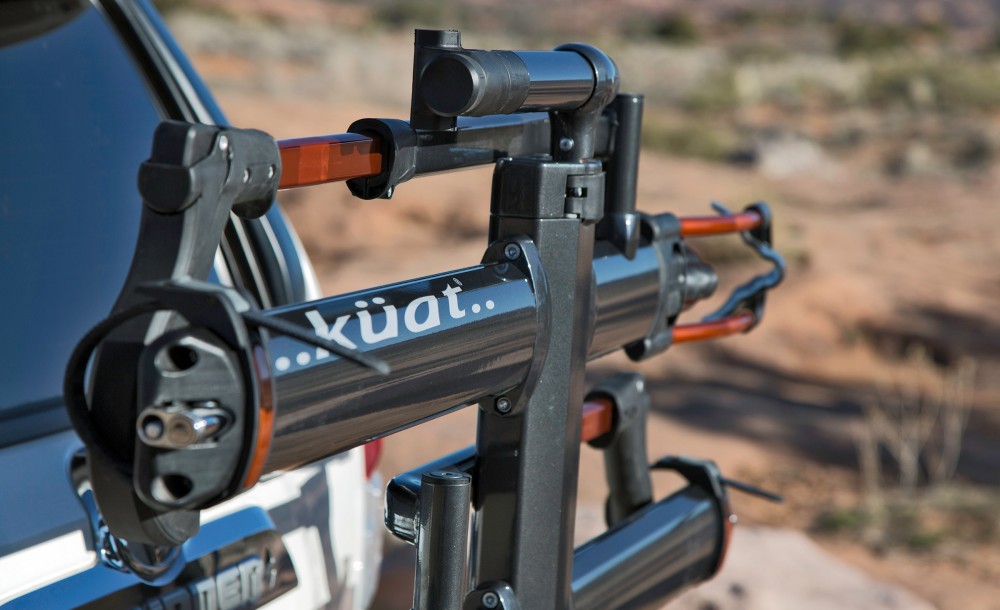 Security: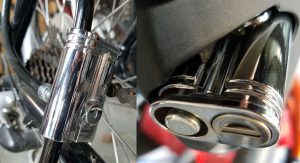 When it comes to security, there are two main things to consider. One, how well does the rack protect the bikes from theft? Two, how well does the rack protect itself from theft?  If you're looking to invest in a nice bike rack like the Küat NV 2.0, then chances are you have a bike that is worth some green, plus the bike rack system itself is also valuable and you obviously want to protect both from theft. Luckily the NV 2.0 has these two areas covered. The fully integrated cable locks are easy to use and tuck away nicely when not in use. The cable locks retract from the base and secure to the bikes frame by wrapping it around the seat and chain stays and locking into place. The rack itself also has an included hitch lock that is quick and easy to use. Simply slide the pin through the hitch and lock into place. One key for all three locks.

Durability:
The Küat NV 2.0  has an amazing super solid build quality that is built to last. The frame itself is pretty heavy compared to all the mounts we've reviewed, but the solid metal (not cheap plastic) has an over-built feel to it that makes the whole system very secure. Even down to the metal foot assist, you can tell that the Küat NV 2.0 is meant to endure a lifetime of abuse. After traveling with this system for hundreds of miles already, I am very pleased with how it has held up even in the harsh elements.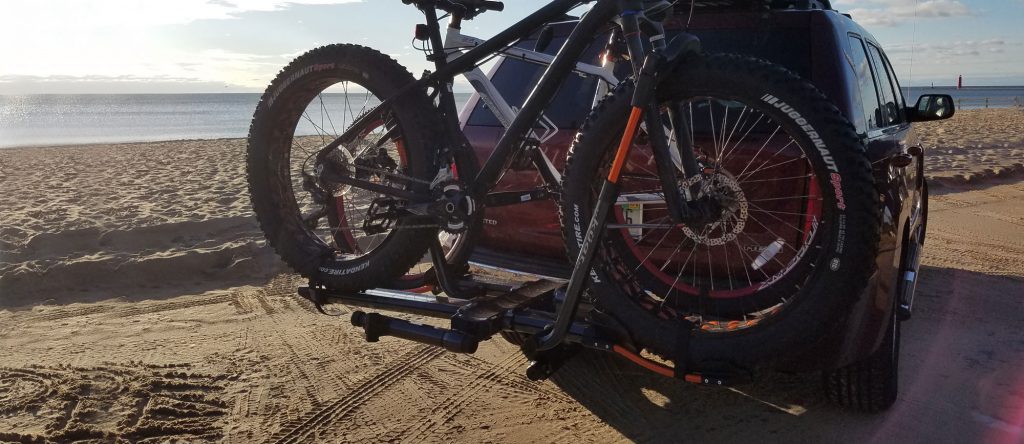 Value:
Like I mentioned above, if you are investing in a system like the Küat NV 2.0, it means you have some bikes that you want to protect and a rack you can depend on. The NV 2.0 had everything we were looking for and the build quality that makes this an absolute winner. You get what you pay for. Yes, the Küat NV 2.0 is a little pricey, but the quality is on point and their "No Worries Warranty" is just another reason why this is a good investment. They have a 99% rate in which "all requests submitted are repaired with little or no expense to the customer, even some cases where the customer admits fault." That right there is worth the extra money knowing that this should be the last bike rack you'll ever need to buy.
Buy Now: $629.00 or to learn more, check out: KuatRacks.com
Küat NV 2.0 Bike Rack - Gear Review
The Good
Fat tire compatible
Amazing build quality
Quick and easy installation