Over 10 years ago, Thule created a bike rack called the T2 that quickly became the gold standard for cyclists to transport their bikes using a hitch mounted rack.  It was a revolutionary rack that introduced new and incredible levels of durability with a genius mounting method that was friendly to complex mountain bike frames as well as carbon road bike frames.  Today, there are many clones out there, yet that design continued to be the true favorite among cyclists.  But times change and Thule has listened to its customers asking for new features that meet the needs of today's modern gear.  Their answer is the refreshed rack that is sure to become the new standard, the T2 Pro.
Key Features:
Ratcheting arm frame safe bike mounting method
AutoAttach tool-less hitch mounting system
1.25″ or 2″ hitch receiver options
Holds 2 bikes (with option for 4)
Integrated cable lock
Fits wheel sizes 20″-29″
Fits wheel widths up to 5″ wide
Thule T2 Pro Review Breakdown
Installation:
Thule has really hit the nail on the head when it comes to mounting the T2 Pro securely to your trailer hitch.  An easy 1 person job, all that is required is to first hoist the rack loosely into the hitch, then slide back until the AutoAttach hook engages into the hitch pin hole.
Next, an easy to turn dial wedges the rack into the hitch to eliminate all wobble, allowing the rack to be a rock solid platform for carrying your bikes.  To further secure your rack, a key is included that will disengage the dial that locked the rack to the hitch.  This leaves the T2 Pro permanently attached to your vehicle and eases any worries of the rack being stolen.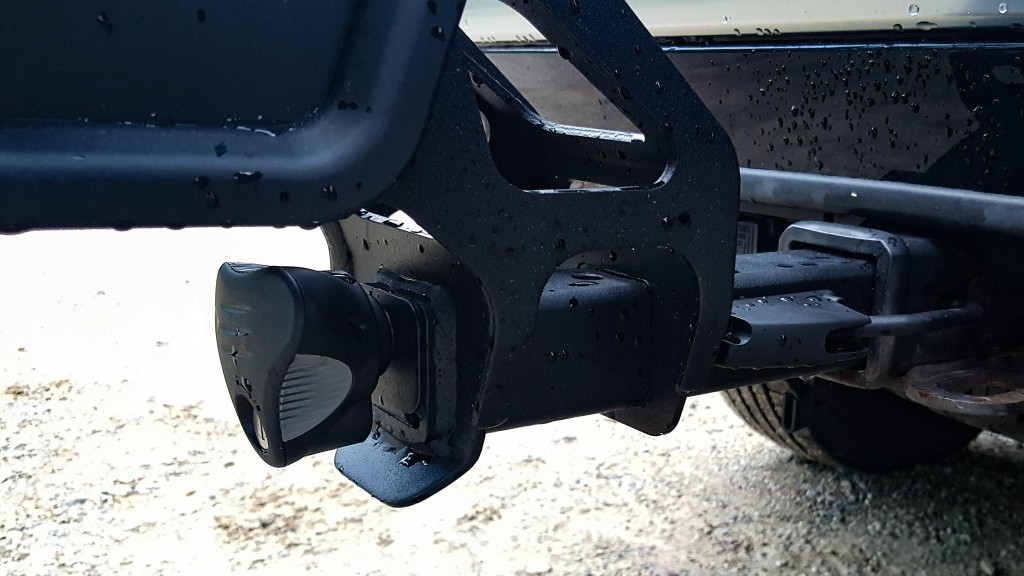 When the T2 Pro arrives fresh out of the box, it should be noted that there is some assembly required.  It's not a huge task because all tools are included and instructions are well documented, but the pieces are hefty so having an extra set of hands definitely helps.  It took me about 30 minutes to assemble using the supplied tools by myself, but with a helper and a good ratchet you could easily cut that time in half.
Once assembled, it's overall a perfect entirely tool-less design that doesn't require the use of hitch pins or extra locks to keep your rack secure.
Design:
The design of the T2 Pro is perfect in action for all bikes out there today.  I feel like Thule took to heart the needs of a true cyclist when building this rack.  Designed to hold everything from a skinny road bike tire, to a 29'er mountain bike tire, to a 5″ wide fat tire.  The best part is that you can switch bike types almost instantly, making the T2 Pro more than capable of hauling your road bike and your fat tire with minimal adjustment.
The base model T2 Pro is set up to haul 2 bikes, but it's good to know that an extension can be purchased that will allow you to haul up to 4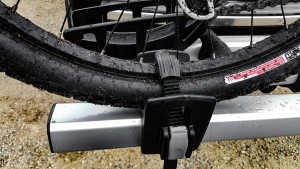 bikes in any combination of wheel widths up to 5″ wide and from diameters of 20″ – 29″.
The bike is mounted using easy to grab ratcheting arm wheel clamps that hold the front wheel securely in baskets designed for all tire types.  The rear wheel is then clamped in using a ratcheting strap that can easily adjust from road bike to fat tire bike in seconds.  A nice protective rubber sleeve also protects your wheels from any scratching on the rear mount.  To compensate for various wheelbase lengths, the rear ratchet slides smoothly on a track right to where it's needed.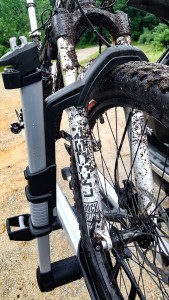 There is more than ample room between the rails which allows for minimal interference.  If you need to, it's also possible to adjust the mounting rails side to side to provide even more clearance if you do happen to run into interference.   But, we tested having 2 fat tire bikes on the rack and found that we had absolutely no issues with bikes coming in contact with each other.
I personally love the wheel mount method.  Owners of high end bikes can rest easy knowing that there is no frame clamping involved when it comes time to secure the bike.  Since the whole bike is secured in seconds using its tires, there is no risk of scratching or crushing your frames or cables while achieving a solid mount.
The ratcheting wheel clamping method also means that there is no fumbling trying to adjust arms or use expensive adapters to provide a solid mounting point for your bike.  Another bonus to the tire mount is that you can say goodbye to bungee cording your wheels together to prevent the dreaded highway wheel spin!
Once your bikes are mounted, the easy to grab handle on the Hitch Switch lever allows the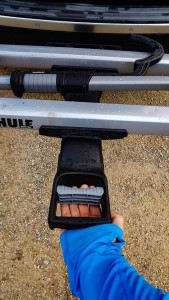 entire rack to be tilted outwards allowing you to access the full range of motion for most all vehicle tailgates.  Once you are done, simply lift the rack back up and feel it click securely back in place.  A great feature that allows you to keep your muddy, stinky riding gear in the back of the car after a long ride.
At the end of the day, the Hitch Switch also allows the rack to fold completely vertical and out of the way allowing your car to still fit in the garage without having to remove the rack entirely.  This is an important feature because this is a very heavy duty rack, with an emphasis on heavy.  Probably the only downside of this rack is that it does weigh in at 60+ lbs and over 56 inches wide.  This beast of a rack takes some muscles to carry through a garage without causing any damage to its surroundings.  I found it much easier to just leave it attached to the hitch and fold it out of the way as it was designed.
Security:
Earlier we touched on how the rack securely locks to the hitch, but with wheel mount rack systems, it's always important to consider the security of your bike to the rack.  With quick release wheels, you can't just lock your wheels to the rack or you may find that a thief has left just your wheels that were locked to the rack!
The T2 Pro has a great solution for this in the form of a cable lock stored right inside each of the mounting arms.  The cable extends through your frame and back onto itself where there is a lock that is keyed alike to the rest of the rack.  When you are done with the lock, a well-designed spring pulls the cable back into the housing and out of the way.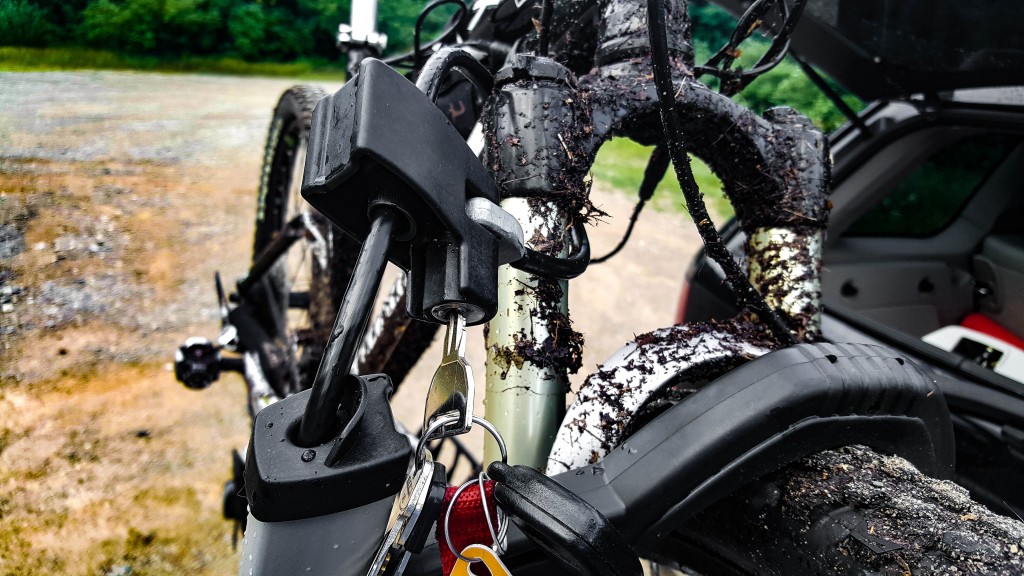 With the combination of the locking hitch mount and the individual cable locks, your bike is securely locked to the rack and the rack is locked to the frame all using the same key.  Don't worry about losing the key either because plenty of extras are included in the box.
Durability:
Thule is a brand known for durability so it's no surprise that the T2 Pro is wildly durable.  Each rack goes through a highly intensive testing program to ensure that it will stand up to the test of time and resist the elements.  Many of the externally moving elements are made of extremely durable plastics that will not rust, corrode or crack.  The main frame is made with very thick and sturdy metals that have a look of great engineering.
In general the T2 Pro has a feeling of being overbuilt which inspires good confidence that it will continue to function long into the future.  If for some reason it doesn't live up to its claims of durability, the Thule "Bring It!" warranty provides a lifetime guarantee to let you be at ease knowing that the T2 Pro is a long term purchase.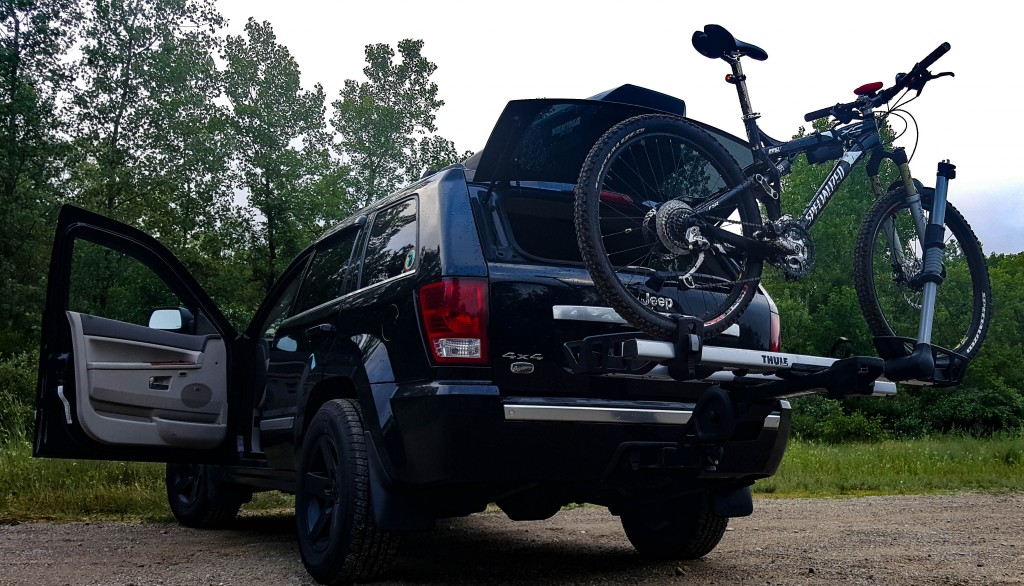 Value:
The T2 Pro has a MSRP of $549.95 which means it falls into the higher end of the spectrum when it comes to bike racks, but this bike rack is built for the true cyclist that is looking for a solution that will see a lot of use while keeping their bike unquestionably safe and secure.
For the higher price tag, you are definitely getting what you pay for and with the added bonus of a lifetime warranty, this may be the last bike rack you'll ever want or need to buy.
Buy Now: $549.95 (Thule.com) $451 (Amazon.com) learn more at: Thule.com
Thule T2 Pro Bike Rack - Gear Review
The T2 Pro is the new standard for the true cyclist that transports their bike a lot.  With built in cable locks, a frame safe mounting method compatible with all bike types and a tiltable design, this rack may be a bit pricey but it will never let you down and is worth every cent.
The Good:
Frame safe mounting
Wobble free hitch mount
Integrated cable lock
The Not So Good:
Pretty heavy
Pretty wide
Tough to store in garage