Stereo sound, modernized – The Fives powered bookshelf speakers by Klipsch offer the modern connectivity you need in a small, handsome package that doesn't sacrifice sound quality.
Available in two beautiful colorways, The Fives takes design queues from Klipsch's heritage series. 
After about a year of use and two living spaces, I am more than ready to share my thoughts on this powerful set of speakers.
Keep on reading for the full Klipsch The Fives review! 
Klipsch The Fives Key Features:
Magnetic, removable, and textured woven grille

Metal rotary dials for source selection and volume

Hand-crafted wood cabinets

1" titanium tweeter

4.5" long-throw woofer

Rear-facing port

Bluetooth 5, HDMI, Optical, USB, Aux, RCA inputs

Room-filling sound with no need for an amp or receiver

Remote Control
Klipsch The Fives Review Breakdown
Design
Taking design cues from the Klipsch Heritage series, The Fives look as good as they sound. With two colorways to choose from – Matte Black or Walnut – you can make The Fives a statement piece or an accent piece. 
In our house, we opted for the ever-popular minimal design route and figured the Matte Black would complement the space without taking away from it. 
One of the most stunning parts of The Fives' design is the textured, woven speaker grills. The Matte Black comes with a black, gold, and white box-woven pattern that is very handsome, while the Walnut comes with a light grey, black, and white square-woven pattern.  
Beyond the grilles, The Fives' metal hardware components look and feel very premium. The source and volume dials have a heavy, satisfying motion to them, and the metal control mounting plate ties the speakers' aesthetics with a bow.
At 12" tall and 6.5" deep, The Fives offer a small, space-saving design that doesn't sacrifice sound quality. Check out the next section to learn more.
Audio Performance
One of the main reasons you're likely here is sound quality, and let me tell you, The Fives do not disappoint. When I was inquiring about this system, I asked if a subwoofer was recommended.
Here is a direct quote from a Klipsch representative in response to my subwoofer inquiry:
"No need for a sub on these. They're bass beasts."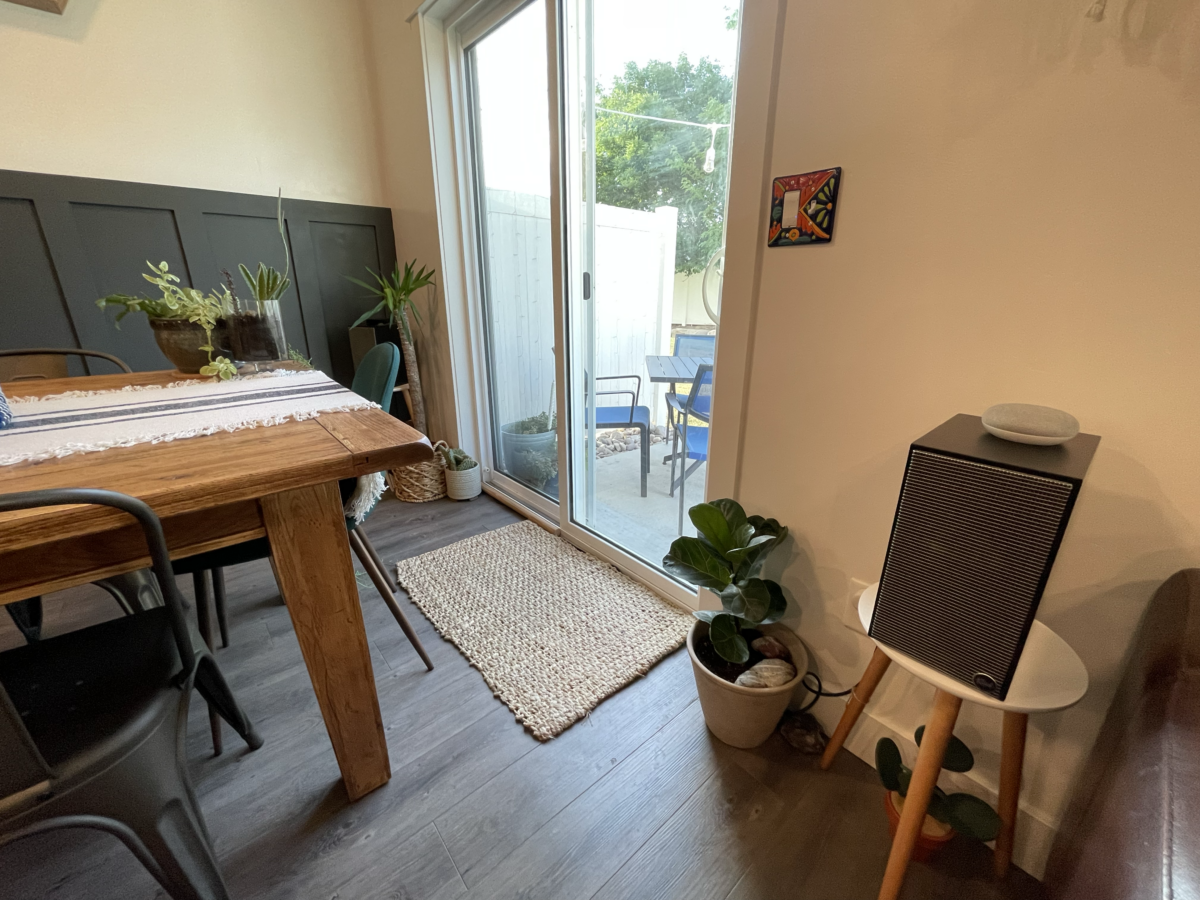 I took her word for it and went on my way with the 2.0, stereo system. She wasn't kidding! For my uses, a speaker would be overkill. The Fives sit in my open floor plan first floor, on either side of our dining table. A sub would shake their seats! In the 2.0 setup, The Fives deliver dynamic, full-range, room-filling sound without overpowering the space. It is the perfect all-around system for my needs. 
Diving a bit into the technical design, The Fives use a 4-wire conductor din plug to connect the powered left side to the unpowered right side. What does this mean? Put simply, The Fives utilize separate amps for the tweeters and woofers, which has major sound performance advantages. It is one of the main factors allowing The Fives to compete with systems double their price. The con here is a limit to the distance apart you can set the pair, but some creative rearranging isn't a big tradeoff for this level of sound. 
Overall, whether you're streaming digital audio, jamming to your vinyl collection, or watching streaming video or cable, The Fives deliver crisp, clear highs, deep, low distortion bass, and blended mids.
We're cable cutters, and honestly don't even have a TV downstairs where these speakers are located, so I cannot directly comment on the HDMI ARC performance with a home theatre setup, but from watching YouTubers and listening to the odd podcast, I have no doubt that these integrate wonderfully with a home theatre system. 
Connectivity
The Fives were designed to cater to the modern consumer, integrating into the high-tech lifestyle so many of us are accustomed to. The Fives offer the following inputs: 
Bluetooth 5

HDMI

Optical

USB

And Phono
I use two of them on a regular basis – optical in and RCA in. For the Phono in, I pair up my Audio-Technica turntable for the warm, cuddly audio perfect for dinner guests. For day-to-day cooking and hanging in the kitchen and living space, I Airplay to a first-gen Apple TV connected to The Fives by an optical audio cable. While there is a bit of a delay in play/pause over Airplay, the audio is clean and sounds like a direct auxiliary input. Perhaps my gigabit internet is the one I should thank there. 
Anyway, I went the Apple TV route for 2 main reasons – the first, so guests can come and connect without the fuss of Bluetooth, and the second, no Klipsch Stream. I was so accustomed to using Klipsch Stream with my Capitol Three, that I was disappointed this Wifi connection option didn't come as an option on The Fives. With the Capitol Three, I use the Spotify connect option to stream – it is quick and easy, but I'll admit isn't always the most stable connection. 
The Airplay route was the next best thing; any device, anywhere in the house with no need to fuss with Bluetooth. While I do feel that dropping Wifi capabilities and Klipsch Stream on The Fives was a miss for a pair of speakers aimed at the modern, tech-centric household, I haven't had any major issues or complaints about the Airplay setup, and honestly, Apple TV has a much more stable and reliable Wifi connection than the Capitol Three. 
Overall, I feel the Apple TV & The Fives setup is a better option for this shared, communal space they're in and the Klipsch Stream-enabled Capitol Three is best for the Master Bedroom where me and my girlfriend are the only ones who utilize and enjoy it.
Setup
Klipsch touts The Five as a better-sounding alternative to soundbars – same easy setup, but higher quality sound in a more traditional setup. 
This claim is not bold, and is accurate. Setting up The Fives can be done in under 10 minutes. Unbox, unravel cords, plug in, connect to the wall, connect the single speaker wire, connect to Bluetooth, or one of the many options, and you're jamming. 
Of course, if you have an Apple TV like me, there are a few more steps to make sure the Apple TV is configured correctly, and if you're adding a sub, wiring that up and finding the optimal placement is another step. But, for the average user, it really is a quick and easy setup!
Value 
At just under $1k, these speakers are a steal. They can easily outperform traditional receiver, bookshelf, and subwoofer setups. You're looking at a more compact system, with fewer wires, similar connectivity, and easy setup. It really is a no-brainer. For the average user who isn't looking for surround sound, but wants better sound than a soundbar can offer, gone are the days of an externally powered bookshelf setup. Furthermore, I personally hate the way soundbars look. Even right below a TV, they always draw my attention in a way I don't love. So for me, it's a double win! 
Buy now $969 or browse all Klipsch Powered Speakers
Klipsch The Fives Speakers | Tech Review
A powerful, clean, and rich-sounding pair of bookshelf speakers that are ready to simplify your home theatre setup, enhance your office setup, or bring sound to your favorite room in the house.
THE GOOD:
Remote is handy!
Super easy 1-cable speaker wire setup.
Small size fits and looks good in many locations.
THE NOT SO GOOD:
No Klipsch Stream like other products.
Finish attracts dust and fingerprints.