Teaming up for a series of special product releases, Klipsch and Capitol Records celebrate over 75 years of acoustic pioneering. Klipsch falls in line with many of today's great technology companies – it all began in a small tin shed behind Paul W. Klipsch's house. Sure, it wasn't a garage like Steve Jobs, but a legendary product was born nonetheless. The Klipsch loudspeaker, better known as the Klipschorn, proved that it was possible to recreate the purity of live orchestra music in your own home. Capitol Records established itself as one of the first record labels on the west coast. Capitol records boasts an impressive portfolio including The Beatles, Paul McCartney, The Eagles, Neil Diamond, and many more.
The Capitol Three Special Edition is a modern marvel wrapped in mid-century design. Despite its small footprint, the Capitol Three delivers a punch. It matches, if not outperforms, any midrange bookshelf speaker without the need for an external amp. This self-powered unit is built for the 21st century with both Bluetooth & WiFi source input. Feeling nostalgic? Dust off your records, uncover the turntable, and plug 'n play – with an analog RCA connection out back, The Capitol Three coaxes your old vinyls to sing again.
Key Features:

HiFi Sound

Impressive Bass Reflex

Tabletop form factor

Remote Control

Luxury Build Materials

Bluetooth, WiFi, 3.5mm Auxiliary, Analog RCA, or USB Source Connections
Klipsch The Capitol Three Review Breakdown
Design & Build Quality:
This speaker steals the show – it easily becomes the centerpiece of any table you set it on. With premium build materials and nostalgic design, it is as beautiful as it is functional. When you unbox The Capitol Three, your eyes are immediately drawn to the rich, two-tone, natural grains of the real wood veneer. Brush your hand across the polished surface, and you'll catch tiny grooves confirming the wood's authenticity. The Ebony version we reviewed has a very nice silver and black contrast stitching in the acoustic mesh.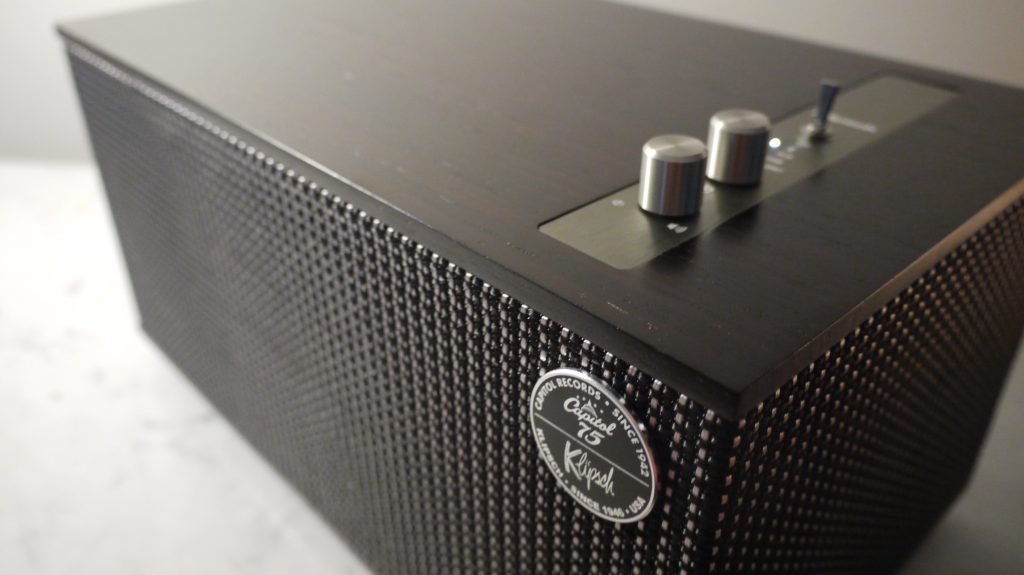 The real sweet spot on this loudspeaker design is the power switch. It has a very satisfying and tactile "flick" when switched on or off. The type of switch your grandfather's amp had when you were growing up. To match the tactile feedback of the switch, the dials have distinct notches as they settle into a stopping point.

Sound Quality & Performance:
This speaker can hold its own against any mid-range bookshelf speaker. For its size, this speaker outputs rich, room-filling sound with plenty of bass to go around. While it might not be ideal for your favorite Hip Hop tracks, the designers at Klipsch didn't have that music in mind for this speaker. In honor of Capitol Records, I queued up some of The Beatles greatest hits and The Capitol Three came to life. Pure and clean vocals, distortion-free bass, and superior mid-range. It is easy to pick up on individual instruments, which is a difficult task for most multi-use tabletop speakers.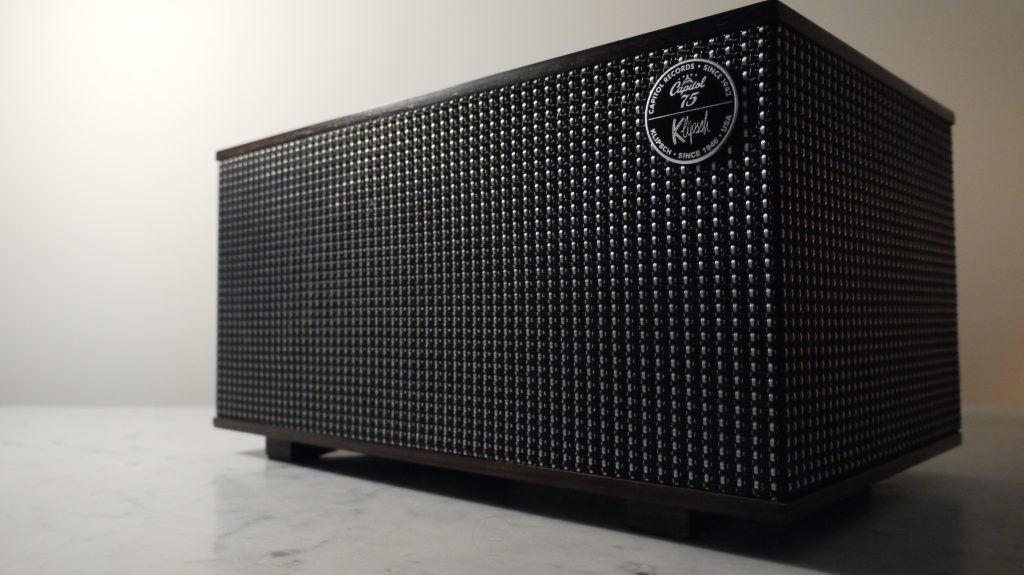 I put The Capito Three head to head against the Bowers & Wilkins' DM 601s and was not disappointed. Of course, there is no way to control levels on The Capitol Three, but it had no issue filling a 10x25ft room with HiFi quality sound.
Connectivity:
This speaker was built for the wireless age, but don't fret, you can easily connect your turntable for your favorite records. This speaker is equipped with aptX Bluetooth that seamlessly connects with mobile devices and tablets when powered on. Additionally, this device is outfitted with Klipsch Play-Fi. It enables The Capitol Three to join Klipsch's wireless, multi-room streaming service and play simultaneously with the soundbar in your living room or the standalone speaker in your kitchen.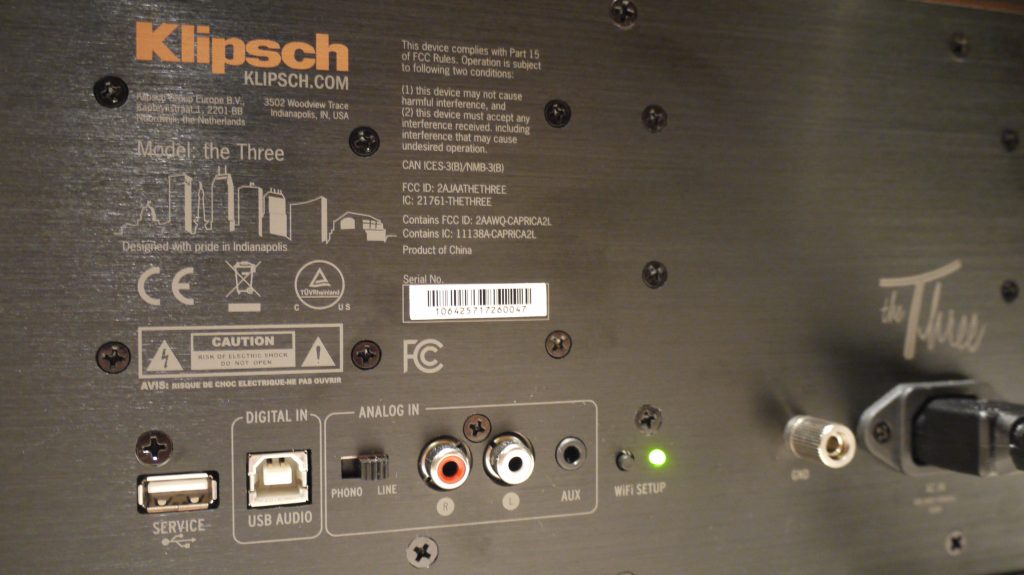 Traditional analog connections include a single pair of right and left RCA inputs with a switch for phono or line modes, a 3.5mm analog connector, and a USB audio connector.
Usability:
Klipsch included a remote control with this speaker that controls power, volume, input, and audio selection (pause/play, skip track or repeat track). While the remote is a great addition, I can guarantee you'll find yourself flicking that power switch far more often than reaching for the remote. (Yes, it is that good.) My only gripe about the remote is a power cycle timer. It'd be nice if you could set The Capitol Three to turn off after an hour or two for folks who like to listen to podcasts, music, or ambient noise before bed.
Connectivity and WiFi Setup are straightforward and rather hassle-free. The speaker automatically enters pairing mode when the Bluetooth input is selected, so there is no need to fuss with holding down buttons and waiting for a pairing mode. The LED indicator will turn solid when a connection is made. Setting up Play-Fi is just a few steps long; download the Klipsch Stream app from the iOS App Store or Google Play Store and it'll walk you through setup, step by step.
Value:
At $600, The Capitol Three is heading towards the bookshelf speaker pricing tiers. However, considering what you get for that price range, the price is justified (and even warranted). Not only are you getting a specially badged, limited run version of Klipsch's heritage series speakers, but you are getting a full suite of connectivity and hassle-free setup. No external amp, no wires to run, no need for a subwoofer, and Bluetooth connectivity – a feature that not many amps or receivers have standard.
While it certainly won't replace your surround sound system, it is the perfect addition to an office bookshelf, a bedroom dresser, or a dining room china cabinet. If you're looking for timeless design, easy setup, and versatile connectivity, this speaker fits the order.
Buy Now: $599 or head over to Klipsch to learn more.
Don't need the limited edition model? Pick up The Capitol® Three's less dressy cousin for $499.
For a portable, battery operated option in the same limited edition colorway, check out The Capitol® One for $349.
The Capitol Three Special Edition - Tech Review
A beautiful speaker with luxury build materials, nostalgic design, and unmatched connectivity. Use it wirelessly with your favorite mobile device or hook up your old turntable. This speaker will impress, no matter the source.
The Good :
Bluetooth & Wifi
Remote Control
High-Quality Build
The Not So Good:
No Sleep Timer
Fingerprints Show
Short Power Cord