Since 1952, Kelty has worked hard to deliver lightweight functionality in an easy to use package for experienced backpackers and weekend warriors alike. The Kelty TN3 is no exception to that goal – the TN3 is a fully featured, 3-person backpacking tent that can be set up in as little as 2 minutes with Kelty's color-coded system and Jake's Foot (ball & socket) pole attachment.
Over the past several weeks we've been able to test this tent in some serious conditions. Let's take a closer look at why this tent is a setup dream…
Key Features:
Freestanding design

Color coordinated poles & clips

Easy rollback stargazing fly

Jake's Foot pole attachment (easy-snap ball & socket style)

Two doors and vestibules

Taped seams

3 person capacity

Easy to see orange painted stakes

Internal storage pouches for electronics/keys/sunglasses
Kelty TN3 Tent Review Breakdown
Design:
Kelty released this tent under their TrailLogic Collection, which is a line of fully featured multi-person backpacking tents. With dedicated collapsing poles to support a freestanding design and a list of functional and fun features, this tent weighs in at just over 5 pounds. While it is certainly not an ultralight backpacking tent, the weight can easily be distributed amongst you and your tent mate(s). Hitting the trails with two mates? Divvying up and passing out one of each – the poles, fly, and main structure – is a pretty fair split.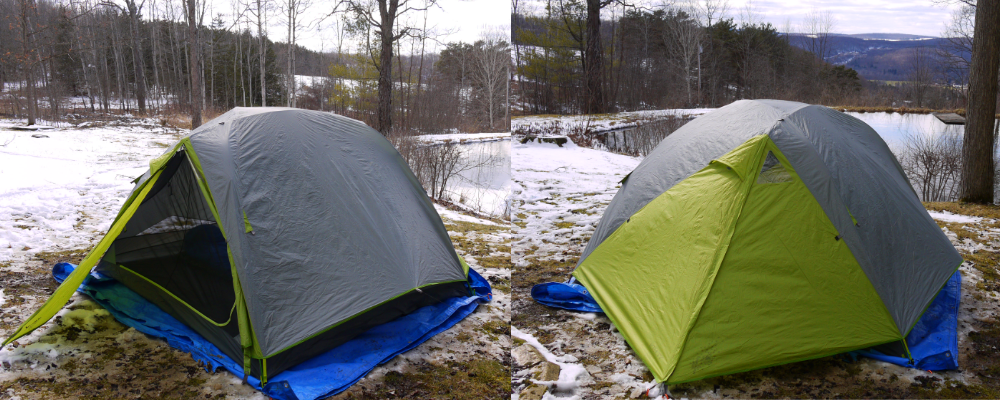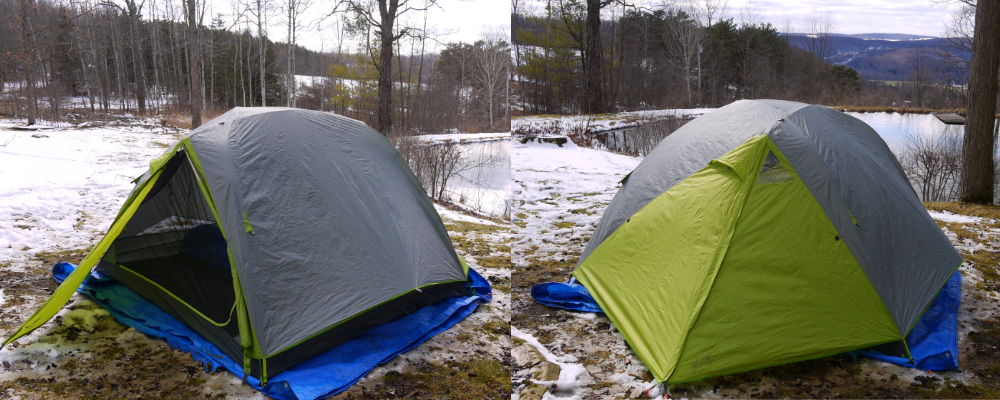 The footprint of the TN3 is a standard 4 corner, rectangular floor and mesh wall structure. Kelty paired the tried and true format with a dual vestibule rainfly adding covered storage for boots & packs when they can't fit inside. The second door is a huge positive for both ease of access and sleep courtesy (because we all know a tent mate that gets out a couple times per night stumbling over you before the birds started chirping).
Setup:
What truly sets the TN3 apart is a unique feature set that expedites setup (and teardown) while eliminating the hassle of setting up most tents. I've run through several setups and managed to reduce the time needed down to about two minutes. Starting with each piece unfolded, I managed to snap the poles together, upright the tent, and pop the fly on in that short time frame.
Here's how: to start, Kelty added in a really nice color-coded guide system that indicates pole and fly direction. On one side of the tent, you'll see lime green indicators on the main structure that match up with lime green clips on the fly and forest green feet on the poles. The opposing side is marked with grey guides. However, some of the roll up points to hold the door and fly have both colors to indicate they are not anchor points (as seen in the image below, right).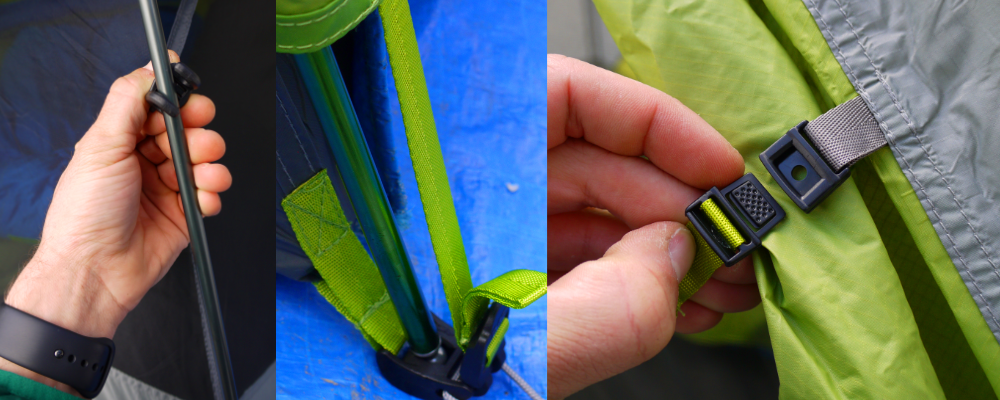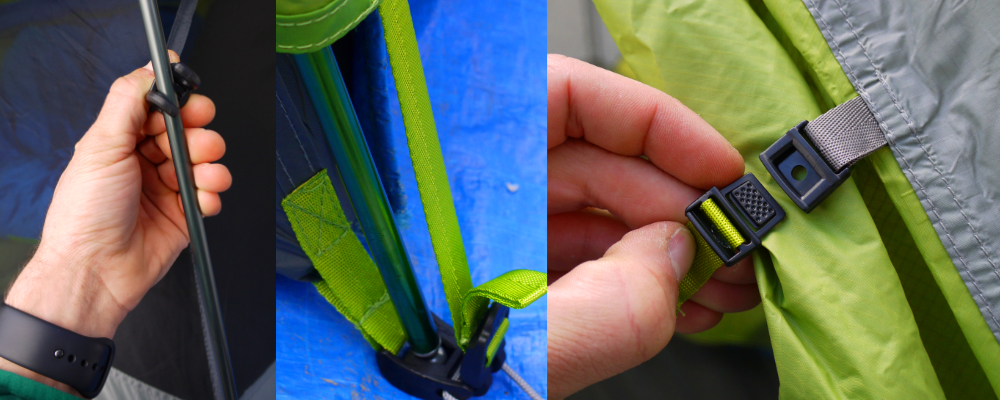 Secondly, Kelty equipped this tent with Jake's Foot clips for the poles and fly attachment. For those who are not familiar, Jake's Foot style poles feature a ball end that easily snaps into a socket style foot at each corner. The rain fly features a hook and rail style attachment that quickly connects to the same foot piece as the poles. Lastly, the tent structure is attached via easy rotate clips that are aligned perpendicular to the pole at first, then rotated counterclockwise into place.
These setup aids amount to a super fast setup for a backpacker of any experience level. For those entering the hobby, this is an easy to use tent for folks not accustomed to tent setup. For the avid backpacker, this tent is a setup dream that can be up in minutes for nights that you are racing sunset.
Unique Features:
Apart from the setup aids mentioned above, the TN3 is outfitted with stargazing fly. No, there isn't a big skylight in the top, but the fly has two quick release holds that allow the rain fly to be rolled up and stowed near the centerline of the tent for obstruction free stargazing fun. In the event of a few sprinkles, the fly can quickly be unclipped, unrolled, and snapped back in place from inside the tent (just unzip the door and have your buddy copy you on the other side).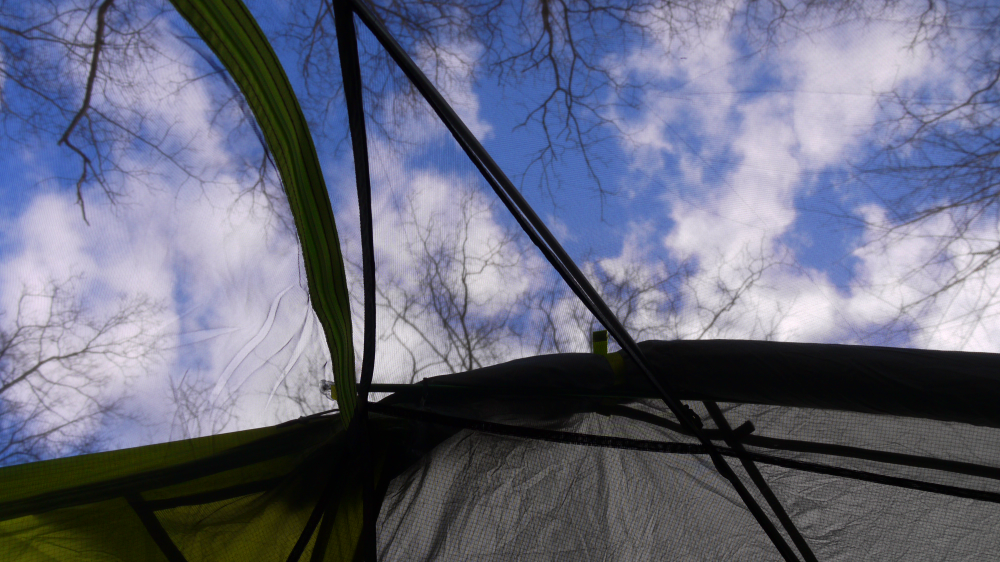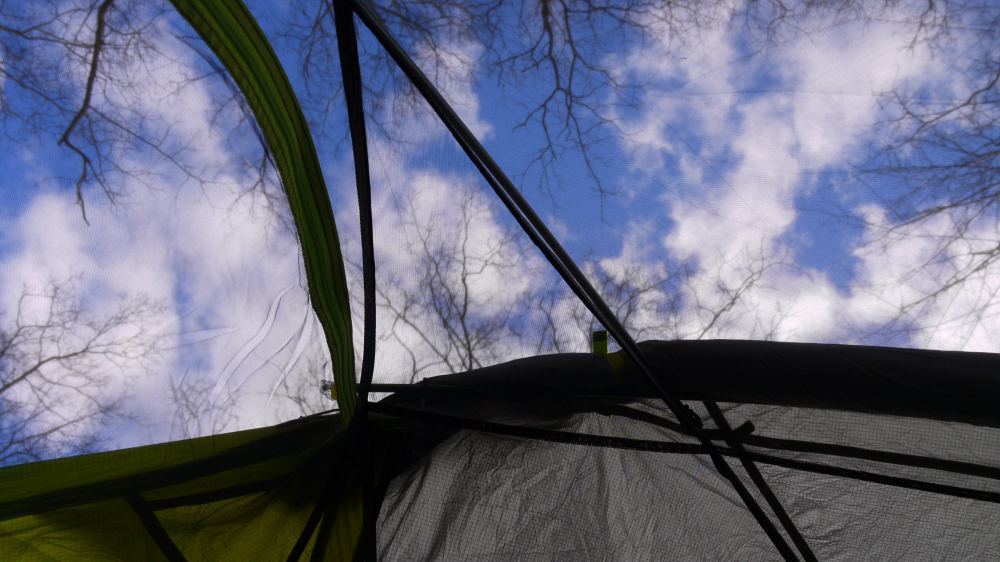 Comfort:
This tent easily fits a regular length sleeping pad and bag lying in parallel with the door walls. If you are average height or smaller, there won't be any sideways sleeping needed! Maxing out at three persons, this tent is a cozy fit at that capacity, but so is any tent at max capacity.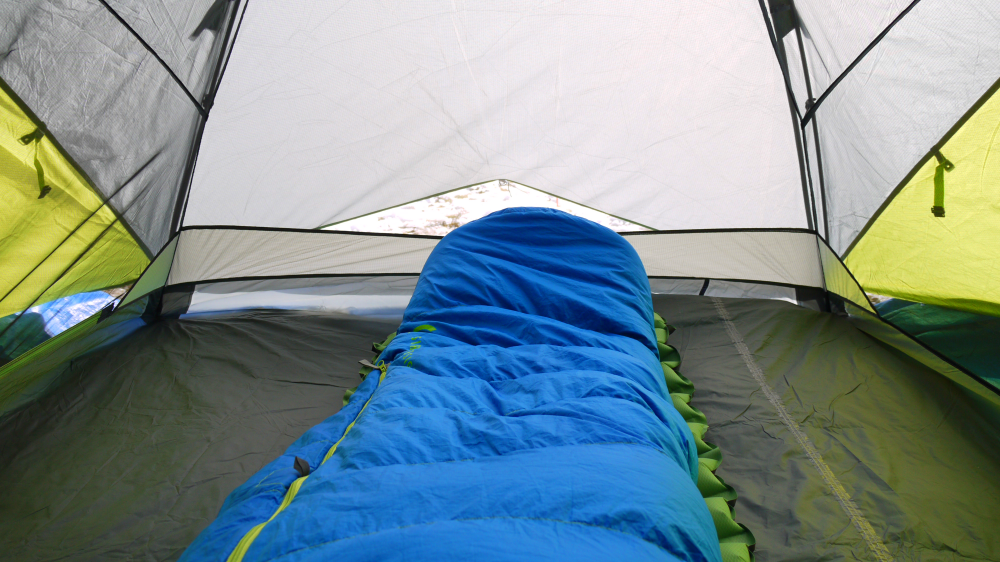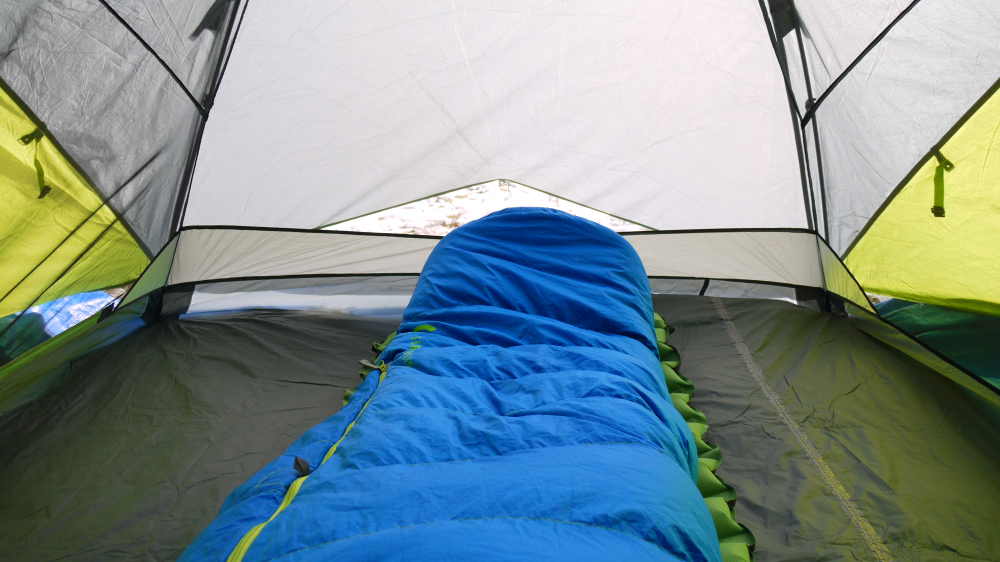 If you're like me and like to curl up on your side and draw your knees to your chest when you sleep, you'd likely be more comfortable fitting two in this tent. I also prefer to bring my bag inside to avoid that morning dew build up on the back padding, so this tent is perfect for two persons and their gear in that scenario.
Value:
At $299.95, this tent isn't your big box store tent, but the extra hundred or hundred and a half over the bargain brands delivers a collection of features that make this tent a go-to for backpacking and car camping adventures alike. Between the Jack's Foot style attachments, the color-coded guides, the stargazing fly, and the decent weight, Kelty tents deliver a lot of bang for your buck.
Also, if you love the features of this tent but need something smaller, check out the TN2. Larger? Here's the TN4. As you might have guessed, the number indicates the person capacity.
Buy now: $299.95, or to learn more, head over to Kelty.com
Kelty TN3 Backpacking Tent - Gear Review
The Kelty TN3's color-coded and quick snap attachments make setup a breeze. Pair an expedited setup with dual doors and a stargazing fly, the TN3 is fully featured backpacking tent at an affordable price.
The Good:
Super easy color-coded setup
Stargazing fly
Dual doors
The Not So Good:
A bit heavy for the backpacking classification, but weight can be shared between friends