I'm referencing a classic childhood tale stating that this tent is "just right!" It's not too big, not too small, but just the right size for two people and a dog on a backpacking trip. If you're looking for a tent that you can fit a family of four, Fluffy, suitcases, portable TV, and the kitchen sink – look elsewhere as the Kelty Outfitter 3 Tent was not designed for you! If you're looking for a tent that will keep you dry and won't break your back on a hike in – look no further.

If you're a loyal reader of Busted Wallet reviews, then you know this is the part of the article where we flood you with a slew of glossy product photos and eloquent descriptions, but today that just isn't necessary because our good friends at Kelty were nice enough to furnish us with a fabulous product video detailing the Outfitter Pro 3 inside and out! So please take a moment and click play on the embedded video below to get an up close look at everything this 3-season tent has to offer…
Key Features:
Color coded clip construction
Mesh wall panels on top for ventilation
Internal storage pocket
Fly Vents
Bathtub Floor
Guyline storage pockets
2 Vestibules
Easy setup (can be done with one person)
Full rain fly
Lightweight (only 7 lb. 14 oz.)
– Kelty Outfitter Pro 3 Review –
Pack-ability: 
(10 out of 10) The Kelty Outfitter Pro 3 is very packable – the thing I liked best was that there is room to spare in the main bag when you roll up the fly and tent together with the poles and stakes. The one thing I am missing is the footprint that goes with this tent (extra purchase), and I am confident that I would be able to roll that up on the outside of the tent and fly and still fit it in the carrying bag without a problem.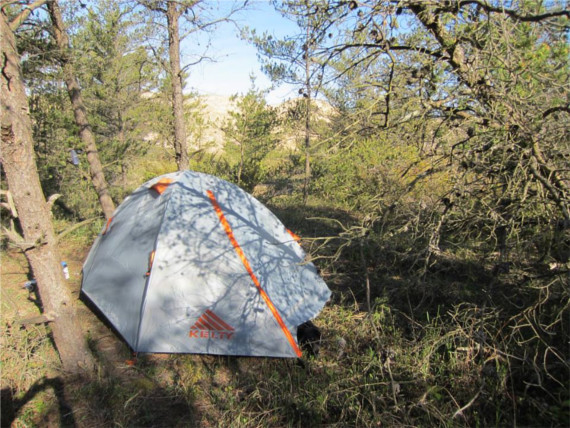 One super cool feature is that the bag that holds the poles and the stakes is the same bag, but has two separate bags, one for the poles and one for the stakes. It folds over (stake side folds onto the poles) and has an attached tie off – it's all self contained, so you don't need to worry about stakes poking holes in anything, or them falling out of the bag on the trail. I LOVE this feature.  
Comfort: 
(9 out of 10) This is definitely a three season tent. For testing we set up camp near Lake Michigan in May, and it dipped down into the high 30°'s (°F) at night – and I was a bit chilly personally, so I'm not sure I would take it camping in anything below mid-40°'s. I do believe I will love this tent when it comes to summer camping. It has loads of ventilation – the mesh panels in the top, with the fly vents provide for a sufficient amounts of circulation so that when you wake up on an 80° summer morning with the sun beating down and the thick humidity you won't feel like you passed out in a Turkish Bathhouse . . . not that I really know what that feels like, but I can imagine . . . maybe . . . ANYHOW, I was very impressed with the fly vents and overall ventilation/circulation!
Design: 
(9 out of 10) My favorite design feature is the fact that I was able to pitch it on my own – the poles were easy to snap on to the tent and clip into the ends, and fly was just as easy to connect. All of the tabs and clips are color coded to assist in a more efficient setup . . . although I'm not sure they are necessary as this is a pretty intuitive tent setup! The poles snap into the same canvass tab that stakes go into and the fly clips onto – all in one, easy to figure out.   Another amazing feature – and something that I think is essential in any tent – is the full rain fly and bathtub tent combo. While we didn't encounter rain during our testing sessions, I am pretty sure that we would've been fine considering the coverage we had. In addition, I was able to use the self contained guylines to pull out the sides of the fly so that none of it was touching the tent – this kept the inside dry, even with the heavy morning dew coating the fly.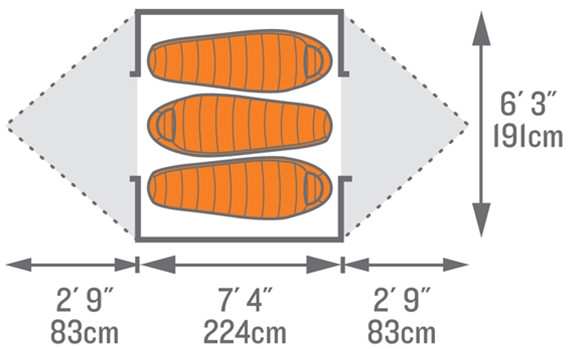 One thing I learned early on in camping is that two vestibules is almost essential if you are camping with someone! While tents are always made for "x" number of people, that really means they can hold that many average size people with no dogs or packs or gear. That's why you need a couple vestibules – keep your gear and packs under the vestibule, extra storage space!  
Finally, when it comes to bells and whistles, this tent has them all! The guylines are self contained (so no knots in the bottom of the carrying bag!), there are straps to secure the sides of the door/fly so as to leave it open but not dragging in the dirt, fly vents, storage bags, the fly secures to the poles, color coded for efficient setup, easy to grip with gloves on zippers, and the list goes on and on!!   Two things that I didn't care for as much, but are far from deal-breakers: (1) the fly vents are awesome, but once they are open you would have to get out of the tent to close them again . . . and if you're cozy in your sleeping bag, that's about the last thing you want to do; (2) as stated above, you could really only comfortably fit three people if you had no bags, or were able to put everyone's packs in the vestibules.  
Durability: 
(10 out of 10) We've only had the Outfitter Pro 3 on-hand for a few months now, but in that time we hiked with it strapped to a pack, and set it up sticks, pine cones, rocks, and roots, without a footprint and had a dog walking around on the floor with no problems, no tears, and no scratches. Considering that, and the fact that anything Kelty I've ever owned is super durable – like surviving a nuclear holocaust durable – I'm fairly confident I'll have this tent for a while!!  
Value: 
(9.5 out of 10) Amazon.com lists the Kelty outfitter Pro 3 at $299.95, same as on the Kelty webpage. I would highly recommend purchasing the footprint to go with it, which is an additional $60. For the combined price of around $360, this is totally worth every penny if – as I stated above – you are looking for a great tent that is packable, practical, and light, this is it!  
The Bottom Line

:
This tent is just right for the minimalist camper that still loves having cover when enjoying the great outdoors – it will suit you perfectly if you plan to do some backpacking and need to be sure  you will stay dry but not break your back on the way into that perfect spot.  This is more than just a basic thought – it has a lot of the little extras that really make the different – the pole/stake combo storage pouch, two vestibules, self contained guylines, full rain fly with bathtub floor, fly vents, and the list goes on and on!!    So in short, if you're a backpacker that needs or enjoys a little extra space, this tent will be perfect for you. If you are looking for something bigger with separate rooms that you can stand up in, consider one of Kelty's other bigger options!   Buy Now: $299.95 or go to: Kelty.com